By Ilda.Hoxha
The statement of the Minister of Finance and Economy, Mr. Delina Ibrahimaj that 140 Euro per month is considered enough not to be poor, has aroused numerous reactions and debates. Citizens consider it impossible to survive with such amount of money, while referring to an Ombudsman's draft that the living wage was estimated approximately 17,800 new ALL.
What is the red line of survival with the unstoppable increase of basic item's prices today?
——————————————
The question refers to the amount of money that an individual must generate to live in order to not be considered poor; such figure is approximately 130-140 Euro per person" – said the Minister of Finance and Economy, Mr. Delina Ibrahimaj at the "Opinion" show on 17 Mach.
But, is living affordable with 130-140 Euro per month in Albania? Faktoje talked to people covering the main family expenses in daily basis from food items to other payments such as electricity, water, or even internet and phone bills.
Moza, the mother of two orphaned children, who lives in Lapraka, tells the amount of money needed to cover the monthly costs of the necessary food items only.
"The salary I currently receive is 25 thousand ALL or approximately 200 Euro; I cannot afford buying basic food items, letting alone 140 Euro which is definitely not enough. I mostly buy beans, rice, pasta, oil, i.e. items I need every day. Now, with price going up, we do not really know what to buy first. We cannot afford paying for food; we also have electricity, gas, wood to pay for. "Living has now become very difficult"- said the 42-year-old.
Meanwhile, Alda, a resident of "Rruga e Durrësit" said that the price of almost every food item is increased by at least 100 ALL (new), considering fish as a luxury which, according to her, has reach scary prices.
"Food item prices are all increase, starting with cheese, oil, eggs, fish, meat and even the drinking water. For example, the price of cod fish I use in the kitchen is increased from 900 ALL (new) to 1200 ALL. The price of cheese I use is also increased, from 790 ALL to 860 ALL. The lamp price is now 1200 ALL; it was 900 ALL back then. The price of each and every item is increased starting from the most basic items. "One cannot live with 140 Euro and current food prices" – said the 35-year-old women.
Faktoje did an on-site inspection at one of the supermarkets in the capital on 19 March with the aim to see how the prices of some basic consumer products varied.
The price of oil varied from 309 -335 new ALL. The eggs have had a price increase, where a package with 8 eggs costs 279 ALL.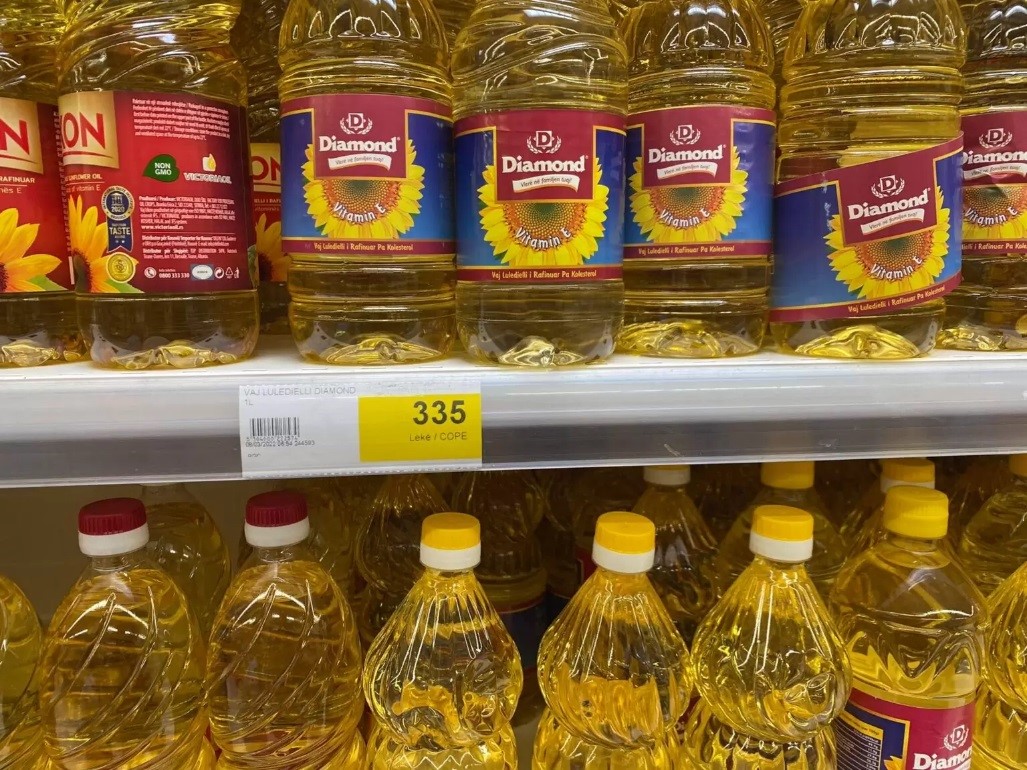 Prices of some food items in the market, 19 March 2022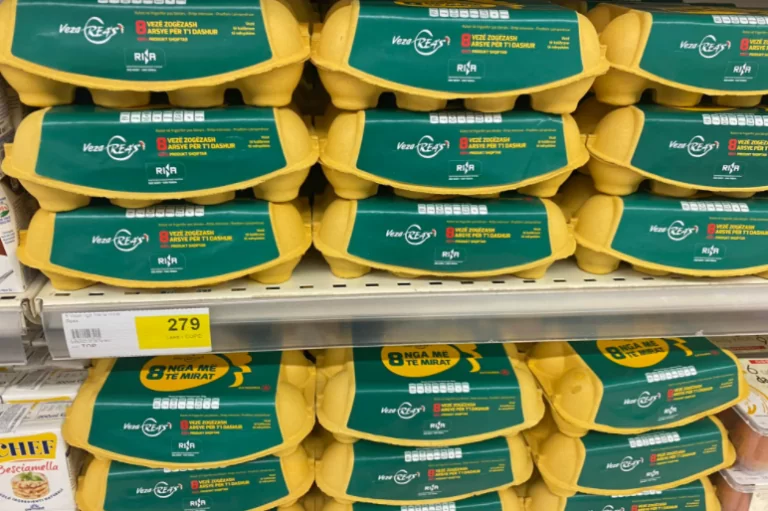 Prices of some food items, 19 March 2022
Macaroni costs at least 99 ALL per half kilogram, while sauce prices are 149 ALL or more. Fish and other sea products ranged from 600-1500 ALL per kilogram. While, meat products cost over 900 ALL per kilogram.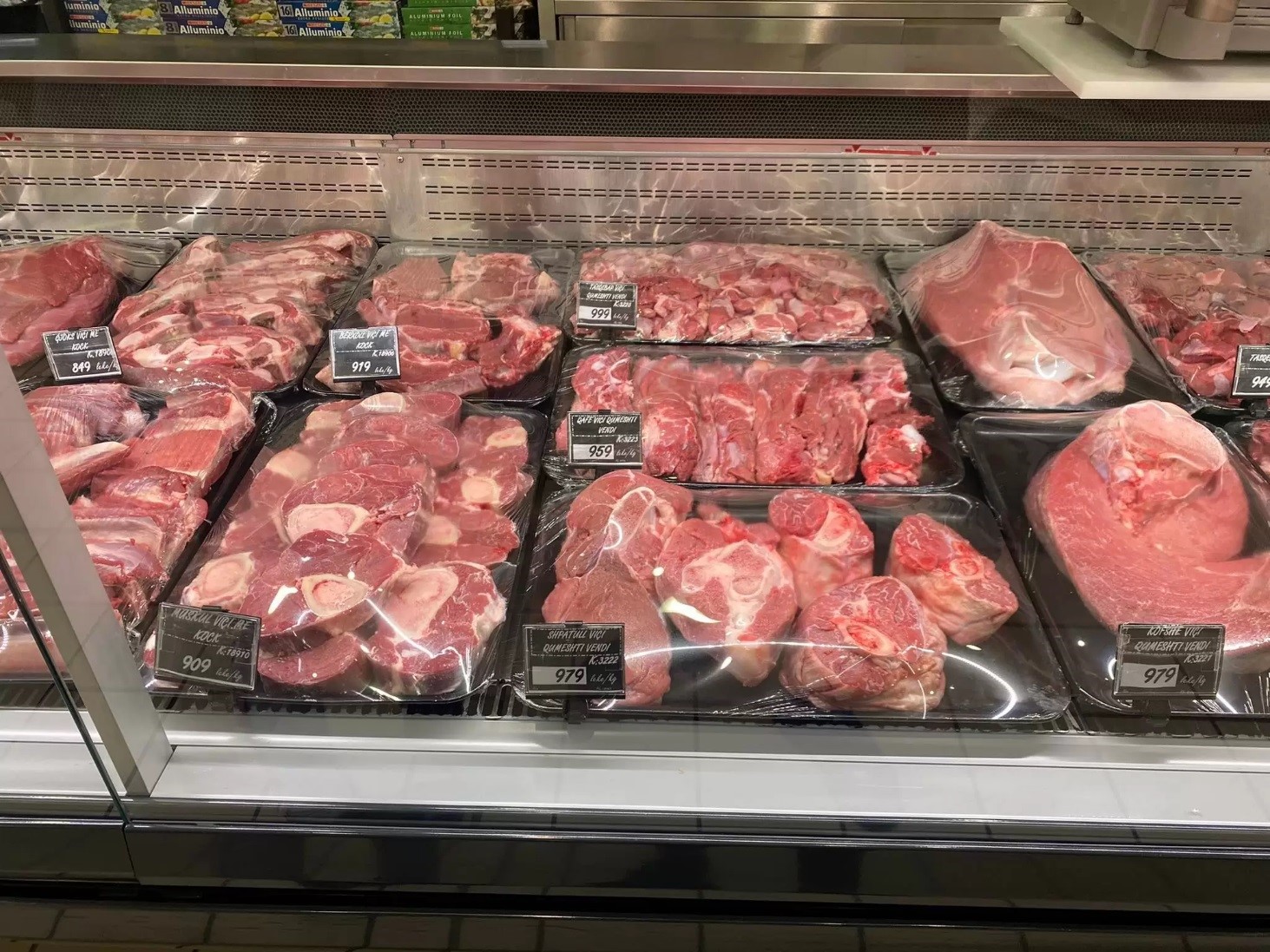 Prices of some food items, 19 March 2022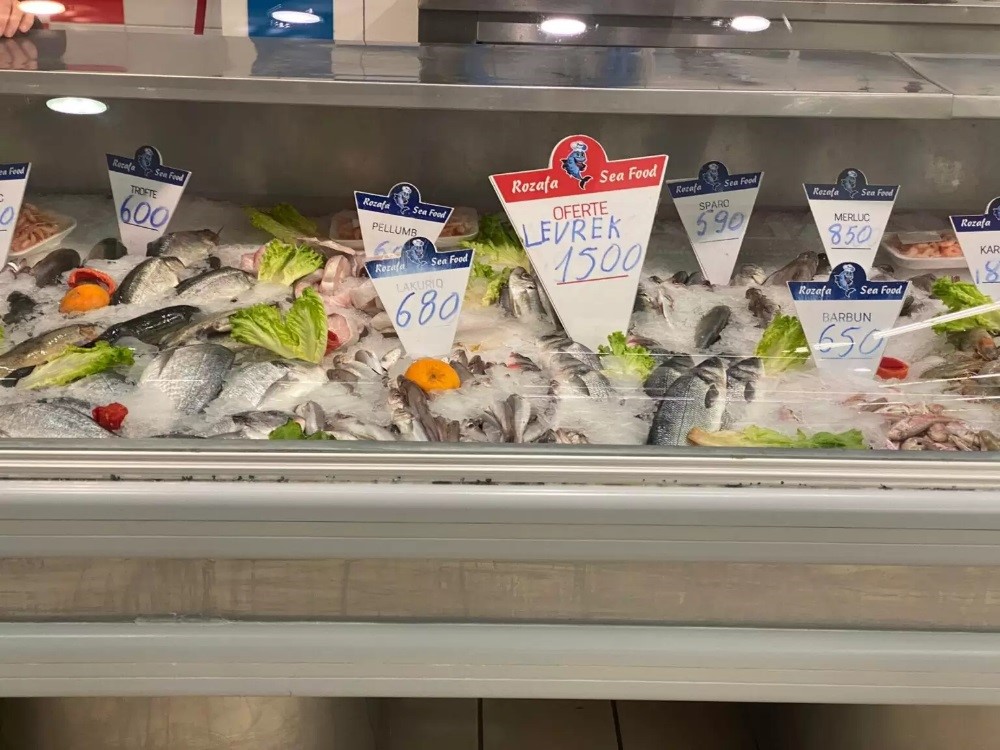 Prices of some food items, 19 March 2022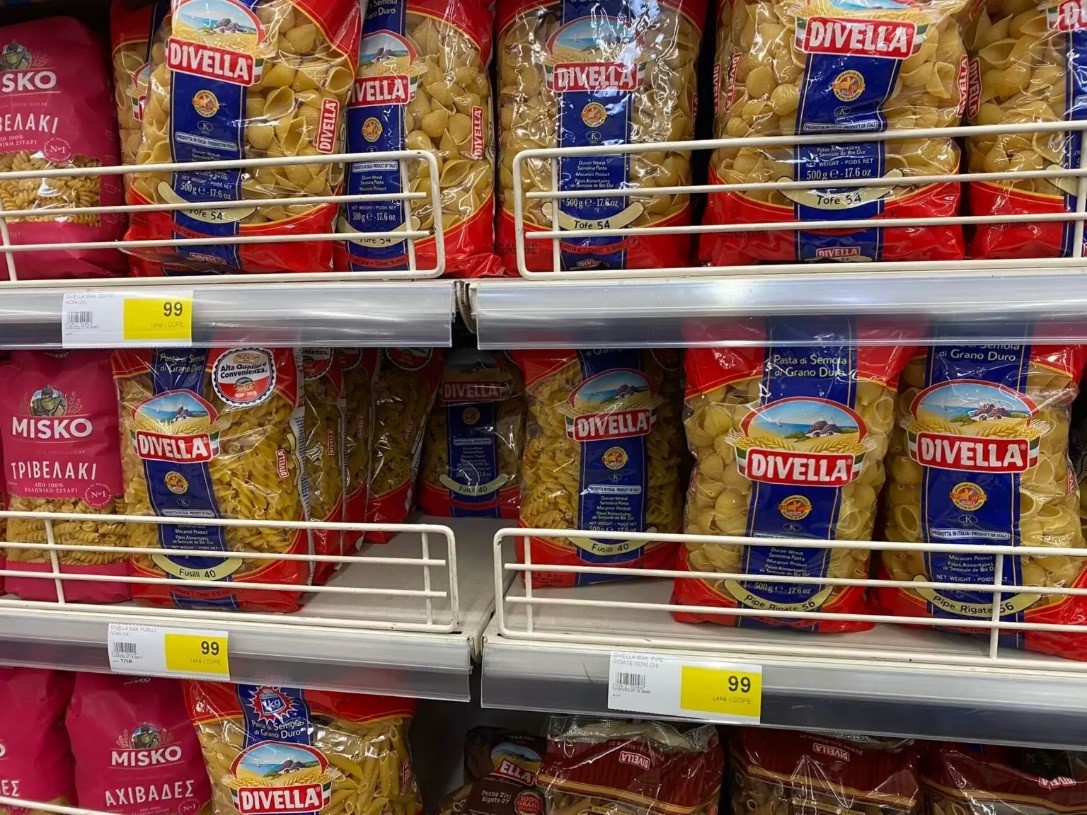 Prices of some food items, 19 March 2022
According to the latest data of INSTAT, the annual price increase in February was mainly influenced by "Food and non-alcoholic beverages" group with +2.45 percentage points, followed by the "Transport" group with +0.55 percentage points.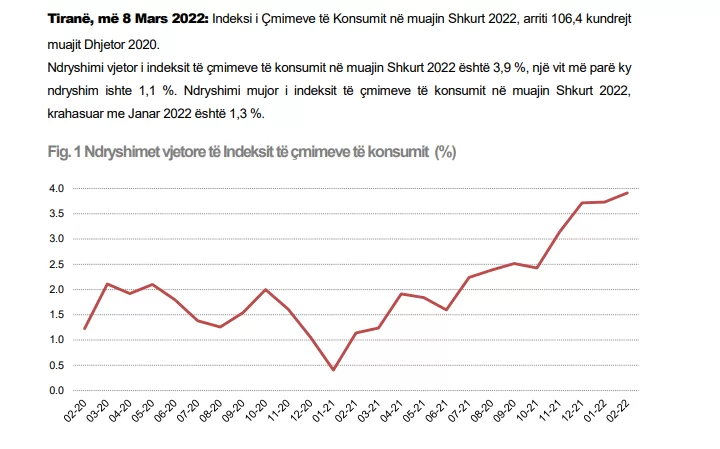 Screenshot from INSTAT website on consumer price index
Based on these data, the prices of "Food and non-alcoholic beverages" group increased by 3.2% compared to January 2022.
On 16 March 2022, an article published by Monitor stated that the top 30 basket items, including oil and gas, on 15 March were sold 20% higher than January this year.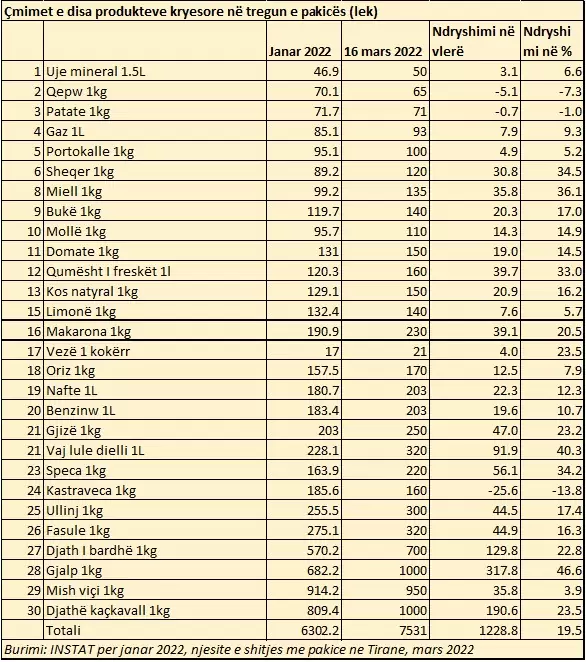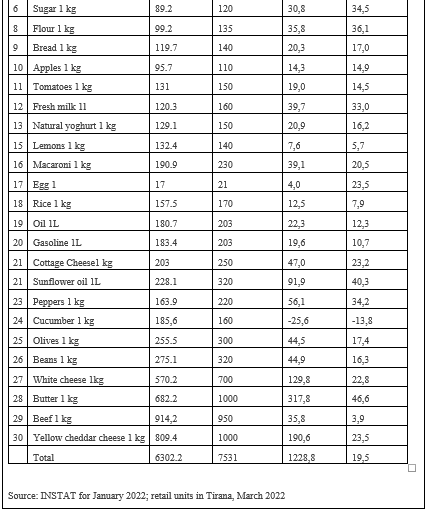 Table obtained from Monitor on food prices
Is there a subsistence level in Albania?
Albania  has not yet define a living wage and seems to be the only country in the Balkans and Europe not having yet officially estimated a living wage. Economic experts point out that according to World Bank estimates, nearly 40 percent of the population lives below the subsistence level. But what is the limit?
According to the expert, Mr. Selami Xhepa, the only instrument for measuring poverty in Albania today is the World Bank being approximately $3 a day per capita or $100 a month.
"According to this World Bank standard, in Albania nearly 40 percent of the population are estimated to live below such poverty line thus making the poverty a very widespread and empathic phenomenon compared to other countries of the region" – argues Mr. Xhepa for the Voice of America.
In July 2021, the Ombudsman institution presented the new draft report on the subsistence level in Albania. The subsistence level value in Albania calculated in this study and included in this document is 17,875 ALL.
"The subsistence level value calculated in this study in Albania for 2019 is approximately 17,875 ALL. This value is 9.9% higher than the minimum pension for urban areas which is 37.5% higher than the unemployment benefit and about 3 times higher than the economic assistance, while it is 45.5% lower than the minimum wage. The Ombudsman considers that the Subsistence Level should ensure a decent living with basic services and should enable active participation of people in the society, regardless of their ability to work "- it is stated in the document proposed by the Ombudsman.