Ilda Hoxha & Aurora Shpataj
The Minister of Health and the Prime Minister announced before the start of the new academic year that teachers, lecturers, and students would not be permitted to access educational facilities unless they had received the COVID-19 vaccination. There was no order on mandatory vaccination on the official websites of the Prime Minister's Office, the Ministry of Education, or the Ministry of Health, according to our investigation. In Italy, a distinct situation exists, where the government has created an application that would enable real-time verification based on an official order mandating vaccination for educational staff and students.
In order to complete the procedure, we have set a deadline for lecturers and teachers of September 30." – Ms. Manastirliu, Minister of Health, announced on September 7.
Prime Minister Rama issued an ultimatum the next day, September 8, saying:
"Unvaccinated students shall not be allowed to enter educational facilities. The same applies to teachers. The same applies to the administration."
Faktoje had submitted an official request for information almost two weeks prior to the statements, on August 19, inquiring about the number of vaccinated pre-university teachers.

Request addressed to the Ministry of Health
We received no reply by the publication of this article, despite filing a complaint with the Commissioner for the Right to Information about the lack of reply.
According to the Minister of Health's announcement on September 7, over 60% of teachers had gotten both doses, while the vaccination status of lecturers is unknown.
Meanwhile, Faktoje spoke with two teachers from Tirana's "Andon Zako Çajupi" high school on the mandatory vaccine for educational staff.
"I haven't received the COVID-19 vaccine. I was previously infected with coronavirus and am receiving hormonal therapy at the Oncology Hospital. Due to health concerns, I will not get vaccinated. I believe that this should be optional rather than mandatory, because there may be others, such as myself, who do not want to be compelled to get vaccinated. No one will be responsible for me if I become ill as a result of the vaccination." – Biology teacher Ina Kasimati told Faktoje.
In the meantime, Kozeta Berisha, an English Language teacher at the same high school, informed Faktoje that she had been vaccinated before vaccinations for this group of persons were mandatory.
"I received both doses of the AstraZeneca vaccine. I'd like to encourage all of my colleagues to do the same since, first and foremost, we're teachers who are in daily contact with everyone. We must get vaccinated in order to avoid another student lockdown, which would be detrimental to them. I agree with the government's position on the vaccine deadline. It is absolutely necessary." – teacher Kozeta Berisha told Faktoje.
However, some teachers have not been vaccinated, and with only a few weeks until the start of school, it appears difficult to vaccinate everyone." – teacher Kozeta stated.
Regarding the anti-Covid vaccine, lecturers are likewise in agreement.
"I am not vaccinated since I already have COVID-19. I am certain that natural immunity is far more protective than two anti-Covid vaccine doses, based on what specialists and research, such as one from Tel Aviv University in Israel, say." – a lecturer from the University of Tirana's Faculty of Foreign Languages said.
"I'll think about it when the time comes,"
he responded when we asked him what he would do if he was denied access to university facilities.
Despite the Prime Minister's ultimatum on mandatory vaccination, no institution has issued an official order or detailed the procedure for determining whether or not the education staff has received the vaccine.
Based on Faktoje's research into what is happening in other countries with this issue, we discovered that in Italy, verification of education staff vaccination is done through an app that has been approved by the Ministry of Education, which has been publicizing the details on its official website since August with the hashtag (Return to School). Everything is based on an official order issued on the Ministry of Education's website in August.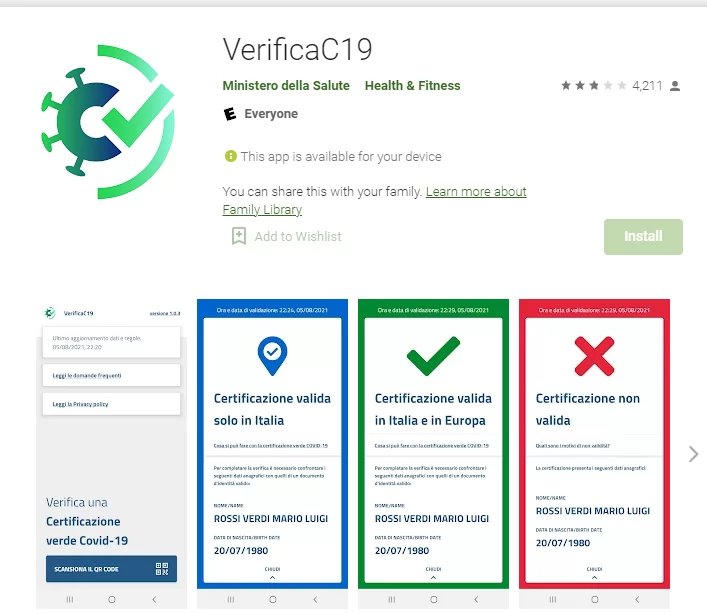 The app approved by the Ministry of Education in Italy.
We sought information on an official order of state institutions mandating anti-COVID vaccination for instructors and students based on this practice, but we were unable to find any.
We sent a request for information to the Ministry of Education, the Ministry of Health, and the Prime Minister's Office about the institutional decision-making on mandatory vaccination for educational staff and students, as well as the penalties for unvaccinated individuals, and we are hoping to hear back before the start of the new school and academic year.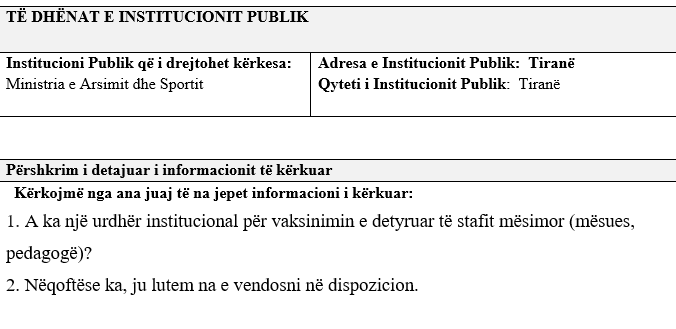 Request addressed to the MoESY, September 9.