EDIT NIKOLLI
The Socialist Party's government plan for the 2017-2021 mandate stated that all Roma and Egyptian children would be enrolled in and complete compulsory lower secondary education, with some of them going on to university. According to Faktoje checks, the majority of children in this community do not attend school, and in the best case scenario, they drop out after the fifth or ninth grade. According to research, 44 thousand Albanians are illiterate, with the majority belonging to the Roma and Egyptian communities. This figure is likely to have risen with the outbreak of the pandemic, significantly complicating the community's survival.
Zana Sula, a 48-year-old lady who collects plastic and scrap for a living, is the mother of seven children, none of whom have ever attended school.
"My children are under 19 years old. None of them have ever been to school. In the beginning, they felt different from other children. We were barely getting by, so we had to choose between taking them to school or bringing food to the table." – she told Faktoje.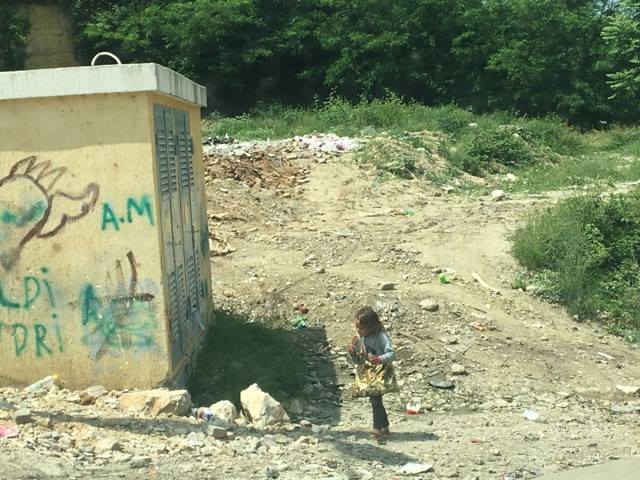 Children from the Roma community in Shkoza, Tirana, May 31, 2021
The Socialist Party promised in their 2017 election platform that
"By 2021, every Roma and Egyptian children will be enrolled in school, 100% of them will complete compulsory education, and 70% more Roma and Egyptian girls and boys will be able to complete all levels of education." We will expand and enhance the network of schools as community centers."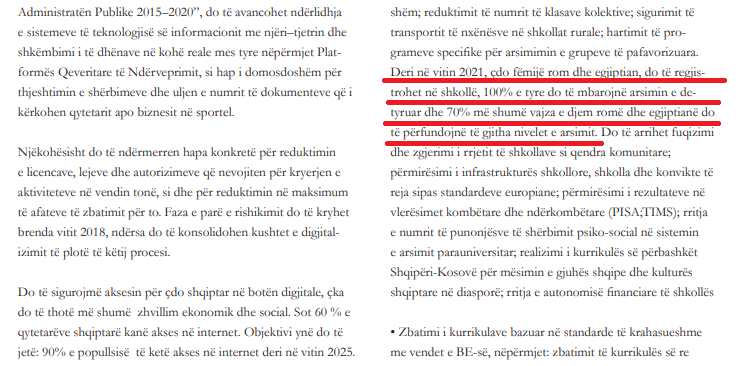 Screenshot of the Socialist Party program, 2017
Faktoje sent a request for information to the Ministry of Education, inquiring about the number of Roma and Egyptian children attending school from 2017 until now.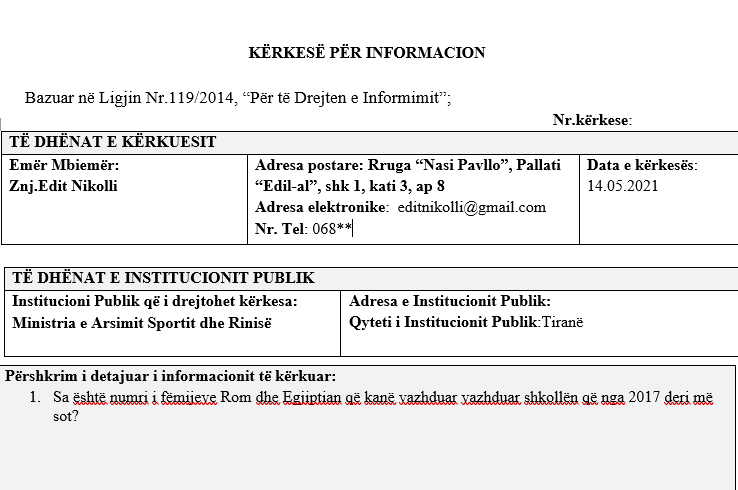 Request for Information addressed to the Ministry of Education, Sports and Youth, May 14, 2021
The Ministry of Education, Sports and Youth responded by providing figures on school attendance by this category, listed on the summary table from 2014 to 2021:
Reply of the Ministry of Education, Sports and Youth, May 18, 2021
According to official information, figures in 2014 – 2015 are only related to Roma children. 2,974 of them attended primary education, whereas less than half of this figure is reported to have attended lower secondary education, by dropping out of school.
There is no data on school attendance by Egyptian children for 2014 – 2015 and 2015 – 2016 academic years. Such data are reported in 2016 – 2017.
During 2016 – 2017, the number of Egyptian students in compulsory lower secondary education is higher, and in some years it is the double of the Roma children number. Moreover, a small percentage is reported to go to private schools.
What is interesting is the number of Roma and Egyptian children who went to school during the academic year 2020 – 2021, which coincided with the pandemic, a challenging year even in terms of remote learning
The Ministry of Education does not report data on these children's ability to continue upper secondary or higher education, even though the 2017 – 2021 platform foresaw that 70% more Roma and Egyptian community children would complete all levels of education.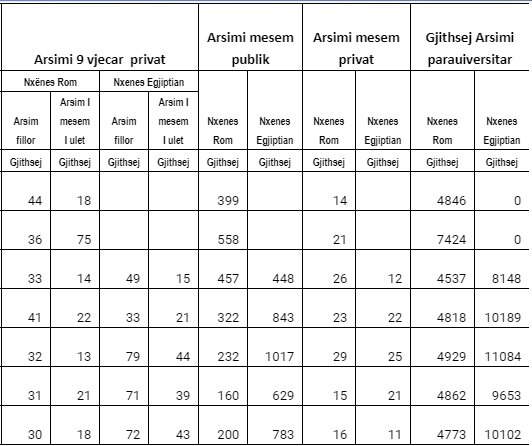 Reply of the Ministry of Education, Sports and Youth, May 18, 2021
In late 2020, Faktoje turned to Tirana Municipality with a request for information regarding the number of Roma children attending school in the past 4 years.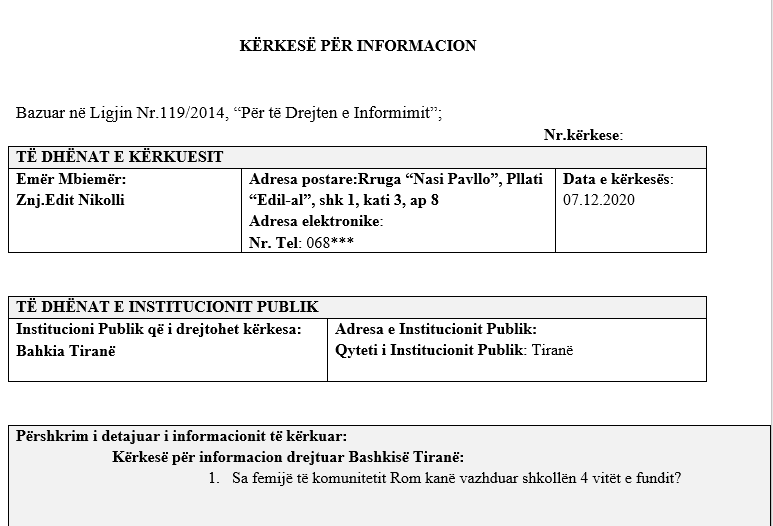 Request for information submitted to Tirana Municipality, December 7, 2020
Tirana Municipality provided the following response:
"Please be informed that in the framework of reporting on the 2017 – 2020 Roma and Egyptian Community Development Plan, the General Directorate of Social Services communicated with the Tirana Local Education Office and found that the number of Roma and Egyptian children attending pre-university education is as follows:

Reply by Tirana Municipality
The data shows that pre-school education attendance by these children of this community has increased from 2017 to 2020. Moreover, attendance from first to fifth grade is found to be higher, while the number of students attending education reduces from fifth to ninth grade. A drop of the attendance rate from first to fifth and fifth to ninth grade cycles was noticed during the 2019 – 2020 academic year (outbreak of the pandemic).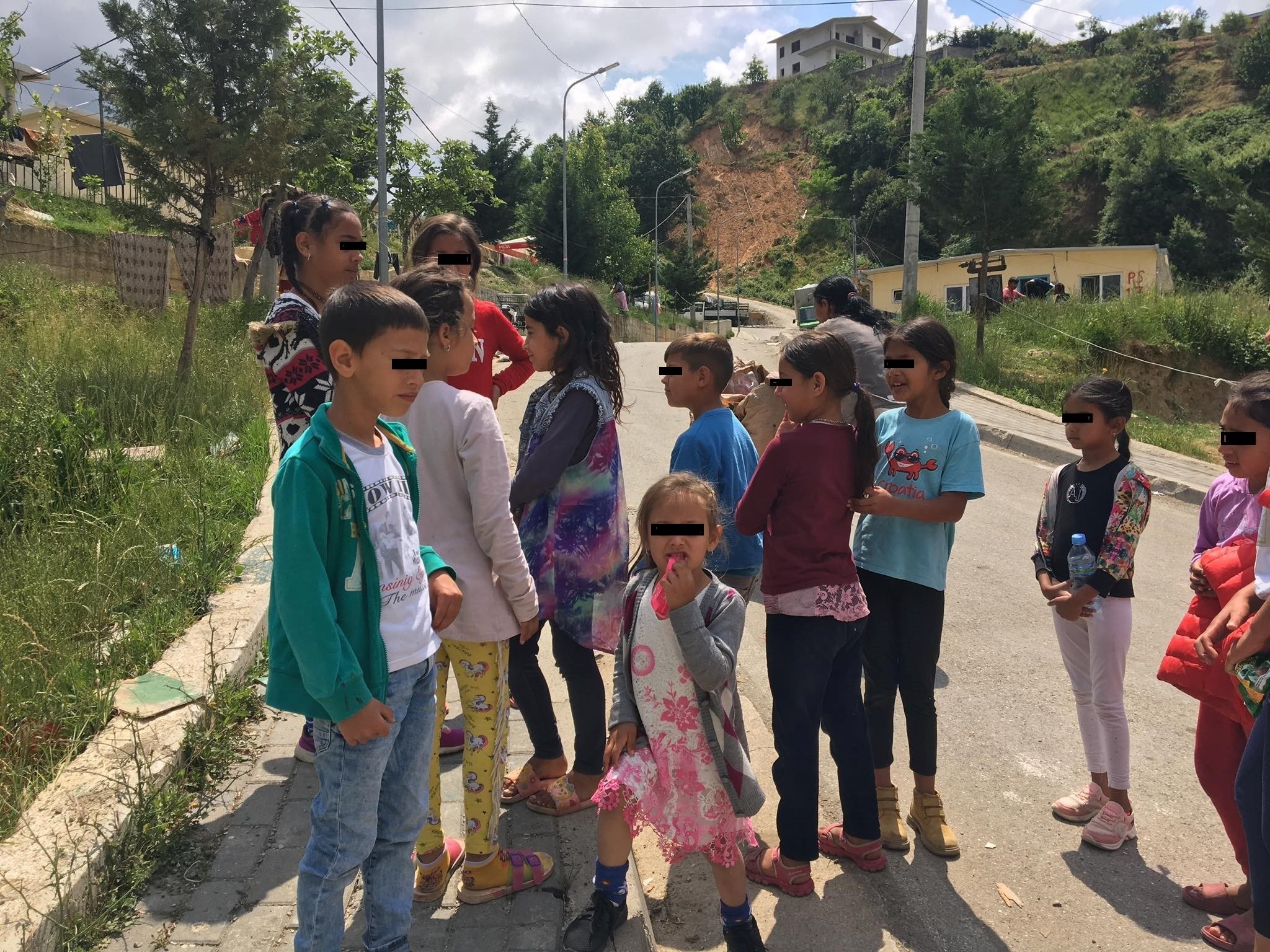 Children from the Roma community in Shkoza, Tirana, May 31, 2021
During on-site observations in areas where the Roma community is situated in Tirana, Faktoje was told that many children do not go to school.
Lavdia, mother of 5 children living in social dwellings in Shkoza, told Faktoje:
"None of my children goes to school because we can't afford it. I collect trash for a living. Most of the people I know don't take their children to school, because they need them to work too."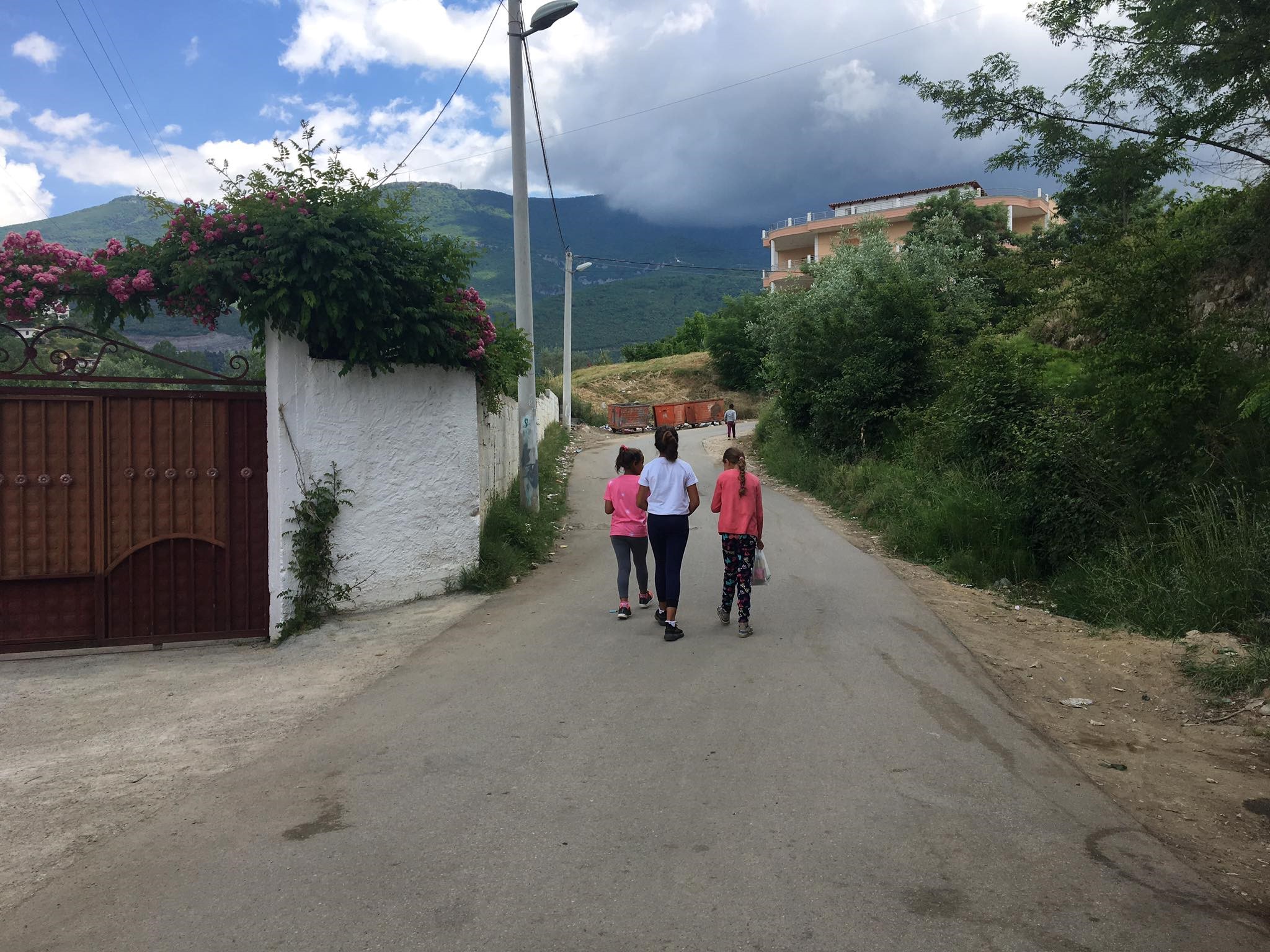 Children from the Roma community, May 31, 2021
Albana, mother of four children, told us:
"My oldest daughter is 13 years old, my second child is 10 years old, my third is 8 years old, and my youngest is 6 years old. Two of my children attended school, but they had to drop out because the school van was too small and they had fights with other children. Also, we are struggling financially; we don't have money for clothing or food, it's very difficult to get by. Many children don't go to school these days."
Agim, is a single father of 5 children because his wife passed away. He says that his family is extremely poor and often times he can't provide food to his children, because the ALL 4,000 economic assistance is insignificant.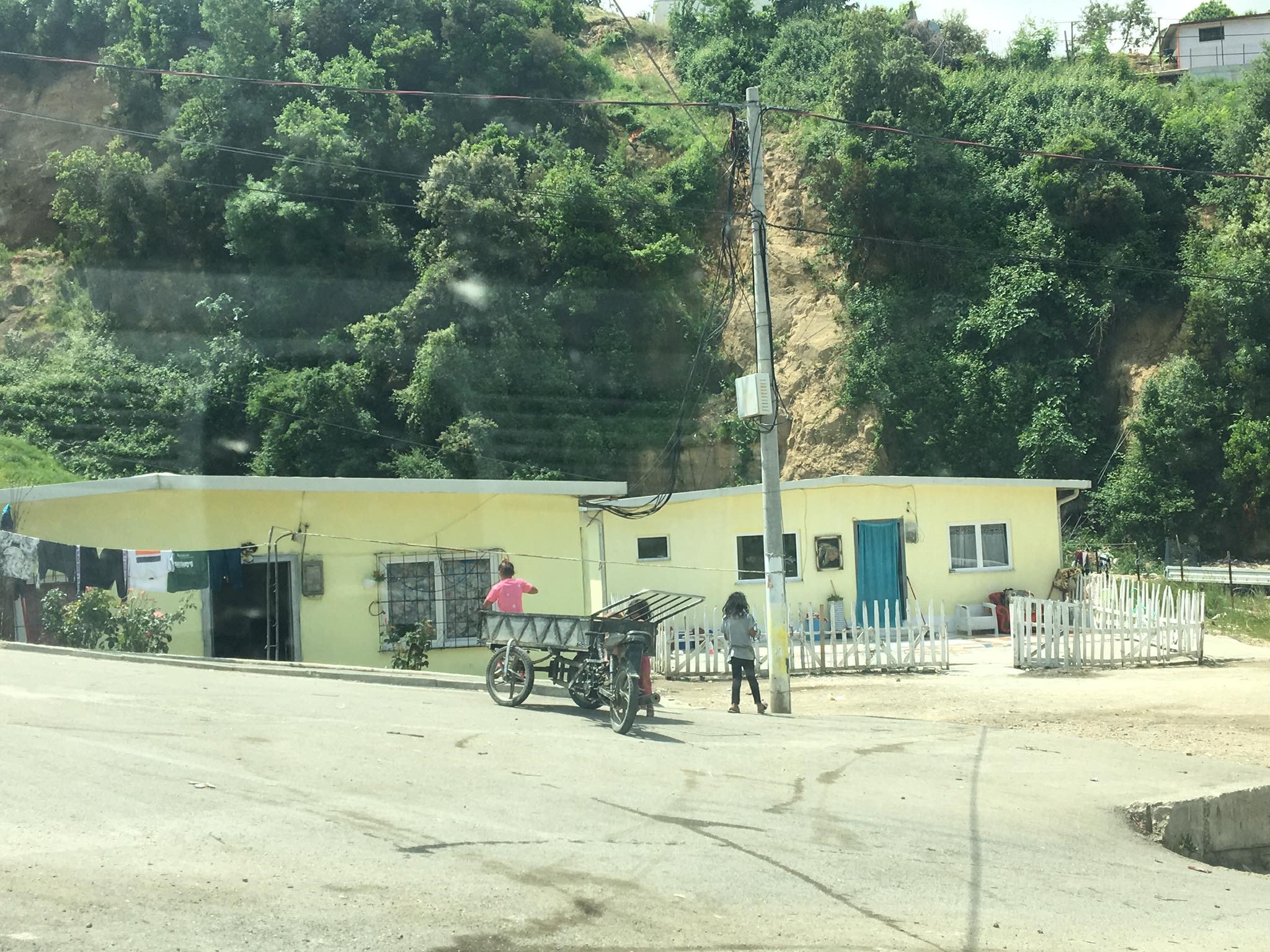 Roma community children getting ready for a work day collecting plastic and scrap, Tirana, May 31, 2021
Faktoje decided to check "Marie Logoreci" 9K school in Shkoza, Tirana, because collective dwellings of the community are located nearby.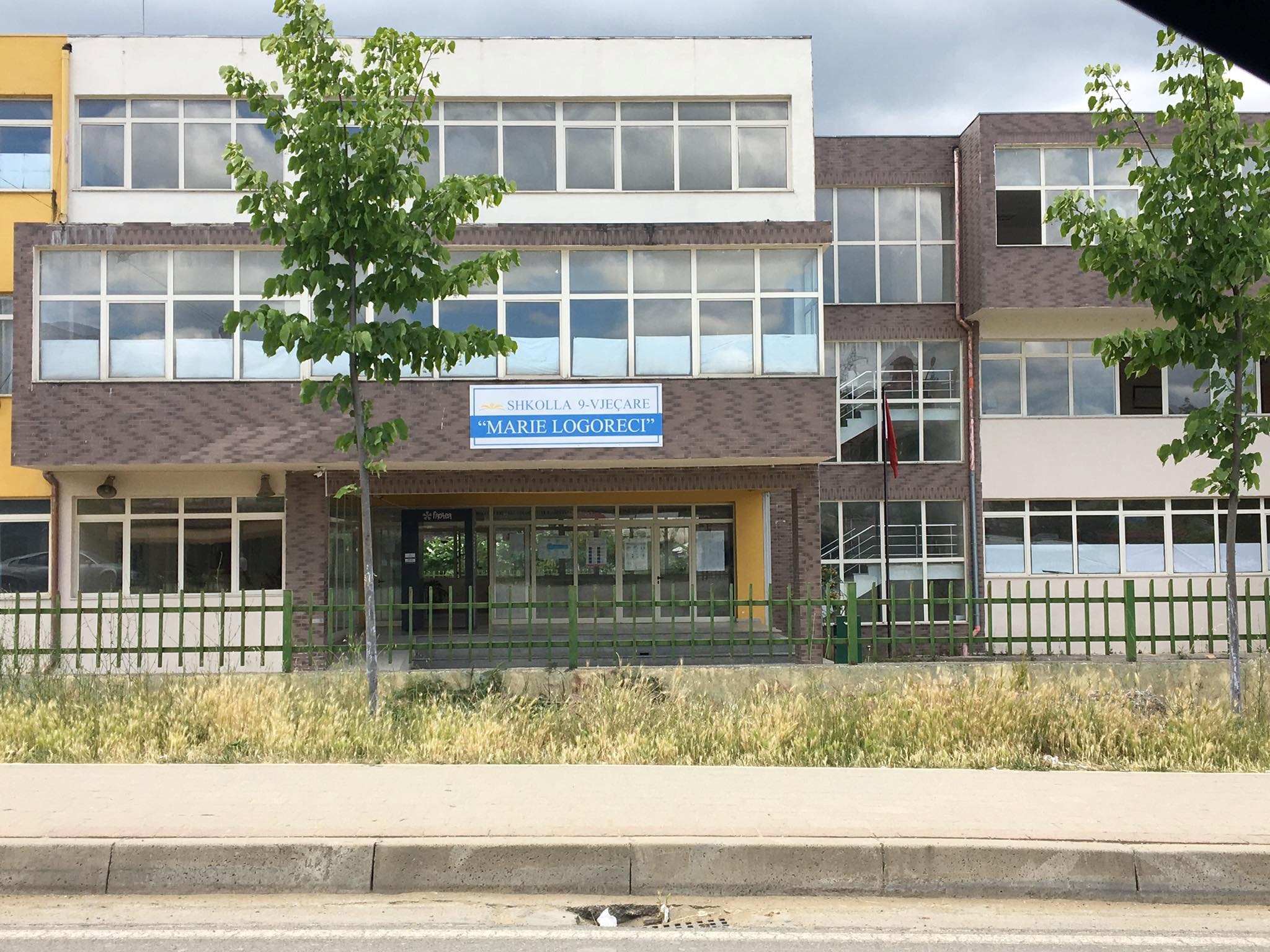 "Marie Logoreci" 9K school, May 31, 2021
We met a teacher who refused to reveal her identity, but confirmed that very few Roma students attend this school. She stated that a few children go to sixth and ninth grade.
"They don't come to school because most of them start working to make a living and help their family." – the teacher told Faktoje.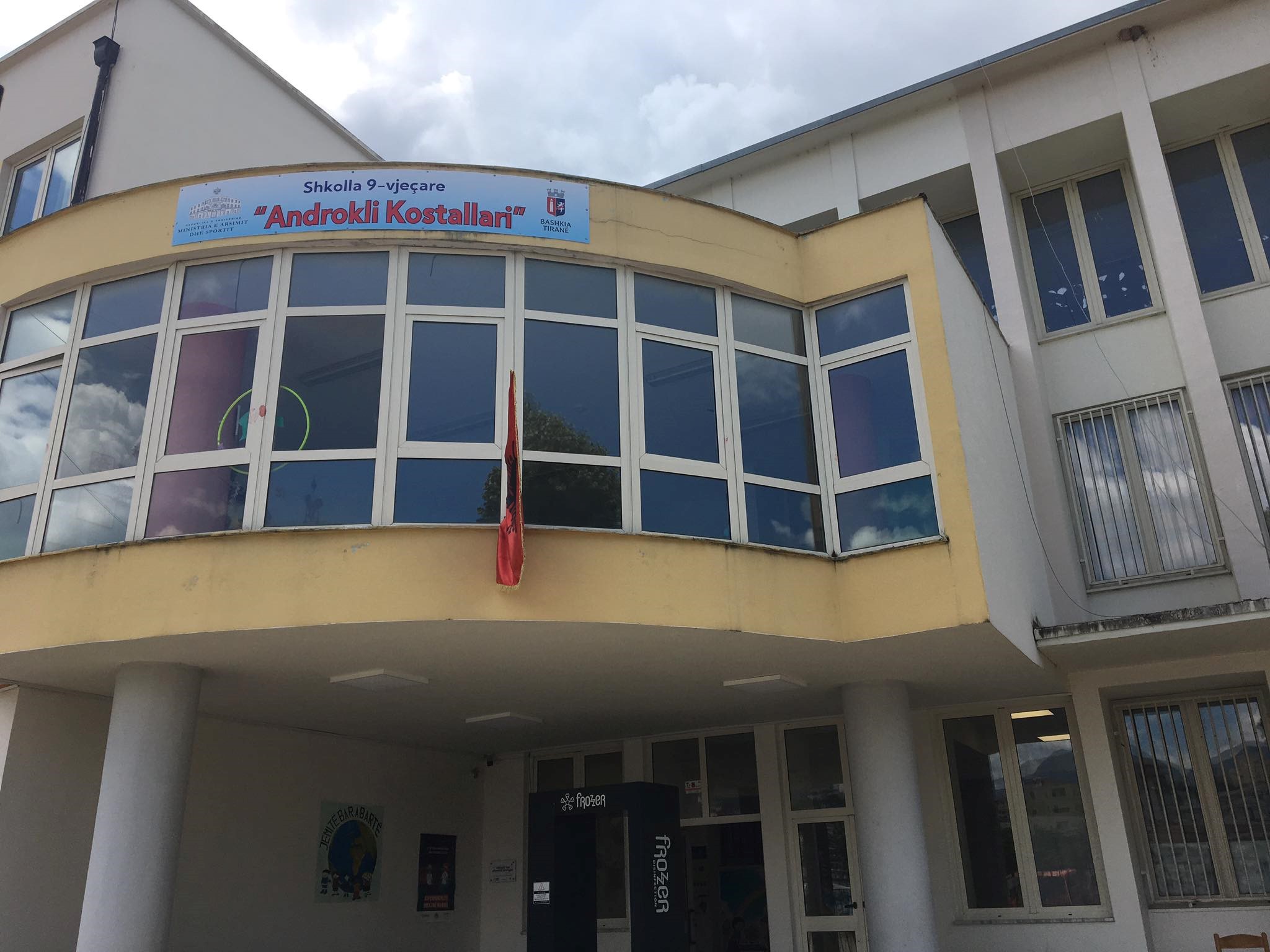 "Androkli Kostallari" 9K school, May 31, 2021
We also attemptedd to communicate with the principal of "Androkli Kostallari" 9K school in Shkoza to ask her about the number of Roma and Egyptian community students. Even though we contacted and obtained an authorization from the Ministry of Education for the interview, the school principal refused to talk to Faktoje.
Children have to work and help their families.
Brendon Xhavara activist was interviewed by Faktoje on the general and school situation of Roma children and he said:
"Social and legal problems of Roma include housing, employment, education and healthcare. As a matter of fact, these are problems encountered by non-Roma families too, by the Roma community is a vulnerable group, which is backed by their long history of problems."
Education expert, Linda Pino, gave a television interview about the deterioration of the Roma and Egyptian children education situation during the pandemic.
"We all know that Roma children wander the streets of Tirana because it's impossible for them to get food or have a phone at home to do their homework. Children are not supervised by anyone because their parents are always working to bring food on the table." – she said.
Different research has been carried out on assessing the needs of Roma and Egyptian communities in Albania.
UNDP reports that during 2016 – 2020, Roma and Egyptian children have suffered from prejudice and hidden discrimination in and outside school, which hampers their participation in education and their integration in the society. The latest research of OSFA shows that 80% of Roma families have reported to speak Romani language at home (first language), while only 20% speak Albanian.
Meanwhile, a research published by United Nations Educational, Scientific and Cultural Organization, (UNESCO) found that 44,000 Albanians are illiterate and cannot read or write. These illiteracy figures that UNESCO shared about Albania refer to the population over 15 years old.
Data on the website of the State Minority Committee show that 20,000 Roma community members live in Albania. "These are the data confirmed by the latest census in Albania in 2011." – the Director of the Committee, Ms. Kostantina Bezhani, stated.
*The US Embassy in Albania and Partners provided financial assistance for this publication. Its content is the sole responsibility of Faktoje and it does not necessarily reflect the views of the US Embassy in Albania and Partners.