Inva Hasanaliaj
Planting of two million trees in Tirana, or the Orbital Forest, is a promise made by Mayor Veliaj promoted even in Tirana 2030 urban plan presentation. A Faktoje's early verification proved such objective of being unrealistic and even on the edge of lies and it was made based on site observations, consultations with experts and with Tirana Municipality itself.
"We set about today in Farka the city's largest greening operation, which will later be called the 'Orbital Forest'. Our ambition is planting 2 million trees in the next 15 years!" – stated Mayor of Tirana Erion Veliaj in front of the citizens on 20 December 2016, a year after being elected to this position. In addition, it even appears as part of Tirana 2030 urban plan, promoted on the website of the Italian architect Stefano Boeri, a Tirana Municipality partner in drafting of this plan. The designer envisaged about 5 years ago that two million trees would occupy an area of over 14,000 hectares in two green rings in Tirana 2030.
Arch. Stefano Boeri presenting the urbanistic plan Tirana 2030
When clicking Tirana 2030 hyperlink found on the presentation, a notification appeared showing that page might have been deleted as illustrated by the following screenshot.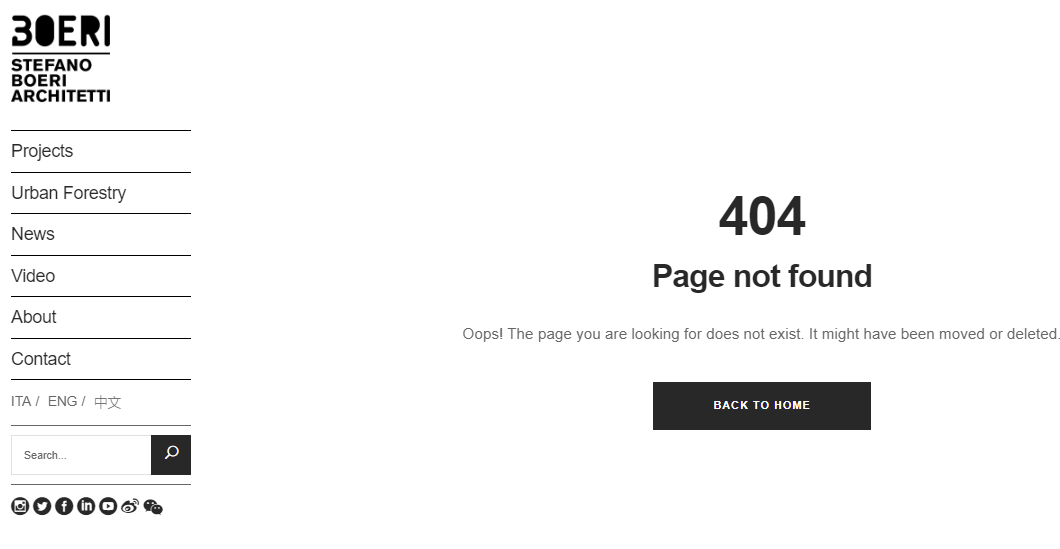 An early verification of Faktoje has proved that unlike what was planned, the capital is prevailed by increase of concrete areas against the green ones. However, communication with experts and Tirana Municipality have shown other elements proving unfulfillment of the promise to plant two million trees in Tirana by 2030.
Experts: Objective is reached by planting 120,000 trees per year!
Prof. Aleko Miho says that planting of two million trees can be achieved only with the voluntary commitment of Albanian youth and that this process is not done throughout the year, but during December-March.
Regarding the Botanical Garden, currently under University of Natural Sciences, (but in the Tirana 2030 project, it is envisaged as part of the Orbital Forest), Prof. Miho clarifies the need to not plant this garden with trees as it has other purposes.

As for the Botanical Garden, the case is still in the Court of Appeal for unjust transfer of ownership and co-administration from the Government to the Municipality. Botanic Garden does not actually need any planting of trees; therefore, afforestation taking place outside the Garden it's not in line with the Garden's true mission: On-site recognition, collection and preservation outside the natural habitat (ex situ) in the Garden of Flora species of Albania, especially of the rare, threatened and endemic ones; These can be not only forest trees, but mostly shrubs, vines, herbaceous plants (one-, two- or perennial). This is done by the Garden's group of experts, the National Herbarium, Department of Biology, Faculty of Natural Sciences and University of Tirana by assisting the recognition and advising over protection directly in their habitat; furthermore, by through planting, breeding and further care inside the Garden; Also, experts of the Garden can help with the recognition, collection and dissemination of seeds of interest, not only within the country, but even in similar institutions of the region and beyond;
Fragments of Prof. Miho's answer
In addition, Prof. Petrit Hoda, Lecturer at Research Centre for Flora and Fauna and Director of the Botanical Garden states for Faktoje that 120,000-130,000 seedlings should be planted each year to reach the goal of two million trees by the end of 2030.
However, according to an official response of Tirana Municipality to Faktoje about the process' progress, our estimation showed that 115,857 trees and bushes have been planted from 2017 until today.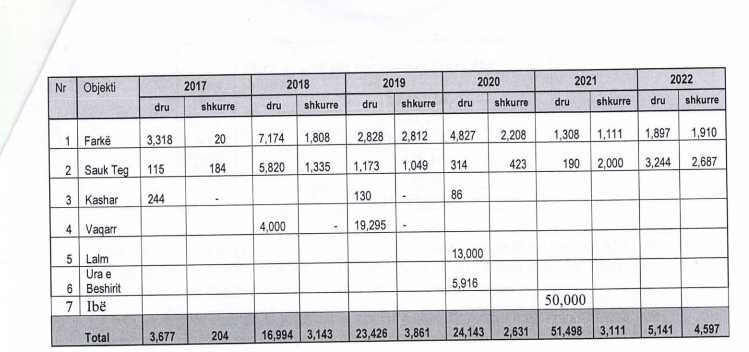 Tirana Municipality's response to Faktoje.al
Such figures show that one million 884 thousand trees, or approx. 18 471 trees per month must be planted now on for eight and a half years until 2030. Realising this scenario is obvious and further comments are needed.
Furthermore, experts also indicate the issues coming from the types of trees that will be planted According to Prof. Hoda, the main problem remains the quality, i.e., what species of trees or shrubs will be planted.
"From the lists of map no. 4 of species that are to be planted, I saw incoming species, ornamental plants and not of our nature. The latter, i.e., wild plants are better able to withstand environmental conditions, can be obtained locally and have lesser costs. Yes, ornamental plants can also be used, however they should never be dominant. I did not see local plants easily growing in Tirana surroundings in the list"– says Prof. Hoda.
Following this communication, Faktoje made an on-site verification of two of the areas included in the Municipality's response to Faktoje as areas where new trees have been planted in the last 5 years.
At Kashari Lake Park, where 244 trees were planted in 2017 according to Municipality, we noticed some trees planted only on one side of the lake.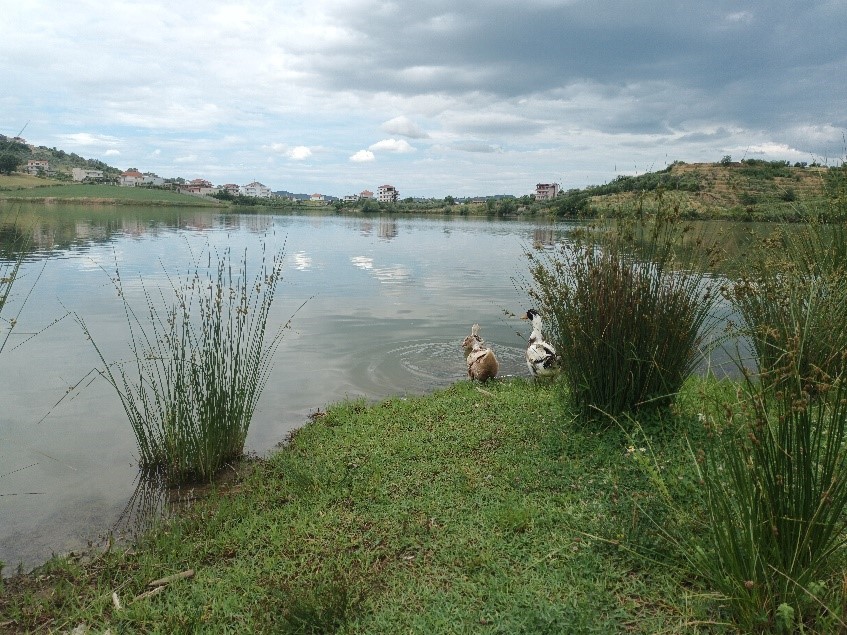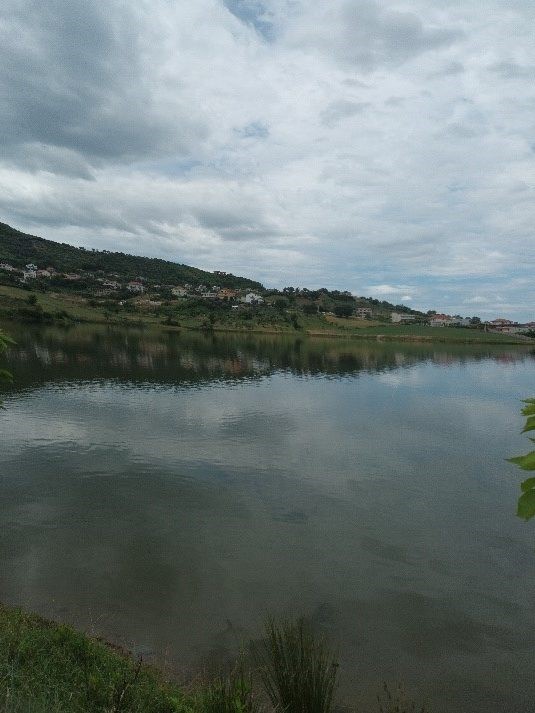 Picture of Kashari Lake area, June 2022
Municipality – Lack of budget for the "Orbital Forest", waiting for donations
In its official response to Faktoje, Tirana Municipality confirmed the lack of a specific budget for the "Orbital Forest" project.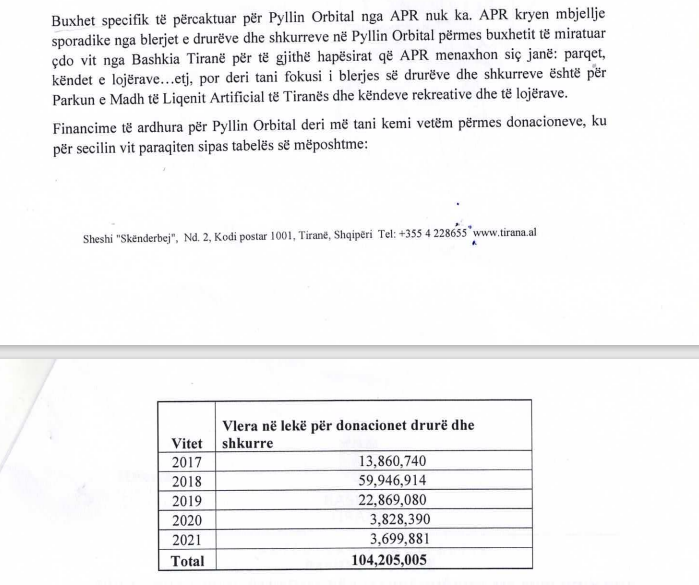 There is no specific budget set out for the Orbital Forest by APR. APR sporadically plants from purchases of trees and shrubs in the Orbital Forest by use of the yearly approved budget of Tirana Municipality as for all the spaces under APR such as: parks, playgrounds…. etc., however, the focus of buying trees and shrubs so far is on the Great Artificial Lake Park of Tirana and recreational and playground areas.

Donations has been so far the only funding resource and they are presented for each year in the following table

Tirana Municipality's response to Faktoje.al
According to the official answer, Park and Recreation Agency receives a budget from the municipality for planting trees and ornamental plants for every park in Tirana, but not specifically for the Orbital Forest project. According to the Municipality, incomes are mostly coming through various donations, thus comprising another argument falling the mayor's promise of planting two million trees in the capital.