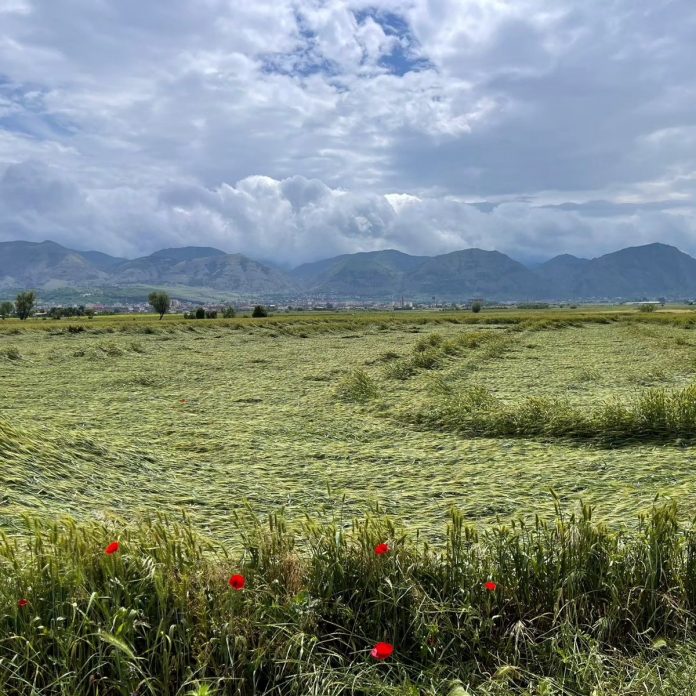 Journalists: Sonja Petrushevska Popovska, Viola Keta, Esmeralda Topi, and Svetlana Paramentiq
The increasing trend of land destruction, which started with urbanization, pollution, and harmful land exploitation methods for higher yields, is further intensified by climate change. In addition to droughts and other climatic changes affecting agricultural land, irregular precipitation increases the risk of degradation due to erosion, reducing the biological productivity of the soil. All of this contributes to the decline or disappearance of vegetation and organic matter. The article below presents the situation in three countries of the region: Albania, Macedonia, and Serbia.
Unproductive Land
Thousands of hectares of arable land are irreversibly lost and abandoned, while the warnings of experts and farmers leaving their fields due to bankruptcy are ignored by institutions. The degradation of land in Northern Macedonia, Albania, and Serbia is reducing food productivity, endangering the livelihoods of thousands of farmers, and undermining the economy.
In Northern Macedonia, out of 517,000 hectares of arable land, more than 150,000 hectares, or one-third, have been abandoned due to rural-urban migration.
Millions of cubic meters of arable land are destroyed each year due to erosion, and tens of thousands of hectares are subject to salinization and other forms of degradation. A surface area of 240,000 hectares is now unproductive land; previously fertile lands have been urbanized and permanently lost.
Tatjana Mitkova, a professor at the Faculty of Agriculture in Skopje, explains that land is a limited resource, and it takes thousands of years to create just one centimetre of it.
"Of course, there must be infrastructure, there must be constructions, there must be roads, water reservoirs, but what concerns us recently is the serious problem that Europe also faces, which is one of the ways of degradation – labelled as sealing or reuse. It is troubling when this reuse occurs at the expense of the most fertile areas. We don't have land for export here, and nobody exports or imports it. What we have, we must take care of, take measures to preserve and improve it, and leave it to future generations," says Professor Mitkova.
In Northern Macedonia, there are 16 hotspots of land degradation. Accidents in mines and slag flows have contaminated the land with heavy metals, while land reclamation is not being done due to high costs.
In terms of remaining arable land for food production in Northern Macedonia, eight percent is of the first and second grade, while the rest is of lower quality.
"The research shows that up to 40 centimetres of soil are contaminated, and even more alarming is the fact that plants in the vicinity also grow in gardens. These plants are consumed fresh and even uncooked, and they contain heavy metals multiple times. If we want to decontaminate this layer of soil, we would need to dispose of somewhere around 60,000 to 70,000 truckloads of it. This is a very complex and expensive task that requires a lot of knowledge and finances, which is probably why we have not yet moved from the dead end ", explains professor Mitkova.
In both Serbia and Albania, fertile land is decreasing. The concern in Serbia is that half of the territory could turn into a desert due to significant drought, while in Albania, crop yields and food production could be drastically reduced. Predictions for Macedonian agriculture are not optimistic either.
Vojvodina – The Granary or the Desert of Europe.
A large part of Serbia's territory is at risk of turning into a desert, a process initiated as a consequence of land mechanization for higher yields and the use of artificial fertilizers, further exacerbated by climate change. This process occurs when, due to high temperatures in Serbia, the organic matter of the soil dries up and transforms into desert.
Professor Ana Vukoviq Vimiq from the Faculty of Agriculture says that with climate change, this process will intensify.
"The territory of Serbia, which has a moderate humid climate, will enter the category of a semi-arid climate. This implies that there will be a risk of desertification due to unfavourable climatic conditions. Solely because of the change in climatic conditions, approximately 52% of the territory will be at a moderate risk of turning into desert, while about 30% will be at a high risk," explains meteorologist Vukoviq Vimiq.
Alongside drought and other climate changes that affect agricultural land, irregular rainfall increases the risk of degradation due to water erosion, collectively reducing the biological productivity of the soil, leading to the decline or death of vegetation and organic matter.
Josip Maçkoviq, a farmer from Vojvodina, says that even 20 years ago, experts had predicted such climate changes, that the land would start to dry up due to irregular rainfall and the lack of humus.
"If humus is preserved in the soil, it retains moisture and helps plants survive dry periods. Unfortunately, nobody cares about this; the land is depleting, and we don't give back what we take from it. This will inevitably result in aridity or weak crop yields," explains the Vojvodina farmer.
The humus in the former granary of Europe has halved – although over 75 percent of the land is covered by black soil, which contains a high percentage of humus.
On the other hand, it is observed that in recent decades, the summer season is becoming drier, while temperatures are rising.
"The consequences of these climate changes have led to an increased demand for irrigation water, as well as the need for chemical treatments to protect plants from diseases and pests," declares the professor from the University of Agriculture.
The uncertainty has forced farmers to reduce the cultivated areas.
"Besides the fact that there are very few young people engaged in agriculture in the villages, the climate is also doing its part, scaring those of us who are still involved in farming. For example, last year, we planted 60 hectares with wheat, but we ended up with losses in the end. Just when the wheat was about to blossom, a hailstorm hit and damaged over 80% of the planted area. All the effort and money went to waste," says Evelina Fezollari, a farmer from Pendavinj village, pointing out that last year, the area cultivated with wheat increased for the first time in many years because the government decided to subsidize farmers due to the conflict in Ukraine.
"This year, our crops are far behind because the temperatures have been atypical, unusually low, and we are looking up to the skies… This year, we planted less out of the usual fear, we planted 40 hectares with wheat, but we are at the mercy of the weather. We hope the weather warms up, and we can start harvesting in July," says the farmer from Albania.
Dr. Jordana Ninkov, a scientific advisor in the field of environmental protection, physics, chemistry, and soil biology, says that today half of the arable land in Vojvodina has an average level of humus, while the other half is at a low level.
"It is estimated that in the last 70 years of intensive agriculture, we have lost half of the humus reserves in Vojvodina. This declining trend of humus is continuing, which is concerning," says Dr. Ninkov.
Unforeseen climate changes halved agricultural yields.
Facing the consequences of climate change in Albania is becoming an urgent and essential problem. With approximately 420,000 hectares of agricultural land, this sector constitutes 20 percent of the gross domestic product (GDP), and about 40 percent of the total population lives in rural areas, where the primary activity is agriculture. However, the erratic weather patterns have damaged their crops, causing estimated losses of $100 million.
"As a result of these changes, significant floods have occurred in the last ten years, damaging thousands of hectares of wheat and other crops. Based on assessments made by agricultural experts, the damages caused by these floods in the past 10 years amounted to approximately $100 million in agricultural production alone," says Professor Ndoc Fasllija from the Faculty of Agriculture in Tirana.
The Advisor at the Ministry of Agriculture, Fatmir Guri, does not anticipate a significant decrease in the agricultural land area and announces that, together with the World Bank, a project will be implemented to mitigate the impact of climate change.
" Today, we have earlier spring rains and later autumn rains compared to twenty years ago. Therefore, I believe that the main focus of the efforts of the Albanian government and the Ministry of Agriculture should be on the most efficient utilization of these water resources, making them available to farmers, but also reducing the use of water resources for cultivated land," he emphasizes, stating that there is a concrete plan for this.
The unexpected rains of this year, 350 ml/m2 in just a few months, also destroyed the potatoes in Macedonia, left vineyards vulnerable to diseases, and flooded the wheat fields.
Mitat Ismailovski, who has been cultivating 400 hectares of wheat, maize, sunflowers, and apples in Pellagonia since a young age.
" This can no longer be endured; I am thinking of selling the tractors and everything and leaving farming ", said Ismailovski.
" The wheat is starting to wilt and turn yellow, and the apples are ready for harvesting – they don't need rain now. We provide food for everything, from the worm to the king, and nobody thinks about us. We are stuck with debts, purchases are at low prices, and we are left with nothing. The young people are leaving, farmers are leaving the fields; let the state think about who will feed us," complains Ismailovski.
The rain has also affected the vineyards. "Our production has disappeared, it's gone," say the vine growers of Negotino, among the most affected by climate change. The fungus disease that has affected the vine leaves in recent years turns them into crystals, makes them dry up, and fall to the ground as if there had never been a vine there. Every year we suffer damage from climate change, says farmer Vaska, concerned that she won't be able to spray the vineyards and protect the crops from diseases that arise due to intensive rainfall because the humidity washes off the protective agents, and they are ineffective if applied to wet leaves.
""The climate has changed unexpectedly; there hasn't been a year without damages from climate change. Last year, there was no place in the Negotino region that didn't experience hail, and the rain started to fall before the grape harvest, causing significant damage because just when the grapes ripen, a disease called botrytis appeared, causing them to rot. All of this was caused by heavy rains. It was somewhere in August, and I can say that it rained throughout August. Now look at April, May, and June; we are again facing rainfall. All of this discourages vine growers and leads to abandoning the work," says Mojsovska.
Prices have been an additional problem for farmers this year. Agriculture expert Milan Prostran says that last year, prices fell, and farmers went bankrupt due to the high costs of planting wheat, corn, and sunflowers.
Myths vs reality
To meet domestic needs, North Macedonia requires around 300,000 tons of wheat, but production has been continuously declining for several years. While in the year 2000, 300,000 tons were produced, in 2022, production dropped to 224,632 tons. In just three years, from 2019 to 2022, there has been a reduction of 4,000 hectares in wheat cultivation and 400 hectares in rice cultivation.
Source: State Statistics Entity
Experts expect that with every degree increase in temperature, wheat yield will decrease by up to six percent, while for corn, there are two scenarios – the yield will decrease by 10% or between 10-25% by 2025. But there is also a risk for other crops.
"One of the most critical sectors under the serious threat of a drastic reduction in production is the vegetable sector, where we have a significant decrease in the production of almost all traditional crops. For example, tomato production has decreased by an average of 60% in the last 3 years," says Blagoja Mukanov, the executive director of "AGfutura Tehnologii," an expert in applied economics and international development in agriculture.
He adds that if this work pattern continues, which directly affects the competitive advantage of Macedonian agricultural products, an increase in imports is natural to be expected. One of the most dangerous scenarios is that neighboring countries, which are the largest competitors in strategic agricultural subsectors, will increase their presence in the Macedonian market.
Even fruit trees are not immune to climate change. According to agrometeorologist Angelko Angeleski, the occurrence of early spring snowfalls (March and April) has a negative impact. Especially on early varieties of fruit with blossoms (cherries, apricots, peaches) and trees like almonds or walnuts, which usually bloom first, and temperatures around -1 or 0 degrees can freeze them. The problem of this situation, he sees in the wrong policies towards farmers, namely in providing subsidies that are not utilized for improving production or purchasing machinery – for increasing production and the quality of the food produced. Mukanov and Angeleski agree that a serious structural reform of land policy is needed to consolidate agricultural production, to achieve economies of scale, and better competitiveness.
In Albania, the yields of wheat, vegetables, onions, grapes, and olives have also decreased. The Ministry of Agriculture of Albania acknowledges that this trend of declining yields is expected to continue in the future.
"It is predicted that even in Albania, we will have a decrease in yields, influenced either by extremely hot summers or very hot springs, especially in the flowering phase of some of the fruits that are among the main products we export, such as olives," says Fatmir Guri from the Ministry of Agriculture of Albania.
The issue of food shortage became relevant after the war in Ukraine, while the cooking oil crisis was resolved with the help of Serbia, which raised the export ramp. Although Vojvodina currently has sufficient reserves of wheat, corn, and other crops, its productivity has decreased.
Slagjana Glushçeviq, the editor of the agricultural portal "Agrosmart," says that it's a matter of time before Vojvodina, known as Europe's granary, turns into a desert.
"For decades, we have been hearing that Vojvodina is the granary of Europe, that it can feed all of Europe, which is actually just a myth. It is repeated continuously like a mantra, but in reality, it is not like that, considering the cultivated areas of around two million hectares and the productivity – more productivity is expected from those areas. When we compare with other European countries, we see that it is not really like we think, especially not in recent years when livestock is disappearing, and the fields are becoming weaker. So, from the fact that Vojvodina is considered the granary and the best arable land, I am afraid that – I don't know exactly how long – but very soon it will become the desert of Europe," says Glushçeviq.
In the Ministry of Agriculture of North Macedonia, they say that after the food crisis, several measures have been activated, and a national plan for the protection of local production has been approved. More land is being offered for cultivation – an additional 13,000 hectares were planted in 2022, and farmers were offered subsidies to plant important strategic crops. The damages caused by the war in Ukraine, due to export blockades and similar issues, were covered by the Emergency Fund. However, taking care of the land and ensuring domestic production cannot end with these measures alone.
How can a catastrophic scenario be prevented?
The apocalyptic findings of the United Nations Food and Agriculture Organization (FAO) reveal that every five seconds, an area of land equivalent to a football field is degrading worldwide, and by the year 2050, almost 90% of the land will be at risk of degradation. Furthermore, a temperature increase of 1 to 2 degrees Celsius is predicted by 2050, along with a decrease in precipitation by 5%.
Due to limited financial and land resources, the Faculty of Agriculture in Skopje urgently demands the adoption of land laws and regulations for maximum allowable concentrations of heavy metals, following European parameters. Professor Markoski from the Faculty of Agriculture emphasizes that the safety of the food we consume depends on the quality of the land.
In North Macedonia, only the Soil Department has a specialized laboratory where the physical and chemical properties of soils are analyzed, enabling farmers to monitor crop productivity and receive advice on the need for additional nutrients, particularly crucial for perennial crops where investments are high and every mistake is costly.
" When establishing plantations of perennial crops, if we have a high level of subsurface water, a farmer who intended to set up such a plantation should not do so initially. The limiting factor there is the level of subsurface water, or, in the opposite case, in lands with a high concentration of calcium carbonate, alkaline lands with a high pH level of 8.5-9. If someone wants to grow agricultural crops that require a slightly acidic reaction, they cannot produce such a crop on those lands. We provide guidelines on which zones and agricultural crops should have priority," says Markoski.
" In addition to soil monitoring, a priority should be the establishment of an irrigation system, agro-zoning, support with hail suppression rockets, and changing the crops to be cultivated. Now we have entire plantations of olives, kiwifruits, and warm climate crops like goji berries, kiwi berries, elderberries, etc., introducing varieties that can withstand lower temperatures and are more resistant," adds Angeleski.
Climate change is a story that has just begun to be told, and its consequences threaten to be catastrophic. Agricultural practices for food production in all three countries are not ready to respond to the impact of the climate tsunami. If our "weapons" are reduced to mere plans and strategies for the future, then in the present, we will witness an even more intensive destruction of the land and food reserves.
* This content was prepared by the Institute for Communication Studies in North Macedonia.
Camera: Nake Batev
Editing: Fani Goshevska Zhivkoviq