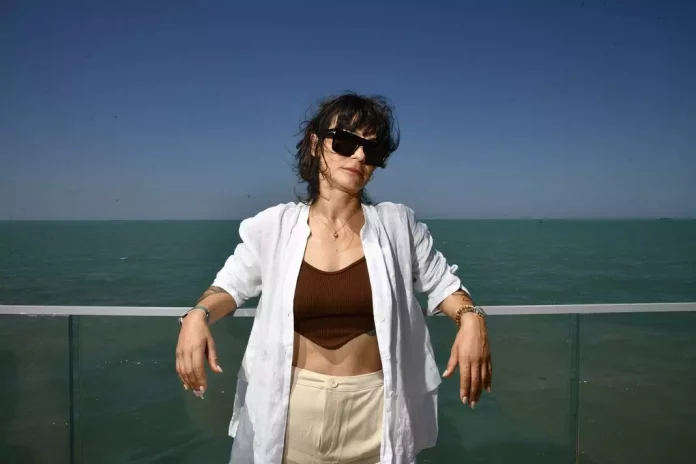 In Albania, women actively involved in public life encounter gender-driven disinformation campaigns across social and online media platforms. Activist Zhaklina Lekatari stands among those affected, consistently confronting disinformation, hate speech, and sexism in both digital and conventional media outlets.
Esmeralda Topi 
In the early hours of April 26th, Zhaklina Lekatari, a renowned activist and the guiding force behind the "Tabu.al" blog for the past 6 years, was journeying southward in her car through Albania. Approximately two hours into her drive, the activist's phone suddenly came alive with a flurry of notifications and incoming calls.
'I grasped the situation from a message my colleague sent, inquiring about my well-being and the incident involving my car. Concurrently, they shared the media link where the news had been published, featuring a photograph of myself.', says Lekatari.
While on her journey south for work purposes, the Jeta osh Qef Albania portal had released a news article alleging that the activist's car had been attacked overnight.
'Exclusive/Zhaklina Lekatari's Car Damaged, Windows Smashed in Parking Lot Overnight.', wrote the JOQ portal.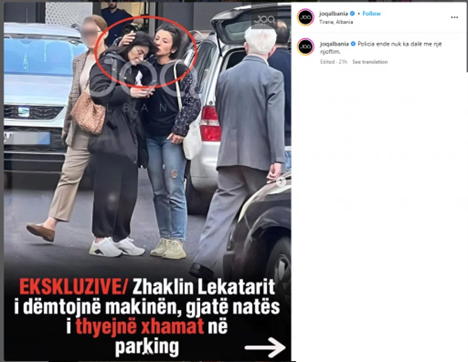 "Something that is absolutely not true," she says as she recalls the events of that day.
'The article falsely depicted that my friend was consoling me, implying desperation over my car's shattered windows during the night, which they linked to my participation in a television show," Zhaklina explains. 
The only issue the activist had on the morning of April 26th, just before setting out for her work trip, was related to a neighbour of hers, and there was no way this was related to any damages to her car.
'I also serve as the administrator of the building where I reside, and there is a hotel/motel on the ground floor of the same building. Throughout the night, there was excessive noise. In the morning, I approached my neighbour, who happens to be the owner of the hotel, to address the disturbance we had endured. Witnessing his aggressive behaviour and physical aggression towards me, I chose to involve the police. My sister was present, accompanied by her husband. Police arrived and the situation stemming from the noise issue with my neighbour's hotel was resolved," says Lekatari, shedding light on the actual events of the morning of April 26th.
'I have faced verbal violence, hatred, and harassment due to my engagements, as well as simply because I am a woman. Persistent harm has been inflicted upon my car, although this specific incident was not true. On that day, my car's windows were not shattered.', affirms Lekatari.
Nonetheless, the images captured while the activist was addressing the noise dispute with her neighbour, in cooperation with the police, were exploited by the "Jeta osh Qef" portal to disseminate a fabricated news report regarding car damage. 
'I opted not to take any immediate action; instead, I decided to observe how the situation would develop across different online platforms. However, my sole course of action was to communicate with the police.', she says. 
In the meantime, the article gained extensive traction on other online portals, accompanied by attention-grabbing headlines: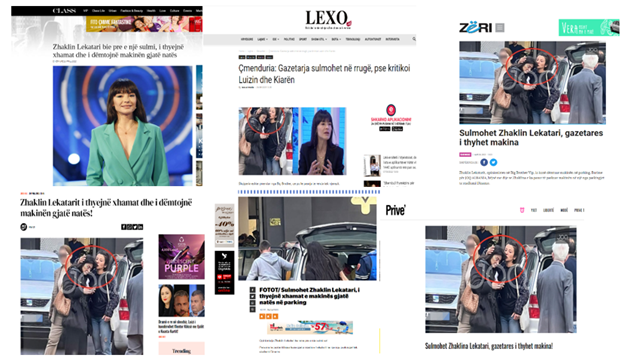 'Zhaklina Lekatari Attacked, Journalist's Car Vandalized!' ' Zhaklina Lekatari Falls Victim to an Attack, Car Windows Smashed Overnight.' 'Outrage: Journalist Assaulted on Street After Criticizing Luis and Kiara.' 'Zhaklina Lekatari's Car Faces Nighttime Vandalism with Broken Windows!'
None of these portals had contacted the activist to confirm the JOQ news. 
'The news was simply spread by the portals. No journalist, except for you from Faktoje, contacted me to inquire about the incident before publishing the news.', Lekatari says with regret. 
State Police Reaction
Due to the magnitude the incident was gaining, the State Police issued a statement refuting the news.
'Regarding a news article published on portals about a damaged vehicle near the 'Dinamo' stadium, we clarify that the news is false. The Tirana Local Police Directorate requests the understanding of the media, and before publishing news, they should seek information from the Tirana Local Police Directorate.', read the State Police statement on April 26th.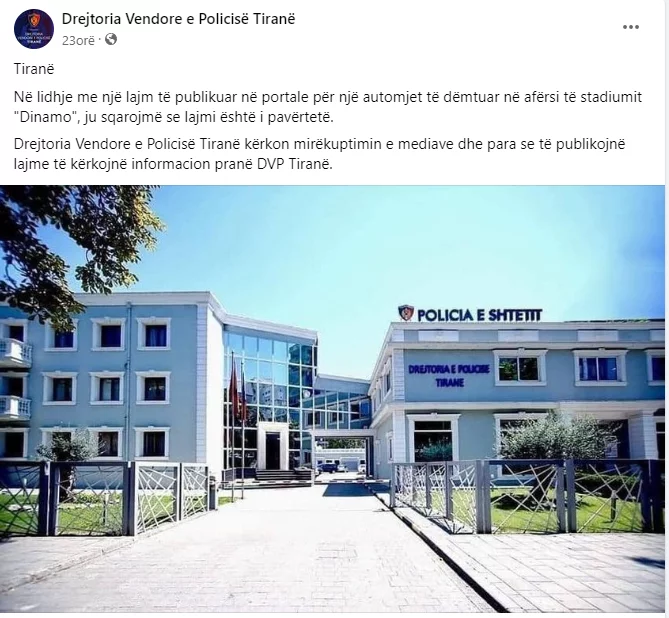 'I waited for the police statement to be released, intending to share it on my social networks. My aim was to provide a public lesson and also address the ongoing issue of media spreading misinformation.', says Zhaklina. 
After the news was refuted, the JOQ portal published another article that included the reaction of the State Police.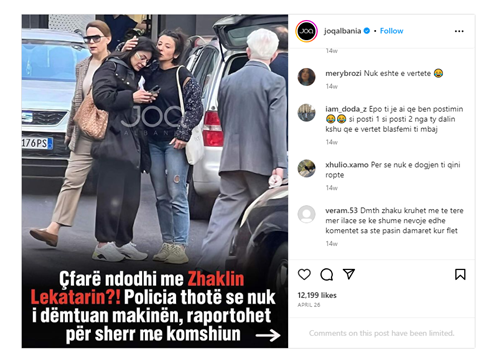 'According to a police statement, there is no car damage reported, yet they haven't explained the reason for involving law enforcement. Why did the officers respond? Is there something being concealed?', JOQ Albania writes, reigniting a surge of derogatory remarks towards the activist.
Meanwhile, other online platforms continue to feature the news of the car damage, even though both the State Police and the activist have refuted it. 
This is not an isolated incident. Zhaklina Lekatari has already been previously targeted by misleading reports disseminated through portals that prioritize clickbait over fact-checking. "Faktoje" has already emphasized how such a portal  boasting over 2 million Facebook followers can evolve into a source of disinformation  by uncritically sharing public information without verification. 
Furthermore, even traditional media contribute to the perpetuation of gender-based misinformation
While the Women's Empowerment Network in Albania acknowledges that the most prominent gender-based misinformation issue is evident in social and online media, the facts demonstrate that traditional media has also fallen prey to this phenomenon. 
In response to an inquiry, the Audiovisual Media Authority acknowledges that there have been two cases of gender-based discrimination in public broadcasts. In both instances, the AMA states that it has issued a warning to the television station. One of these cases involved verbal violence against activist Zhaklina Lekatari. 
'On September 29, 2022, during the "Invitation to 5" show, a studio discussion was recognized that escalated into verbal aggression, leading to the public humiliation of a female guest by a male guest communicating through Skype. The aggressive guest employed inappropriate language and openly utilized derogatory terms associated with gender discrimination. The moderator's efforts to curtail the insults and offensive comments were hindered, resulting in an unethical exchange lasting approximately 15 minutes.', states AMA.
However, according to Zhaklina, this is not an isolated incident. 
'I've had situations where I was invited to a show, and the show's title was: 'Everyone Who Hates Zhaklina Lekatari.' I chose not to accept the invitation because it seemed ridiculous that they would reach out to me, attempting to entice and flatter me with a title like 'Why does everyone hate Zhaklina Lekatari".' , Lekatari explains. 
Impunity
Ines Leskaj, Executive Director of AWEN – the Women's Empowerment Network in Albania, emphasizes the pressing issue of gender-based misinformation, which has escalated into a grave concern, especially in recent years, within the realm of social and online media. 
 "This is due to the fact that the majority of them are completely unregulated. There are many media outlets that have abused various pieces of information, spread misinformation, misinformed, and occasionally fuel hate speech, particularly towards girls and women. We have often raised concerns that online media fail to adhere to the basic principles of their profession and mission.", says Leskaj, emphasizing that Albania lacks legal mechanisms to address this issue. 
"Recent changes have been made to the media law where we have also presented some suggestions related to sexism issues, but it still doesn't fix the broad problems of portals and online media. So far, AMA has not resolved anything for traditional media through fines or other measures, despite the warnings it issues to the media. Perhaps something needs to change regarding their accountability.', she states, highlighting the absence of proper legal mechanisms.
Activist Zhaklina Lekatari also sees the necessity of finding these mechanisms. 
'I'm uncertain if there are institutions here that stand by the Discrimination Commissioner, who is my sole support. Nonetheless, his authority is limited; his utmost capacity extends to issuing statements and levying fines, nothing more. His influence lies primarily within administrative realms. My aspiration is for tangible outcomes that will uplift the quality of my life.' – hopes activist Lekatari.