"So, what if Zelensky is Jewish? The fact does not negate the Nazi elements in Ukraine. I believe that also Hitler had Jewish blood" – told the Russian Foreign Minister Sergey Lavrov on 1 May 2022 in an interview with the Italian news channel Zona Bianca, adding that "some of the most ardent antisemites are Jewish".
The statement of the Russian Chief diplomat that Ukraine's President is Jewish, emphasizing that Hitler "had Jewish blood" also goes in line with Moscow's claims and propaganda, that the beginning of the war in Ukraine began "to de-nazify" the country .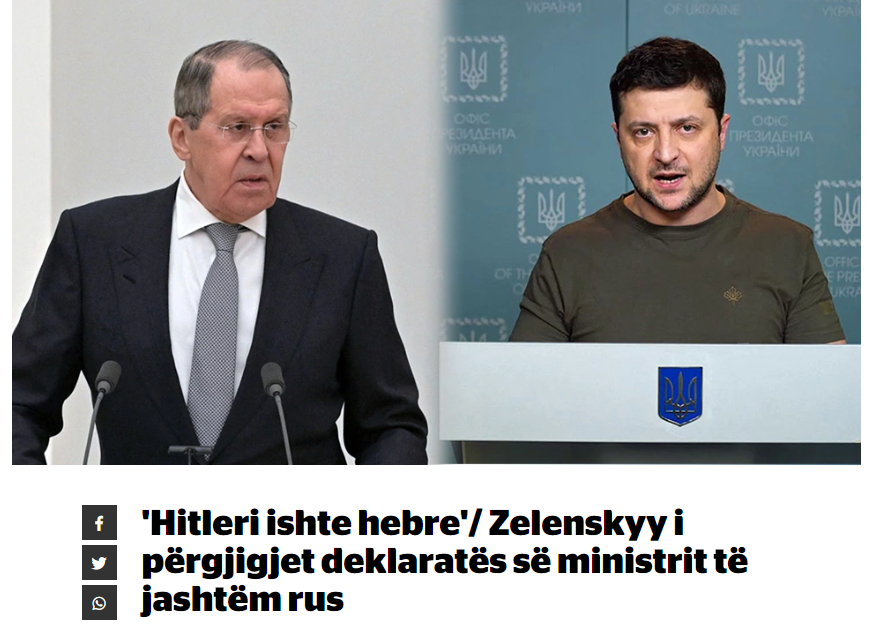 Hitler was Jewish/Zelensky responds to statement of the Russian Foreign Minister
"Hitler was a somehow Jewish" Lavrov's statement aggravates relations with Israel; "Zelensky is Jewish: But so was Hitler": 'Hitler was Jewish'/Zelensky answers the statement of the Russian Foreign Minister;
These are some of the headlines shared in the Albanian media following the statement made by the Russian Foreign Minister Mr. Sergey Lavrov on one of the Italian televisions, where many of them took and published the same news without caring to quote the exact source and context of the statement.
How did such a propagandistic statement affect the audience?
Propaganda's war during these two months has gone in line with the war and unfortunately, such statements, incite and misinform the public being the daily consumer of news.
A simple google search shows approximately 100 news were published in various portals in Albania following such statement.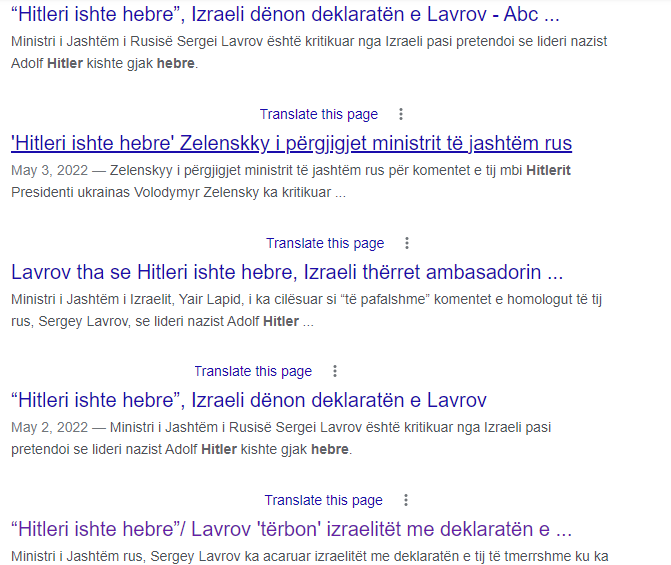 Screenshot, news published in the framework of the Russian Foreign Minister Mr. Sergey Lavrov
Nazism is an important part of justifying Russia's war on Ukraine. In his bid to legitimize the war for Russian citizens, the President Vladimir Putin has portrayed the battle as a war against the Nazis in Ukraine. Following the publication of such news on social media, there have been many citizens believing it as true.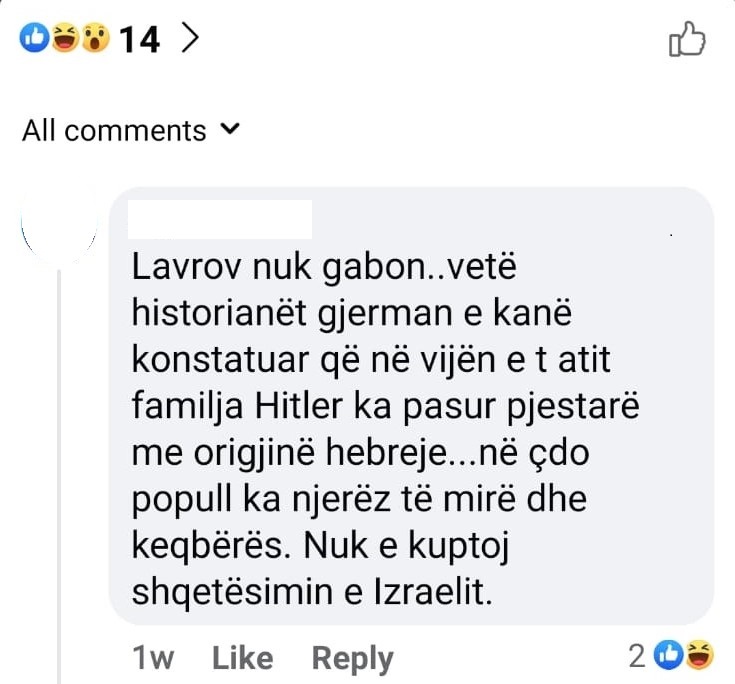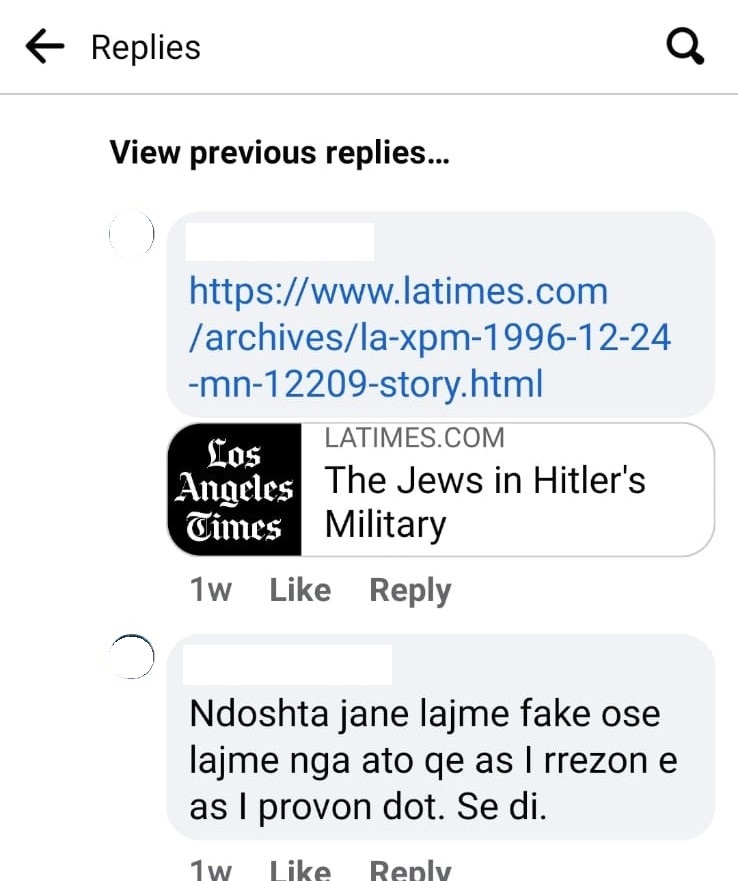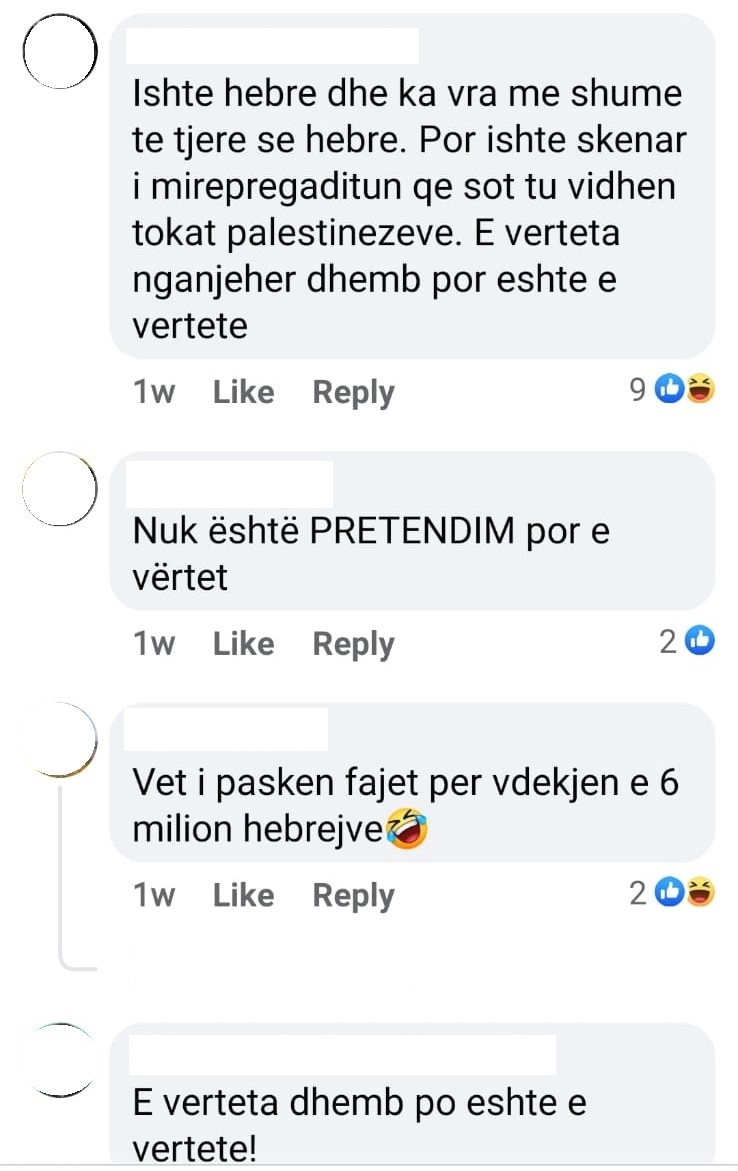 Reactions on social media networks of different Albanian citizens on Lavrov's statement
Faktoje asked the Deputy Minister of Social Affairs and Technology of Ukraine, Kostiantyn Koshelenko, among others, about the reasons of such a statement made by the Russian Foreign Minister, Lavrov.
In his response, Koshelenko writes:
"Russian propaganda is trying to portray Ukrainians as neo-Nazis. But it is difficult if our president is a Jew, and in Mariupol, people of different nationalities are fighting against them as part of the Ukrainian Armed Forces. It is clear that this cannot be the case with neo-Nazis. That's why they come up with it.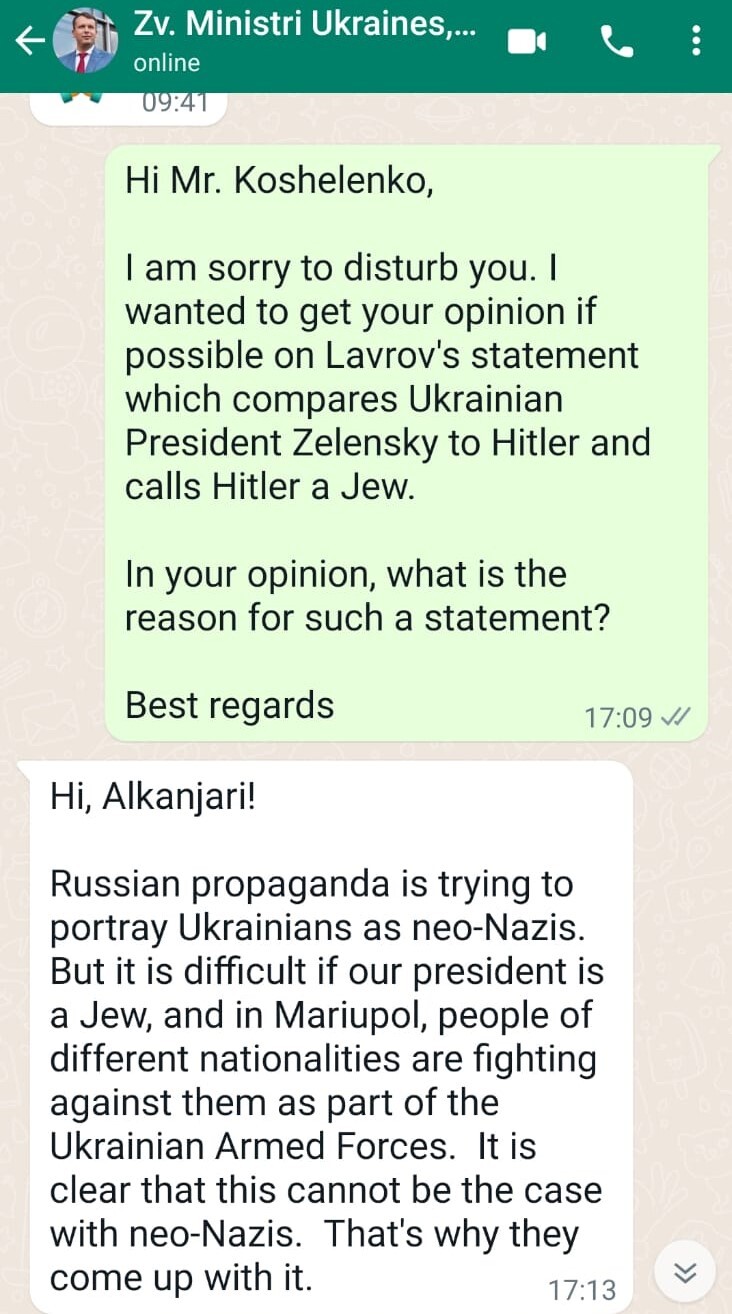 Response of the Deputy Minister of Social Affairs and Technology of Ukraine, Kostiantyn Koshelenko
International response
Russian Foreign Minister Sergey Lavrov's comments on the Jewish identity of Ukrainian President Volodymyr Zelensky and that Nazi elements in his government have caused shock, concern and anger of senior officials and diplomats.
Ukrainian President Volodymyr Zelensky told Fox News on Wednesday that Russia's attempts to smear him with comparisons to Adolf Hitler are a form of modelled propaganda which indoctrinated German people in antisemitic Nazi ideologies.
Lavrov's statement prompted the country's leaders In Israel to react immediately publicly, strongly opposing him and calling on the Russian ambassador on the matter. Israeli's Foreign Minister Yair Lapid dismissed the statements as unforgivable and historically wrong. "Jews did not commit suicide in Holocaust," he said, adding that it was "the lowest level of racism against Jews to blame themselves for anti-Semitism."
Also, according to CNN, following Lavrov's statement, Russian President Vladimir Putin in a phone call with Israeli Prime Minister, Naftali Bennett apologized over FM's comments on Hitler and Jews.
The US Secretary of State Antony Blinken also reacted to such statement, naming it such a vile and dangerous rhetoric through a post on Twitter: "It is incumbent on the world to speak out against such vile, dangerous rhetoric and support our Ukrainian partners in the face of the Kremlin's vicious assault.
Russian media have repeatedly tried to portray Ukraine as Nazi-related having no evidence to support such allegations.
*This content is produced as part of the regional initiative Western Balkans Anti-Disinformation Hub