Gambling is a phenomenon that is silently eroding our society. Unlike drug addiction, which is talked about more and based on numbers, for gambling, it is impossible to find an institution to refer to, even though in 2018 the establishment of a rehabilitation center for this addiction was promised. Faktoje meets Enea, 25 years old, who confesses that the closure of betting points has opened a dangerous vicious circle. It is played online, in an uncontrolled and 'familiar' way from the beginning to entice them by offering loans. But the same ones turn into pursuers of people who desperately sink into debts of millions of lek, in search of winning tickets.
Ilda Hoxha
Enea was only 10 years old when he started gambling as a "game" among his friends. Today, after 15 years, he admits that this addiction has cost him a lot.
"I started it at a young age, at first as a joke, let's invest 50-100 lek that our parents gave us. I was 10 years old. We used to say with our friends, 'How much money do you have', 'I have 100 money'. 'Let's go, let's decide?', 'yes, let's go'.
We started with the tabs, and after the tabs, all the vices started one after the other, with dog racing, computers, and all the vices that gambling has.
It started as a joke, without knowing what it was, and it was mainly due to the circumstantial influence. All the friends in the neighborhood, the building, the class, the school, and every friend had the same vice. At first, I spent all the money my parents gave me. Then, as the income increased, the money I left in gambling, in all types of gambling, also increased", the 25-year-old confesses.
He says that although in 2018 the closure of sports betting was decided, this did not prevent him from continuing to play. Even Enea, who was 20 at the time, says that during that period he became even more involved in this vice.
"At the moment when the government closed the betting centers, gambling has increased massively. Not only from my side but from the side of people I know. For example, if before we gambled only with the money we had in our pockets, with the closing of the bets we started gambling, taking on debt. We manage to find our way with online gambling. Online, you had no limit, you could play as much as you wanted and be billed, at your expense in the following months. During the period when I was playing online, my debt reached 6 million old ALL. I managed to pay off part of my debts by taking a loan and working two jobs," he says.
The 25-year-old says that the consequences of this vice are many, starting from stress, distance from family and society, aggressiveness, and of course huge financial losses.
"The stress part is very big. I certainly felt it financially as well, depriving myself of many things, new clothes, a car, and some pleasures. But this is not the main problem. The main problem is the stress, the anxiety, and the adrenaline part when you are waiting after placing the bet, which keeps you stuck. You turn into a parasite, you forget your family members, you return nervously to the people at home, and you don't want to go out with your friends. Even if you do, you will have your mind on the phone, whether you are winning or not. Lying to the family when they ask what you spend the money on, coming up with all kinds of excuses", the young man emphasizes.
Enea says that no one has won from gambling and he is aware of this, but it is very difficult to let him go.
"I have never asked for a rehabilitation center, as it is a delicate matter. You can't talk to anyone about this topic, not even the psychologist himself. It's hard to tell them. It's a matter that you yourself know that you are wrong, but you do it anyway. I say to myself in many cases, 'Give it up, there is nothing good in it for you', because really no one has found it any profitable. But then you wake up the next day, it's a moment that grabs you and you can't help playing. And the lek that you 'saved' by not playing the day before, you spend twice the next day. It's just a habit, it's extremely hard to give up.
I also received threats from the debtors, but I told them I will pay them back, otherwise, if you threaten, you lose. But most of those who give us loans know each other", concludes the 25-year-old from Tirana.
The promised rehabilitation center for gambling addiction does not exist
Regarding the problem of gambling addiction, in 2018, Ervin Bushati, deputy of the Socialist Party and member of the Economy and Finance Committee, stated that rehabilitation centers would be established.
"It will be treated as a vice and there will also be rehabilitation centers", declared Bushati 5 years ago.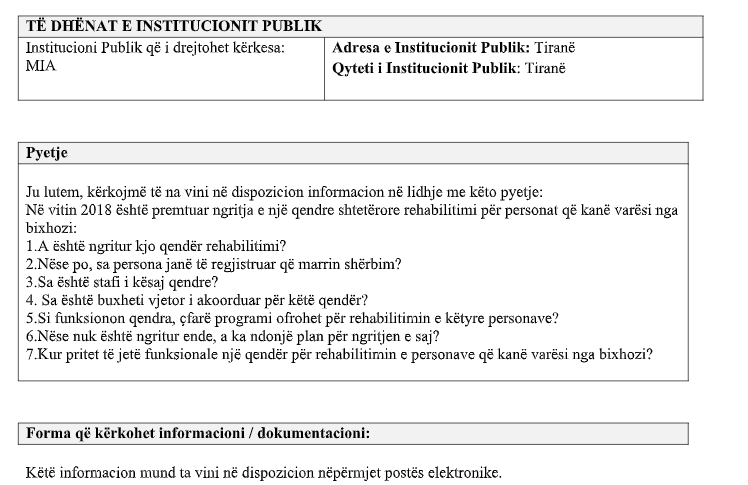 Request for information sent to the Media and Information Agency, April 4, 2023
Faktoje contacted Mr. Bushati via a WhatsApp message regarding this pledge, but we did not receive a response from him. We also addressed a request for information to the Media and Information Agency, whether a rehabilitation center for people with gambling addictions had been set up.
MIA officially clarifies:
"The Council of Ministers has not yet approved a decision to establish such a rehabilitation center. Currently the draft for Online Gambling is in the public consultation stage, giving interest groups the opportunity to make their suggestions.
For the establishment of a specific center that you address in your request, please also refer to other institutions in case there were personal initiatives of the MPs, regarding its establishment and operation".
We also addressed a request for information to the Ministry of Justice, if any legal initiative has been taken to establish these centers.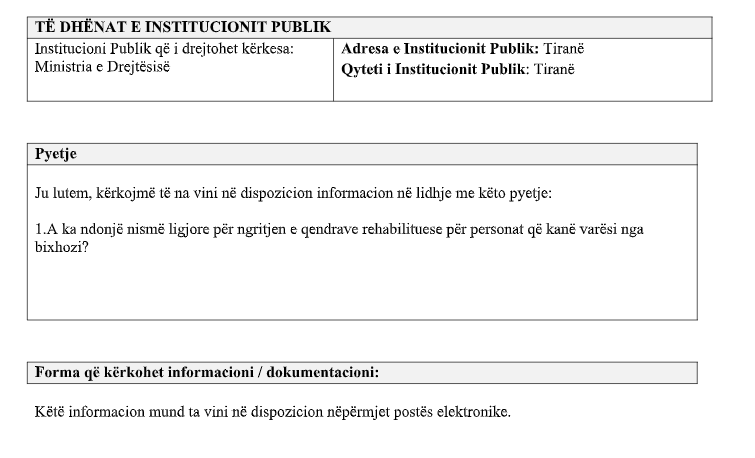 Request for information sent to the Ministry of Justice, April 5, 2023
Officially, the Ministry of Justice emphasizes that it has not undertaken an initiative to establish centers for the treatment of persons addicted to gambling (games of chance). This institution delegates responsibility for this request to the Ministry of Health and Social Protection.
Faktoje officially addressed the Parliament of Albania on this initiative. In the official response, the Parliament of Albania sends a link, where it directs us to get the requested information.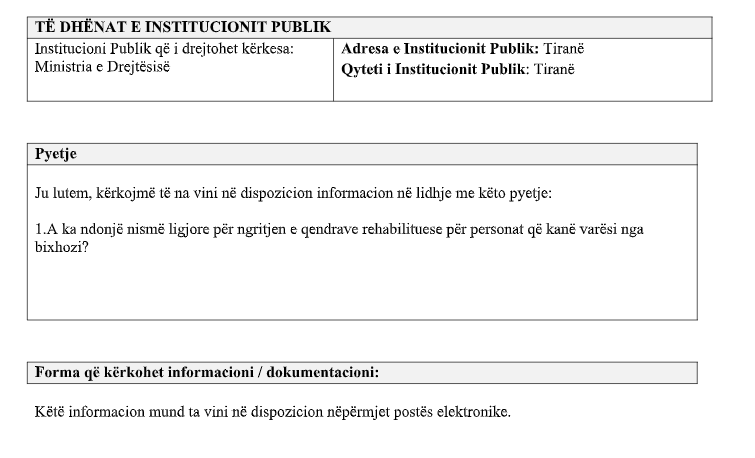 Request for information sent to the Parliament of Albania, April 5, 2023
"The Parliament of Albania, based on the law no. 119/2014 'On the Right to Information' publishes every legal initiative on the website, namely at www.parlamenti.al. For this reason, we bring to your attention that, if there is no legal initiative on the website of the Parliament for the establishment of rehabilitation centers for persons addicted to gambling, it means that one has not been submitted", announces the Parliament of Albania. During a search on the official website of the Parliament, it turns out that there is no such initiative.
Henri Telharaj, head of the Albanian Council for gambling problems, tells Faktoje that in our country there is no state center that takes care of the rehabilitation of people addicted to gambling.
"The problems arising from gambling are many, as we are aware that addiction to gambling affects the life of the individual (and not only) in many ways, psychologically, financially, but also in the breakdown of work relationships, family, social, etc. The greatest danger that threatens these people is the continuation of the dark situation in which they find themselves. By not treating their problem, they will sink more and more into the darkness, losing themselves, time, and loved ones around them", says Telharaj.
He further states that the problem is very worrying as everyone has online access to get into online betting sites.
"Legally there is no betting point in our country, but illegally we would talk about a number equal to the turnover of smartphones, since it is easily possible and available 24 hours to play on local and foreign betting sites. To curb the phenomenon, there are a number of legal measures that must be taken, including the protection of minors to the prevention and protection of citizens from the web of addiction", argues the head of the Albanian Council for Gambling Problems, Henri Telharaj.
Telharaj adds that from their work in the field during the four years that gambling and sports betting activities were banned, it turned out that they have never been closed. "We had 4300 lottery points. Banning them, although seemingly good, escalated the tendency to go online. As of January 1, 2019, over two million betting points are counted. Gambling addiction affects an average of 7 to 10 people in an individual's lifetime. Every type of phone is a platform to play", he says.
On the other hand, a report by the General Prosecutor's Office shows that in 2021 the police discovered 70% more cases of illegal gambling. In the same year, Albanians spent 80 million euros on gambling.
Meanwhile, experts raise the alarm that gambling addiction is increasing the use of alcohol or other substances.
"Addiction to games is the same as other drugs, they chain together and combine with each other. Statistically, if someone is addicted to alcohol, they may be exposed to and become addicted to other substances", stress the toxicologists.