At the beginning of January 2023, Prime Minister Rama made a post that touched the patriotic feelings of all Albanians, when he shared a photo of a bag with the Albanian flag, serving it as the newest production from the prestigious fashion house Louis Vuitton. However, the answer that Faktoje received after a communication with Louis Vuitton refutes the claim of the prime minister.
Patris Pustina
On January 7, 2023, Prime Minister Edi Rama posted on Facebook a bag with motifs of the Albanian national flag, with the description "New bag of the great Louis Vuitton fashion house".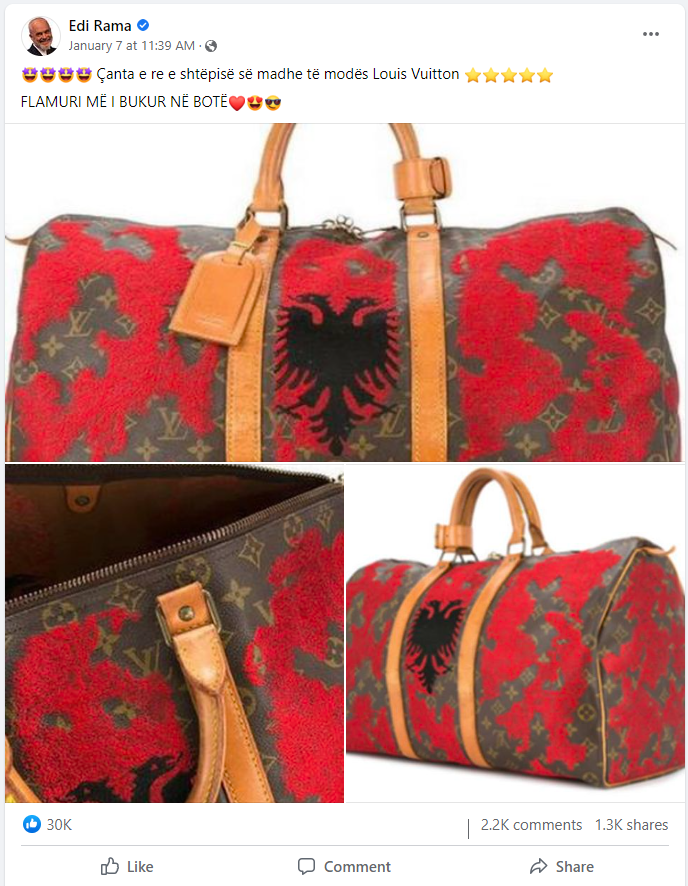 Prime Minister Rama's Facebook post
This post of the prime minister, in the first days of January, became viral and was reposted not only by portals, but also by many followers.
To verify this claim, "Faktoje" contacted fashion house Louis Vuitton on January 10.
In the official response, on January 13, a representative of Louis Vuitton wrote to Faktoje specifying that "the creation is from an independent party and is not part of their catalog".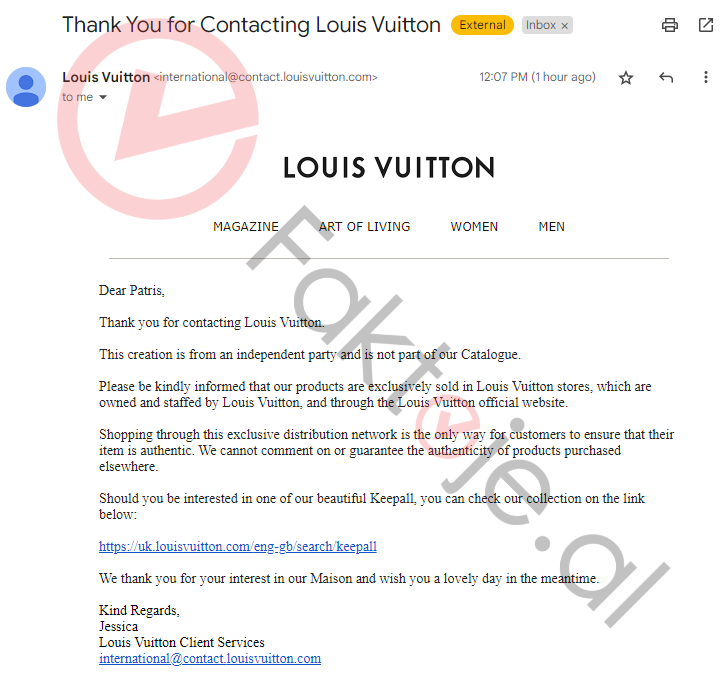 Louis Vuitton's answer
"Please be informed that our products are sold exclusively in Louis Vuitton stores, which are owned and staffed by Louis Vuitton, as well as through the official Louis Vuitton website. Buying through this exclusive distribution network is the only way customers can be sure their product is authentic. We cannot comment on or guarantee the authenticity of products purchased elsewhere," the fashion house's response further explains.
A little more research on this design reveals that it has been around for at least 4 years.
In fact, it was part of a 2018 collection of limited edition https://www.highsnobiety.com/p/louis-vuitton-jay-ahr-keepall-buy-online/ from designer Jonathan Riss' brand JAY AHR, which includes almost 130 flags from different countries around the world. The bags in this collection are vintage Louis Vuitton bags, repurposed by Jay Ahr.
Thus, the bag designed with the Albanian flag is not new, it has existed since 2018. Moreover, it is not marketed and does not bear the authorship of the Louis Vuitton fashion house, but is a reworking of the JAY AHR signature on a classic LV bag.
This is not the first time that Prime Minister Rama has become a conduit of misinformation.
On September 16, 2022, Faktoje denied the claim that Switzerland would punish its citizens with prison for those who heat their home more than 19 degrees, as stated by Rama on September 8, and the Minister of Energy Belinda Balluku on September 14. A day after the publication of this article, Rama apologized for "falling victim to incomplete and inaccurate information" .
On October 14, 2021, Faktoje published an article on Prime Minister Rama's statement that Britain had made a plan to limit energy. But a response from the British government to Faktoje debunked this claim.
On September 29, 2021, another Faktoje article , which included responses from the German government, refuted another claim by the prime minister about the media agency as a successful German model.
On March 21, 2020, Faktoje verified a video shared by Prime Minister Rama referring to the intervention of the Spanish police to disperse people during the pandemic. The video belonged to the developments in Algeria and had nothing to do with the pandemic.