Misleading marketing, aimed at selling specific medications, has become a serious concern on social media. The latest manifestation is the promotion of a method to restore vision without surgery through a fabricated article with fictional characters and events, poorly translated text, and photos taken from the internet.
Patris Pustina
A website designed to resemble the Facebook profile of journalist Blendi Fevziu's show "Opinion" presents the good news that a student, above all Albanian, has discovered a method for restoring vision at any age. However, no matter what you click on this website, it will redirect you to the product advertised in the article. This deceptive aspect of the website indicates that it particularly targets users who are not very familiar with technology.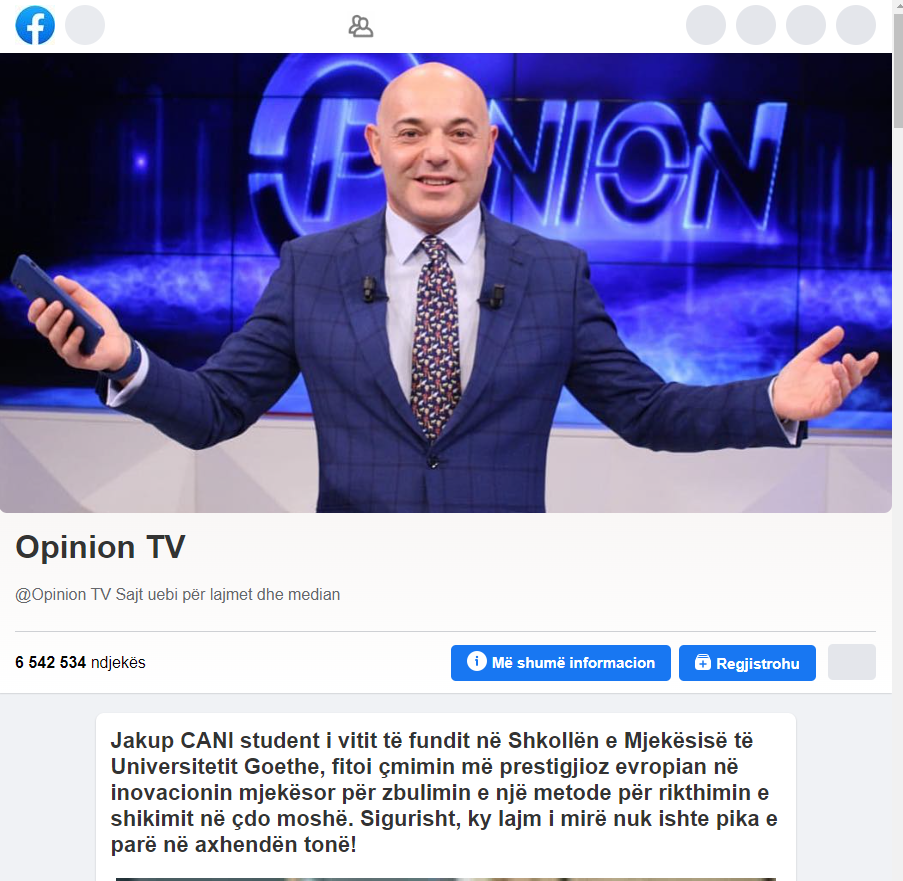 The promotional article, in order to give itself more credibility, is constructed as an interview with the "Albanian student" Jakup Cani, who apparently left the entire audience speechless at the Ophthalmology Congress "held in Europe this year."
A simple Google search reveals that Jakup Cani is not mentioned anywhere on the internet, which is suspicious if he has truly discovered a revolutionary method for vision restoration and made such a declaration at the Ophthalmology Congress, receiving a 10-minute applause as claimed by the "article."
"Faktoje" used the reverse image search engine TinEye to find the origin of the photo used in the "article." The search revealed that the photo is an stock photo that can be freely downloaded and used by anyone.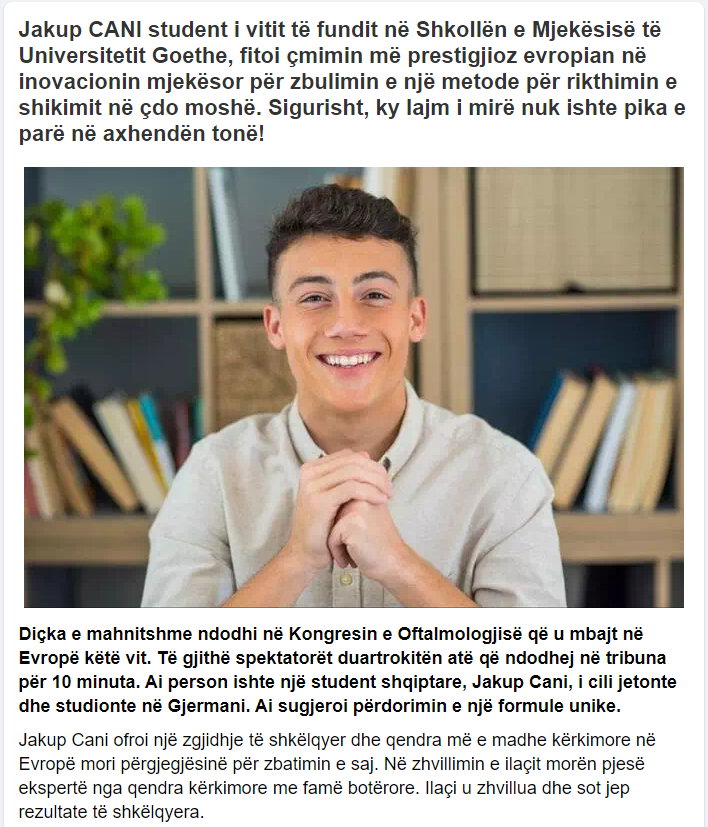 The photo of 'Jakup Cani' as used in the article.
Illustrative photo found on the internet.
Strangely, although the idea of the 'Albanian student' has received a 10-minute applause from European ophthalmologists, the 'article' does not explain how this idea works. It insists on showing how this innovative idea has been 'suppressed' by big pharmaceutical companies for the sake of their financial interests. This tactic is often used in these 'articles' that promote miraculous products hidden by modern pharmaceuticals, which also serves as a plausible reason why they can only be purchased by providing personal information such as name and phone number to a website with no credentials on the internet.
"Faktoje" has previously debunked an almost identical article that claimed an 'Albanian student' had invented a revolutionary weight loss formula and received a 10-minute applause from the European Congress of Endocrinologists.
*The news is published as part of the collaboration between Faktoje and Facebook to combat misinformation.