The war in Ukraine, which has entered its second year and has caused massive damage to the lives of thousands of people, is sometimes treated on social media as if it were a football game, with different groups rooting for Russia or Ukraine. Often, Russian attacks on Ukraine, which has a population of over 44 million inhabitants, are seen with an eye even more detached from the reality of the war, being interpreted as attacks on NATO.
Thus, in Albanian-speaking social networks, the Russian attack on the Ukrainian ports on the Danube is described as "Russian revenge that attacked the arteries of the NATO infrastructure in the ports of the Danube River."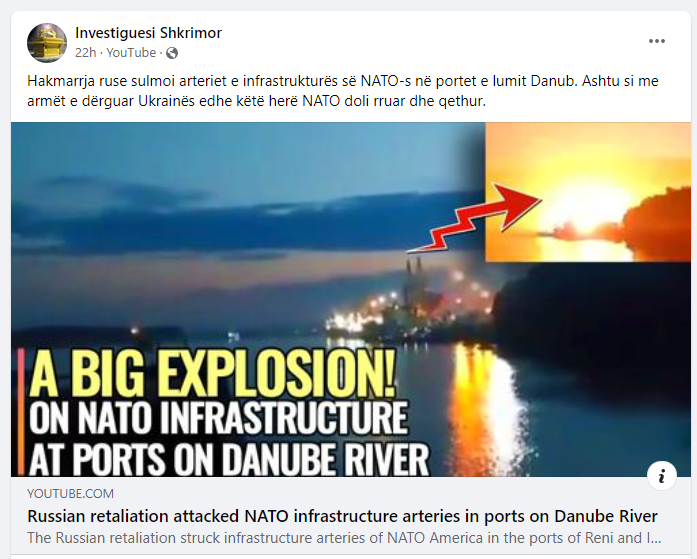 Indeed, Russian military drones attacked , on July 24, the Ukrainian ports of Reni and Izmail. These attacks targeted grain barns in an attempt to limit Ukrainian grain exports. Over 60,000 tons of wheat have been destroyed in the last week.
However, as once can imagine, the Russian attacks never hit NATO.
A NATO member state, Romania, is on the other side of the Danube from the two Ukrainian ports attacked. Romanian President Clau Iohannis condemned Russian attacks on civilian infrastructure on the Danube, "very close to Romania."
However, no Russian attack affected any NATO member states. This is because, as Faktoje has explained before, NATO, the largest military alliance in the world, is based on the principle of collective self-defense. An attack on a NATO country would bring a response from all the countries of the best-armed alliance in the world.