Companies deceiving Albanians to go to London, middle men providing forged documents, and dangerous journeys by sea or land. Faktoje interviewed Ronaldo, a 22-year-old boy from Paskuqan, who knows in detail all the illegal ways to go to London. He tells us that it is easy to get in touch with these people or even companies that provide forged documents in exchange for money. Such money is mostly borrowed, so the family or the young person must make sure he gets a job that will help them make money.
Ilda Hoxha
Just a few kilometers from the center of the capital, precisely in Paskuqan, the life of young people changes completely compared to their peers in the 'heart' of Tirana. Faktoje was in this poor area of the capital on February 28 to talk with young people who have only one goal in life: "escape to England". One of them is 22-year-old Ronaldo, who was caught trying to flee to Great Britain. He tells Faktoje about his difficult life in the suburbs of Tirana and hopes that one day he will go to what he calls "the place of many opportunities, London".
The young man confesses that due to his economic situation, he only managed to complete secondary education, as he had to work since the age of 16.
"I only finished high school, because my family had a poor economy. I have been working since I was 16 years old. I worked day and night. I would go back home by 5 a.m. As a bartender, I made 40,000 Lek per month and it is difficult to live with that money. I live in a small house, with my parents and brother. My parents do basic jobs, with minimum wages," says the 22-year-old.
He further adds that although he has been working for 5 years, he has not been able to set aside any money, as according to him wages in Albania are too low to afford living.
"I have been working all these years and I have not been able to collect money to invest in something for the future. Years go by and I have to create my own family, but with these salaries it is impossible, because prices are so high.
I have been looking for a job, and I'm waiting, because I don't want to work as a bartender anymore. I have applied and have made up my mind to even do two jobs just to make ends meet. I am currently unemployed for 2 months.
I worked for three months in construction in Germany, in October, November, December. I'm living with the money I got from working there", says the 22-year-old worriedly.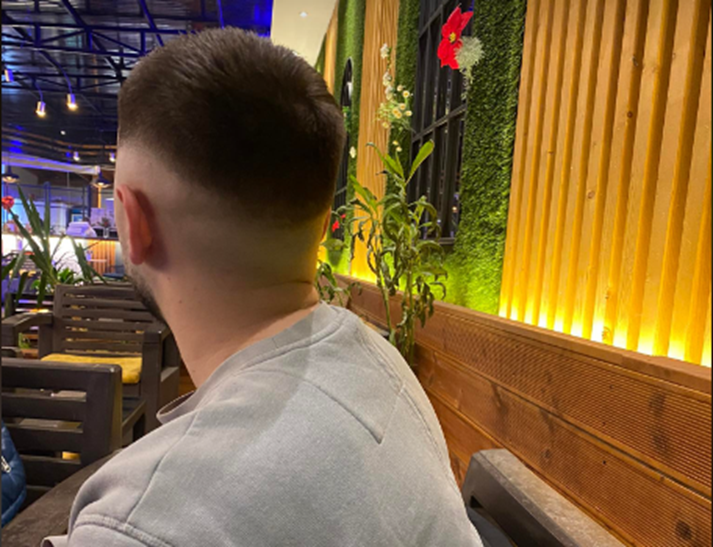 The young man interviewed by Faktoje
In September 2022, he tried to flee to England, using false documents. He states that he obtained false French documents from a person in Bathore area, who had been suggested to him by a friend who had fled to England using the same route. The young man says that he got a loan to pay the expenses for the false documents and the trip.
"For 1,500 euros, I got a French passport and driver's license in a week. Since my friend had already managed to cross the border using French documents, I asked the Bathore guy I wanted the same type of documents. The forger suggested that I make Swedish documents.
After receiving the papers, I left by bus from Tirana to Verona. The first night I slept at the house of a cousin who lived there. Then he took me to the airport of Malpensa at 5 in the afternoon and I stayed there until 6 in the morning when they had the flight. I had nowhere to stay, the hotels nearby were very expensive and I couldn't afford them.
It was time for check-in, but as soon as I got there the Italian authorities caught me, they noticed that I had fake documents. "I know they are fake, but I wanted to go to England," I told them. In Albania, I am in debt. I will have to pay back the 2,000 euros I had taken with me," the 22-year-old confesses.
Afterwards, he was forced to return to Albania, but he intends to flee to the United Kingdom again very soon.
"I will leave again, even my family pushes me to leave, 'do something for your life' – they tell me. Here I am in debt, because I borrowed money from a friend to pay off part of the loan.
If I don't find any good job opportunities here I will try to go illegally in the summer on a speedboat, because it's cheaper. It is 3 thousand euros by speedboat. I can't afford going by truck. It costs 20,000 euros.
There are more job opportunities there, better wages, I have cousins waiting for me there. I don't like working in construction, but I will do that too if I have to, I will work in construction for the first few months to pay off my debts, then see what happens", says the 22-year-old.
The young man says that he has tried to flee to England by contacting companies that claim to offer legal employment there. However, according to the 22-year-old, this company was fictitious.
"I came into contact with a company that claims to find jobs in England even for unskilled workers who do not know any English.
This company charged people £200-£500 per application with the idea that they would pay them back. They held you hostage for several months and after collecting the money, they changed offices.
But I talked to my friend who is in England and he told me that such offers are fake, because England does not require unqualified workers who do not know the language", concludes the boy from Tirana.
Reasons for young people leaving
Faktoje spoke with experts on social and economic issues, who gave us a complete overview of the reasons and causes that force young people to leave their country.
The sociologist Gëzim Tushi expresses concern that emigration is already heterogeneous, as people who have a stable job with a good salary are also leaving Albania.
"The phenomenon of immigration has recently undergone a significant transformation from the point of view of its typology. We are not dealing with that type of previous immigration that was heterogeneous, composed of different layers of the people, from different age groups and different professionals, educated, uneducated, working and unemployed people. So it was actually a heterogeneous mass that left for better working and living conditions.
Recently, emigration has started to take on a strange character, because people who have stability in Albania are also leaving. They have jobs, they have relatively good salaries in the Albanian context and they leave for a reason, because they want a better quality of life in Albania. This is related to the level of criminality, the level of unemployment, low wages, the system of social and health services, or the quality of various services", emphasizes the sociologist Tushi.
The economic expert, Teuta Nunaj, gives some suggestions on how to stop the mass departure of citizens from the country.
"In the economic aspect, to help young people stay in their country and not emigrate, the following can be done: a) Fund young people's projects for starting new businesses, support their innovative projects; in their professional qualification (through the development of study or training cycles); b) Support their merit-based career development; c) Provide fiscal support, exempt them from taxes for the first 5 years of operation of businesses opened by young people; d) Improve the climate of doing business and develop public policies that lead to: the development of the knowledge economy, which leads to the expansion of the market with well-paid professions, the opening of new jobs. e) Improve working conditions and support young people in their career development. f) Create favorable investment policies for Albanians in the diaspora, especially young people from the diaspora. g) Increase cooperation for the engagement of the educated diaspora to convey the experience in Albania", suggests the expert.