The awareness campaign for energy saving in Albania, in the conditions of the global crisis, has marked another precedent when the government propagates through disinformation. Faktoje found that a statement by the Minister of Energy Balluku about Switzerland sending citizens who set their air conditioners at above 19 degrees to prison was untrue. The Swiss government's response to Faktoje shows that this country does not have electricity shortages and, as a result, no punitive measures, but has invited citizens to voluntarily reduce gas use.
Viola Keta
"Do you know that Switzerland sends those who keep the air conditioner above 19 degrees to prison?" – this is how the Minister of Energy Belinda Balluku addressed the students of the 9-year-old school "Lasgush Poradeci" in Tirana, while communicating the consequences of the global electricity crisis. Minister of Education Evis Kushi was also present at this meeting on September 14th. This statement was articulated earlier by Prime Minister Rama during the presentation of the new anti-crisis package, at the conference on September 8th.
"Today I read that Switzerland has imposed a penalty of three years in prison for those who heat their house more than 19 degrees, just as we have seen that Germany has presented a plan to turn off the lights on all streets, in all shop windows, in all businesses after 10 o'clock in the evening, etc., said Mr. Rama.
Based on these statements with a lot of influence on public opinion, Faktoje decided to do a verification, referring first to the official sources of the Swiss Federal Council. On September 15th, we sent an electronic request for information to the media office where we asked to know if it is true that there is a decision to sentence citizens to prison in relation with energy.

Screenshot of request sent to Swiss government media office, September 15, 2022
The Swiss government responded to Faktoje just a few hours after the email was sent, through the spokesperson of the Federal Department of Economics and Research, who denies the existence of any decision to send people to prison in such cases.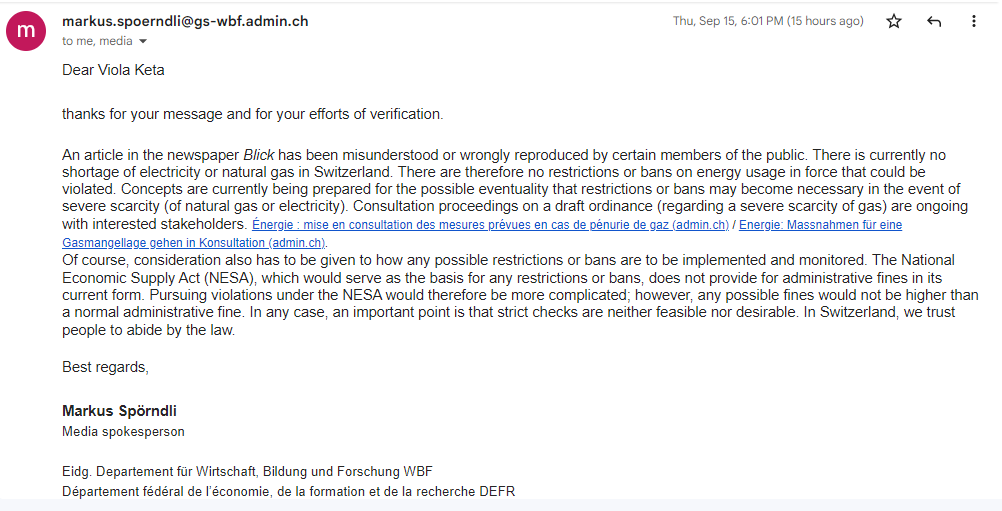 Screenshot of the response of the spokesperson of the Department of Economics and Research in Switzerland
In this response, the spokesperson writes that there is currently no shortage of electricity in Switzerland and therefore no restrictions have been imposed, let alone punitive measures. He admits that an article in the Blick newspaper has been misunderstood and misinterpreted by certain people.
"Thank you for your message and for your verification efforts.
An article in the Blick newspaper has been misunderstood or misrepresented by certain members of the public. There is currently no shortage of electricity or natural gas in Switzerland. Therefore, there are no restrictions or prohibitions in force on the use of energy that can be violated. Concepts are currently being prepared as to whether restrictions or measures may become necessary in the event of severe shortages of natural gas or electricity. Consultation procedures for a draft order regarding a major gas shortage are ongoing with interest groups Énergie : mise en consultation des mesures prévés en cas de pénurie de gas (admin.ch) / Energie: Massnahmen für eine Gasmangelgage gehen in Konsultation (admin.ch) .
Of course, consideration should be given to how potential restrictions or prohibitions should be enforced and monitored. The National Economic Supply Act ( NESA ), which would serve as the basis for any restrictions or prohibitions, does not provide for administrative fines in its current form. Consequently, prosecuting breaches under NESA would be more complicated; however, any possible fine would not be higher than a normal administrative fine . In any case, an important point is that strict controls are neither feasible nor desirable. In Switzerland, we trust people to respect the law," says Switzerland's official response to Faktoje.
Faktoje also verified the article published on September 6 in the Blick newspaper, which talks about the measures that can be taken in the event of a gas shortage against those who intentionally violate the legal provisions.
Faktoje's research shows that the government in Switzerland has asked citizens to voluntarily reduce the use of gas by 15% in the period October 2022-March 2023, which are also the coldest months. This awareness campaign started at the end of August. The data show that only for heating Switzerland spends ¾ of the amount of gas used during the winter. Families, industries, the public sector and state institutions have been invited by the government to reduce heating, with the argument that one degree less heat saves 5-6% of energy.
When disinformation is used for propaganda
Faktoje's verification of the statement about Switzerland punishing its citizens who heat up by more than 19 degrees by imprisonment showed that Minister Balluku's statement is untrue. But the discussion beyond this verification is about the propaganda that is done through disinformation, especially at a time like this when governments have to think about how to relieve their citizens. In this case, an anti-crisis package is presented, but misleading information is conveyed to make the population aware of saving energy. Even before, Faktoje has verified false statements of government officials about the decision-making of other countries regarding major issues.
On October 14, 2021, Faktoje published an article on Prime Minister Rama's statement that Britain had made a plan to limit energy. But a response from the British government to Faktoje showed that such statement was not true.
Earlier, on September 29, 2021, another Faktoje article , which included responses from the German government, refuted another claim by the prime minister about the media agency as a successful German model.
Meanwhile, on March 21, 2020, Faktoje verified a video shared by Prime Minister Rama, referring to the intervention of the Spanish police to disperse people during the pandemic. The video belonged to the developments in Algeria and had nothing to do with the pandemic.
*Front photo taken from the web