By Ilda.Hoxha
Two years after the earthquake of November 26, damaged individual dwellings in Marikaj and Marqinet villages are yet to be demolished. Vora Municipality officially confirmed this to Faktoje, as did residents in the area, some of whom are still staying in tents.
……………………………
Despite the passage of two years since the November 26, 2019 earthquake, residents of Marikaj village in Vora continue to live in tents.
F., an inhabitant of this village, spends her days in a tent set up in her yard, together with her ill son. Despite bearing an "Uninhabitable object" label at the entrance, her house is yet to be demolished for reconstruction.
"I am very poor and my child is ill. I cannot even rent a place, as they do not think I can pay for it. I do receive the rent bonus, but the money is not sufficient to even cover my child's medication", she stated to Faktoje.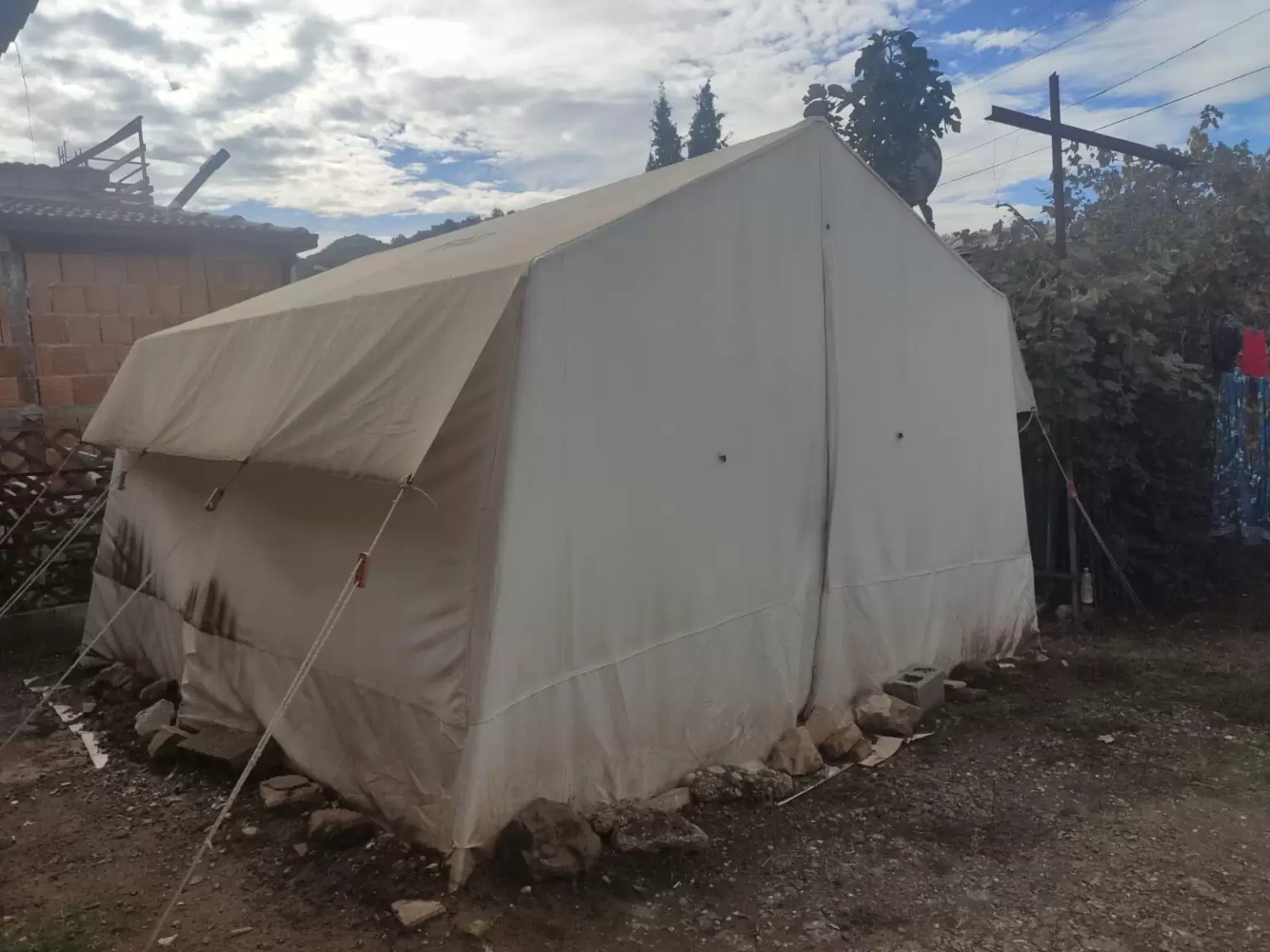 Inhabitants still staying in tents in Marikaj, October 2021
While the two-year anniversary of the tragic earthquake on November 26 approaches, many other Vora residents, like F., are still waiting for the demolition and reconstruction of their homes.
Faktoje decided to conduct investigations as to whether the affected residents have moved into their new homes.
What is the Municipality's statement?
"In Marikaj and Marqinet, at the construction site of individual dwellings of household heads who have chosen the reconstruction grant.
We are working everyday in order to complete the reconstruction of each household's dwelling that they lost on November 26, 2019", Vora Municipality posted on its Facebook page on this past June 15.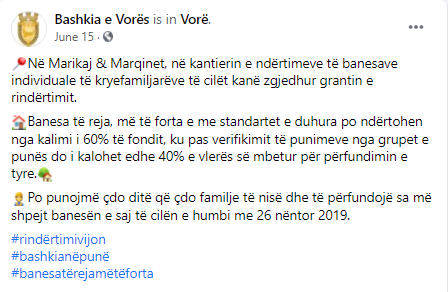 Screenshot of Vora Municipality's Facebook page
We submitted a request for information to Vora Municipality inquiring about the progress of the individual dwelling reconstruction process.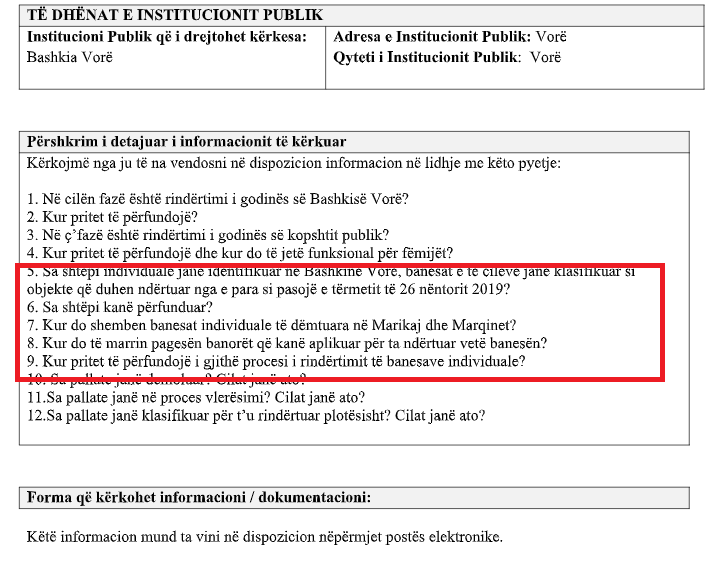 Request for information addressed to the Municipality of Vora
We were officially informed that the damaged dwellings in Marqinet and Marikaj are yet to be demolished, despite the Municipality's announcement in June about the reconstruction commencement.
Furthermore, it is worth noting that there are 317 DS5 dwellings in Vora Municipality, with 117 households receiving the entire fund so far.
"The fund allocated by Vora Municipality for individual dwellings categorized as objects to be rebuilt amounts to ALL 638.042.527. In terms of individual dwellings damaged by the November 26, 2019 earthquake, there are a total of 317 DS5 households, a large number of which have been compensated.
234 objects were granted construction permits and several are under procedures for reconstruction, and 117 households have received 100% of the fund (40%).
The individual dwellings in Marikaj and Marqinet have not been demolished because the Ministry of Reconstruction has to provide the funds in order for Vora Municipality to proceed further", states the official reply of Vora Municipality to Faktoje.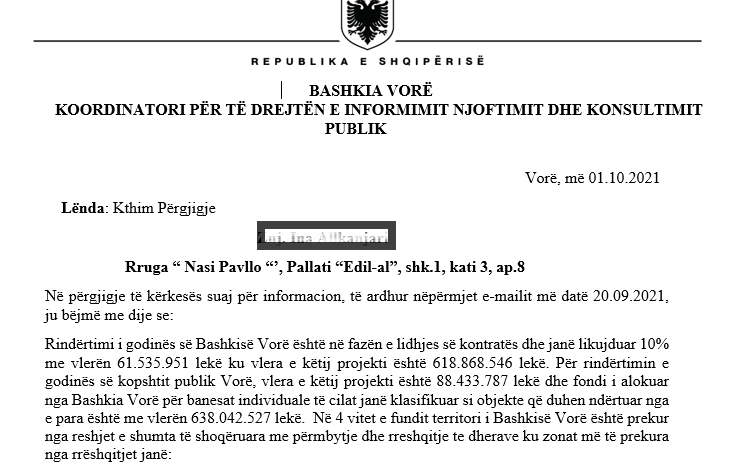 Vora Municipality's response to Faktoje
Dwellings yet to be demolished 2 years later
On October 15, 2021 in Marqinet and Marikaj villages in Vora we found dwellings with red lettering as follows: "Prohibited entry, uninhabitable object".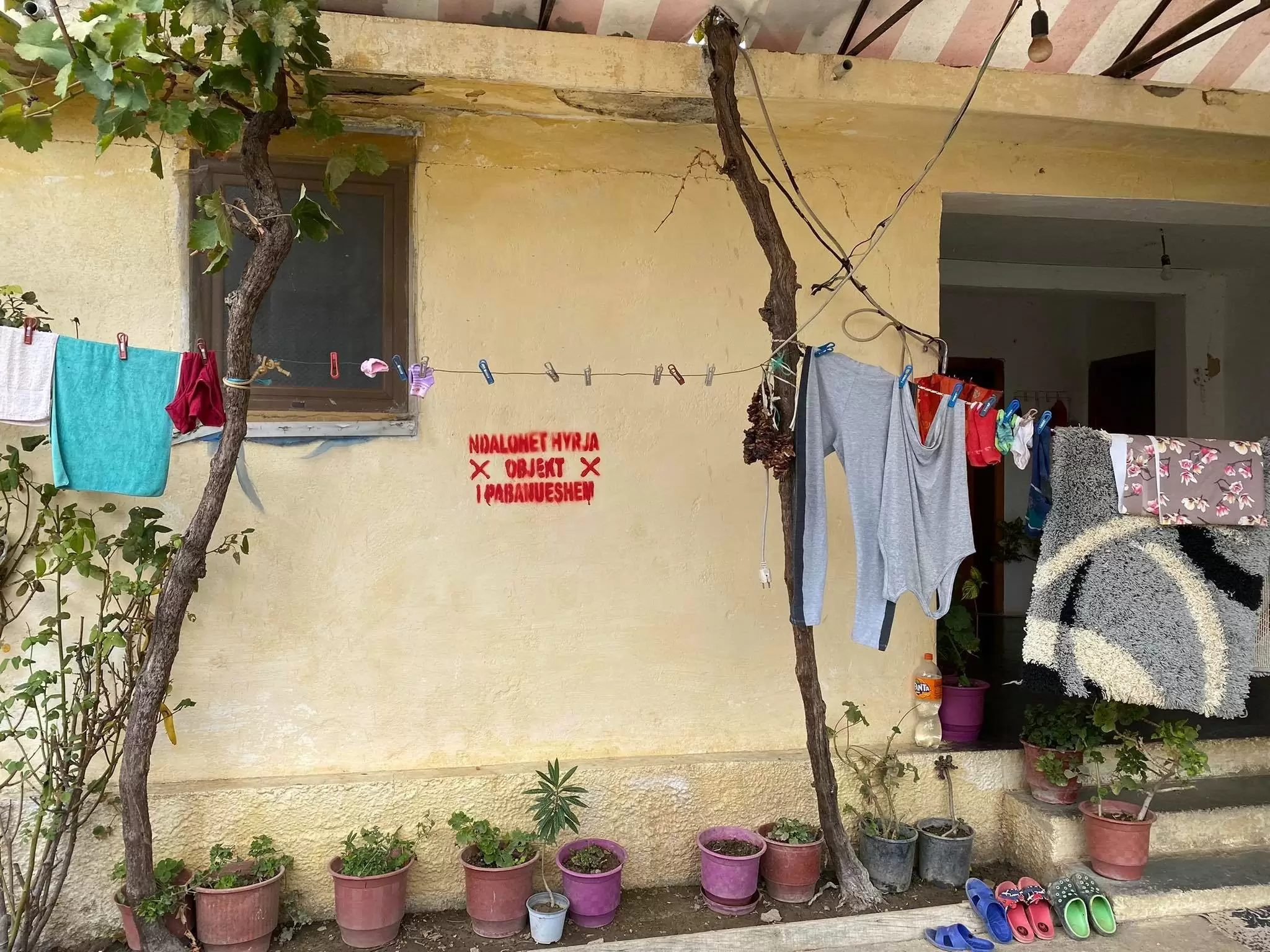 Dwelling damaged by the earthquake in Marqinet, October 2021
"My name is Flamur Picari; however, the house is in my father's name. My dwelling has been categorized as DS4 to be demolished. We have yet to receive any information as to when it will be demolished. So far, no funds have been allocated.
No funds have been allocated and we currently receive the rent bonus. We are staying at my brother's place. All relevant documents have been submitted, so now we await the grant. Once the reconstruction grant is allocated, the project is submitted to the Municipality, followed by the approval", Flamur Picari, a Marqinet inhabitant, said. He has opted to reconstruct his dwelling himself through the reconstruction grant, but has not received it yet.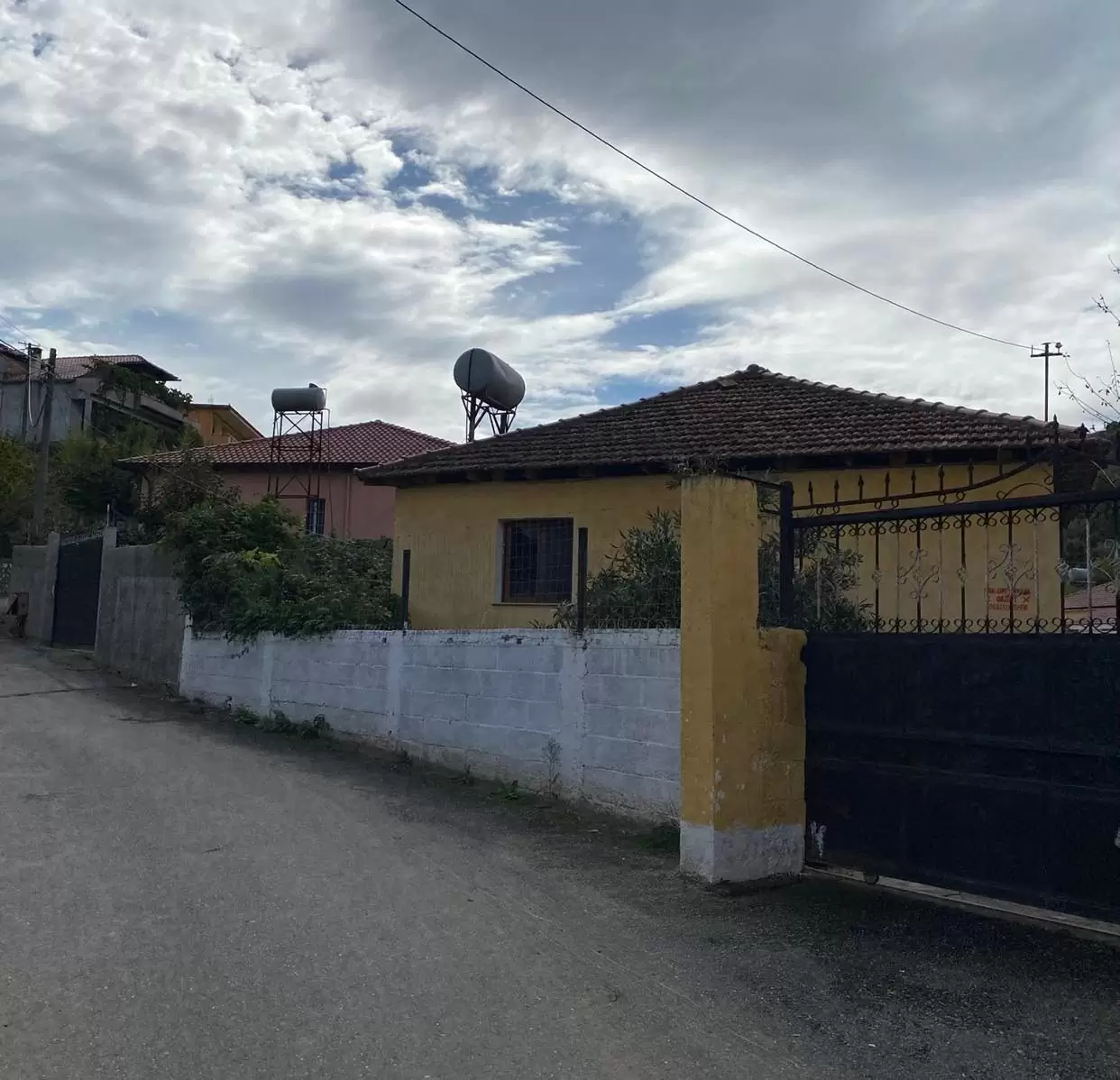 Dwelling damaged by the earthquake in Marikaj, October 2021
In Marikaj village, Faktoje found that the demolition of dwellings damaged by the earthquake was yet to commence. One of the inhabitants, who had applied for his dwelling to be constructed by the state, said that they are still waiting for a solution, despite numerous promises that the dwellings would be reconstructed.
"I have applied for the state to construct my house, but nothing has been done so far. They have just said that they are going to. Our house is categorized as DS5 and I opted for it to be constructed by the state. There are several families that have applied with the state and are still waiting", a citizen with the initials R.B from Marikaj village said.
On January 20, 2021 the Council of Ministers adopted the Decision on the use of the reconstruction fund to finance the reconstruction of individual dwellings in the Municipalities of Tirana, Shijak, Vora, and Kurbin.
According to the DCM, Vora Municipality would receive ALL 851 809 204 for the reconstruction of 300 individual dwellings of those eligible for reconstruction grants, the houses of whom have been designated as objects to be rebuilt.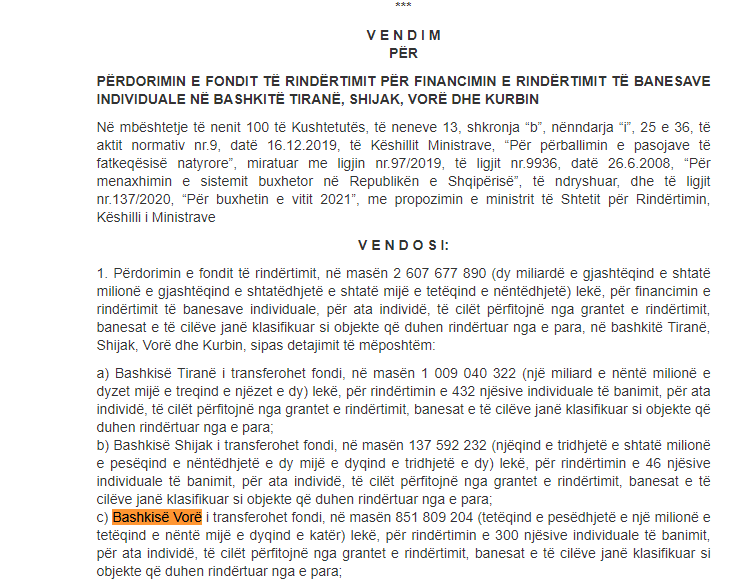 Based on the on-site verification by Faktoje and Vora Municipality's reply, we would consider the promise for the reconstruction of individual dwellings in Marikaj and Marqinet villages UNKEPT.