ILDA HOXHA
Russia and Ukraine remains the two main oil importers to the country, despite the war between them. Following alarms raised by importers as the country is in danger of not having oil in the market, INSTAT data processed by Faktoje showed that in the first 4 months of this year, total oil imports decreased by only 2%. Furthermore, the data showed a 30% increase of import price per unit, however panic over oil crisis was premature, as acknowledged even by the importing industry.
In late April, oil importers of the country raised the alarm of heading towards an oil crisis.
"We are about to have a situation of having no oil in the market starting from this summer season. "Importers shall therefore intensify requests for price review by the Transparency Board, because not only we are encountering difficulties of finding products, but we do not even have buying liquidity," stated for  "Monitor" one of the biggest importer of sunflower oil on 28 April.
News were spread massively with online media of the country and their headlines mostly created panic about such product being in limited quantities in the market and that there would be soon a shortage of oil in our market.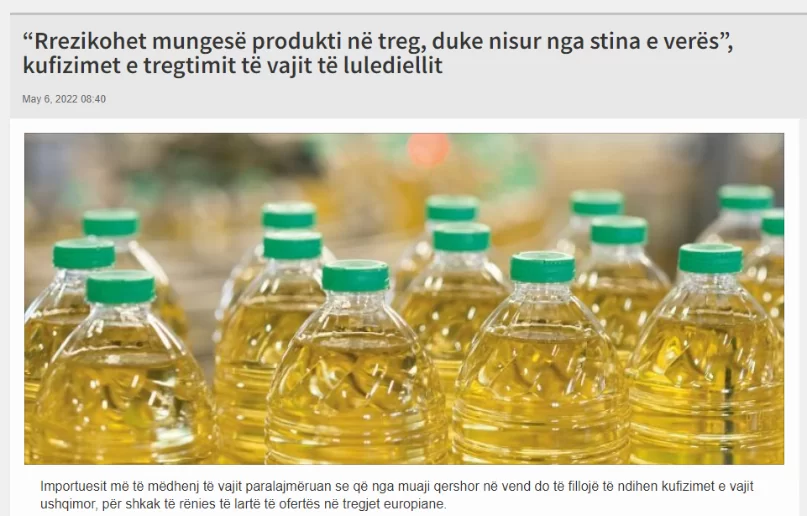 News published in the Albanian media
Such news were covered with "bombastic headlines" in several media arousing panic among citizens about "launching of a crisis" related to one of main product of the food basket.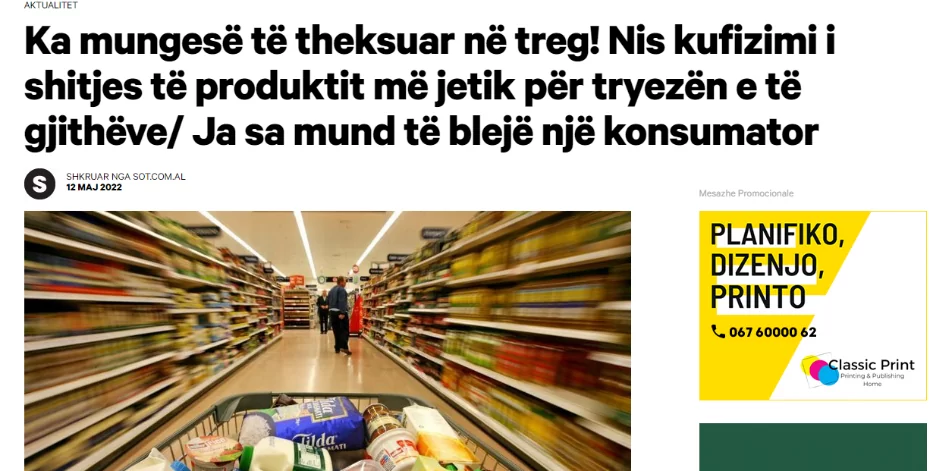 News published in media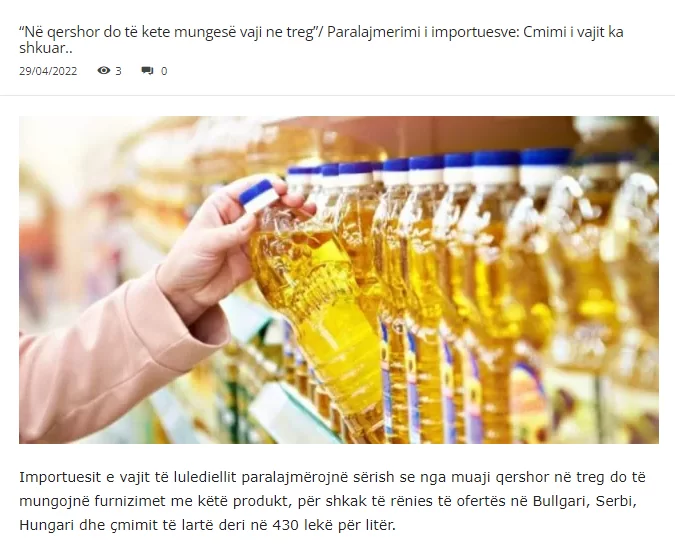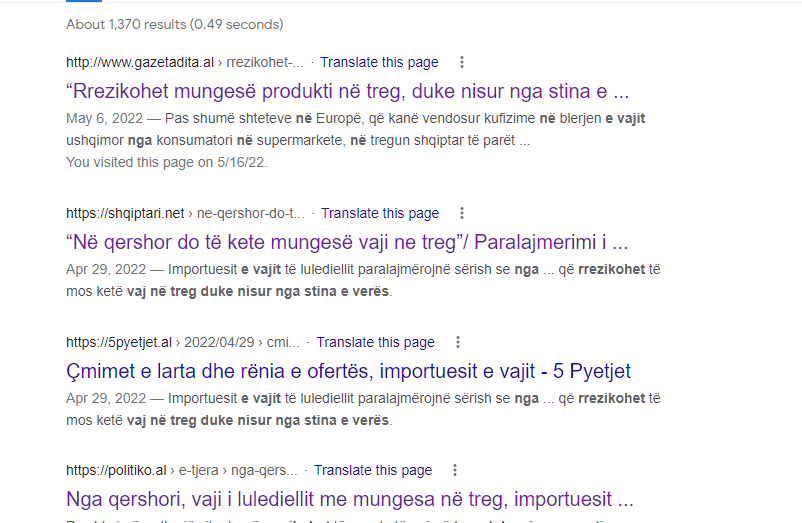 Screenshot from Google search
Citizens' comments on the published news were numerous, where some raised concerns about the "crisis" threatening the country and the world, while others believed that such news is a way of spreading panic.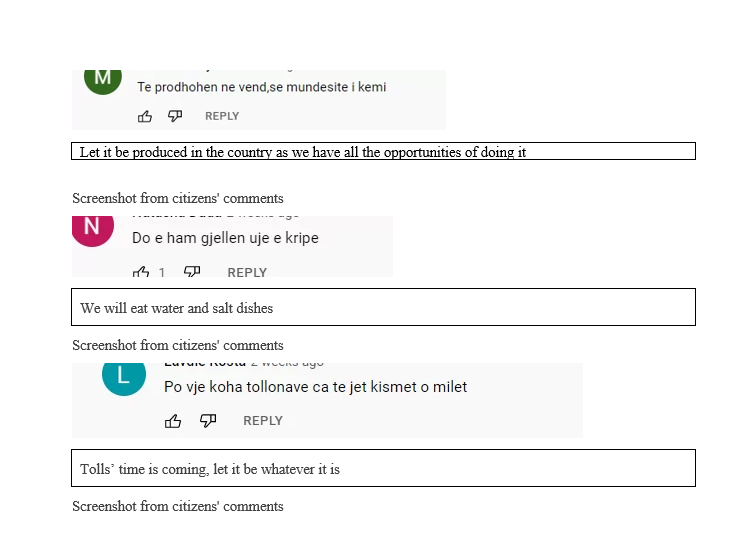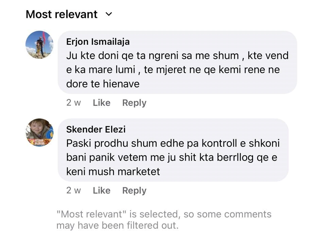 Screenshot from citizens' comments
What do the figures say?
Faktoje carried out a verification regarding the amount of oil imports in the first 4 months of this year, comparing it with the same period of the previous year, to observe the current situation and to check the countries we mostly import such product which is widely used in our tables.
INSTAT official data processed by Faktoje showed that most of the oil is imported from Russia, followed by Ukraine, Northern Macedonia, Hungary, Italy, Indonesia, Greece, Serbia, Turkey, Kosovo.
It is worth noting that import of such product in the first 4 months of 2021, compared to the first 4 months of 2022 has a negligible decline, only 2% in total, while the import price per unit has increased by 30%, compared with the first 4 months of 2021.
According to the provided data, imports from Russia fell by 1% in 2022 compared to a year ago, while from Ukraine the decrease is by 15%.

Table processed by Faktoje as per INSTAT data
The table shows that unit price of imports coming from the two main countries, such as Russia and Ukraine is below the average price.
According to such data, there is a large increase of oil imports from France, Bulgaria, Spain, Australia or even South Korea.

Table processed by Faktoje as per INSTAT data
As regards oil amount imported from Russia and Ukraine, Faktoje addressed a request for information to the General Directorate of Customs on 17 May. We are still waiting its response respecting the legal deadlines for the right to information.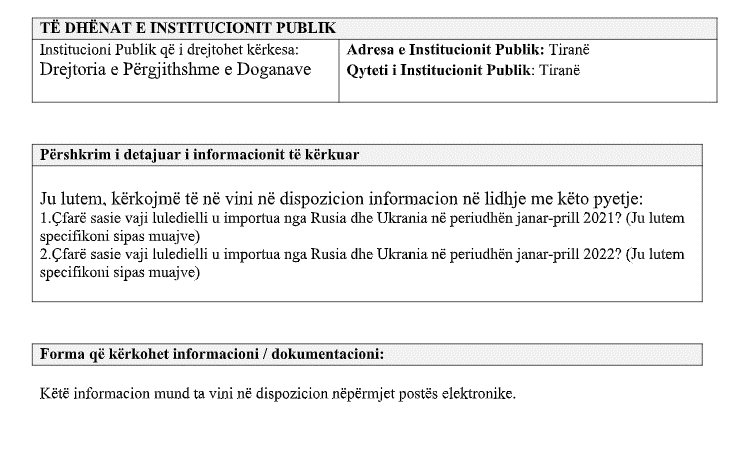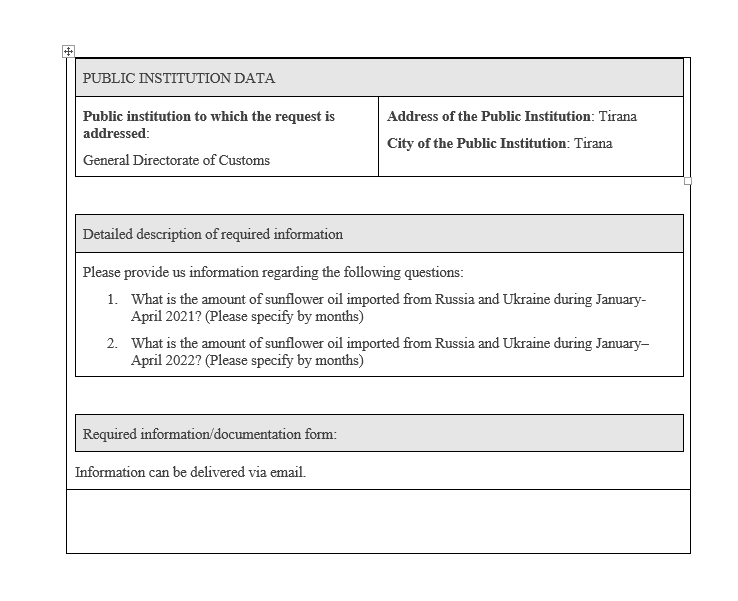 Request for information sent to the General Directorate of Customs, 17 May 2022
Import Industry: Media created panic with fake news
Regarding these news, Head of Agri-Food Trade Union told "Voice of America" that they were not true and that panic among citizens rushing to buy into the markets was incited by media through comments and analyses not based on facts.
"Our industry was in trouble as we had to produce beyond our capabilities. Shelves were emptied in the markets. Maybe this fake news was spread because the journalists were scared. The damage is enormous because these are elements of national security.
We have been in a very difficult situation, at least at those first 15 days after the start of the war in Ukraine. We calmed down later. What we said was a real thing. We had agreements we could make in France, Romania, Hungary and Serbia. "The only thing we explained to the people was that there would be a price increase and that happened," said Theodhor Kristuli, President of the Agri-Food Trade Union.
Oil price increase
Referring to INSTAT data , oil price in April this year was 24.2% higher than the same period of the previous year.
"There is a tendency to panic and this has led traders to abuse prices", stated the economics expert Mr. Klodian Muço.
In March, Faktoje reported that oil price in supermarkets ranged from 309 -335 new ALL.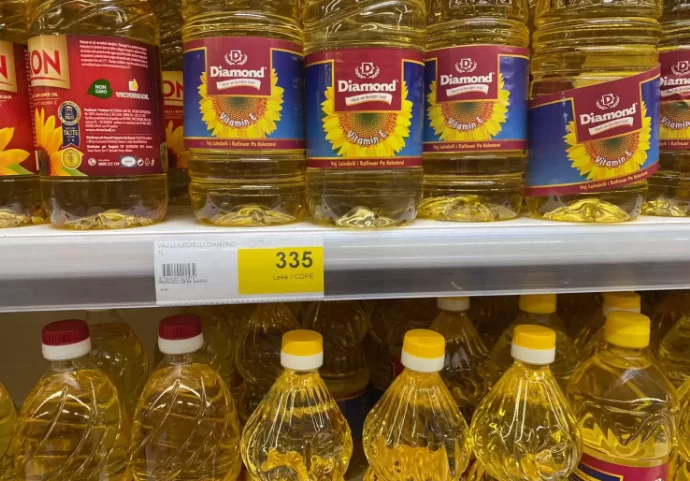 Oil price in a market in Tirana, 19 March 2022
In April , this product was 319 ALL per litre, however it varied as per the manufacturer.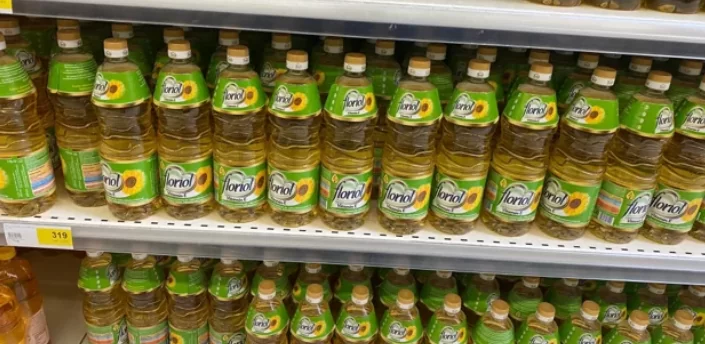 Oil price in a market in Tirana, 17 April 2022
Meanwhile, a verification that Faktoje performed by the end of May in one of the markets in Tirana showed that oil price had reached 390 ALL.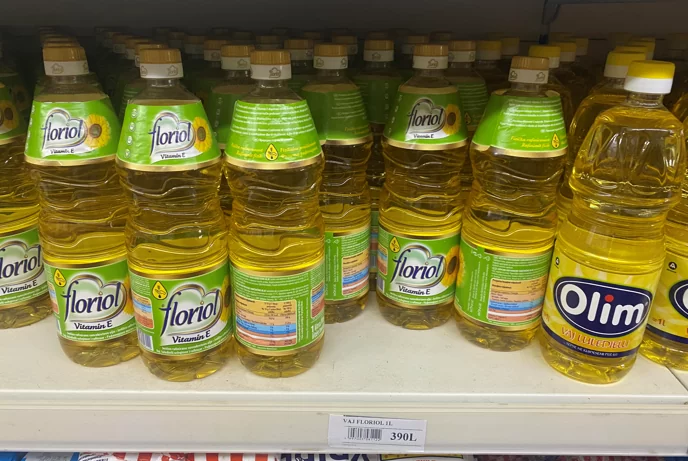 Oil price in a market in Tirana, 31 May 2022
*This content is produced as part of the regional initiative Western Balkans Anti-Disinformation Hub