Ina Allkanjari
The Special Anti-Corruption Structure has not registered any criminal cases against former prime minister Sali Berisha. Although it has been 8 months since the former prime minister was declared non grata and was accused of corruption by USA authorities, SPAK officially replied to Faktoje by stating that it is not aware of these persons, when asked through a request for information if it has requested for evidence through rogatory letters. The finding that no legal steps have been undertaken was confirmed by the US envoy Gabriel Escobar during a December interview for News 24.
——————————-
"In his official capacity as Prime Minister of Albania in particular, Berisha was involved in corrupt acts, such as misappropriation of public funds and interfering with public processes, including using his power for his own benefit and to enrich his political allies and his family members at the expense of the Albanian public's confidence in their government institutions and public officials." – stated officially the United States Secretary of State Anthony J. Blinken in May 2021.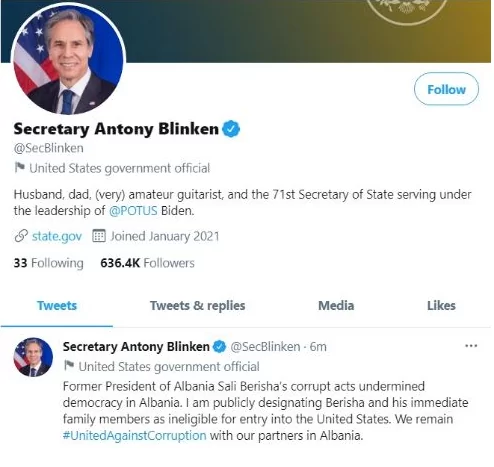 The tweet of the USA official Blinken, May 19, 2021
"Former President of Albania Sali Berisha's corrupt acts undermined democracy in Albania.
I am publicly designating Berisha and his immediate family members as ineligible for entry into the United States. We remain #UnitedAgainstCorruption with our partners in Albania." – wrote the United States Secretary of State in a post on his Twitter profile in May 2021.
Since then there were a series of important reactions and politic developments in Albania, which peaked with the expulsion from the parliamentary group of MP Sali Berisha and the division in two fronts of the biggest opposition party and decision-making on both fronts on the leadership of the party, a lawsuit for forgery of symbols as well as changes in the party's statuteon December 18, 2021 and the decision that being designated as non-grata by the government of the United States is irreconcilable with every leading function in the Democratic Party of Albania.
However despite these developments, Faktoje has found that (at least publicly) there hasn't been any communication regarding the commencement of an investigation against former Prime Minister Sali Berisha, a finding that was confirmed by the envoy of the United States for the Balkans, Gabriel Escobar, during an interview for Sokol Balla in December.
"Where are the prosecutors, investigators and authorities of your country? We follow our own laws, but you also have laws in your country. If you want to know, investigate."-stated Escobar among other things.
Based on the Criminal Procedure Code article 281 the prosecution, in this case SPAK, whose mission is to investigate corruption cases, should have initiated an investigation.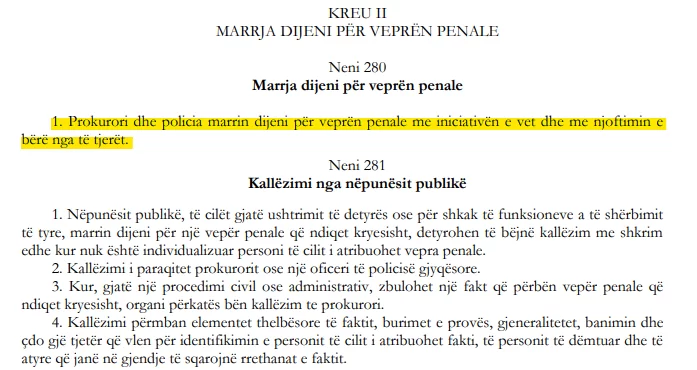 Article 281 on the initiation of investigation, Criminal Procedure Code
This argument is amplified by "Guide to investigating corruption and financial crime".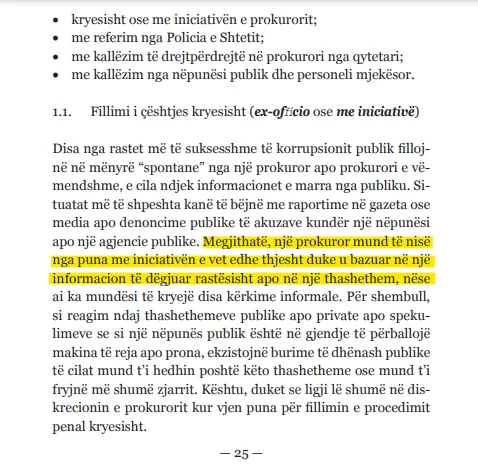 Quote from the "Guide to investigating corruption and financial crime" a collaboration of the OPDAT office with local lawyers in the framework of EU projects.
Meanwhile, in the specific case, when the accusations come from a representative of authorities outside the jurisdiction, article 509 of the Criminal Procedure Code establishes requiring evidence through rogatory letters, a mechanism which is made possible by the Ministry of Justice.

Article 509 of the Criminal Procedure Code on rogatory letters
On December 20, Faktoje addressed with an official request the Special Anti-Corruption and Organized Crime (SPAK) inquiring regarding the initiation of the investigation against former Prime Minister Sali Berisha and if they have sent a rogatory letter regarding the evidence and acts available to foreign juridical authorities after the statements of the USA on the case of corruption against him.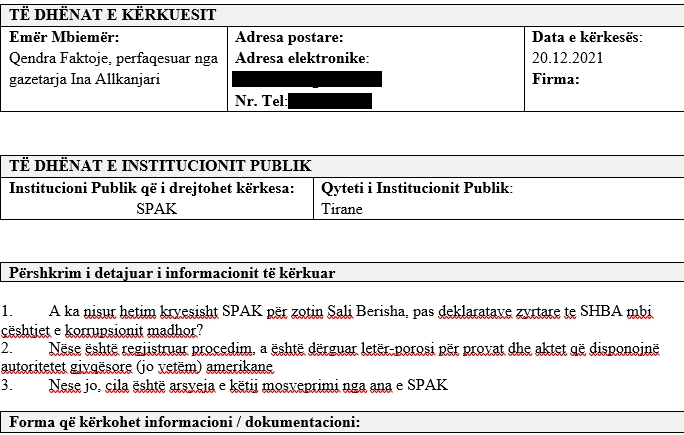 Screenshot, request for information addressed to SPAK dated 20.12.2021
"In response to your request for information we inform you that we do not have information in relation to these persons"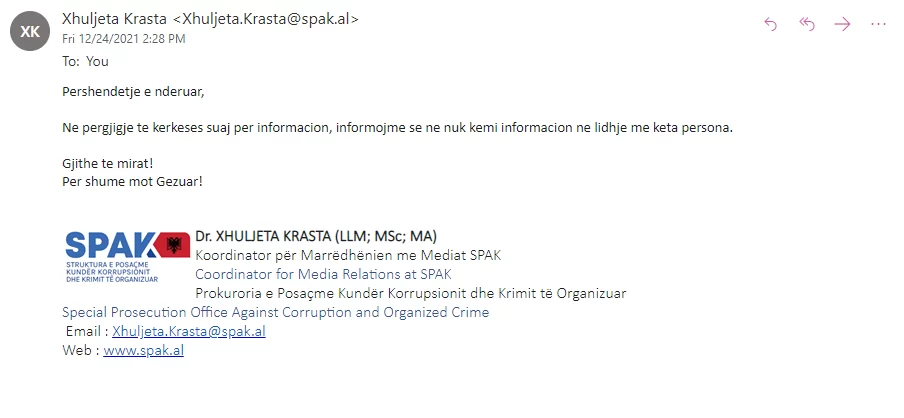 Screnshoot, SPAK response dated 24.12.2021
After this response we decided to directly contact the head of SPAK, Mr. Arben Kraja by asking him the same questions through the WhatsApp platform. This message was left unanswered by Mr. Kraja.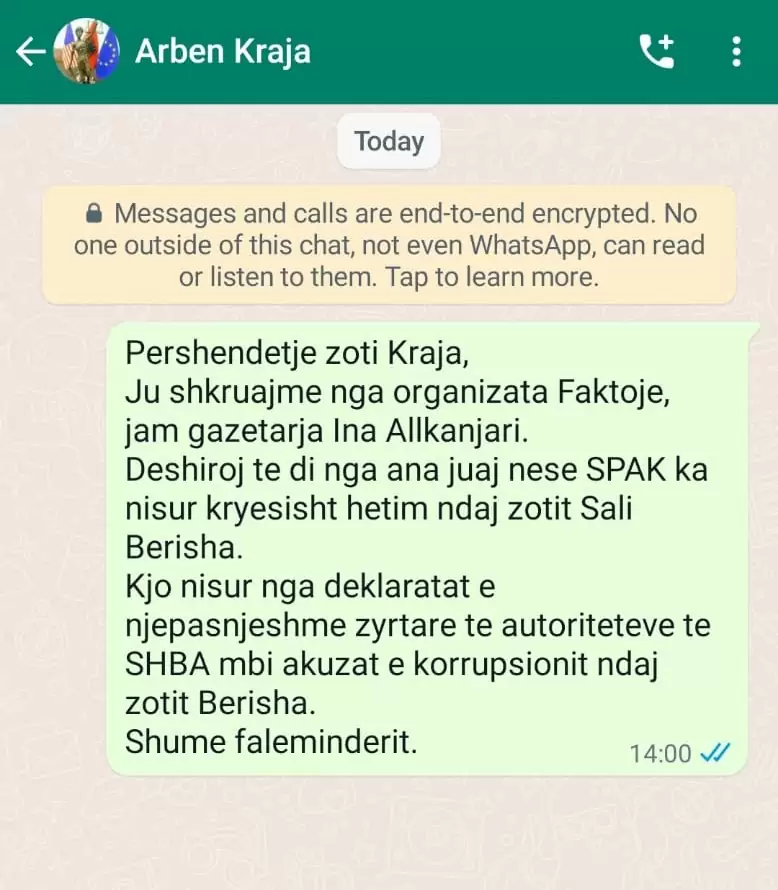 Screenshot of the WhatsApp message addressed to the head of SPAK, Mr. Arben Kraja dated 28.12.2021
After a meeting in September between the American ambassador Yuri Kim and the head of SPAK, Arben Kraja, Kim made an official call to SPAK and she emphasized the expectations of the USA that the people involved with corruptive affairs or organized crime will be prosecuted.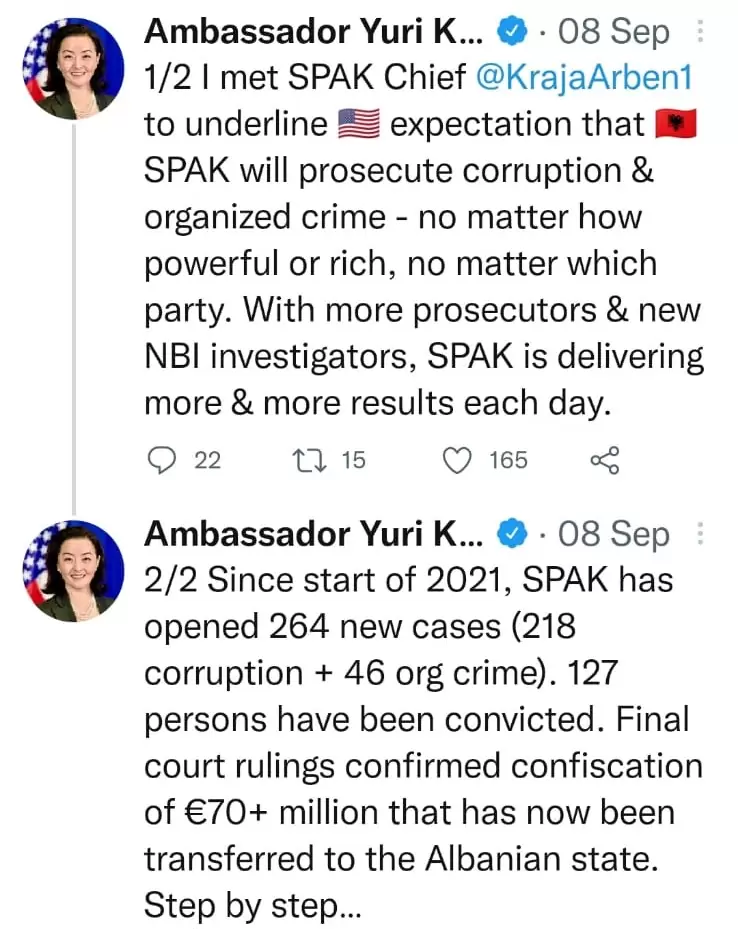 Screenshot, post of ambassador Yuri Kim, dated September 8, after the meeting with the head of SPAK
"I met with SPAK chief Arben Kraja to highlight the expectation that the SPAK will prosecute corruption and organized crime – regardless of how powerful or rich it is, regardless of which party. With more and more new NBI prosecutors and investigators, the SPAK is delivering more and more results every day." – stated Kim, US ambassador in Tirana.
On December 20, the US ambassador Yuri Kim publicly praised SPAK and the NBI:
"I am also impressed by your courage to stand up for justice and to investigate anyone who needs investigation, regardless of their position or wealth, to make Albania, not only clear, but stronger and richer. Your work is also building an NBI that will take its place alongside the American FBI and international peers showing Europe, and the rest of the world that Albania's NBI can be a trusted partner in criminal investigations. The entire country has been waiting for these moments. The United States government, alongside the Albanian people, want to thank SPAK for your dedicated prosecutors for your unwavering fight against organized crime and corruption. For it is only together that you can take on and have success in the most significant cases discovering, investigating, criminal offenses." – she stated.
*Picture taken by Transparency International Ukraine