The informal meeting of Western Balkans leaders on July 17 in Tirana became the subject of disinformation regarding the participation of Kosovo's Prime Minister Albin Kurti and his deputy Besnik Bislimi. The narrative presented by pro-governmental media in Albania blamed the Kosovo officials. Meanwhile, some portals disseminated untrue and unconfirmed reports from official sources, causing confusion in public opinion.
Barbara Halla
Western Balkans leaders participated on Monday, July 17, in an informal meeting organized by Albanian Prime Minister Edi Rama. In the presence of Oliver Varhelyi, EU Commissioner for Neighborhood and Enlargement, the Prime Ministers of Montenegro, Albania, Serbia, and North Macedonia discussed the strategy and priorities of the Berlin Process, the summit of which is set to take place on October 16 in Tirana.
Meanwhile, the informal meeting on July 17 and its outcomes were overshadowed by a more significant news item: the complete absence of representatives from Kosovo, both Prime Minister Albin Kurti and his deputy.
Speculation was rife about the absence of Kosovo's representatives, especially after the "subtle jabs" between Rama and Kurti and the sudden cancellation of a meeting between the two governments on June 14.
Did Kurti boycott the meeting?
The absence of the Prime Minister of Kosovo, Kurti, was learned one day before the meeting was scheduled to take place in Tirana. The spokesperson of the Kosovo Government, Përparim Kryeziu, announced the news through a Facebook post which read: "Prime Minister Kurti has informed Prime Minister Rama that he will not be able to attend this time as he had confirmed his participation in a conference in Crete, Greece, months ago." In the same post, it was announced that Kurti would take part in the October 16 Summit for the Berlin Process, which will also be held in Tirana.

Burim: ABC News

Source: Top Channel
Kurti's absence, despite being justified by Kryeziu, was portrayed by the opposition in Kosovo and the media as a deliberate boycott. Various analysts considered it damaging to Kosovo's reputation and its path towards European Union integration. Kurti's absence was also interpreted as a response to Albanian Prime Minister Rama and the Albanian government's decision to cancel the planned meeting between the two governments, scheduled for June 14th.

Source: Euronews Albania
Vlora Çitaku, the Deputy Chairwoman of the Democratic Party of Kosovo (PDK), described Kurti's decision as childish and politically irresponsible. She also blamed Kurti's relationship with Rama.
"In such meetings, your non-participation is no longer a personal refusal towards Rama. There is nothing personal here," she said.
Kurti's absence exposed another unclear situation. Media discussed the participation in Tirana of the Deputy Prime Minister of Kosovo, Besnik Bislimi.
In the initial news about Kurti's absence, it was written that he would be replaced at the meeting by Deputy Prime Minister Besnik Bislimi.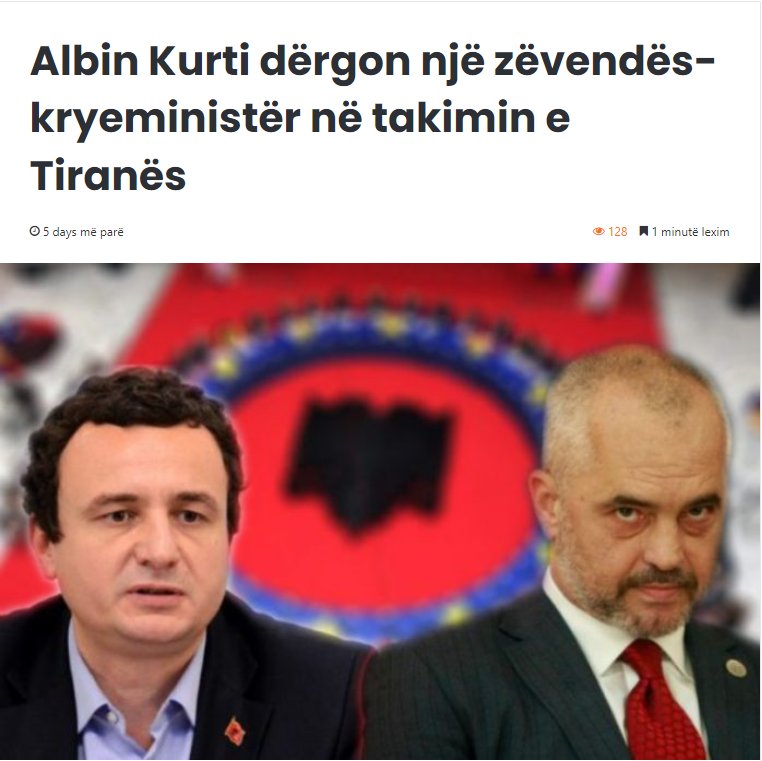 Source: Zgjohu shqiptar
However, on the morning of the meeting, July 17th, Albanian media reported that, after Kosovo had confirmed Bislimi's presence, the Albanian government had communicated that Bislimi could not participate in this meeting due to protocol reasons.
In these reports, it was not specified which protocol was being referred to, but it was simply stated that Bislimi's secondary level did not make him suitable as a representative in the meeting between the leaders of the Balkan states.

Source: ABC News
In the Albanian media, this decision was also portrayed with personal nuances. The media not only reported that Bislimi's participation was denied, but they also spoke of Bislimi's expulsion from the Tirana Summit. Using the narrative of "ousting Albin Kurti's deputy," they accentuated the fact that – similar to Kurti's decision not to come to Tirana – the "expulsion of Bislimi" arises as a consequence of the cold war between Kurti and Rama.

Source: Gazeta Tema
A few hours after Albanian media reported that Bislimi's participation had been denied, the spokesperson of the Deputy Prime Minister of Kosovo issued a statement to Top Channel which contradicts this narrative. Klisman Kadiu, Media Advisor, stated that there had never been a plan for Bislimi to go to Tirana
"Yesterday's news about Deputy Prime Minister Bislimi's participation in the informal meeting in Tirana is not true. It was not planned, let alone confirmed.
Since there was no confirmation from Deputy Prime Minister Bislimi in the first place, his participation or presence could not have been rejected," Kadiu said.
Source: Gazeta Tema
To obtain more information regarding this issue, Faktoje officially contacted the Prime Minister's Office of Albania and the Agency for Media and Information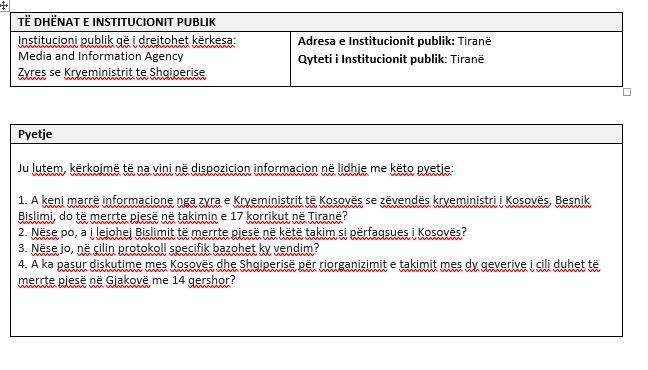 Up to this moment, even after the deadline for response has passed, we still do not have a response from their side.