By Ilda Hoxha
In July this year, the Prime Minister declared reconstruction a mission accomplished with spectacular success, announcing also the end of the mission of the Ministry of Reconstruction. However, a few kilometers from the center of Tirana, in Yrshek, a baby girl and her family have returned to their apartment damaged by the 2019 earthquake, waiting for the fourth winter without a shelter and living at the risk of collapse any moment now.
Two years ago, Prime Minister Edi Rama and the Mayor of Tirana, Erion Veliaj, promised that priority would be given to the reconstruction of the houses damaged by the earthquake in villages.
"Those in the city are already living somewhere, they are not on the streets, so it is very important for us to finish building the houses in the villages as soon as possible because they are in tents or in some kind of temporary accomodation, so we need patience", declared Prime Minister Rama in October 2020.
However, three years after the tragic earthquake, there are still damaged houses in Yrshek (Tirana), standing and about to collapse, and people living in difficult conditions. One of the affected families is that of Fatmira Kuka, who is still waiting for her house to be constructed, while together with her 9 family members, they have returned to live in their destroyed house.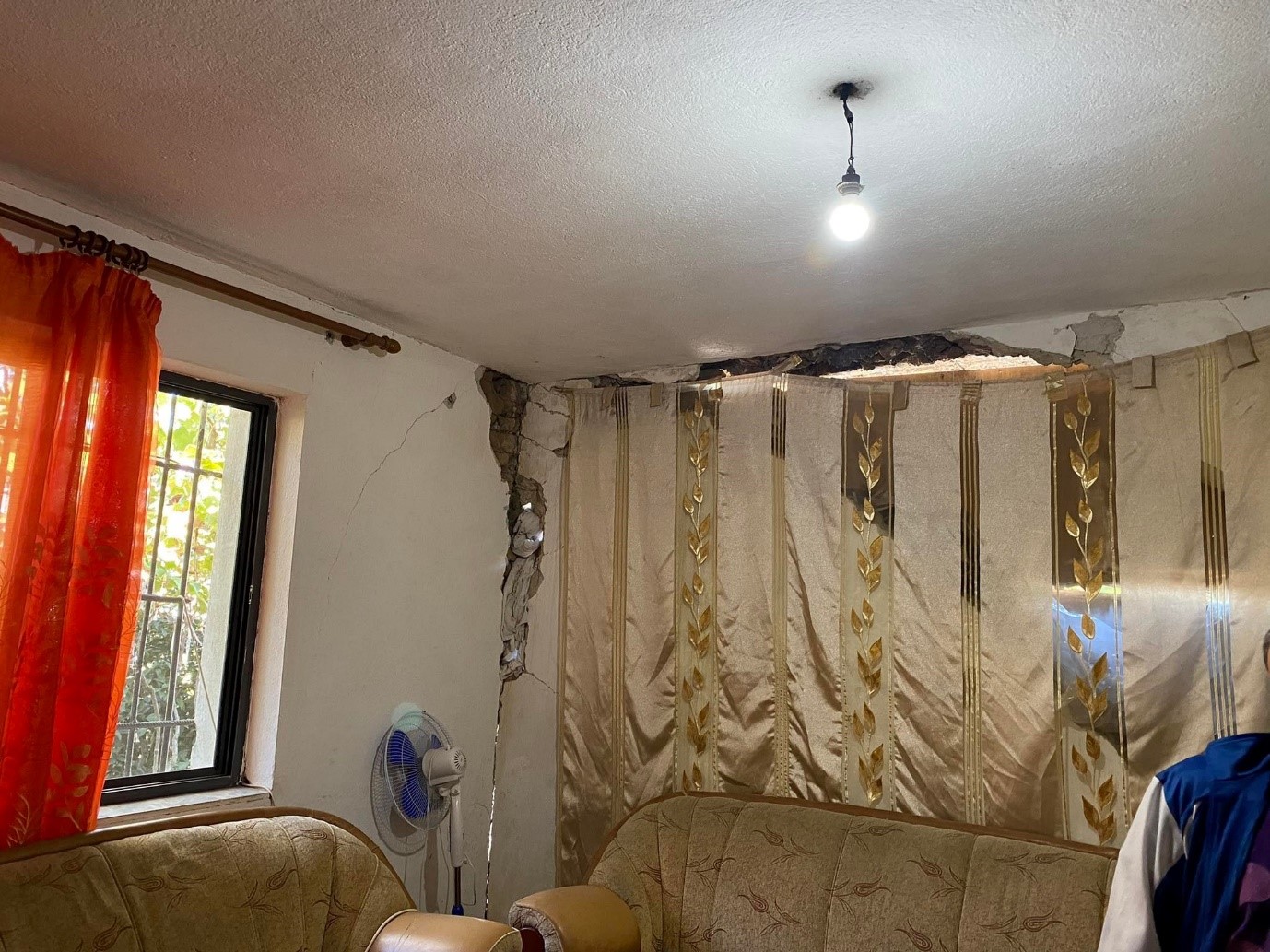 The house damaged by the earthquake, October 7, 2022
"My house was damaged by the earthquake. There are 10 of us in the family. With 93 thousand (old) lek, I can't do much, I would never be able to reconstruct my house on my own with this money. My son used to get a disability pension, but they decided he is no longer eligible for it. They live on some social support and his wife's small salary. My other son has a 3-month-old daughter. There is no office I haven't gone asking for our house to be reconstructed. A few days ago I was at the Finance Office and they told me: 'Go away, we don't have a budget for it from the state'. I am losing my mind, I told them, don't you shrug your shoulders. Winter is coming, where shall I keep the little child, where shall I keep my 92-year-old mother?! They took my phone number, took photos of my documents, and told me that if I don't get a call from them in two days, it means there is nothing they can do," says the woman.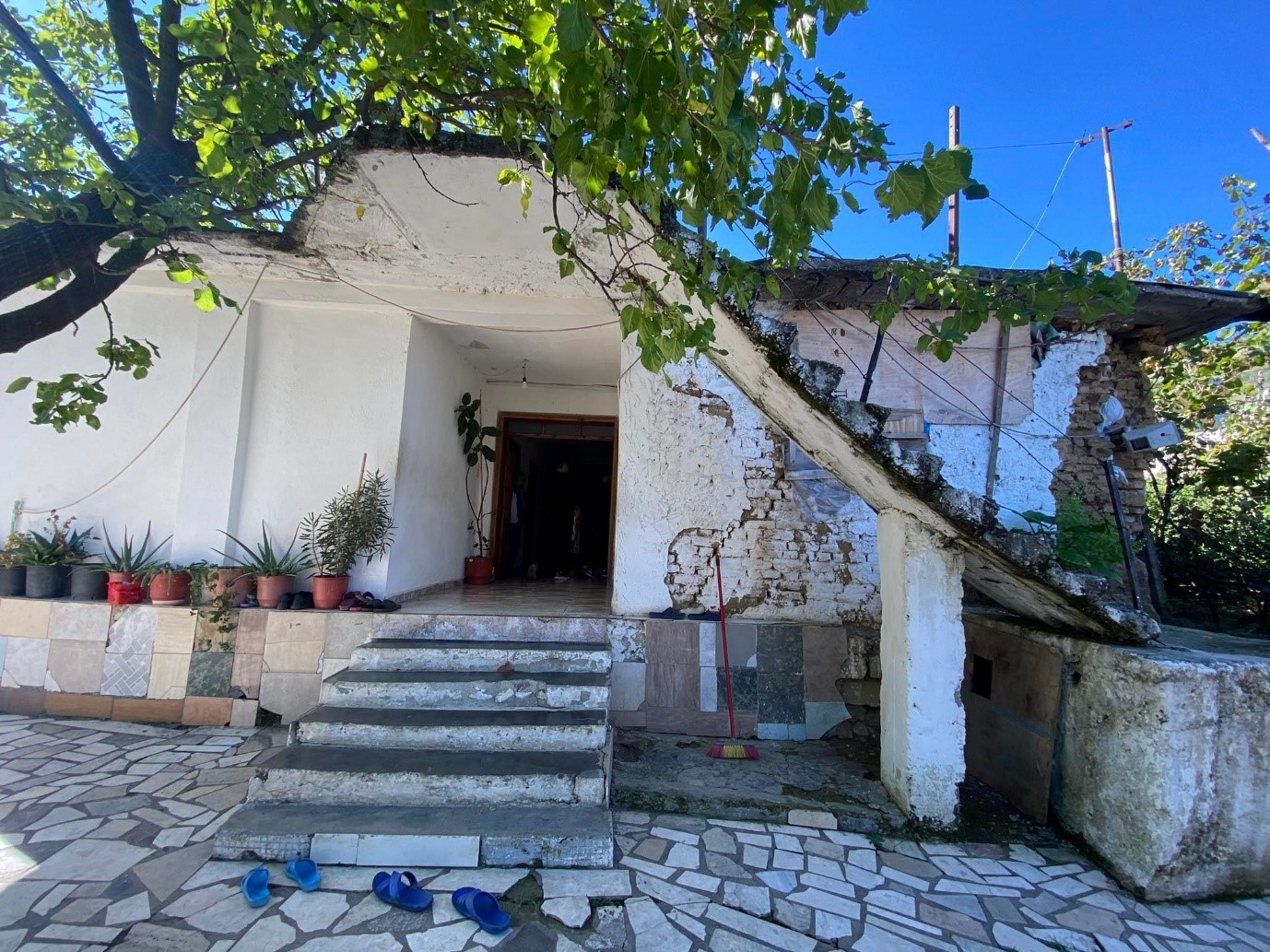 The house damaged by the earthquake, October 7, 2022
"Before my husband died, they told us that they would build the house for us, then they said no, it can't be done. I've done all the paperwork, but they won't give me any money. We get a rent bonus, 180 thousand lek, my eldest son and me. But that money is not enough to rent. I have two married sons here, one has three children, the other only one. We are 10 people in our family." says Fatmira Kuka of Yrshek, worriedly.
She further adds that they lived in a tent for 6 months and then went back to their damaged house.
"We are in danger at home, but what can we do?! We have a container in the yard, but how can 10 people live there? We opened a tent there, but it broke because it was a summer tent. After my husband died, no one agreed to go back to living in the tent, neither my children nor my grandchildren. We stayed in the tent for 5-6 months, and that is where my husband died.
Our beds are currently there, in the container, but children won't go back there. I am using it as a warehouse, I store the flour in there. It was a relative that brought us the container, the state only gave us the tent," she says.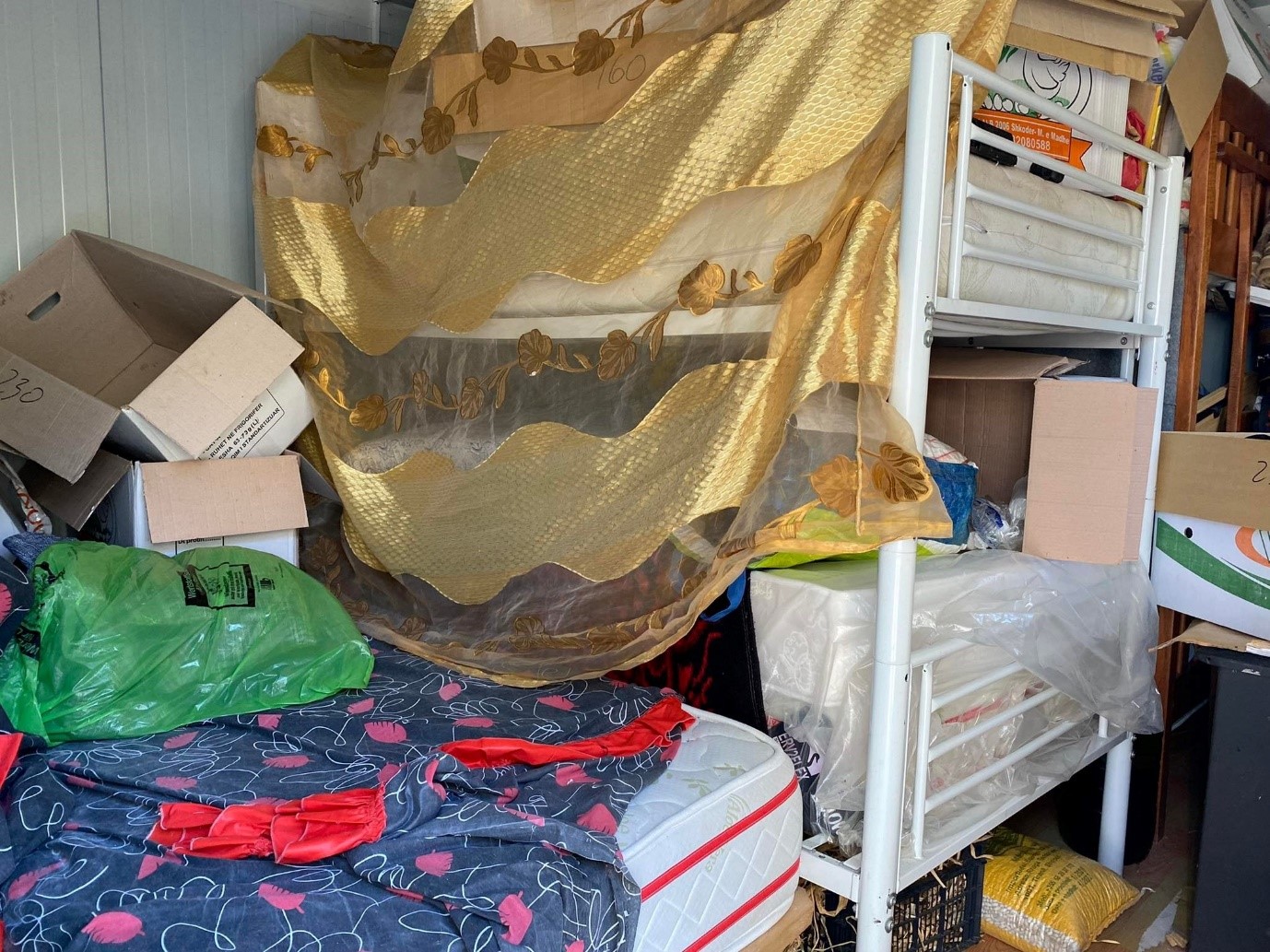 The container, October 7, 2022
Another family waiting for their house to be reconstructed in Yrshek was that of Shkurte Imeri. The elderly woman tells Faktoje that 10 people lived in the damaged house, her two sons with their children and wives, and her daughter with her two daughters. Currently, her sons are living in houses they have rented, while the daughter had been living for two years in the tent that was still open in the yard of the destroyed house.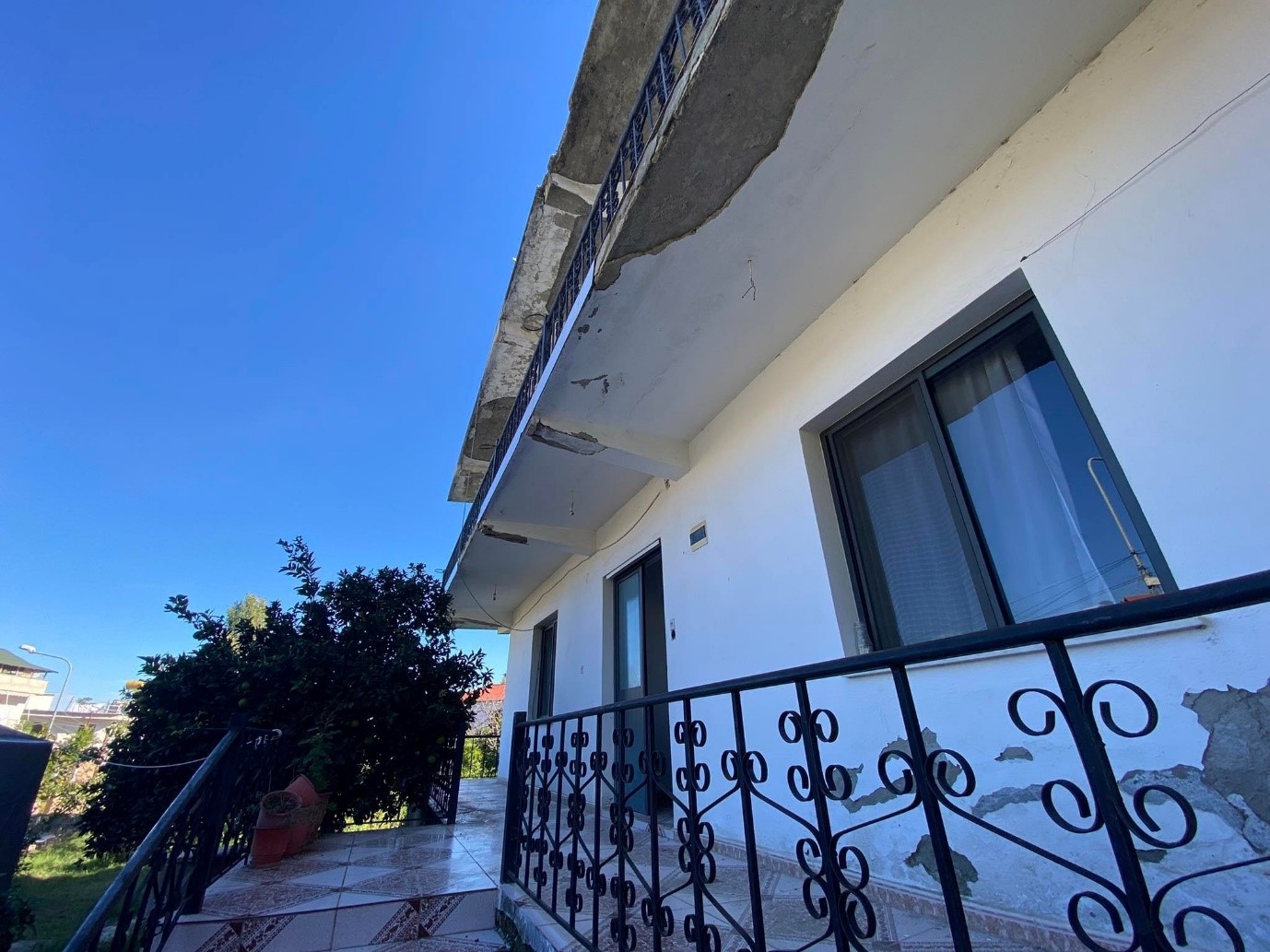 House damaged on the DS-5 scale by the earthquake in Yrshek, October 7, 2022
"My daughter lived here too, until recently, with her two daughters. She left five months ago. Her brother took her, because she was sick. It's the third year and things have remained the same," she says.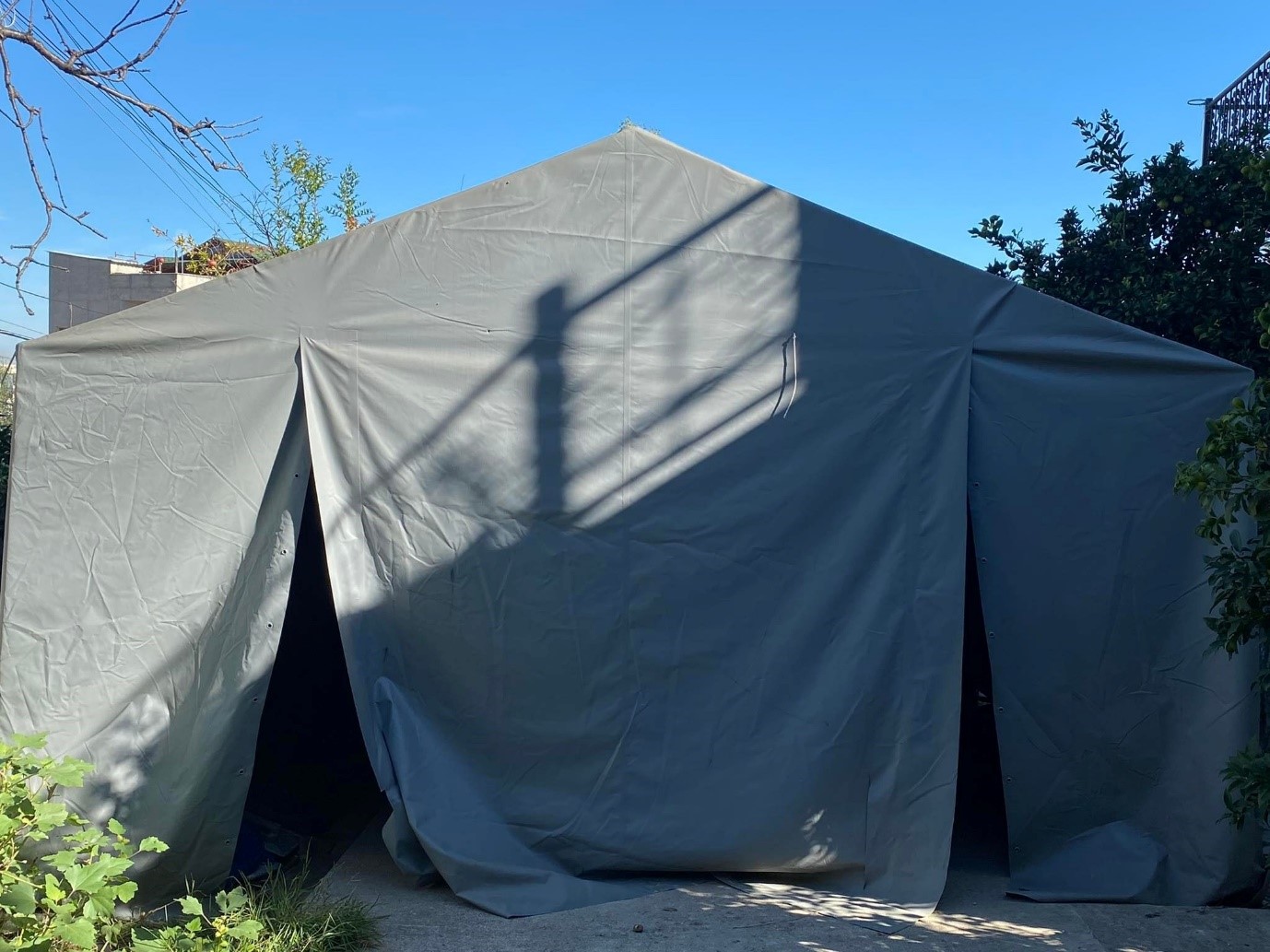 The tent where the family lived, October 7, 2022
Regarding the concern of Kuka family, where 10 of its members had returned to live in the damaged house, risking their lives, Faktoje addressed a request for information to the Municipality of Tirana and Kashar Administrative Unit. We are waiting for a response, respecting the deadlines according to the Law on the right to information.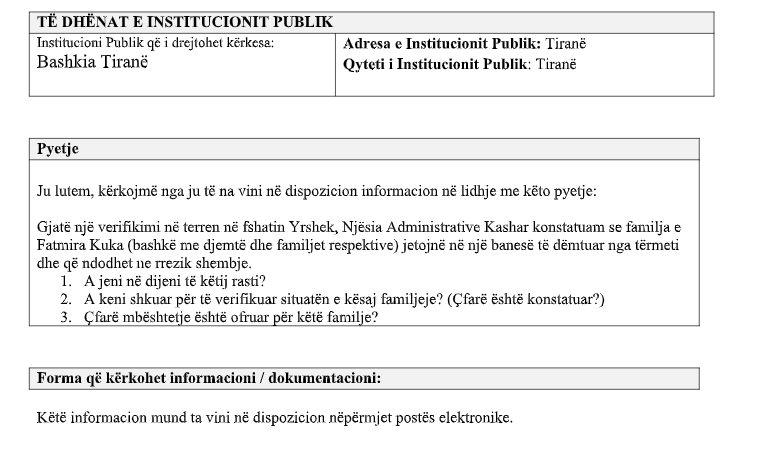 Request for information adressed to Tirana Municipality and Kashar Administrative Unit, October 10, 2022
On July 25, Prime Minister Edi Rama called the reconstruction 'a mission accomplished with spectacular success', dismissing the Minister of State for Reconstruction, Arben Ahmetaj. At the end of July, Faktoje conducted an on-site verification in the area of Kombinat, Durrës, and Vora. In these areas, there are still damaged structures that have not been demolished, and there are many families living in rented houses, without knowing exactly when they will be able to enter their homes.