Social networks are being used as the main channels to market massage centers in Tirana. In search of economic income, many students have applied for a job. But, after employment, they have found themselves being offered a different choice, that of sexual exploitation against money. These centers offer not only massage, but also sexual services. Faktoje has brought some real cases of how these girls are marketed with a sexist and exploitative language.
Anila Hoxha
Sexist language
These massage centers use social networks to find customers. Their profiles resemble a white meat market where what is being sold are not services, but women's bodies.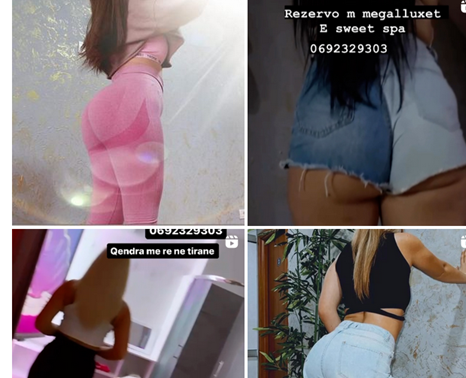 If, like any other profession, a masseuse would grow in skill and clientele over time, using reputation and seniority on the job to attract a wider clientele, one of the most frequently used phrases in these profiles is "new staff ", like a store will use the phrase "new product" to attract customers. On some of these sites, women are presented as products with their photo, 'name', age and price listed.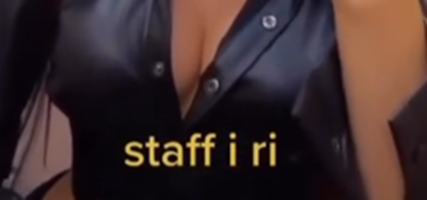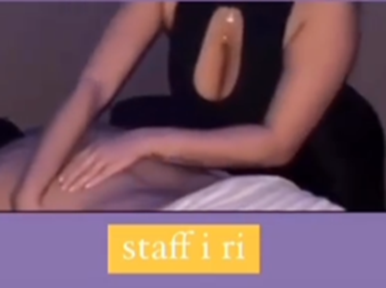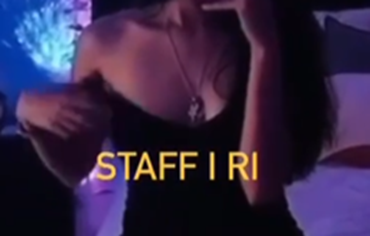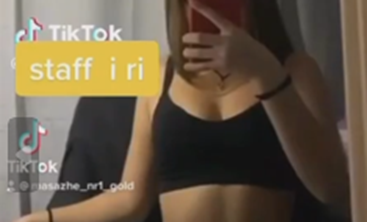 Among the posts, these profiles "deceive" that they are offering jobs for masseuses on social networks, while the work in question includes the practice of prostitution. Even if a woman is really employed in these centers initially as simply a masseuse, employment in an environment where prostitution is practiced comes with its own specific risks, starting from hygienic-health ones, vulnerability to violence and association with illegal and risky activity.  A number of documents reveal that these centers abuse social media, using pictures and descriptions that manipulate the image of a traditional massage center. Beyond this false image, they often offer other services, including paid sex. This is a blatant case of information abuse.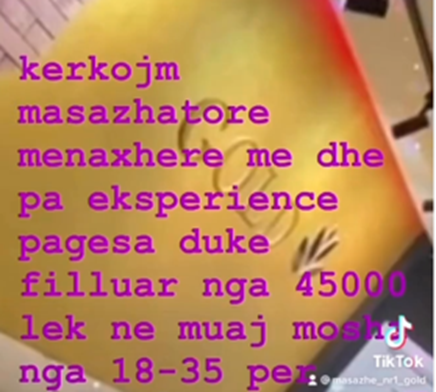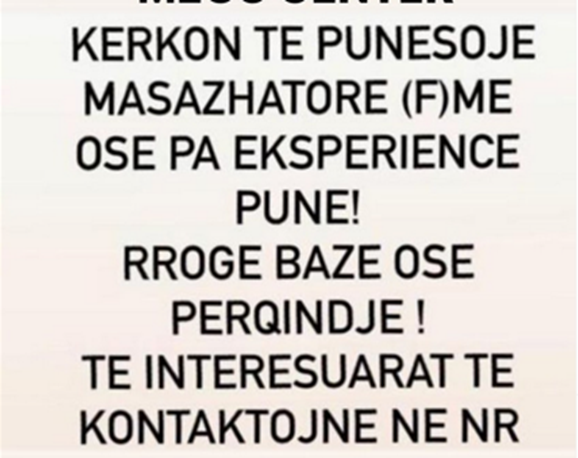 Blerina (we are using a fake name to avoid revealing her identity) is 24 years old and comes from the city of Lushnje. Now that she has finished her studies, she has decided not to return to her hometown, but is looking for a better future in the capital. While searching online for a job, she sees job offers for masseuses buzzing on Instagram and Tik Tok. At first glance, everything seems (almost) okay. Job offerers have their phone number published on their Instagram accounts and the possibility of employment is just a phone call away. After calling, the administrator of the center explains to Blerina that the work is six hours a day and will be paid with a percentage, based on the number of massages, and the payment for one massage is 5 thousand new lek.
But the reality is quite different when she starts work, as the massage turns into an offer of sexual services for payment.
On TikTok, her face is unrecognizable. Posting pictures of her rear end, the girl announces that she can be contacted for massages. Like her, dozens of other young women have turned the platforms into "showcases" that apparently are believed to guarantee massage, even though they are questionable.

Klodian Bilushi, head of the police department against cybercrimes in the capital, emphasizes that monitoring social platforms is essential for investigations. "This monitoring acts as a signal for possible criminal activities, not only in the area of cybercrime," he adds. Within this surveillance individuals are observed spreading hate speech or worse, hiding illegal activities such as prostitution under the guise of massage services.
The police officer explains how these online advertisements can lead to detection of illegal activities.
"Fake services or promotions aimed at illegal economic benefits can be identified. Likewise, individuals who expose pornographic content to minors, as well as illegal items such as weapons or narcotic substances, can be identified," he explains.
Online monitoring data is passed to the counter-terrorism department, which deals with the investigation of human trafficking. Through undercover agents posing as clients, this department has uncovered a sophisticated scheme where massage offers often lead to sexual services.
In one of the investigation files with decision number 2321, it is stated: "From the administered data, it is suspected that persons who own massage centers have adapted these premises for prostitution, employing various women who, in addition to working as masseurs, are encouraged or offered from the owners to carry out receiving and giving against payment with the customers who frequent these premises".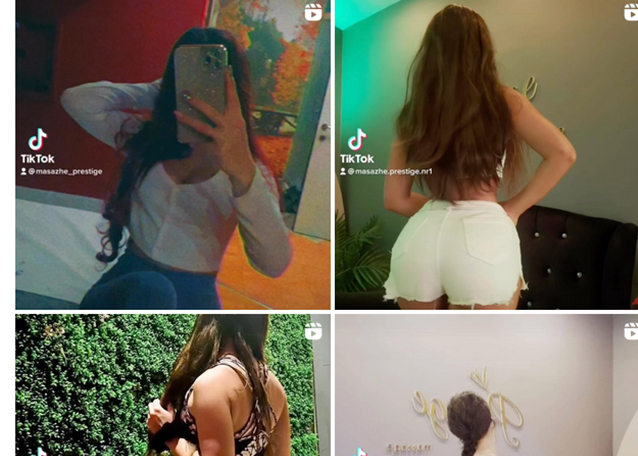 Police and local authorities are facing a challenge to detect and stop these illegal activities that appear under the facade of a massage center.
A number of documents reveal that these centers abuse social media, using pictures and descriptions that manipulate the image of a traditional massage center. Beyond this false image, they often offer other services, including paid sex. This is a blatant case of information abuse and customer manipulation.
In one of the police files, a girl pursuing higher studies tells how she was caught red-handed practicing prostitution under the "mask" of massage. She tells us of the job she found through social media, starting with an offer for a massage, but then being asked to offer other services, including sex for pay.
The police confirm for Faktoje that they cooperated with the State Inspectorate of Labor and Social Services to control two massage centers where prostitution was suspected, one on "Sulejman Delvina" street and the other on "Beqir Luga" street in Tirana. The police detained four women, two married and two single, who were accused of practicing prostitution. For the 23-year-old A.T., who is pursuing higher studies, it is confirmed that she was caught in the act of prostitution by the police services. All four are uninsured even though they are employed as masseurs. The administrator of the M.R. center was also a defendant in this file, who was accused of the crime of "keeping premises for prostitution, provided for by Article 115 of the Criminal Code. "In some cases, I have offered extra services to clients and received extra payment, except for the massage," the 23-year-old student declared to the police.
Meanwhile, messages exchanged with clients were found on the phone of the arrested administrator, such as:
"You can come and try it. It's worth it, the girls are very good."
The student was punished as guilty of prostitution with 10 days of imprisonment.
"The court emphasizes that the criminal offense of prostitution (for which a penalty of up to three years of imprisonment is provided) has become widespread, endangering the moral principles of society."
The 24-year-old admitted that she was hired as a masseuse, but that she was then paid for extra services. Another employee, mother of a child, told the investigators: "I found the job on social networks, on Instagram. The administrator explained to me that the work was eight hours and that I would be paid with a percentage." Five thousand lek for massage. On the first day, I had 4-5 massages, and I also offered extra services as well, that is, sexual intercourse,' explains the 25-year-old. "The next day I asked the administrators if I was obligated to perform extra services, and they replied that any action was my choice."
"I saw on Instagram a phone number where it was said that a massage could be done. On WhatsApp I communicated with one of the numbers, I paied 4 thousand lek to the girl who gave me the massage. And then I got into the shower. That's where the police came," a man called E. B.  said. "I was suprised – he adds – when I laid down for a massage – the girl who was serving me offered me sex for 4 thousand lek".