AURORA SHPATAJ
As of March 2020, 37 children, who should be provided with specialized treatment at the Kukës community center, were "subjected" to online platforms, following the center closure as a result of the COVID-19 pandemic. These children's parents complained about the fact that the online treatment, which surprisingly included physiotherapy, was impossible. The answer they received was that the center would be reopened solely upon the order of the Ministry of Health. However, one day after Faktoje verification in Kukës, the partial reopening of this center was announced.
---
37 children from 2 to 20 years of age, diagnosed with different skills and special needs, could not benefit services in Kukës Municipality community center, which is the only specialized service center in this municipality. Such situation started in March, when the center was closed due to the spread of the pandemic. However, despite the reopening of schools and educational institutions, the community center continued providing online services only. Online treatment was an exhausting and ineffective experience for parents of children with disabilities, as a result of adaptation specifications and challenges.
On December 15th, Faktoje went to Kukës to observe the situation. The community center staff confirmed the following:
"The center treats 37 children with different problems, our staff consists of a psychologist, two speech therapists and one physiotherapist. We are currently teaching online due to the pandemic. Meanwhile, the staff sends training instructions to parents via their phones, in line to each child's specifications."
The observation of center's environment showed that there was capacity to treat children in person.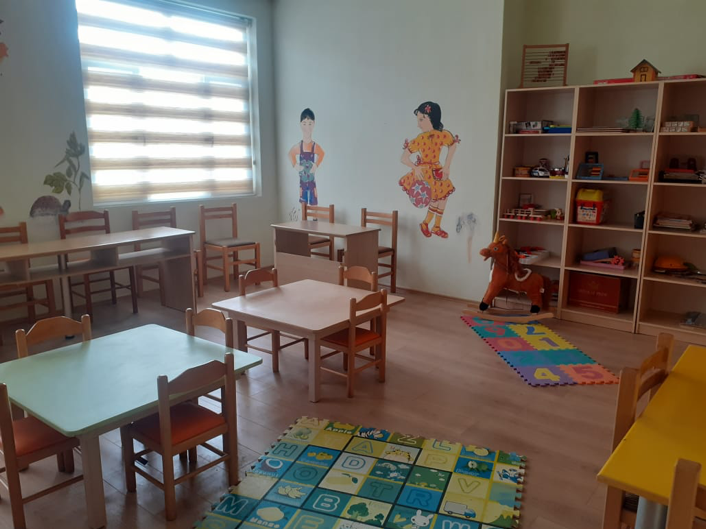 Rooms where groups of children have trainings, picture taken by: Aurora Shpataj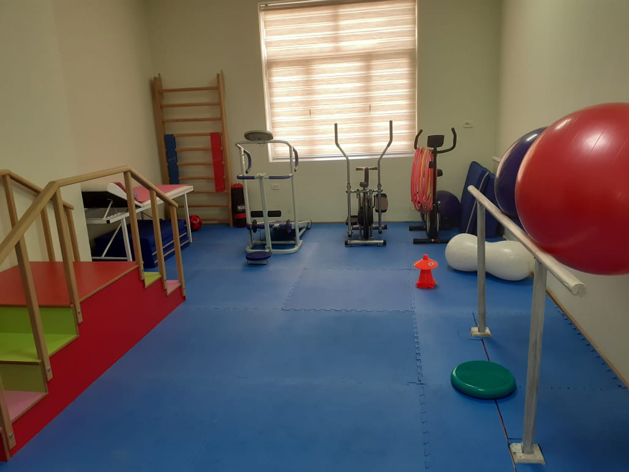 Rooms where children with different skills have physiotherapy, picture taken by: Aurora Shpataj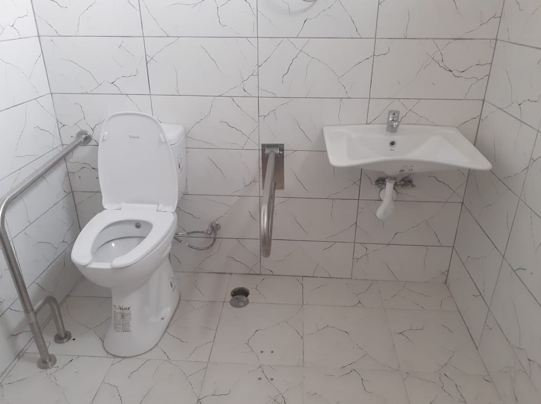 Toilets in the center, which were adapted for children with different skills, picture taken by: Aurora Shpataj
We asked parents if they were adapting to online specialized services for their children.
"Yes, the center staff does share videos and assignments with us, but I don't know how to do them since I haven't got any education." – Silvana, mother of a boy with different skills, stated.
Meanwhile, Azbije, mother of a 7-year-old boy who has epilepsy and walking difficulties, told Faktoje that online learning was impossible.
"How can my child be taught online, when he can't even be in front of the phone?! I don't know how to do what the speech therapist or the psychologist says, and even if I did, I would be afraid of doing it the wrong way." – Azbije told Faktoje.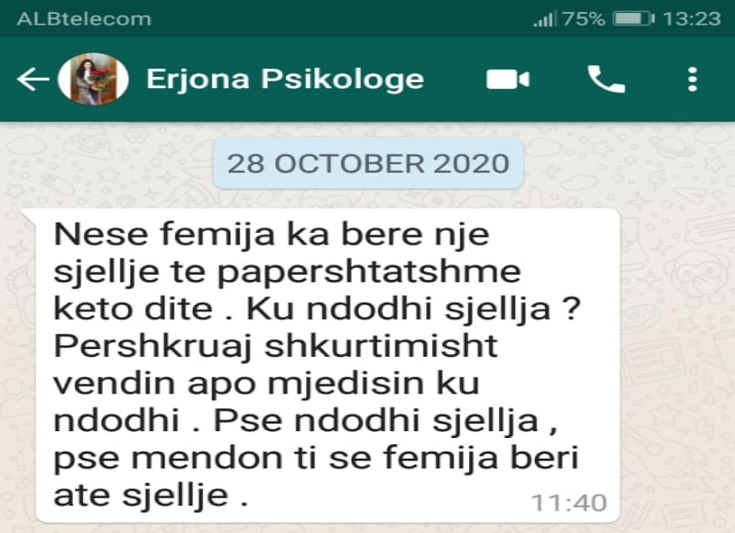 Screenshot of a conversation between the psychologist and a parent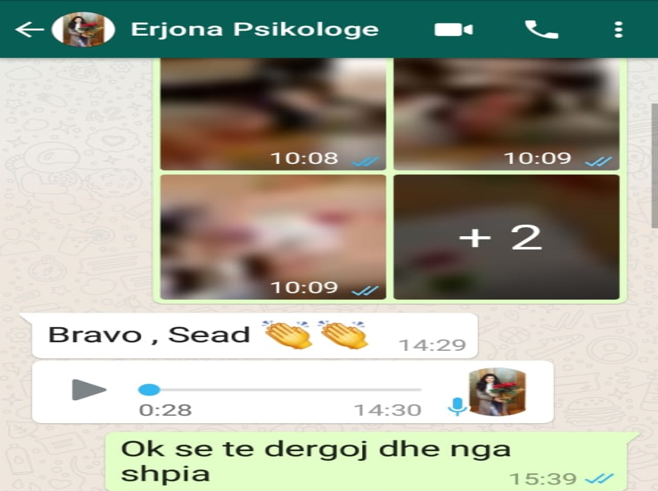 Screenshot from an online training provided to a child with disabilities
The center staff also confirmed that it was difficult to treat children with special needs over the phone, but they were trying to adapt to the situation.
"Online learning has drawbacks and is undoubtedly difficult for both typical and atypical children. However, compared to lack of technical assistance, it is a step forward, for online learning helps in maintaining behavior generalization in order for the child situation not to aggravate." – the center psychologist stated.
She added:
"We carry out 2-3 online sessions per week with each child, for around 35 minutes, but they can take longer depending on the issue that the child may have."
The community center, which remained closed since March, staff told us that the physiotherapy service was also provided online.
"I teach online, I send videos and assignments to parents so that they can follow and apply them with their children, but there are still major challenges."– the center physiotherapist told Faktoje.
These children's parents find online physiotherapy service both impossible, and ridiculous.
"How can a physiotherapist teach online? Aren't they supposed to be helping my child move her legs or other parts of the body?" – Sazan, father of a girl with disabilities, stated.
"Coffee shops, schools, kindergartens have been reopened, and the center that has a one-on-one communication, i.e. child-specialist communication, has not?! My daughter is going to school. So why can't she go to a center where the risk is much lower due to the low number of people?!" – he complained.
Following the meetings with the parents of children with disabilities and the staff of the center, which was closed until December 15th, Faktoje turned to the municipality to find out why the only community service center for children with disabilities in the municipality has not been reopened.
"There is no specific instruction by the Ministry of Health on the reopening of the social center, during the pandemic. As soon as an instruction is provided, we have the good will to reopen the center within 24 hours." – deputy mayor, Majlinda Onuzi told Faktoje.
Following this response, we sent an official request to the Ministry of Health regarding this issue: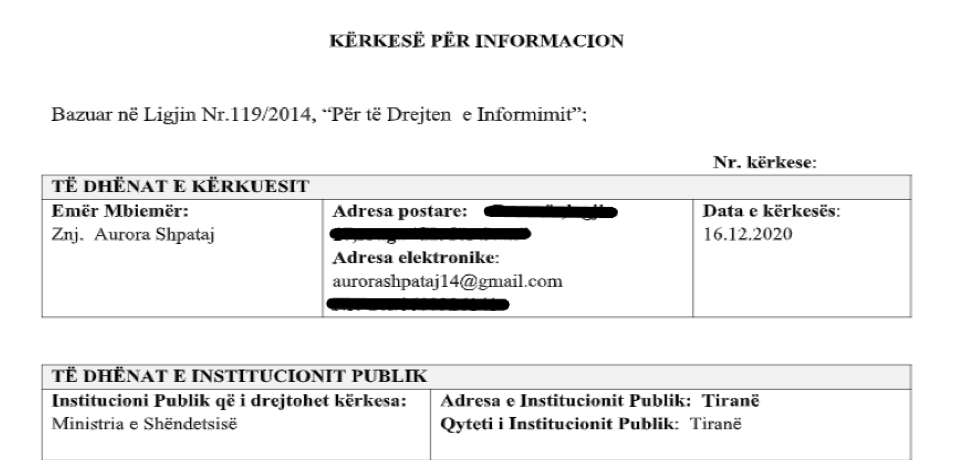 Official request for information submitted December 16th, 2020
However, not even 24 hours after Faktoje verification in Kukës, we were informed that the community center for children with disabilities in Kukës Municipality had announced the partial service provision in its premises.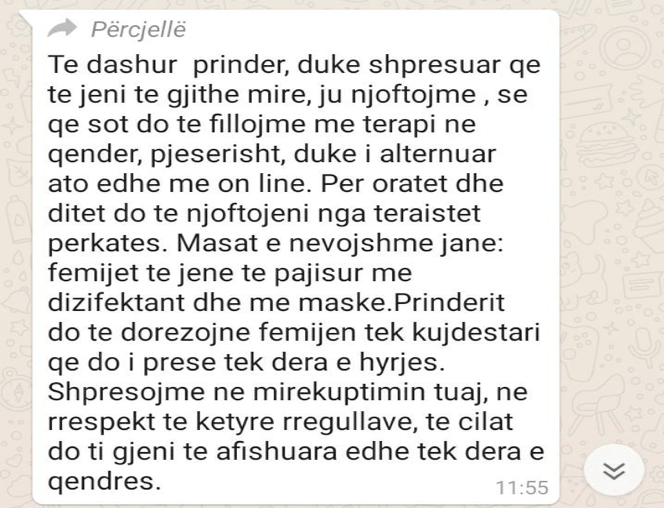 Message sent to parents by the center
The number of persons with disabilities in Kukës Municipality, as acknowledged by local authorities (or specialists), is much higher, but their identification and registration becomes challenging due to the judgmental mentality towards persons with disabilities and their families.
"The number is higher in Kukës Municipality, but parents do not accept that their children have a disability for fear of the mentality. A screening we conducted across villages showed 4 cases of children with disabilities." – the head of the center told Faktoje.
However, this phenomenon is even more problematic in villages, where no specialized services are provided for this group of people.