The photo of the man who was allegedly rescued after four months under the rubble of the earthquake in Syria is an old photo. Meanwhile, the news of a man being rescued from the rubble remains unconfirmed.
Patris Pustina
On May 17, 2023, a news story started circulating claiming that a man had been pulled alive from the rubble of the earthquake in Syria after 4 months.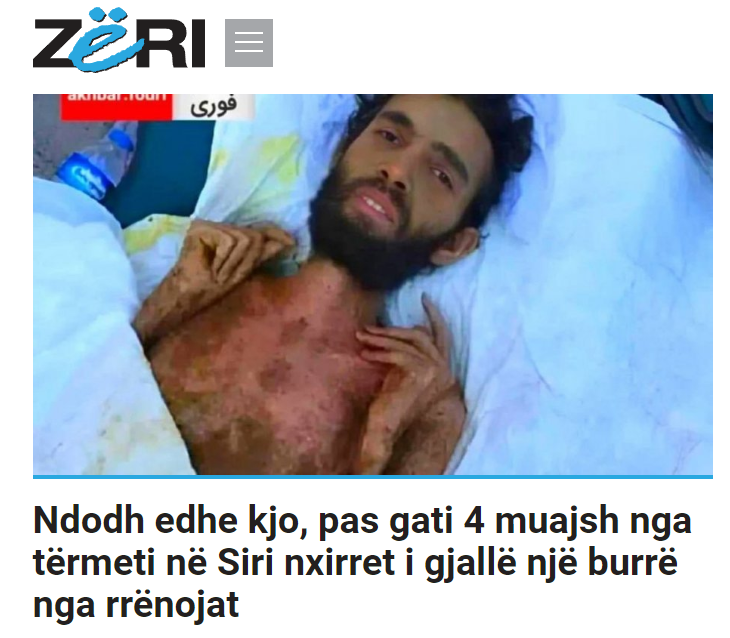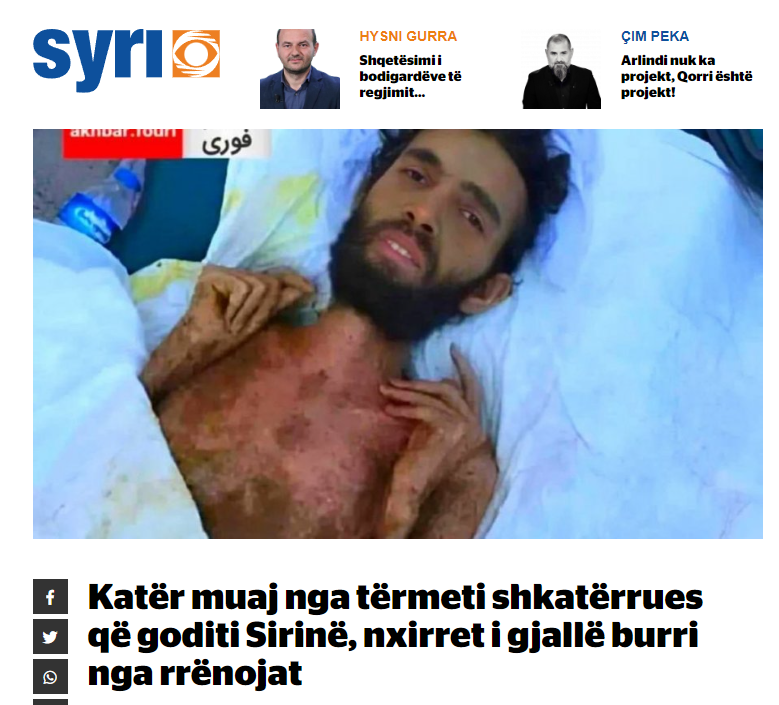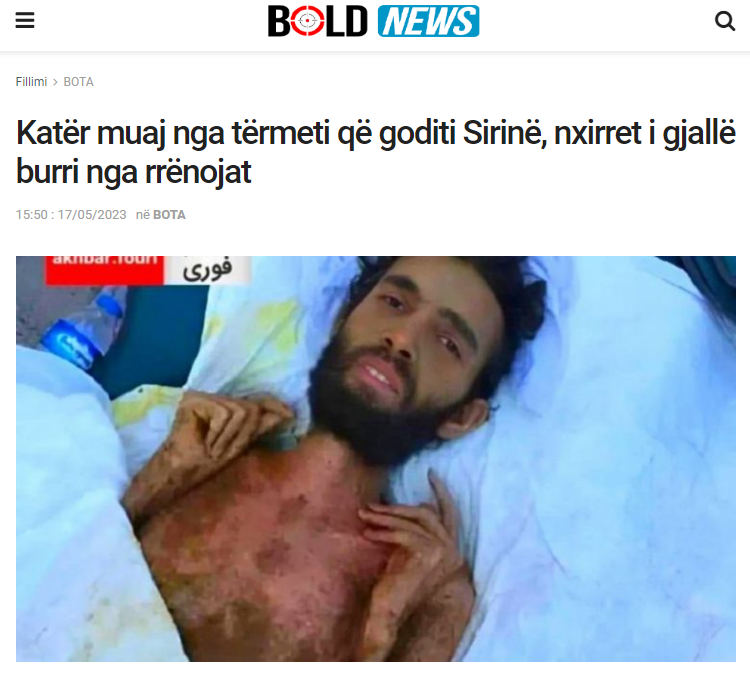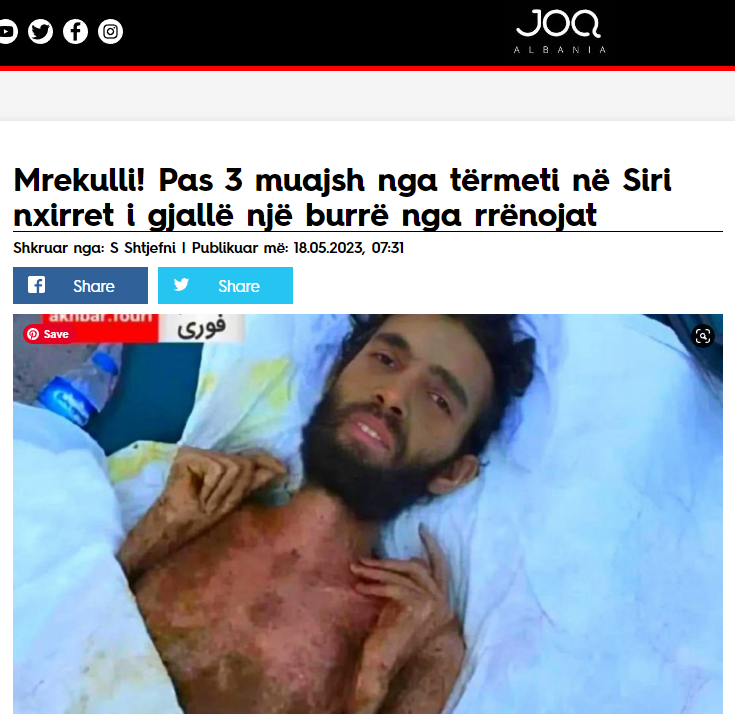 This news seems to have been first distributed in the Albanian-speaking media space by Telegrafi, since all other articles quote it.
However, it seems that this media outlet has already deleted the above article. The above link does not take you to the article about pulling the man out of the rubble, but to an article from 4 weeks ago that reports on the rising death toll from the earthquake in Turkey.
Faced with such incredible news, "Faktoje" decided to first search the world media for any such news. It appears that the only news agency that has reported the event is the Russian state news agency TASS, which quotes Iranian media outlet Akhbar Fouri.
The TASS article says that Akhbar Fouri has published a video of the rescued man in which he appears extremely thin, with a thick beard. But, on Akhbar Fouri's Telegram channel, no such video is found, while on their Instagram account, only a photo of a man is shown, which was then shared in other media, including Albanian ones.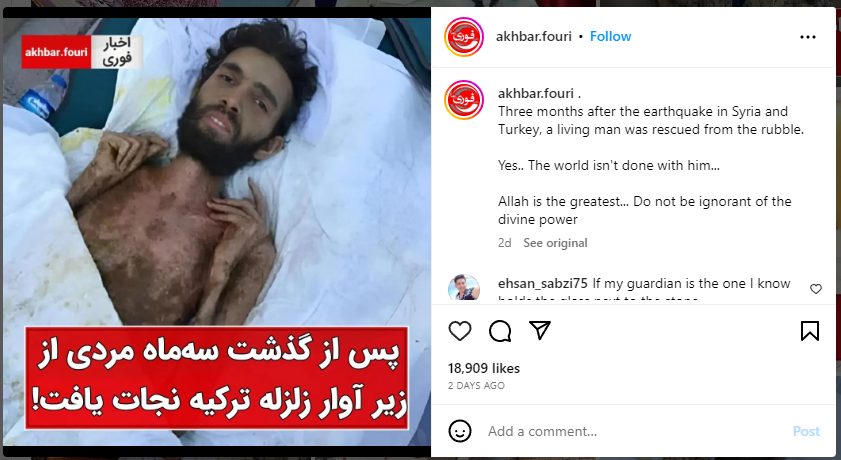 To find the origin of this photo, "Faktoje" used the image search engine Google Reverse Image Search.
From this search it was found that the news that the man in the photo was recently rescued in Syria has been denied by the colleagues of An Nahar, a Lebanese newspaper published in the Arabic language.
According to An Nahar, after the above photo was widely shared online, some users identified the man in the photo as "Ahmed al-Sousi from the town of Khan Shaykhun, who lives in the Wātan camp in Kafr Jals, Idlib, Syria."
Prompted by these comments, An Nahar managed to contact al-Sousi's cousin in Syria, who confirmed the above information. He added that al-Sousi suffered from psoriasis, a skin disease. Moreover, the photo that is circulating in the media, he said, is from seven years ago.
He also sent An Nahar a photo of al-Sousi's ID card, as well as a snap shot of him showing psoriasis marks on his forearm.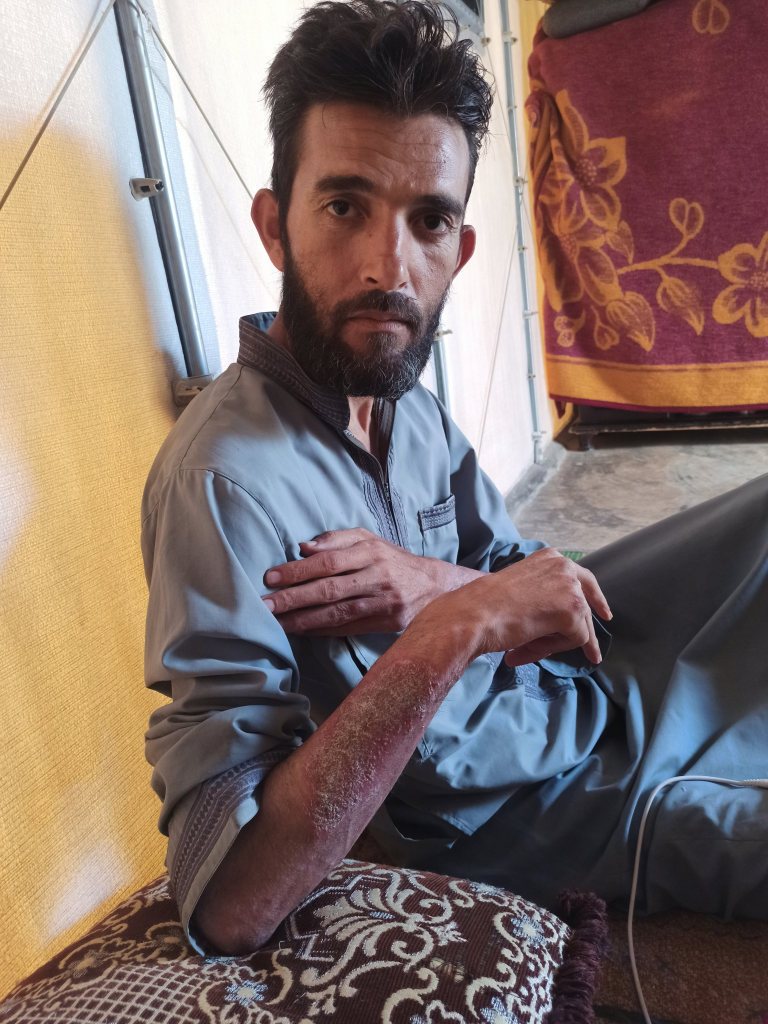 Ahmed al-Sousi
al-Sousi's disease is not curable, and, in his case, "he must take a dose of medication every 45 days to treat the symptoms of psoriasis." His cousin told An Nahar that this disease has made Ahmed unable to move his fingers and walk with difficulty on one leg.
Meanwhile, the news about the extraction of a survivor from the earthquake ruins after 4 months remains unconfirmed.