Since March, some documents have been circulating in the media claiming to prove exchanges of money between the former leader of the Socialist Movement for Integration (LSI), Monika Kryemadhi, and a Russian-owned company. It was initially a foreign media publishing the documents, but the article was deleted from the internet. Later, the same documents were published by Top Channel. Monika Kryemadhi filed a lawsuit against this media claiming that everything is untrue. SPAK, asked by Faktoje whether an investigation is initiated against Mrs. Kryemadhi, reserved to answer due to confidentiality of the investigations.
Barbara Halla & Jona Plumbi
On March 15, the media portal EUReporter published an article on Russia's efforts to increase its influence in the Western Balkans. Regarding Albania, EUReporter noted the findings of the American Mother Jones which in 2022 revealed that Russia had donated $500,000 to the Democratic Party during the 2017 elections.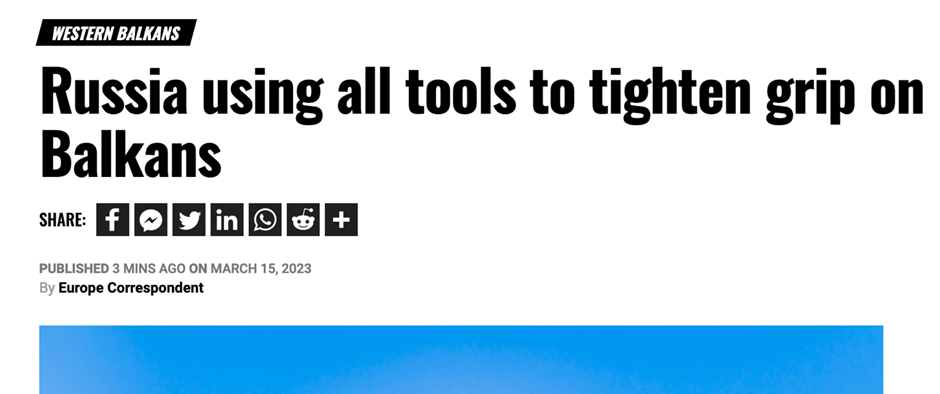 Source : EUReporter via Internet Archive
The article also included new evidence on Russian influence in Albania. Three different bank extracts showed that the former chairperson of LSI, Monika Kryemadhi, had an undeclared bank account in Switzerland and had used this account for transactions with Russian-owned companies.
These extracts have not been independently verified further. However, they were quickly disseminated in the Albanian media, a few hours before being published in English. That same day, EUReporter deleted the article without further explanation or correction. But in the Albanian media, the situation did not end there. In recent weeks, the various parties (Kryemadhi, Prime Minister Edi Rama, as well as the media such as Top Channel) have accused each other of fake news and disinformation.

Source : Top Channel
EU Reporter article
There is still no clear evidence why EU Reporter retracted the article published online. Asked by Top Channel, the media portal confirms the article's data as correct, saying that the documents were given to them by an anonymous source who will also present them to SPAK.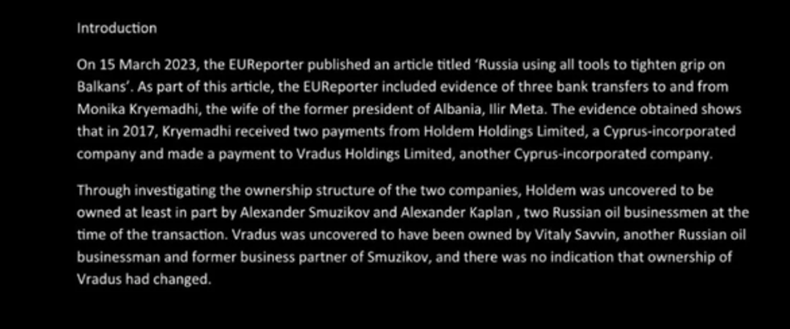 Source: Top Channel
According to International Policy Digest (IPD), another media outlet that covered the news stated: "Contacts familiar with the case stated that Kryemadhi threatened the media, a Brussels-based independent media outlet focussing on the EU, that she would sue them. As for any other small independent media, the legal defense costs…were too expensive to continue." IPD therefore suggests that EU Reporter has deleted the article to avoid a very expensive legal battle with Monika Kryemadhi.
Moreover, since the publication of the article in EUReporter, Kryemadhi and some portals in Albania started the fight, portraying it as a tool of Chinese propaganda, as was the case of an article from Standard and Syri.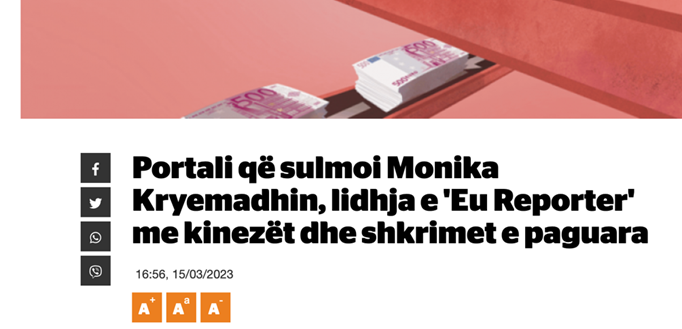 Source : Syri
It is true that in the past EU Reporter has been accused by Politico of being part of the world of lobbying in the European Union, more than being independent media. Additionally, the New York Times has revealed that the EU Reporter has received money from China's Huawei to write positive articles on China. However, these data do not necessarily cast doubt on the published data on Monika Kryemadhi, which have nothing to do with China.
Kryemadhi herself told Opinion that the EU Reporter article was not true, but ordered and paid for by Mirel Mërtiri, the Albanian businessman wanted by SPAK for his role in the incinerator affair.

Source : Dritare.net
So far, there is no evidence that the EU Reporter article was commissioned or paid for by a third party. And Kryemadhi has not given any evidence, at least publicly, in this regard.
The evidence against Kryemadhi
According to extracts published by EUReporter and republished by the Albanian media, on February 12 and May 23, 2017, through a Swiss bank account, Kryemadhi received 5,350 and 13,500 Euros from the company 'Holdem Holding Limited'. This company is owned by Alexander Smuzikov and Alexander Kaplan, two Russian oligarchs. These amounts are paid to Kryemadhi as dividends to shareholders, but no further details are given.
While on July 18, 2017, Kryemadhi sent an amount of 9687.64 Euros to 'Vardus Holdings Limited'. This company has also a Russian owner, Vitaly Savvin, who has been one of Putin's biggest donors according to Forbes. In the description section, it is specified that this payment is made for marketing services.
According to Top Channel, which has checked with the TIMs system, on the dates Kryemadhi sent more than 9 thousand dollars to Vardus Holdings Limited, she had traveled outside Albania.
"Monika Kryemadhi's travels abroad correspond also with the illegal transactions she has carried out in Switzerland. She has even tried to avoid leaving any traces, as the verifications show that Kryemadhi crossed the border on foot at Qafë Bota border crossing on July 17, 2017 at 2:26 p.m., even though at that time she was the leader of the Socialist Movement for Integration (LSI)," says the  article.
Top Channel also writes that an anonymous source has contacted some local media through the Proton platform to provide further details on Monika Kryemadhi's relations with Russia. The editor-in-chief of Top Channel told Top Story that these documents have been verified by their editors, but did not provide any other information that helps to further verify these sources or evidence.
As for Kryemadhi, she has denied all the accusations, stating that SPAK should investigate the documents received from Top Channel and other media. Meanwhile, Prime Minister Rama has urged SPAK to take measures.
What Monika Kryemadhi says
Asked by Faktoje, Monika Kryemadhi answered, saying that she was not aware of any investigations having been so far initiated by SPAK against her. Kryemadhi confirmed to Faktoje that on April 19, 2023, she had filed a criminal complaint against the company Top Channel, claiming this media publishes fake news, documents and facts.
At the same time, Kryemadhi has also filed a civil lawsuit against the company Top Channel in the court of Tirana, claiming compensation for the damage caused her, and deletion of the fake news.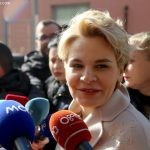 "I chose the legal path for two reasons: First, everyone deserves to learn the truth, as it is and not with slander, fabrications and fake news. Secondly, anyone who uses the print media and television to attacks, to impose fines on people, or to fabricate accusations must be held liable, as provided by Article 18 of the Constitution.
— Monika Kryemadhi, MP of the Freedom Party
Faktoje checked also with the Special Anticorruption Prosecutor's Office (SPAK) whether they have already initiated an investigation into the case in question.
SPAK's response
Faktoje checked also with the Special Anticorruption Prosecutor's Office (SPAK) whether they had initiated an investigation on Monika Kryemadhi regarding the documents made public in the media.
SPAK informed Faktoje through their reply that due to investigation confidentiality, the Prosecutor's Office can not provide any information on whether or not an investigation is initiated, referring to confidentiality as the reason behind this refusal, which means that this matter is being handled by SPAK.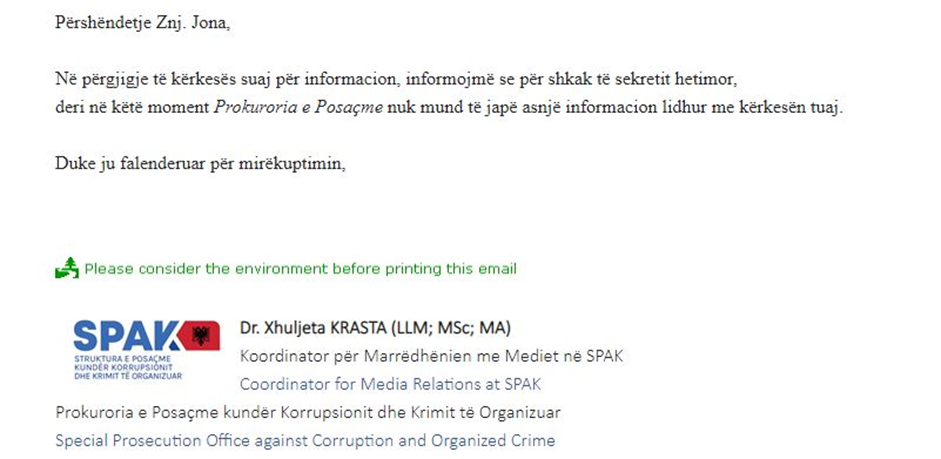 *This article was produced as part of the regional initiative the Center Against Disinformation of the Western Balkans