In March of this year, Prime Minister Edi Rama promised that he would not interfere with followers, with comments or retorts on social networks. But as the election campaign approaches, his activity on social networks has increased, especially on Facebook. Recently, the Prime Minister responded through a status to some critical commentators on the mass departure of young people from Albania. With this action, Rama proved that he broke the promise of 8 months ago that he would silently follow the reactions of the commentators.
Esmeralda Topi
"Here I am and I will definitely continue to follow your comments, but in silence, because your concerns are my energy food to fight every day for you." – declared through a Facebook status on March 21 of this year, Prime Minister Edi Rama, informing his followers about the decision not to intervene in the comments.
But eight months later, the promise not to reply to his social media followers was broken.
"It is neither Austria nor Switzerland, but Voskopoja, reborn as an example of an impressive transformation" – the Prime Minister wrote, among other things, on November 1, in a post that was accompanied by a photo from Voskopoja, as part of the tour of meetings he is conducting across Albania.
30 minutes later, the Prime Minister shared another post on Facebook that was a direct response to some commenters who wrote about the concern of the mass exodus of young people from the country in the post where Rama was promoting Voskopoja.
"But who is going to maintain them, as they have all left?", said someone, as if those who have turned Voskopoja into a spectacle of investments in old houses are aliens, ghosts or fools who have no clue what they are spending their money on!
Faktoje's verification shows that Rama not only broke his promise not to respond to followers, but he did so to respond to three commentators only .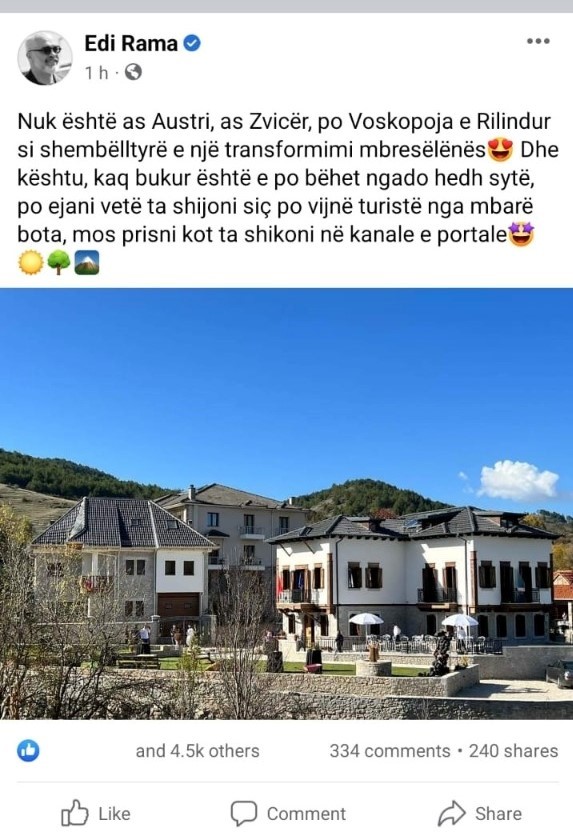 Of the 334 comments on the promotional post for Voskopoja, in the first 30 minutes, there were only three people who were worried about the departure of young people and the depopulation of the country.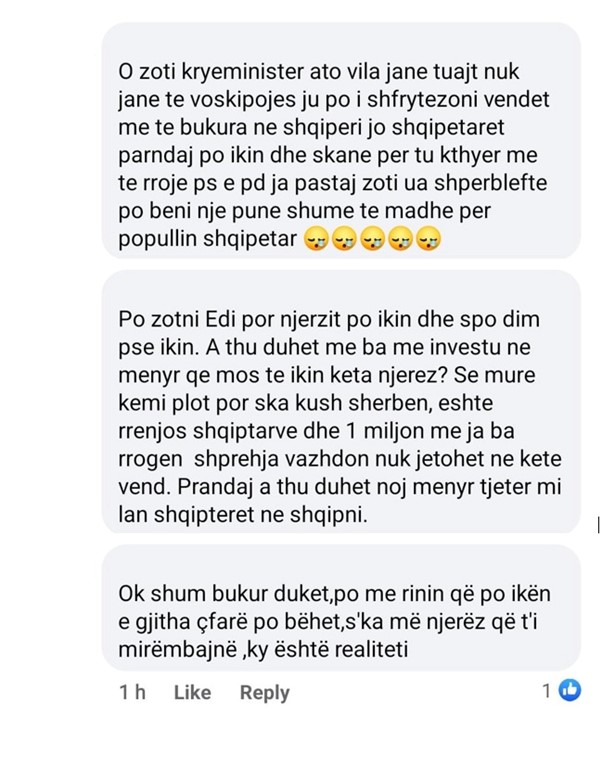 While the other 331 comments were from followers sharing support or congratulations on the work of the government and especially that of the Prime Minister. The post was shared by 240 people, while it was liked by 4500 followers.
"The replication that the Prime Minister not just with his readers on social networks, but also with the media about the news they publish in relation to the work of the government or the activities that he develops personally are a phenomenon that has always been present in the way the Prime Minister or his PR Office has managed public relations. I think that the Prime Minister is a bit obsessed, let's say, since even though he promised that he will not respond to the citizens/commentators anymore, he is doing it." – argues for Faktoje, journalist and expert on communication issues Mentor Kikia, adding that he sees the attitude of the head of government as a negative development.
"I see it as a negative development, let's say the fact that a Prime Minister responds to every piece of information, every piece of news that is published in the media. The replication you do with the readers is also unethical in my opinion, because citizens have their opinion and the right to be supportive or critical of the government. Actually, those who are critical will have to be respected more." – points out Kikia.
Prime Minister Edi Rama has 1.6 million followers on his official Facebook page and is very active. His posts start from 08:00 in the morning and continue until late at night. On average, 5 to 6 posts are shared on his official page every day which receive hundreds of likes and comments. But in recent weeks, the Prime Minister's activity on Facebook has increased and averages 10 posts per day, which mainly correspond with the various meetings that Rama is holding around Albania.