More than a month ago, as details were published regarding the investigation of former FBI official McGonigal and his meetings with Prime Minister Rama, the opposition requested an urgent interpellation in the Assembly. Faktoje brings a chronology of developments from January 27 to Thursday, March 2, when the interpellation session was finally held, which results in exceeding the deadlines allowed by the Constitution.
Jona Plumbi
The Constitution of Albania obliges the Prime Minister and his ministers to respond to interpellations and questions of MPs within three weeks. This is what is written in Article 80 of the highest law of the country.
But what happened?
After the publication of the indictments against the former senior FBI official Charles McGonigal and the discovery that in one of the investigative documents of the FBI, the Prime Minister of Albania was mentioned 14 times, the parliamentary opposition demanded an urgent interview with the Prime Minister.
On January 27, 2023, the Parliament of Albania protocoled a document with the object "Request for urgent interpellation" with the Prime Minister of Albania, Edi Rama, signed by the head of the democratic parliamentary group, Enkelejd Alibeaj.
On January 30, 2023, a second request for an urgent interpellation came from 7 deputies of the Democratic Party, who chose the deputy Gazment Bardhi for their representation during the question-and-answer session with the Prime Minister.
Based on the Regulation of the Assembly, interpellations on urgent issues take place in one of the plenary sessions of the following week, after its submission to the Assembly.

*Article 97 of the regulation of the Assembly of Albania on urgent interpellations
The Assembly decided to conduct the interpellation on February 2, but the Prime Minister did not appear at the session. The President of the Assembly, Lindita Nikolla announced that Rama had delegated his obligation to respond to his Minister for Relationship with the Parliament, Elisa Spiropali. The opposition rejected this deviation of accountability and asked the Assembly to take urgent measures for conducting the interpellation in accordance with the Constitution and the Assembly Regulations.
Instead of answering before the Parliament of Albania, the Prime Minister chose to speak in a television studio. Faktoje asked its followers if they think the Prime Minister should answer to the parliament and the result showed that 88% of them support this form of accountability.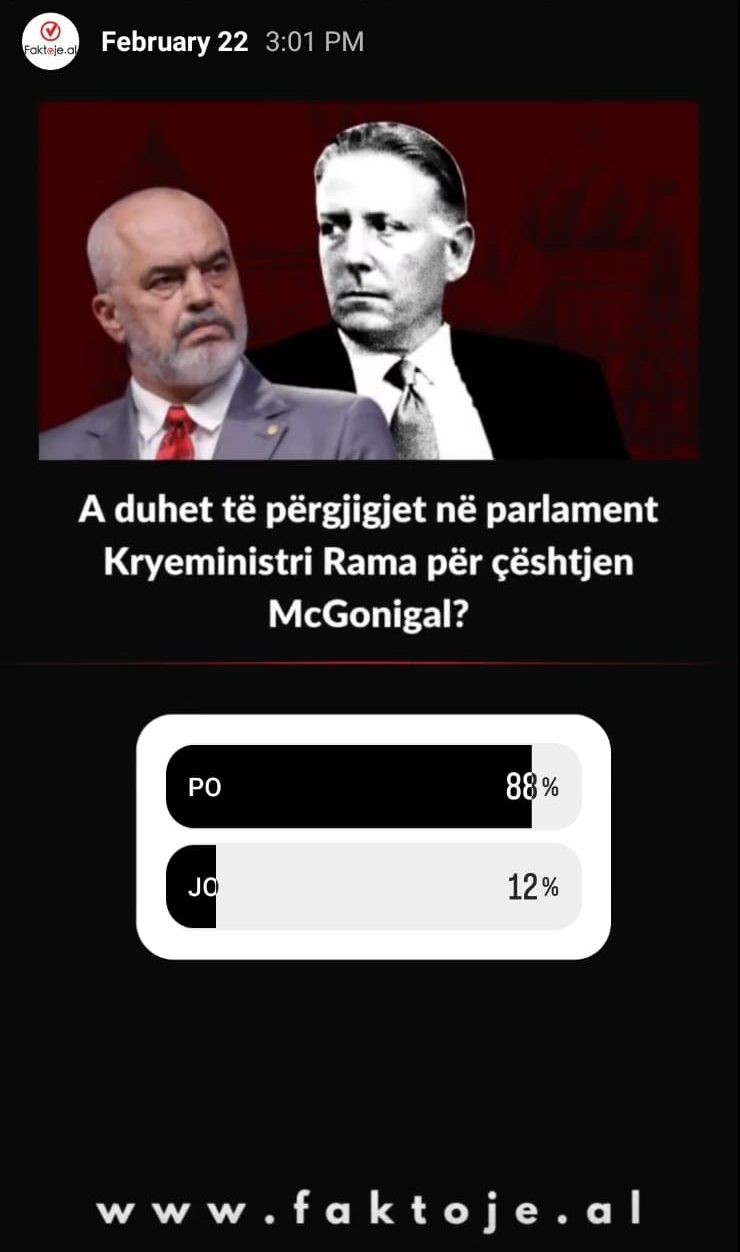 *Voting result on Faktoje's social network
From that moment, a month has passed and the Prime Minister of Albania agreed to answer in parliament this Thursday, March 2, exceeding the constitutional deadline.