Footage of the arrest of Palestinian children by Israeli soldiers is being used in the media as a video from the current developments of the war between the two states. Faktoje brings the data showing that the video belongs to the year 2021.
Kidnapping of Israeli children to be held hostage by Hamas fighters is a serious news item that attracts clicks on the Internet. This interest has also been exploited by users on social networks, who are sharing videos that are claimed to prove these kidnappings or the detention of children. In some cases, even the media have fallen prey to these videos, spreading disinformation.
One of these cases is a video shared on October 10 by the " Periskopi.com " portal. " Hamas terrorist groups abuse and take many Israeli children hostage (GRIEVING VIDEOS )," headlines the news accompanying the videos.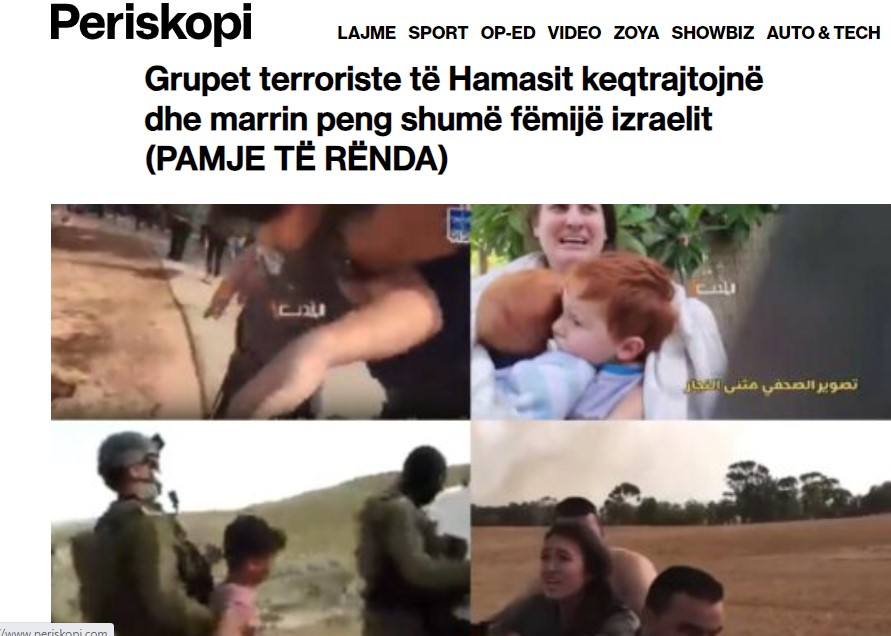 Article distributed by the media
Faktoje decided to do a verification of the footage, through photo and video verification tools. Research shows that the third video in this article does not actually pertain to current developments in the Israel-Palestine conflict. The footage of the child being kidnapped is from March 2021.
These images show the arrest of Palestinian children by Israeli soldiers. 
"Israeli soldiers arrested 5 Palestinian children in the southern Hebron hills on Wednesday after they were reported to have crossed the fence illegally. The 5 children, who range in age from 8 to 13, were reportedly held for three hours at the Kiryat Arba police station before being released.
Two of the children, 12 and 13 years old, have been summoned for additional questioning on Sunday, according to the children's lawyer Gaby Lasky," foreign media reported on March 10, 2021.
Benjamin Netanyahu formally declared war on Hamas on October 8, following a surprise attack by Hamas militants that came a day after the 50th anniversary of the Yom Kippur War, or Arab-Israeli War. Israel says at least 900 Israelis have been killed by Hamas, including women, children and the elderly.