Geri Emiri
Opening of "Eco Park" on 1 June 2021 and 2022 where Durrës and Shijak landfills were located has been promised by Prime Minister Rama and Mayor of Durrës, Mrs. Emiriana Sako. Even though the works have been completed, the park remains closed for the public waiting for the inauguration.
PORTO-ROMANO, DURRËS
A group of children, after having permeated the highway connecting Porto-Romano with Durrës and then with the entire Albania, stops near the chain holding the "No entry" sign.
They have pushed the mothers into the second row who almost unanimously prayed to enter "Porto-Romano Eco Park". The security personnel is quickly disarmed before children's prayers. Following the repeated calls for high care and accident risk during the games, men reluctantly give way to the noisy group of about 15 children.
It once served as a municipal waste collection site for Durrës and Shijak Municipalities, while today the area has taken on a completely different look. With 6 sports fields, playgrounds and recreational spaces, children do not resist the temptation to visit it illegally.
Works completion and "Eco Park" inauguration has been promised several time by Prime Minister Rama and the Mayor Mrs. Emiriana Sako.
Park opening on 1st of June this year was the electoral promise that Sako gave to the "New Durrës" area residents, including Ish-Keneta, Spitalle and Porto-Romano during several meetings she held with them.
"And, we shall inaugurate the park on 1st of June. Meanwhile, those who wanted waste for Durrës, those who wanted Porto-Romano as a waste deposited area shall get the answer on 6 March… ", she stated on 3 March this year.
Emiriana Sako got the majority of votes to be elected as Mayor of Durres, however "Eco Park" continues to be officially closed to visitors and awaits its official inauguration.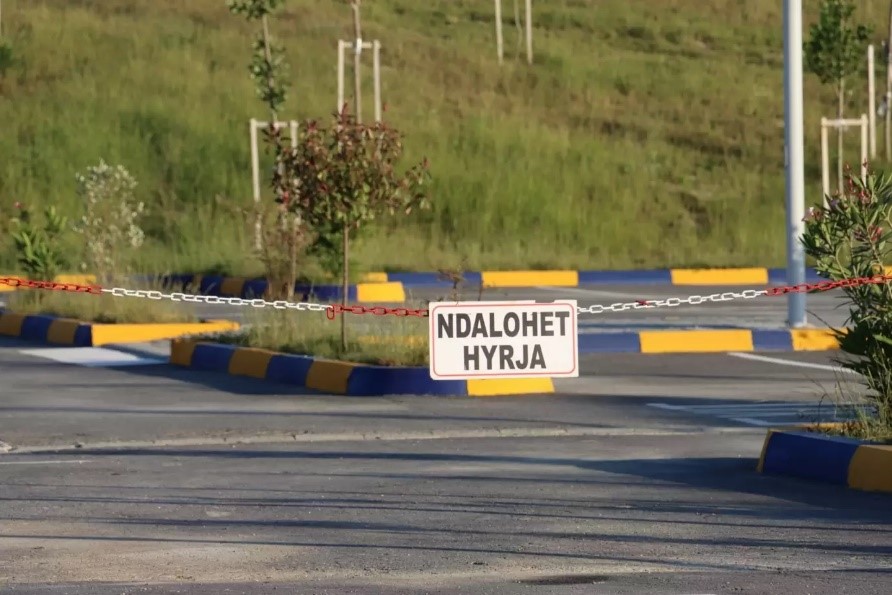 Eco Park Entrance in Porto-Romano, Durrës. Picture by Geri Emiri/Amfora Media
Hasty procedures, but delayed promises
Porto-Romano area residents and beyond remember the days when "Eco Park" as the territory which constantly released piles of urban waste burning in the open air.
"Very nice compared to what it used to be. "I never believed it would happen to be like this, never", comments for Amfora Media Mrs. Lindita Doda, a resident of the area.
She, together with her children and neighbours, is visiting "Eco Park" for the first time from the inside even though entering is officially forbidden.
Located approx. 4 kilometres away from the city, it  served for decades for as a waste disposal and incineration site having an area of about 80.000 m2, filled with urban waste, inert, hazardous waste and dead animals.
In June 2018, Prime Minister Edi Rama stated publicly for the first time the construction idea of Eco-Park replacing the urban waste site in Porto-Romano.
Without providing any details on the municipality's waste management process, he stated that landfill would be turned into a green park within 18 months.
Rama and Sako have occasionally promoted Eco Park and its stages of works promising to open it, however officially remains closed to the public.
"The children are having fun here, they told me "Come on mom, let's go as it's now open, we've heard that it will open on 1st of June", shrugged Lindita Doda, a resident of "Mirdita" neighbourhood trying to understand if Eco Park was really open for the public.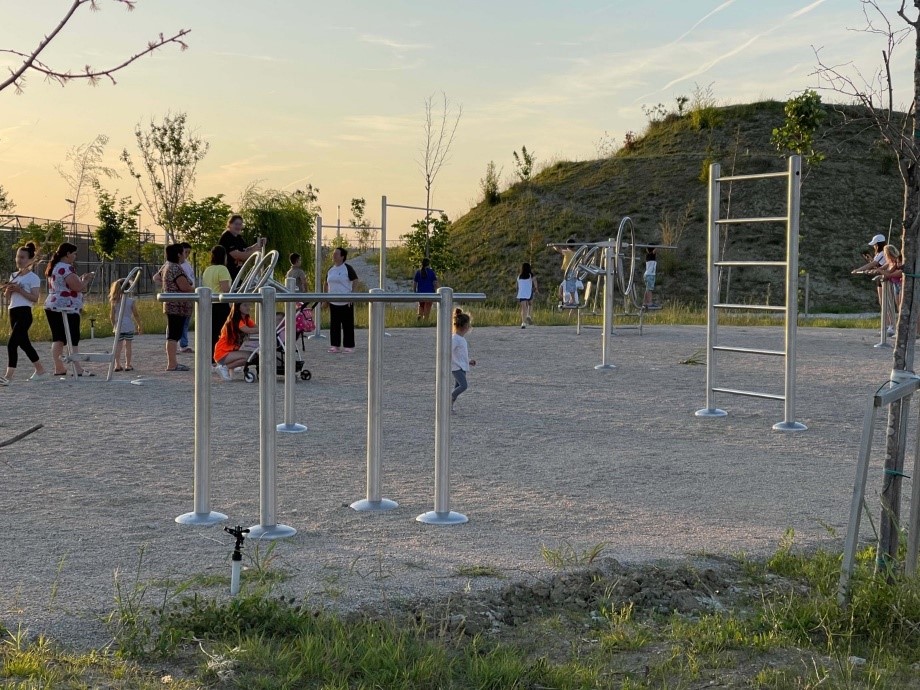 A group of children and parents playing in the Eco Park toy corner. Picture by Geri Emiri/Amfora Media
"Xhuli [Zhyljen Varfaj, Commanding Mayor of Durrës Municipality back then] stated in 1 June 2021 should be the biggest celebration that kids have ever seen in the history of Albania here in the Durrës New Park", stated  Prime Minister on 7 December 2019, a few days before announcing his idea with an official decision.
The National Agency for Water Supply and Sewerage (AKUM) officially announces that deadline was 18 months and it went on beyond June in 14 April 2020 – 14 October 2021.
As Rama shared a series of videos at different times on social networks, Mayor Emiriana Sako did the same. She promised to area's resident the park opening on 1 June 2022 while explaining her electoral platform on 3 March this year. Although earlier, in March 2021, Emiriana Sako promised the park's completion in October 2021 during a conversation she held with the public.
"Today, the development of this project fully initiated and funded by the Albanian government is completed up to 80% and ends in October," said Sako in March 2021.
"Works in the framework of the project have been completed on 28.03.2022", officially answered the National Water Supply and Sewerage Agency (AKUM).

Response of AKUM
"There was a suspension of works from 30 September 2021 to 24 January 2022 due to unpredicted foundation and structure reductions at the Mountaineering Wall component", explained AKUM as for the delays during  project's implementation.
Area's residents are looking forward to the park's opening, being the first of its kind in the entire territory of Durrës Municipality.
"Yes, I will bring the children even more often because they are having fun they want to go out. "I am sure I will come during Sundays, as I work on weekdays", concluded Lindita Doda, who lives nearby.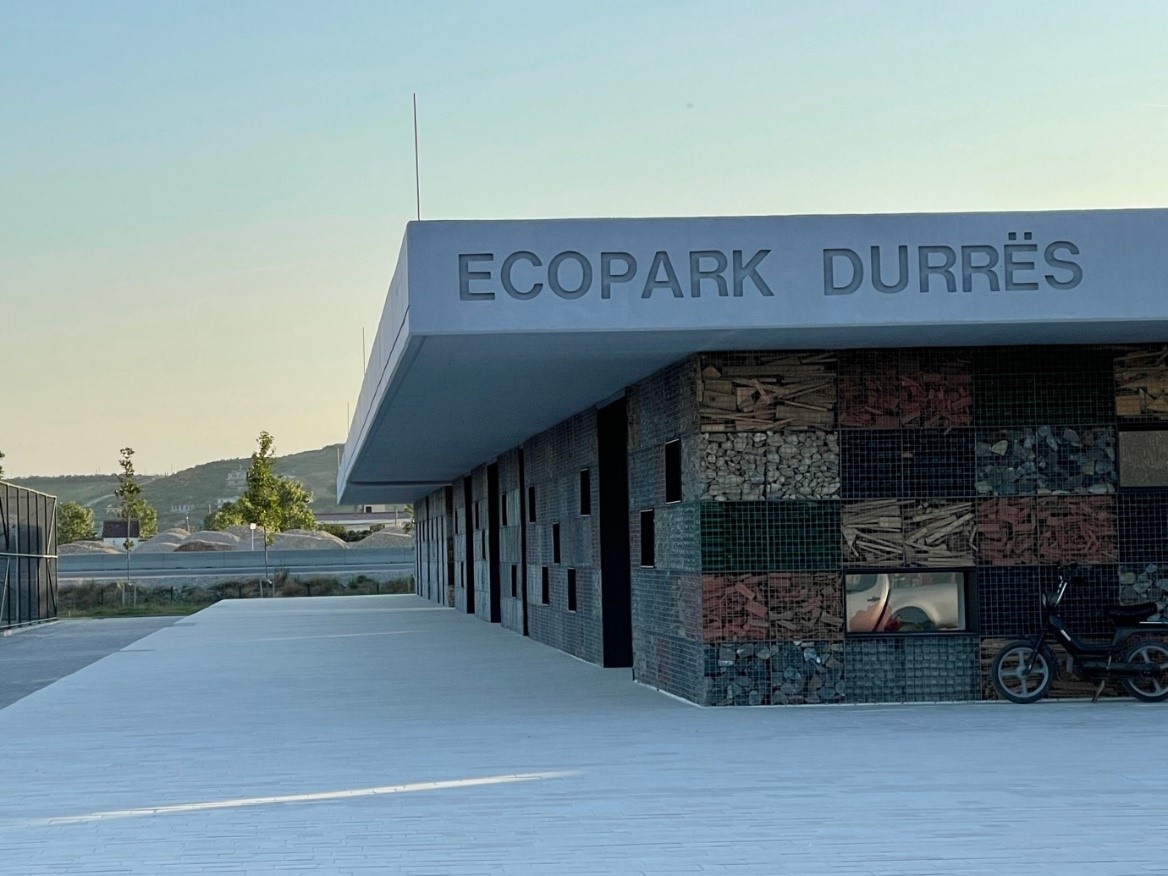 Eco Park Dressing Rooms, Porto-Romano, Durrës. Picture by Geri Emiri
However, construction of Eco-Park, triggered another crisis for Durrës and the tendering procedure a few days after the 2019 earthquake made by negotiation, with no open competition incited reactions regarding the purpose of the project.
Closure of Porto-Romano landfill left Durrës, Shijak and the villages without a landfill and plunged the municipality into an "environmental emergency" situation, forcing it to negotiate the waste disposal at the Waste Treatment Zone Concessionaire in Tirana.
The National Water Supply, Sewerage and Solid Waste Agency (AKUM) started the tendering procedure differently. On 16 October 2019, it announced the tender for construction of Eco-Park to the Public Procurement Agency, however cancelled it 3 days before the opening of bids on 6 December.
Everything changed its way when Albania was hit by the earthquake on 26 November 2019. The government hastened to send there all the inert waste of the buildings, leading to an artificial crisis of the urban waste disposal of Durrës Municipality.
When the city was still empty by the earthquake panic, Prime Minister Edi Rama, as chairman of the Inter-Ministerial Committee for Civil Emergencies, decided on 16 December 2019 that the intertidal waste generated by the earthquake in the territory of Durres, Lezha and Tirana shall be sent to Porto-Romano landfill.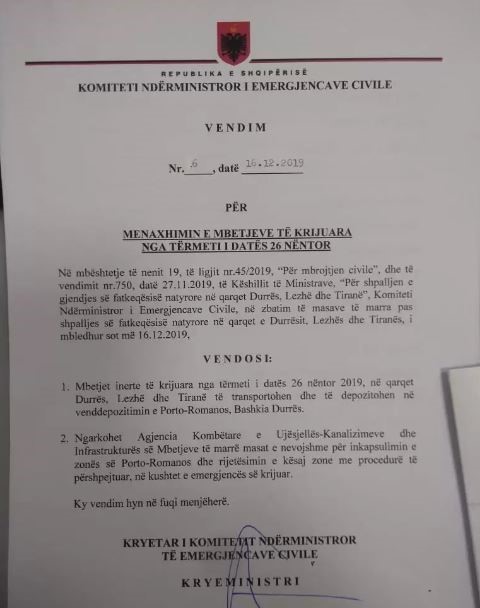 REPUBLIC OF ALBANIA
INTER-MINISTERIAL COMMITEE OF CIVIL EMERGENCIES
DECISION    NO. 5                                                                           dated 26.12.2019
ON
WASTE MANAGEMENT GENERATED BY
EARTHQUAKE OF 26 NOVEMBER
Pursuant to Article 19 of Law No. 45/2019, "On civil protection" and decision no. 750, dated 27.11.2019 of the Council of Ministers, "On the declaration of the state natural disaster in the regions of Durrës, Lezha and Tirana Districts", the Inter-Ministerial Committee on Civil Emergencies, pursuant to measures taken following the declaration of the state of natural disaster in the regions of Durrës, Lezha and Tirana, held today on 16.12.2019.
DECIDED:
1.       Inert waste generated by the earthquake of 26 November 2019, in the regions of Durrës, Lezha and Tirana shall be transported and deposited in Porto-Romano Landfill, Durrës Municipality.
2.       The National Agency for Water Supply and Sewerage and Waste Infrastructure is hereby charged to take the necessary measures for the encapsulation of the Porto-Romano area and the revitalization of this area with an accelerated procedure, under the conditions of the created emergency.
This decision shall enter into force immediately.
CHAIRMAN OF THE INTER-MINISTERIAL COMMITTEE
OF CIVIL EMERGENCIES
PRIME MINISTER
[signature]
Further instructing AKUM to take measures to encapsulate urban waste and revitalize the area through accelerated procurement procedures, in the context of the earthquake-created emergency.
Merging of "De mare s.r.l and Victoria Invest International sh.p.k" companies was awarded as the winner of the competition with no tender having a fund of 1,583,685,032 ALL or about 13 million Euro.
Tender held without competition incited the interest of the Special Anti-Corruption and Organized Crime Structure (SPAK), which started an investigation of the criminal offences "Violation of equality of tender participants" and "Passive corruption of persons exercising public functions"
.
Criminal proceedings for the case you are seeking information are under investigation. We cannot provide more information.

Thank you for your understanding!
"Criminal proceedings for the case you are seeking information are under investigation. We cannot provide more information", replied SPAK for Amfora Media following a request for information on the investigation sent almost 2 years ago.
Based on the statement of the Mayor, Mrs. Emiriana Sako and that of the Prime Minister Edi Rama, the official response of the National Agency for Water Supply and Sewerage (AKUM) and the on-site verification performed by Amfora Media and Faktoje, we will categorize this promise as "UNKEPT"
*This article was published as a collaboration of Amfora Media and Faktoje.al, as part of the "I do fact-checking" initiative aiming to train and mentor journalists in Albania in the framework of "Building trust in media in South East Europe and Turkey – Phase II", project of UNESCO supported by European Union.