"Fact-checking is an integral part of journalism, the importance of which proved crucial in recent years thanks to the efforts of specialized organizations promoting it as a public service to help readers make informed decisions and as a tool for active citizens to hold public officials and media accountable and counter disinformation and propaganda," said Filip Stojanovski, Partnership and Resource Development Director of Metamorphosis Foundation – an independent civil society organization in North Macedonia whose fact-checking service, Truthmeter.mk, is a member of the International Fact-Checking Network (IFCN). "Thanks to this project, we have been able to provide training on fact-checking within selected media newsrooms that were willing to integrate new skills into their daily work. At a time when their resources are scarce, it meant a great deal for their effort to sustain the quality of their work and expand their content range."
Between February and April 2022, the UNESCO EU-funded project "Building Trust in Media in South East Europe and Turkey – Phase 2" supported in-house training on fact-checking and relevant digital skills for 8 media outlets in South East Europe. 3 media across Albania, 4 across North Macedonia, as well as 1 in Pristina, benefited from this activity. The trainings were provided by Metamorphosis, a fact-checking organization based in Skopje and Faktoje, another fact-checking organization based in Tirana. Both are members of the International Fact Checking Network (IFCN) – a subsidiary of the journalism research organization Poynter Institute, which enabled them to partner with Facebook to review content on both Facebook and Instagram.
Among the media that received the training are Civil Media and Frontline.mk from Skopje, MMS.mk and radio Kanal 77 from Štip, INAC from Elbasan, Amfora from Durres, and Gazeta Si from Tirana.
"We adapted our training programme in accordance with the results of a needs assessment survey conducted with each selected media outlet. Results of those surveys showed that media were keen to get more fact-checking skills but also more skills on digital security and safety." – said Filip Stojanovski, Partnership and Resource Development Director, Metamorphosis Foundation.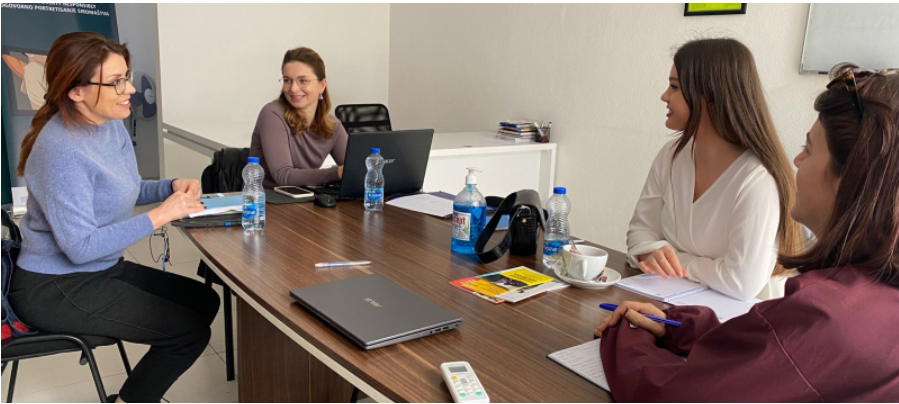 Media outlets received hands-on training, facilitated within their newsrooms, on how to use in practice some digital tools for fact-checking or how to use data visualization tools and how to protect themselves from cyber-attacks.
As a follow-up, the trainees are now mentored and supported to use the acquired skills in their daily work. In North Macedonia, the mentoring sessions are organized on a weekly basis. In addition, in Albania, Faktoje is launching a media campaign under the banner "I do fact-checking!".
"We are very thankful for this opportunity and we now have the necessary tools to fight disinformation and misinformation." – said Fatbardha Nergjoni, a trainee from INAC Elbasan.
In 2021, the project already supported training for 2 media outlets in Montenegro and 2 others in Serbia, delivered by the Serbian independent fact-checker Istinomer, also a member of the IFCN. The media that received training from Montenegro are Vijesti and Portal Analitika, while in Serbia, the training was provided to Glas Sumadije and Danas.
"I have already included some of the new tools I have learned in my daily work, and I look forward to extending my knowledge to my colleagues. It is also nice to know that we can count on support from colleagues in the media field and organizations," said Katarina Vasiljevic, a journalist at Glas Sumadije in Serbia.
The project also supports the strengthening of fact-checking in Turkey.