AURORA SHPATAJ
Since March until the end of the 2019-2020 school year, online learning was not accessible to many children coming from poor families. The new school year has commenced with reduced timetables, but teachers are notifying that teaching will be conducted on online learning platforms again. Based on the visits that "Faktoje" has paid to several schools in three administrative units in Shkodra, which are areas inhabited by hundreds of poor families, only one student has received a tablet by the MoESY.
---
Because of the deterioration of the situation due to the large-scale spread of the Covid-19 virus, teaching staff has started to return to online learning platforms, despite no order to close schools having been issued yet.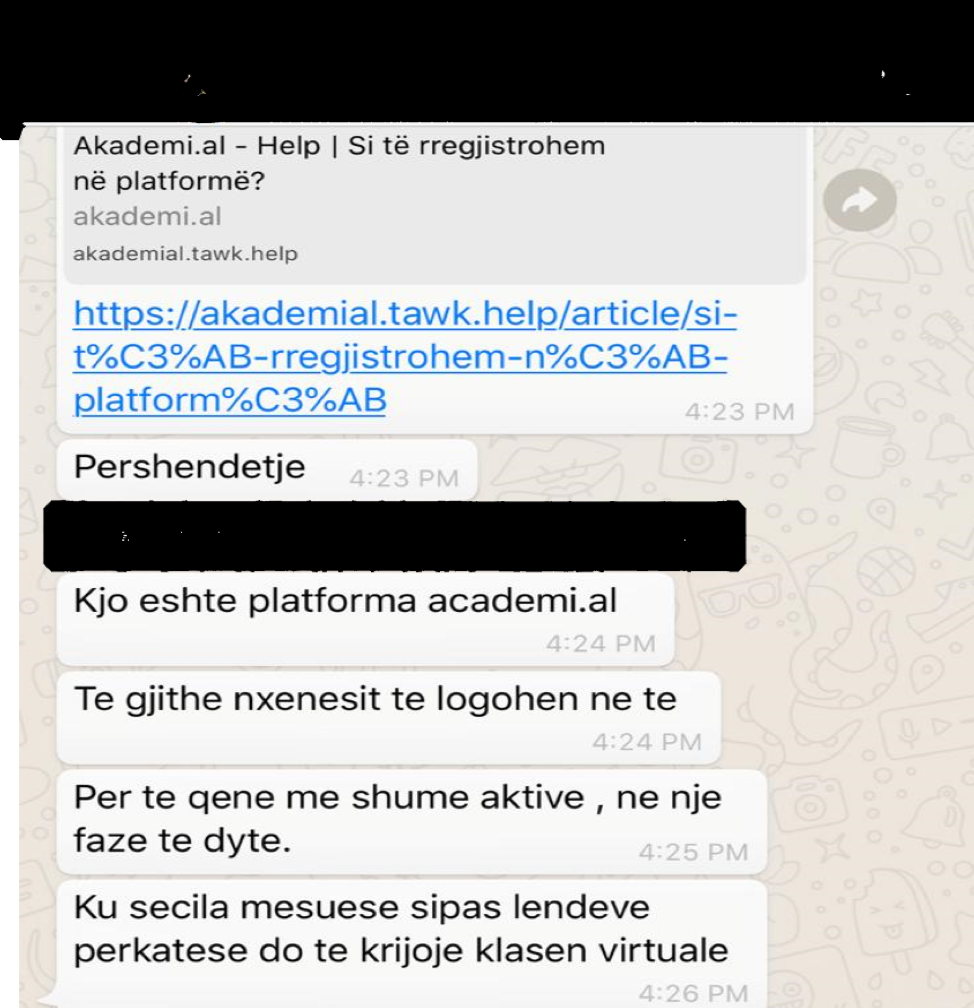 Notice in a WhatsApp group
On the other hand, for the past several weeks, the Minister of Education Mrs. Evis Kushi has announced on her Facebook page that the distribution of digital devices will be carried out across Albania to assist children as regards online learning.
Her predecessor, Mrs. Besa Shahini had promised the same when the pandemic began, claiming that thousands of tablets and smartphones would be distributed.
However, based on the observation conducted by "Faktoje" in several villages in Shkodra, it results that only 1 tablet has been provided in the 5 schools of three administrative units.
In the 9-year school in Bardhaj village, which is attended by 348 students, there have been no tablets or smartphones distributed to neither students nor teachers to facilitate online learning.
According to the school director, in this village inhabited by 545 families, there are 80 families receiving economic assistance due to poverty.
"The ministry has not provided any tablet or smartphone devices.  We maintained contact with students using our personal devices, doing the best we could" – Mrs. Tereza Brixha stated.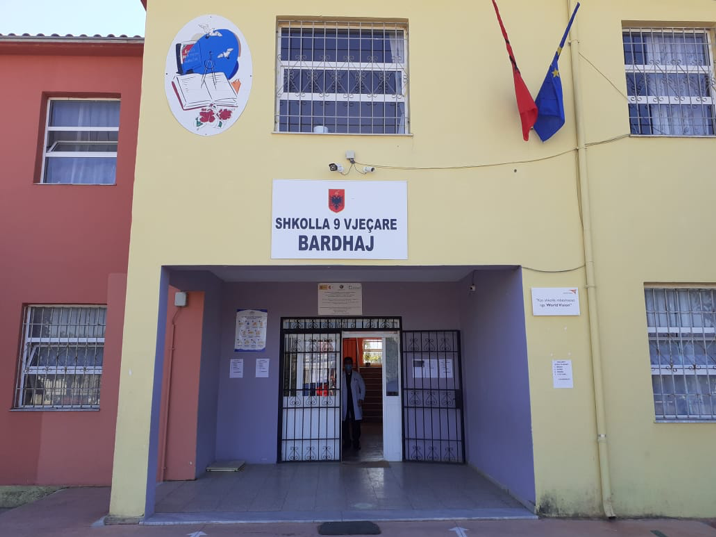 9-year school in Bardhaj
"I would wait for my parents to come home from work to receive homework assignments, because I do not have a phone or a tablet. I would often have no Internet access, therefore I was unable to learn at the same pace as my peers and there was nothing I could do" – said an 8th grader in this school.
The only school where 1 tablet device was provided is the "Adem Haxhija" merged high school in Postriba, attended by 600 students.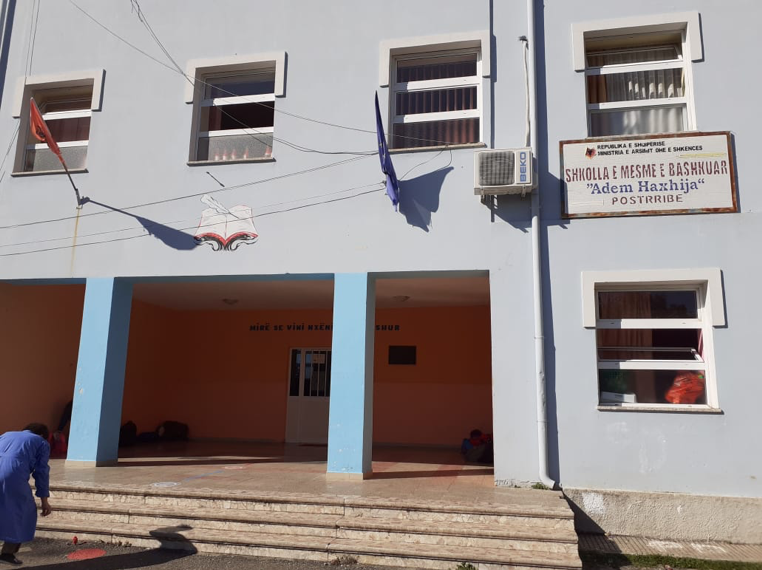 "Adem Haxhija" Merged High School
"Our school has received only one tablet device, which was given to one of our excellent students who receives economic assistance. However, this is a very poor area and most of the students receive economic assistance" – one of the teachers told "Faktoje".
In a conversation with Mr. Altin Shabaj, the Administrator of Postriba Administrative Unit, with approximately 11 700 inhabitants, he confirmed that the area has a considerable number of poor families.
"Postriba Administrative Unit No. 1 is inhabited by 349 families that receive economic assistance" – he told "Faktoje".
We paid further visits to "Dumen", "Prekal", and "Ura e Shenjt" 9-year schools attended by around 70 students in total.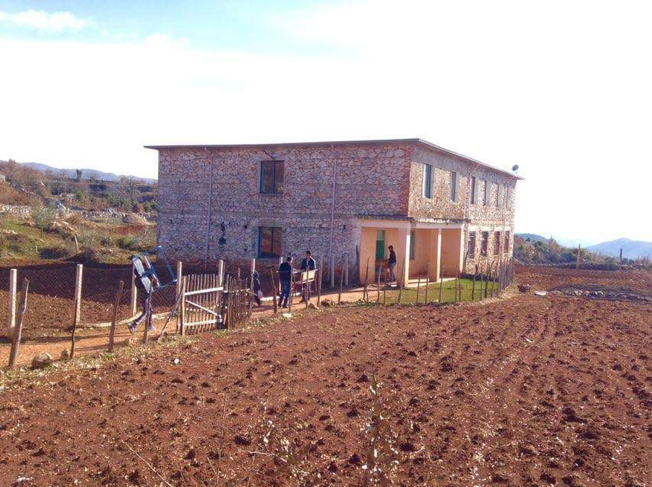 "Dumen" 9-year school
"No, here at the "Dumen" school we have not received any online learning devices. Approximately 40 students attend our school but none of them has received any tablets or smartphones. During lockdown, we have maintained contact with the students to the best of our abilities, but this is a poor area and children cannot afford phones or tablets" – one of the schoolteachers, who wishes to remain anonymous, stated to "Faktoje".
The "Ura e Shenjt" 9-year school has not received any digital devices for online learning either.
"No, we have not received anything. During lockdown we have used our parents" phones and we would often be unable to attend online classes due to having no Internet access" – said a 6th grader in this school in Postriba.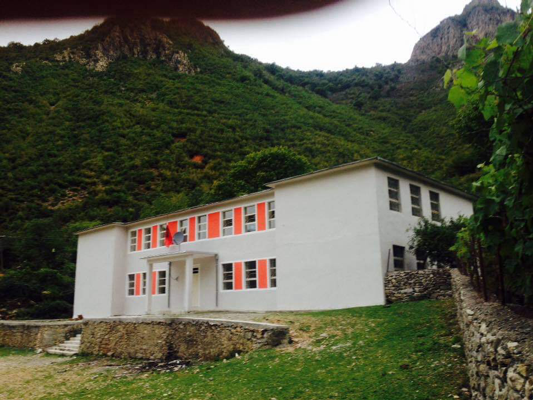 "Ura e Shenjt" 9-year school 
Based on the visit that "Faktoje" paid to the "Prekal" 9-year school, it resulted that the Ministry of Education, Sports and Youth had not provided any digital devices.
"We have not received anything, neither during lockdown, nor now" – a 5th grader told "Faktoje".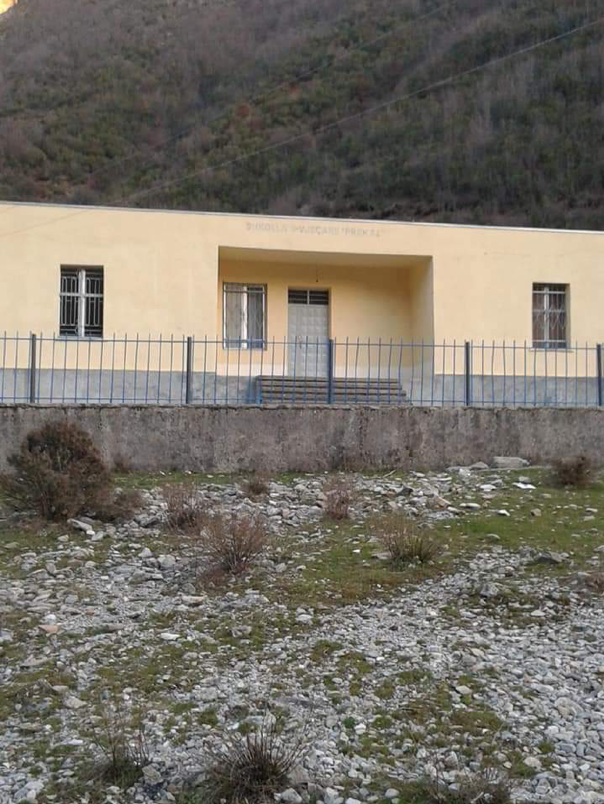 "Prekal" 9-year school
In Boga village, Shkrel Administrative Unit, online learning is a foreign concept to the "Marin Sirdani" 9-year school, attended by approximately 20 students according to locals.
"Just by looking at the condition of the school, it is obvious how concerned the ministry is with it. I have been living here for years and I cannot recall any minister or ministry representative visiting, let alone providing tablets or phones"- stated a local whose child attends this school.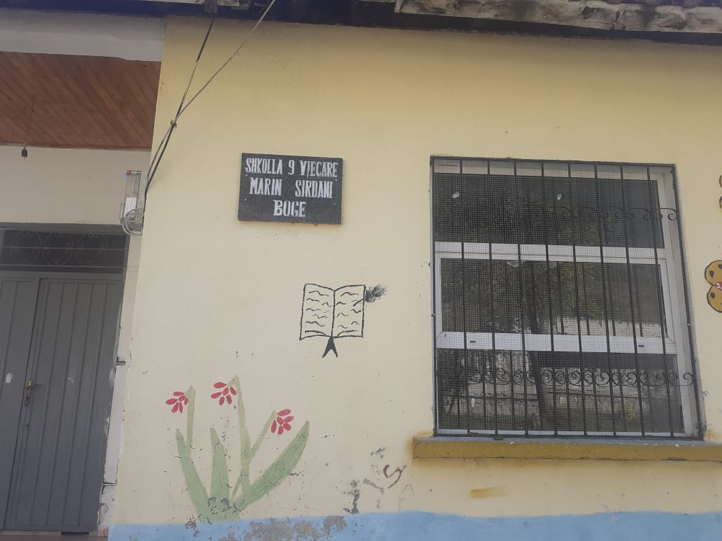 "Marin Sirdani" 9-year school
Following the on-site observation, "Faktoje" submitted an official request to the Ministry of Education, Sports and Youth, inquiring on the number of digital devices distributed to the areas of Postriba, Bardhaj (Shkrel Administrative Unit) and Boga (Rrethinat Administrative Unit).

Ministry of Education, Sports and Youth"s reply
The Ministry of Education, Sports and Youth confirmed the findings of "Faktoje".
"Since the start of the pandemic until now, only one tablet device has been provided in the "Adem Haxhija" school in Postriba, Shkodra ZVAP (Pre-University Education Local Office)"-stated the Ministry of Education"s reply.
Through phone calls with parents, teachers and local representatives, "Faktoje" confirmed that no digital devices had been provided to the Shosh and Shala Administrative Units either, which are areas that lie beyond Theth and are snowed in during winter.
"Faktoje" also requested the opinion of education expert Mr. Ndriçim Mehmeti regarding the provision of devices to facilitate online learning for children of poor families and those who live in remote rural areas.
"In my opinion, the provision of tablets should commence in the poorest rural areas, and then proceed to urban areas, in order to somewhat mitigate the serious disparity between children in the city and who can afford these devices, and children from categories in need and from disadvantaged categories."- Mr. Mehmeti told "Faktoje".