MARJO BRAKAJ
While the country experiencing a difficult economic situation as a consequence of the earthquake on 26 November 2019 and COVID-19 pandemic, the following year corresponding with Parliamentary Elections will "produce" 1,244 new administration employees. On the other hand, according to data by the Ministry of Finance and Economy, on the first half of this year, institutions' arrears reached the amount of 55 million Euros, with half of them being lawsuits filed by people dismissed from work.
---
The public administration of the country is expected to welcome 1,244 new employees, which has been planned on the 2021 draftbudget.
Of 82,458 public administration employees in 2020, the number is expected to rise to 83,702 by 2021, with an increase of 1,61%.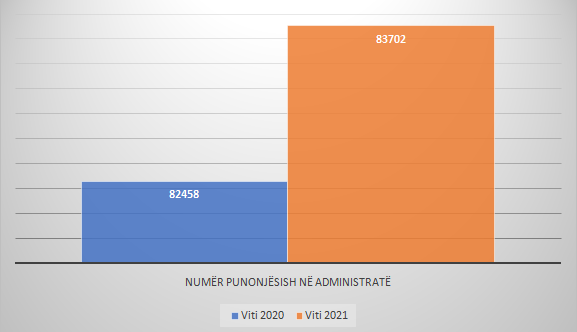 Number of public administration employees in 2020 and 2021
According to Ministry of Finance and Economy data, Ministry of Interior and Ministry of Agriculture are the two institutions that will have the biggest increase of administration employees number.
Currently, the Ministry of Interior has 14,264 employees, a figure which will reach 15.079 employees by next year, which corresponds to General Parliamentary Elections. The Ministry of Agriculture and Urban Development currently has 1,952 employees, a figure which is expected to reach 2,417 by 2021.
The increase of the number of employees by 1,61% is one of the highest in recent years. In 2020, the number of new employees in the public administration as compared to the preceding year increased by 0,32%.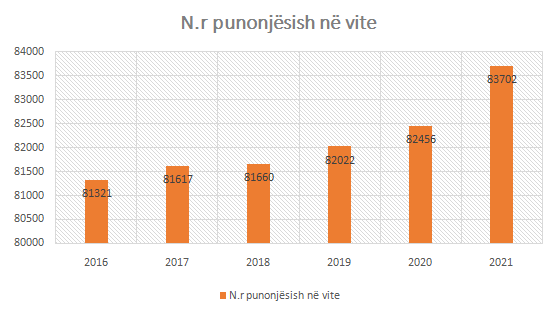 Number of public administration employees during 2016-2021
In addition to new employees in this year's first half, the arrears of public institutions to businesses and individuals reaches the amount of 6,8 billion ALL or 55 million Euro, with half of it being related to work dismissals. According to official data of the Ministry of Finance, a slight increase has been recorded on the level of arrears as compared to January-March period of the preceding year, with this arrears was 6,5 billion ALL.
Based on the Ministry of Finance and Economy report, we found that about 57,8% of this arrears refer to court decisions, in the framework of which the state budget should pay in favor of the court winning party, former employees dismissed from work, or compensation for demolition of facilities by the National Territory Protection Inspectorate.  Likewise, high costs are incurred by court decisions related to reimbursing VAT for businesses.
Starting from December 2020, monitoring and reporting of arrears, previously performed on a quarterly basis, will be automatically generated by the Financial Information System of the Government through written reporting of institutions. This change is in service of intensifying the supervisory role of Ministry of Finance and Economy in this regard, and timely monitoring the progress of arrears.