The claim that the Russian army destroyed German Leopard 2AE tanks in Ukraine has been proven false. "Faktoje" conducted a verification process and revealed that the photo presented as evidence actually shows a tank operated by the Turkish army in Syria back in 2017.
——————————————
This photo of a destroyed Leopard 2AE tank is circulating on the internet, including within Albanian-speaking communities, with the assertion that it was the Russian army that destroyed it "on the battlefields of Ukraine."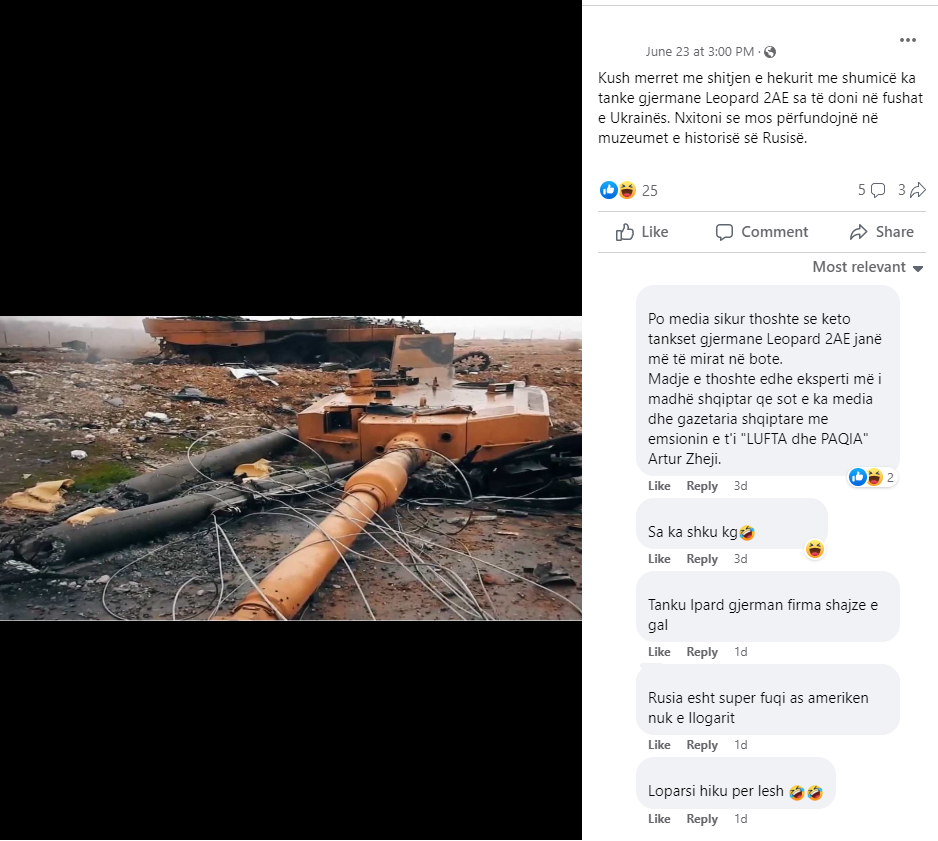 The conflict in Ukraine, now in its second year, has caused massive devastation to the lives of thousands of people. However, on social media, it is sometimes treated as if it were a football game, with different groups rooting for either Russia or Ukraine.
The aforementioned photo, accompanied by its description and comments, is being used by Russia's supporters as evidence of the formidable and destructive power of the Russian army.
Nonetheless, a search using the image search engine Tineye indicates that this same photo has been circulating on the internet since 2017, which is five years before the onset of the conflict in Ukraine.
"Faktoje" discovered that the tank depicted in the photo is not in Ukrainian fields but rather in Syria. It is a Leopard 2A4 tank, produced in Germany, which was involved in combat in Syria as part of the Turkish army. Turkey had acquired 298 2A4 tanks from Germany in 2005, and some of these tanks were sent to Syria in August 2016 as part of the Turkish military intervention in Syria as support for the Free Syrian Army (FSA) in their fight against ISIS forces.
There is still no verified video evidence of the alleged mass destruction of German tanks donated to the Ukrainian army, as claimed by Russian propaganda. In June 2023, the Russian Ministry of Defence released a video purporting to show the destruction of several Leopard 2 tanks in Ukraine by the Russian army. However, military experts quickly pointed out that the vehicles in the video more closely resembled agricultural vehicles than tanks. Furthermore, the head of the Wagner Group mercenary group, Yevgeny Prigozhin, used the opportunity to mock the Russian Ministry's claim, stating, "If we judge based on the Defence Ministry's statements… we have already defeated all of Europe's armies long ago."