EDIT NIKOLLI
The government continuously propagates work on three shifts for major projects. One of these projects includes the New Ring of Tirana, one of the city's main junctions, which due to the intervention is causing major chaos in traffic. A few days ago Faktoje verified on the field that work on this segment was not being carried out without interruption. The Ministry of Infrastructure officially confirms this through its reply of the request for information and it also clears why the work is not being conducted on three shifts.
From an inspection in mid July, Faktoje established on the field that at the 2nd lot of the New Ring of Tirana, work was not conducted without interruption, differently from what Prime Minister Rama stated in one of his posts on social media. According to the Prime Minister, the goal is to work intensively and ceaselessly, so that the works which are causing chaos in the traffic of the city will end by fall.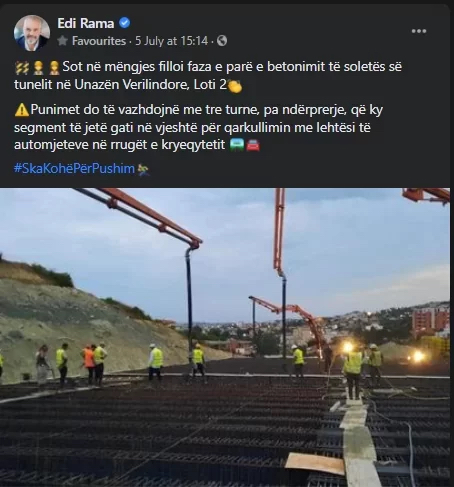 Screenshot of Prime Minister Rama's Facebook status, July 5 2021
On a report from July 14, Faktoje writes that it had addressed an official request for information to the Ministry of Infrastructure to learn if works in the Easter Ring, Lot 2 were being conducted on three shifts.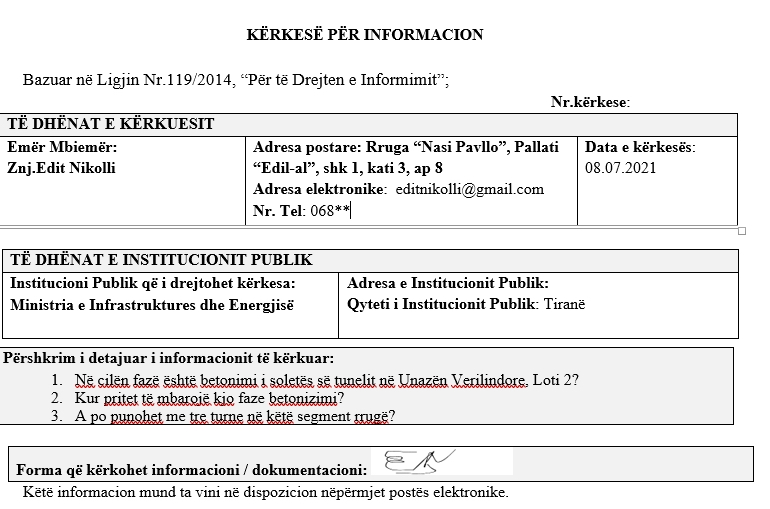 Request for information addressed to the Ministry of Infrastructure and Energy, April 9, 2021
The answer from this institution arrived on Thursday, July 22, at the editorial office of Faktoje.
"Right now we are finishing up the transverse beams of the tunnel's roof and preparing/putting the iron on the upper roof. The betonization of the tunnel's roof is expected to end by July 2020. At the moment we are not working three shifts in this construction site due to the atmospheric conditions".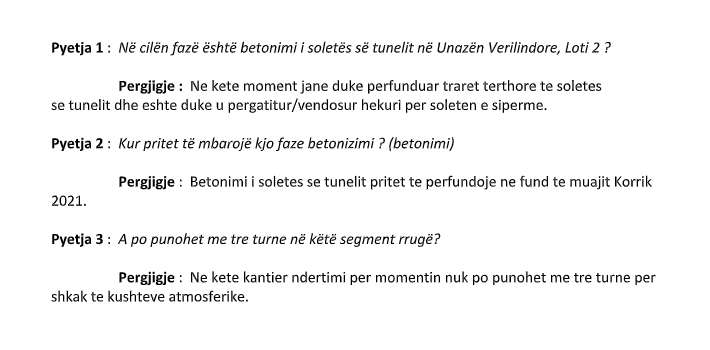 Ministry of Infrastructure and Energy reply, June 22, 2021
*Image taken by the Albanian Road Authority