MARJO BRAKAJ
On the International Day of the Right to Information, tens of "Faktoje" questions remain unanswered by the ministries. The Ministry of Health is one of the institutions we have turned to continuously for information about the Covid-19 situation during the pandemic, however, the institution failed to comply with the legal obligation to provide answers. Currently, there is no information on the number of swab tests performed in public and private laboratories, on the treatment protocols for Coronavirus patients and whether the Ministry of Health carries out post-mortem examinations, and if there will be any initiatives to perform serology tests, as promised.
---
The Ministry of Health remains one of the most non-transparent institutions even amid the pandemic. The regular reporting conducted in press conferences or videos of the Ministry officials' activities provide no answers to the many questions about the pandemic situation.
"Faktoje" has continuously addressed requests for information to the Ministry of Health, for obtaining information considered public, yet such requests have been rejected.
On 5 September, "Faktoje" made an inquiry to the Ministry of Health regarding molecular and serology tests, as well as mortality calculation.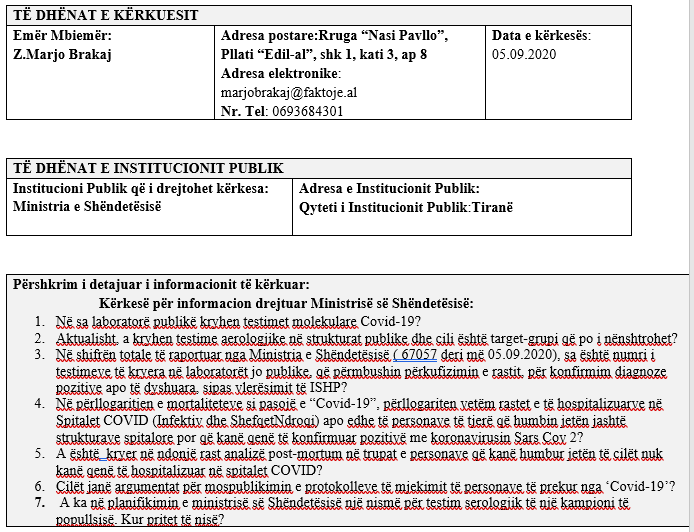 Request for information addressed to the Ministry of Health
Despite the legal obligation and the stipulated timeframes, the Ministry of Health did not reply to our requests for information. On 21 September, "Faktoje" filed a complaint with the Right to Information Commissioner regarding such failure to reply.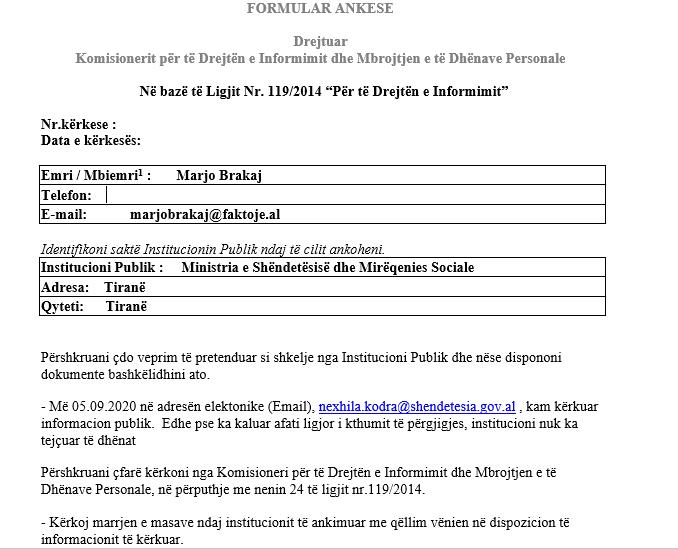 Complaint filed with the Right to Information Commissioner
We have yet to receive any reply notwithstanding the complaint.
Currently, there is no information on the number of tests and the number of public laboratories they are performed in. The Minister of Health, Mrs. Ogerta Manastirliu, stated that testing of suspect Covid-19 cases would double come autumn, but that has not been the case.
On the other hand, experts recommend at least 2,500 tests be performed daily in order to obtain a more precise overview on the Covid-19 pandemic.
Moreover, Minister Manastirliu stated that serology tests would be performed in a population sample to obtain an overview of antibody production, but this is yet another promise broken thus far.
The Covid-19 mortality calculation and the treatment protocol of hospitalized cases are still unclear, but the Ministry of Health refuses to provide any information despite continuous requests by "Faktoje".
*Thumbnail image taken from the "Facebook" page of the Minister of Health Ogerta Manastirliu.