JOEL ÇELA
Government strategic plans and optimistic promises and statements seem unrealistic. Albania experienced two natural disasters in less than 4 months apart, which struck a huge blow to the Albanian economy. However, in his first public statements during the pandemic, Prime Minister, Rama stated that the coronavirus would not slow down the reconstruction process. Will he keep his promises?
---
In mid-March, our country was isolated in order to stop the spread of the novel coronavirus across the population. This economic blow struck our country at a time when the earthquake left thousands of people homeless and over 1 billion Euros of damages. Upon a number of businesses closure and state budget reallocation, it was normal for the pandemic to have the same expensive and complex reconstruction process.
However, on the first day upon pandemic offset in our country, on 12 March, through a Facebook post Prime Minister, Rama informed that coronavirus would neither stop, nor lower the reconstruction process.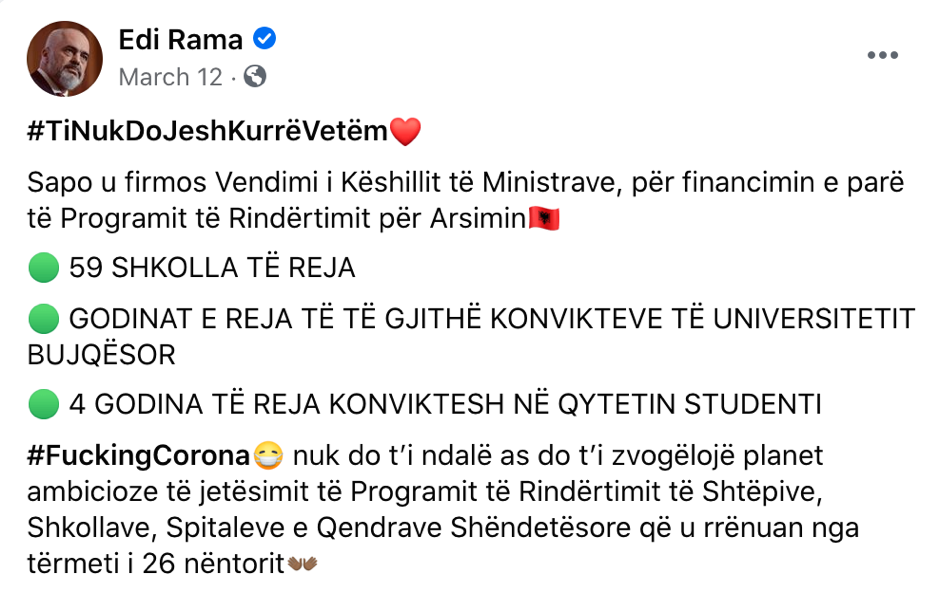 But, if in this case the head of the government was referring to the fact that there would be no changes to the dimensions of reconstruction plans, a few days later he talked about the time it would take to accomplish such process. On 16 March, on a Facebook video message addressed to citizens, Mr. Rama specifically said that reconstruction would not be postponed due to the coronavirus situation.
"Our reconstruction plan is neither postponed, nor changed." – the head of the government stated.
It took less than a month for Prime Minister Rama to change his statement. On 8 April, during the peak of isolation due to the pandemic, he went to Thumana to "start the reconstruction process", as was stated on his Facebook post. During an on-site dialogue, the Prime Minister recognized the "invisible enemy" obstacle to the reconstruction process.
"Despite this enemy, we must do the impossible to successfully build all homes by next year. At present, we cannot build every home, but we will make every single effort to help all the people who have individual homes." – Mr. Rama stated.
In this way, the pandemic led the Prime Minister to break his promise about building all individual homes within this year, showing the overt effect of coronavirus in the reconstruction process.
On 22 August, the head of the Democratic Party, Mr. Lulzim Basha, reposted on his Twitter page a broken promise by the Minister of Reconstruction, Mr. Arben Ahmetaj, on reconstructing 500 dwellings in Laç, within July.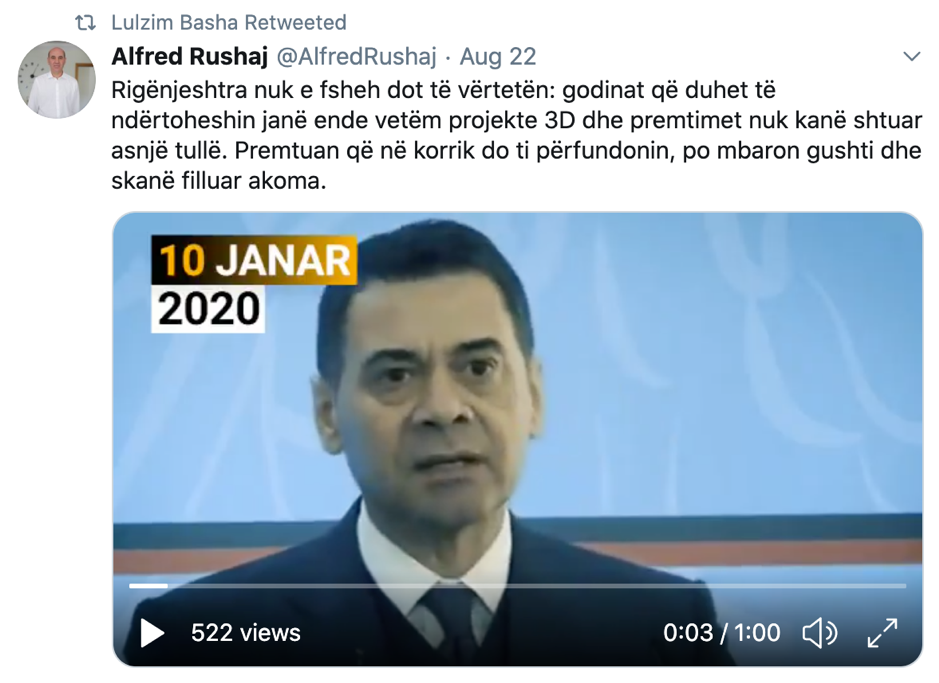 Prime Minister, Edi Rama promptly responded on the same day through a Facebook post, emphasizing the effect of coronavirus on the reconstruction program.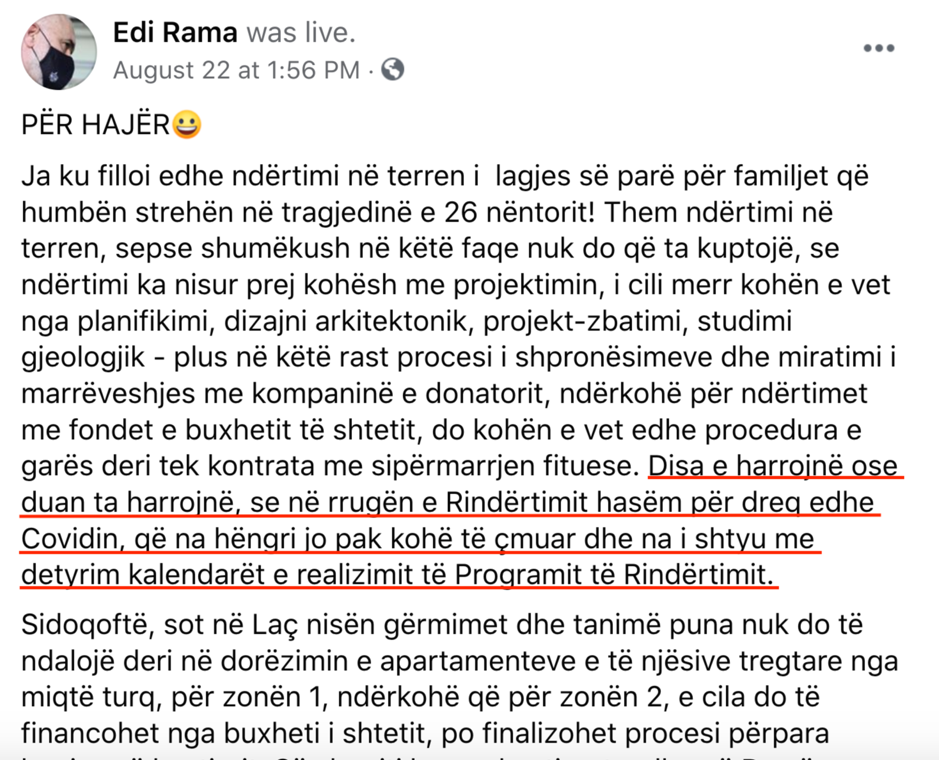 Thus, Mr. Rama admitted that the COVID-19 pandemic was an obstacle to the reconstruction and caused its postponement. This is a major step back from the statement of 16 March by the head of government, according to which coronavirus would not postpone the reconstruction process.