INVA HASANALIAJ
In 2019, Prime Minister Edi Rama stated at the 6th extraordinary meeting on earthquake consequences that "no money from the 2020 budget would go to vehicles and closets," ironically suggesting Mayors travel by horse. However, based on the data on 27 municipalities gathered by "Faktoje", it results that a total of ALL 5.1 million have gone to office furnishing alone in 2020. In addition to municipalities, several ministries and other institutions have also spent on office furniture. In regards to treasury payments, a total of ALL 330 million were spent on office furniture and paintings (for all state institutions) in 2020.
———————————————–
"Next year, no vehicle purchases, no office furnishing, and none of the previous routine spending will take place. All vehicle, closet, sofa, table, TV, etc., purchases will be prohibited for all municipalities throughout the country. There will be no spending in this regard. Whoever needs a car, can just travel by horse.
This was the statement of the Head of Government Edi Rama at the 6th extraordinary meeting on earthquake consequences in 2019, where he announced that "no money from the 2020 budget would go to vehicles and closets," ironically suggesting Mayors travel on horseback.
Despite the recovery challenges and total lockdown due to the COVID-19 pandemic, not only did the spending on office furniture continue, but the allocated budget was quite significant. In regards to treasury payments, a total of ALL 330 million were spent on office furniture and paintings (for all state institutions) in 2020.
Prime Minister Rama's "threat" to reduce such luxury expenditures did not prevent the Municipalities of Poliçan, Gjirokastra, Dibra, and Kamza to undergo interior designing. As of the end of 2020, these municipalities spent a total of ALL 4,021,320 on office furnishing alone.
"Faktoje" addressed requests for information to 61 municipalities in the country, but only 27 of them replied.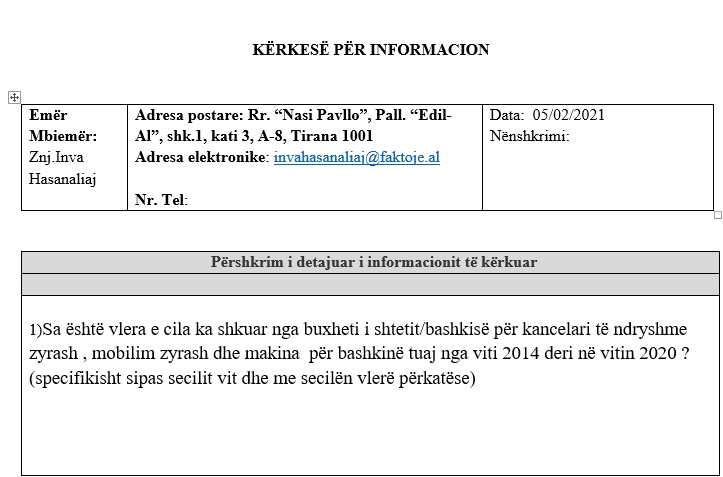 Request for information submitted to 61 municipalities
Small municipalities, with modern offices
Despite being small, Devoll, Poliçan, and Dibra Municipalities did not hold back from spending on new office furniture. Specifically, Dibra Municipality spent ALL 2 million on office furniture in 2020 alone.

*Dibra Municipality's spending
Devoll Municipality did not "hold back" either, spending ALL 881.760 on office furniture in 2020.
Gjirokastra Municipality spent on office furniture as well.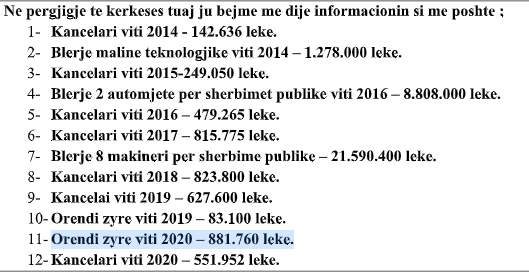 *Data from Gjirokastra Municipality to Faktoje.al
The expenditures of Poliçan Municipality are shown below, which, despite a limited budget, did not hesitate to furnish its offices in 2020.

*Data from Poliçan Municipality to Faktoje.al
Kamza is yet another municipality that did not refrain from spending ALL 1 million on furniture in 2020.

Data from Kamza Municipality to Faktoje.al
The following is the chart distribution of the relevant spending of each municipality on office furnishing in 2020.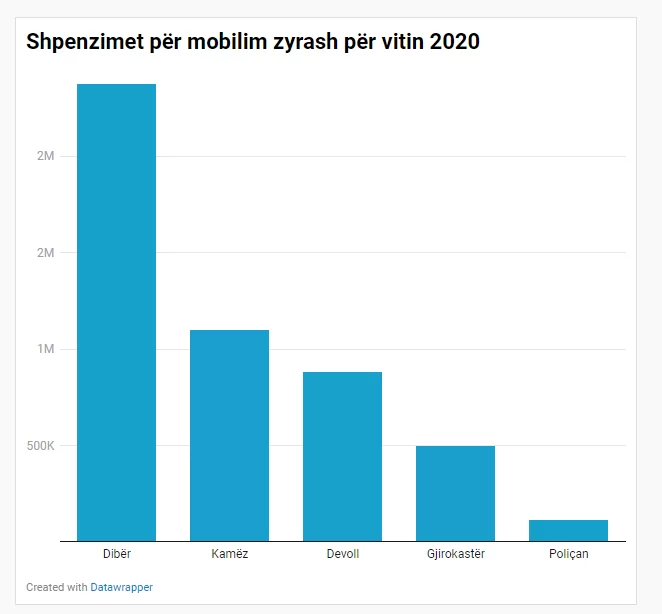 Chart of furnishing spending data by municipality
Based on the data gathered from the aforementioned municipalities, it results that a total of ALL 5,857,560 million have gone to office furnishing alone in 2020.
Agron Haxhimali, Executive Director of the Association of Municipalities, considers the spending of public money in this manner unjust. In his opinion, the budget is not allocated according to real needs; instead, it goes toward the improvement of a certain group's position: local leaders, in this case.
"The goal is for public money to be spent on general purposes and promote social welfare. Public spending should result in increased production, inequality elimination, and welfare promotion. It should not solely benefit a particular group in society", – he stated.
Central institutions do not refrain from spending on furniture either
When it comes to office furniture or stationery, central institutions do not refrain from spending either. A year after the earthquake disaster, the Ministry of Defense spent ALL 6,784,960 million on office furnishing.

*Ministry of Defense's list of expenditures
On December 16, 2019, nearly three weeks after the November 26 earthquake that hit the country, the Concentrated Purchasing Agency announced the winner of a significant tender amounting to ALL 81 million for new office furniture for several important institutions.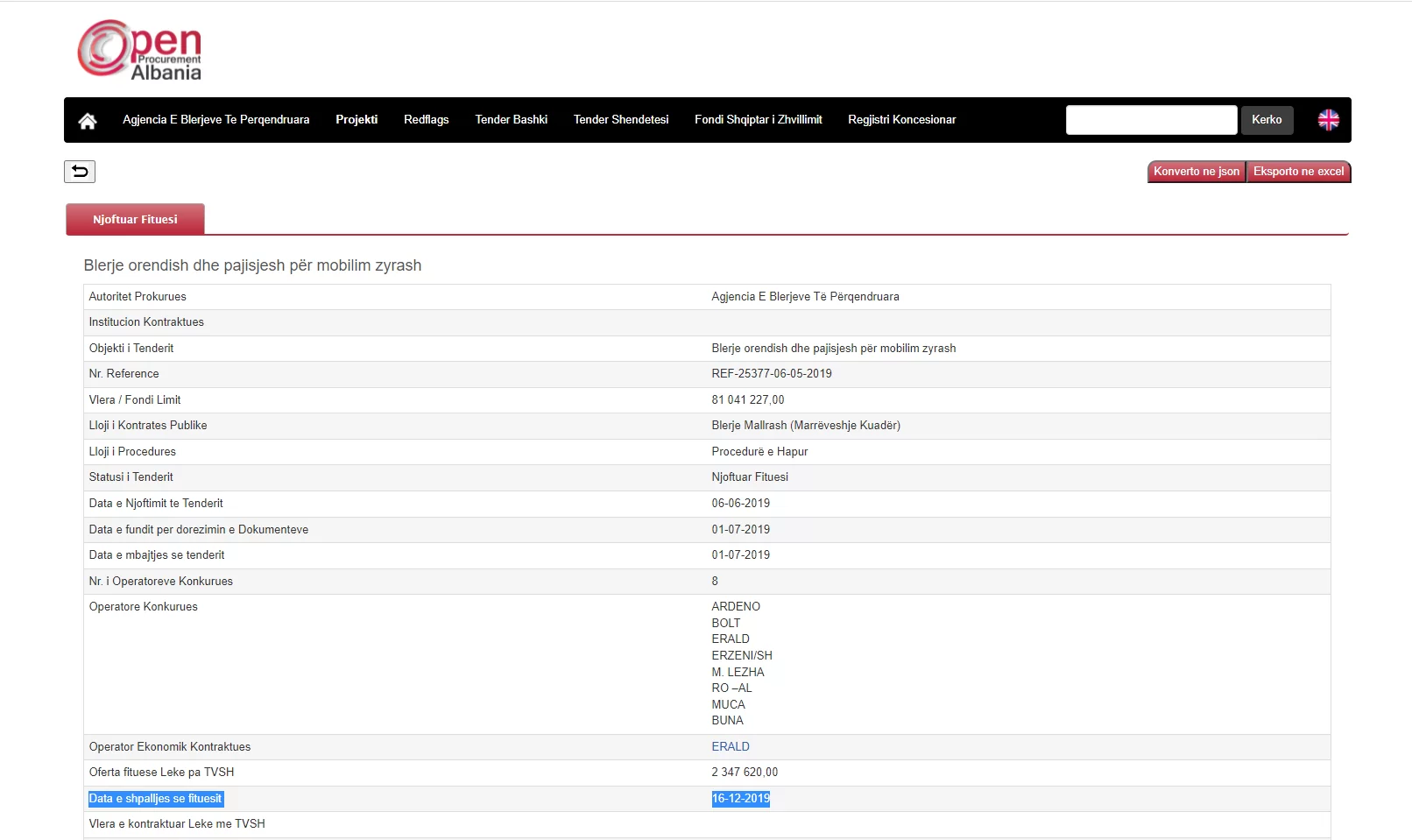 Excerpt from the tender
The Central Technical Construction Archive, Tirana Customs Office, Public Administration Department, Albanian Road Authority, Ministry for Europe and Foreign Affairs, Ministry of Education, General Directorate of State Police, and the Ministry of Interior requested the purchasing of new furniture and office renovation.
Although the country was experiencing an emergency situation at the time, it was not deemed reasonable for the tender to be suspended, despite several important projects being suspended.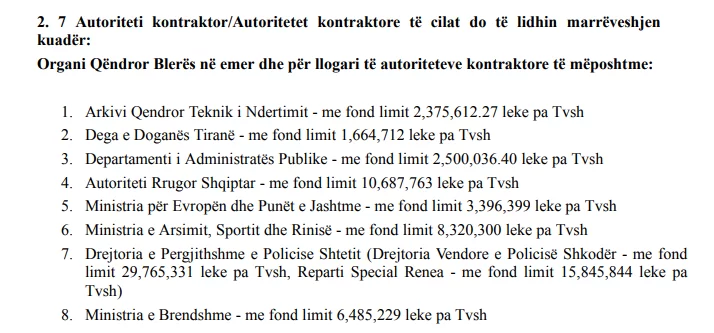 *List of institutions
Edlira Gjoni, a civil society activist, considers such expenditures unreasonable, particularly those made after the November 26 earthquake. Being personally involved in helping two households affected by the earthquake by providing them with a container and legal assistance for preparing the documentation to benefit from the earthquake bonuses, she estimates the spending in terms of the new dwellings that could have been reconstructed.
"This is absurd! The ALL 570 million spent on stationery could have gone to the reconstruction of nearly 30 1+1 dwellings, according to the cubature calculated by the government itself."- Ms. Gjoni said.
"It is saddening to explain the logic behind this spending and waste of money to a little girl who believes that people sleep on plastic sheets, as that is where she has slept during the two winters she has experienced in her life", – she said disappointedly..
New vehicles after the earthquake
Regardless of Prime Minister Rama's comment to "travel by horse", Mirdita Municipality has spent an astounding ALL 28 million for vehicle purchases.

*List of Mirdita Municipality's spending provided to Faktoje.al
Likewise, Lushnja, Dibra, and Mallakastra Municipalities have also 'dared' to violate the Prime Minister's order.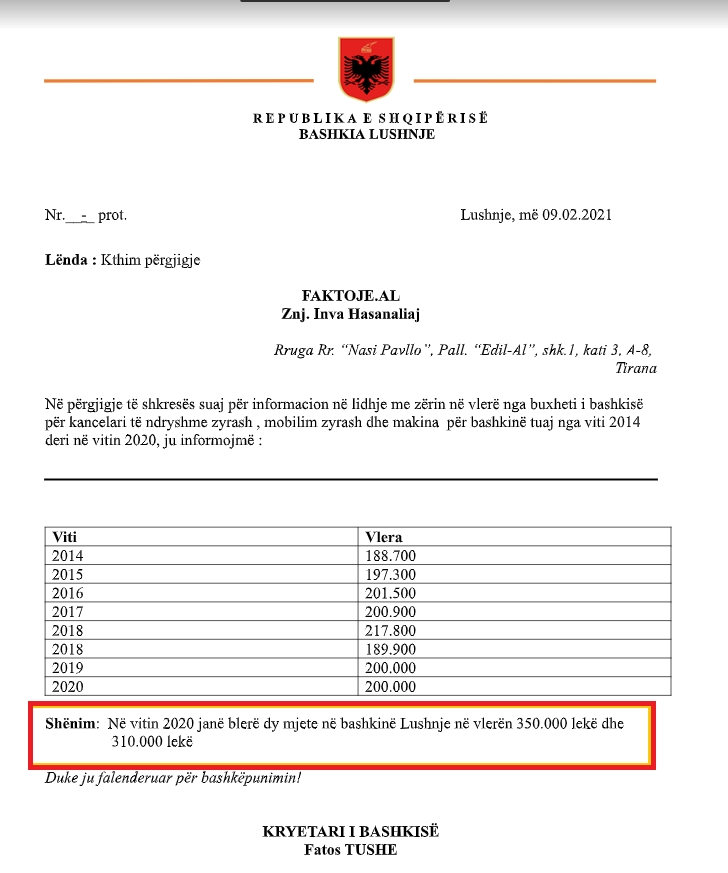 *Reply of Lushnja Municipality

*Reply of Dibra Municipality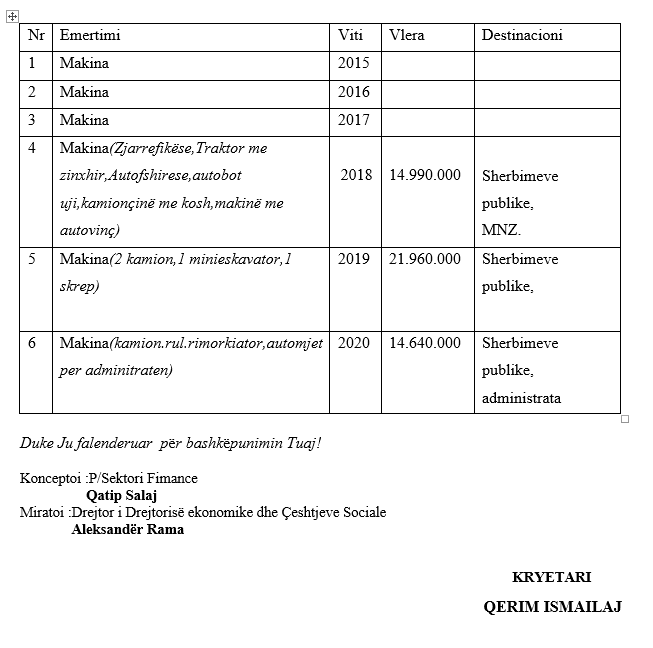 *Reply of Mallakastra Municipality
As evident by their official replies, the four municipalities in question have spent a total of ALL 6.340.800 million on vehicle purchases in 2020.
*Distribution chart of vehicle spending by the municipalities in question
Luxury expenditures in 2020 at the ministry level have often become part of public debate. One such case was the purchasing of the former Minister of Interior Sandër Lleshaj's vehicle.
In September 2020, several media published the information that the State Police had purchased a BMW vehicle costing roughly EUR 100 million on behalf of the Contact Officer at the Albanian Embassy in Germany, which was later brought to Albania, where it was used by former Minister Lleshaj. In addition to the violations found during the tendering procedure by the SSA, the purchase of this luxurious vehicle raised serious questions about the manner of State Budget spending.
Experts
In Zef Preçi's opinion, the Executive Director of the "Albanian Center for Economic Research", the establishment of criteria on administrative spending, including spending on furniture constitutes an ongoing and constant governance issue, particularly in regards to local government in Albania.
"Several times, the SSA has found that public revenues are carelessly used in small tenders and that, in many cases, these are just fictitious tenders with paperwork, but without any actual services provided" – he explained.
As regards offices and equipment, he points to the tendency to increase administrative spending.
"There should be a reasonable allocation of expenditures to local infrastructure. Unfortunately, our municipalities, including Tirana Municipality, tend to increase administrative spending and carry out ongoing reconstructions."
According to Mr. Preçi, the increased spending on maintenance by local government units in the last two to three years is an indication of public funding abuse and the weakness of the institutions in charge of auditing such spending.
On the other hand, Agron Haxhimali from the Association of Municipalities considers the legality of public spending an important principal. In his opinion, this denotes that prior to being made, such spending should be sanctioned by law, DCM, or MCD. "Regardless, a case-by-case analysis should be performed and the reasons for such spending should be verified, as municipal needs for stationery are a necessity, as are work vehicles and equipment. I would also include furnishing, as it shows a need for functional offices and facilities at the service of citizens. However, any excessive spending places moral and legal responsibility on each institution", – Mr. Haxhimali concludes.