EDIT NIKOLLI
Pre-university education resumed blended learning on January 11th, however, a great number of parents, students and teachers admitted that it was further aggravating learning difficulties. The learning process is disrupted by online classes, platforms, and lack of internet access. Education experts confirm the chaos caused by online learning, which has proven inefficient in various countries, Italy included.
---
What are the disadvantages of online education?
On an article published on January 8th, Faktoje revealed that online education was ineffective, and akademi.al platform, promoted by the Minister of Education, Ms. Evis Kushi, was low-performing and substituted with other platforms by most schools in the country.
3 education experts maintained the ineffectiveness and inefficiency of blended learning, as a result of weak infrastructure and lack of smart devices.
One week after schools resumed blended learning, Faktoje interviewed students, teachers and parents who talked about their daily challenges with concentration difficulties and lack of motivation.
A.N, the mother of an eighth grader at "Nik Tom Prela" 9K school in Gorre village, told Faktoje about the negative impact of blended learning, and online education in particular.
"It was challenging for me personally because I struggled with providing adequate conditions for my daughter to have online classes at home. It was nearly impossible.
We should emphasize that traditional school-based education is completely different from online education, because we have yet to unify an online platform. A bunch of school assignments, scarce video lessons, and lack of a unified platform that cannot be accessed by everyone led to the ineffective WhatsApp and other platforms communication, and major gaps in children. My daughter has lacked motivation, encountered difficulties in systematically learning and acquiring new notions since the first period of learning and even more with blended learning. On top of that, she also misses old normal times." – the mother said.
T.D, a teacher in 9K education told Faktoje: "People complain about the inadequate learning assessment, which was proven by the tests of the first period of learning. Students didn't remember most lessons we worked on online, but only recalled traditional classroom-based lessons. Online education has made students lose their concentration."
N.E, mother of three children in Laç told Faktoje: "My children never used the akademi.al platform. They only communicated via WhatsApp or Messenger, but this was too little to check and explain everything. It is difficult for us, parents, to explain Math, Physics or other specific subjects to our children."
Faktoje circulated a questionnaire on social networks in order to understand whether or not the community was satisfied with blended learning. 84 % of the respondents considered blended learning ineffective, whilst 14% of them were satisfied.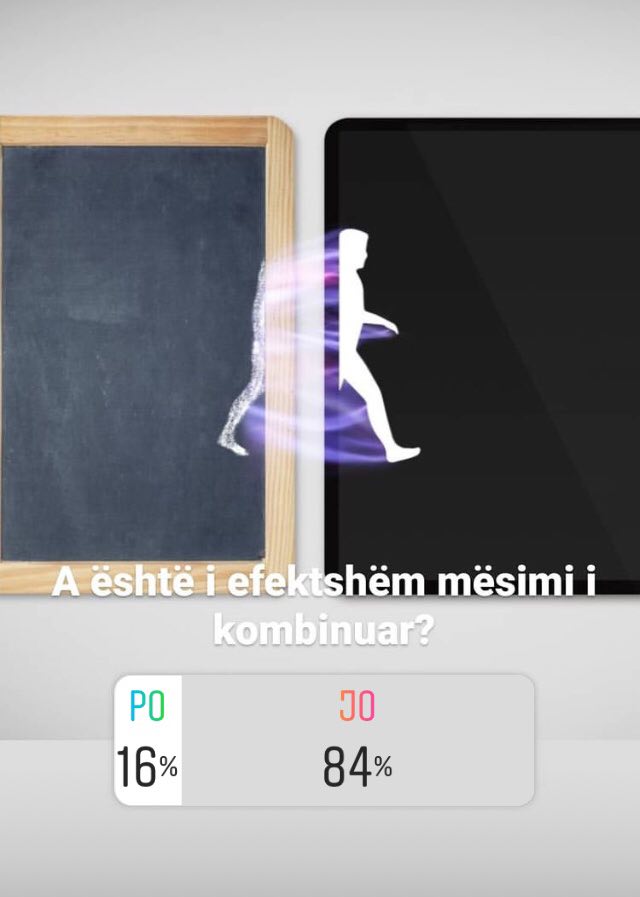 Questionnaire by Faktoje
Students, teachers and parents in Italy protest against online education. They demand going back to traditional school-based education.
Faktoje researched data on the situation with distance education outside Albania. Italy, one of the most developed countries in the word, finds distance education ineffective. This is evidenced a few days ago by students, teachers and parents from virtually all regions of the country, who protested against "DAD" (didattica a distanca – distance education) with the slogan: "With low-performing schools comes a low-performing society".
"Remote learning is not working." – the Italian Minister of Education, Ms. Lucia Azzolina, stated some days ago. A Save the Children study, cited by the daily newspaper "Corriere della Sera", showed that of all the students interviewed about online education effectiveness, 35% complained that they felt unprepared as compared to traditional school-based education, whilst 37% of them sustained that they suffered concentration difficulties.