By: Ilda Hoxha 
Recently, there have been claims on social networks that the "Avni Rustemi" school in Tirana has raised the LGBT flag at its entrance. However, upon investigation, it has been clarified that there is no LGBT flag displayed at the school. The school's principal, Ms. Agetina Haxhiu, explained to Faktoje that the colours on the banner represent "the colours of life and female diversity" and that it was actually put up ten years ago.
A post shared on social networks on June 15th claims that an LGBT community flag has been placed at the entrance of "Avni Rustemi" school in Tirana.
"We, as parents, disagree. Placing the gay flag in one of Tirana's schools without the consent of parents is an irresponsible act by its director and teaching staff," users write on social networks.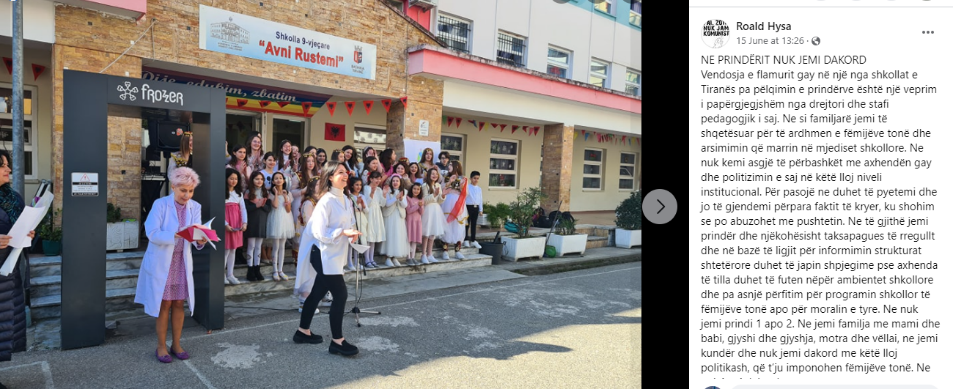 Post shared on social networks
To illustrate this claim, a photo of the main entrance of the public school has been used, where the words "Knowledge, Education, Implementation" are written on a colourful banner. It is precisely this banner, printed in the format of a table, that is claimed to symbolize the LGBT community's rainbow flag.
According to claims by social media users, this slogan is connected to the LGBT community, further adding, "We have nothing in common with the gay agenda and its politicization at this institutional level."
If we look at the comments, there is hate speech and outrage from parents, requesting the removal of this "flag." Subsequent comments indicate that this flag was removed "after pressure from parents."

Photo published by parents in their comments
But what does this slogan at the school entrance symbolize? "Faktoje" contacted the principal of "Avni Rustemi" school, Ms. Agetina Haxhiu, who clarified that the colours have nothing to do with the LGBT flag and that this slogan at the school entrance was placed a long time ago.
"It has nothing to do with the LGBT flag, but it has to do with the colours of life and female diversity. It was put up ten years ago and has been recently removed because the school has started reconstruction work. It's a shame that there are people who have nothing better to do," emphasizes the school's principal.
The rainbow flag, also known as the LGBT pride flag, is a symbol of pride for lesbians, gays, bisexuals, and transgender (LGBT) individuals and LGBT social movements. Its meaning is related to diversity and respect for the rights of homosexuals.
The current LGBT pride flag has 6 stripes. The colours that compose it are: red, orange, yellow, green, blue, and violet. It symbolizes diversity and concepts such as life, health, sunlight, nature, serenity, and spirit.
Thus, the proper format of the LGBT symbol begins with the red colour on top, unlike the table at the 9-year school.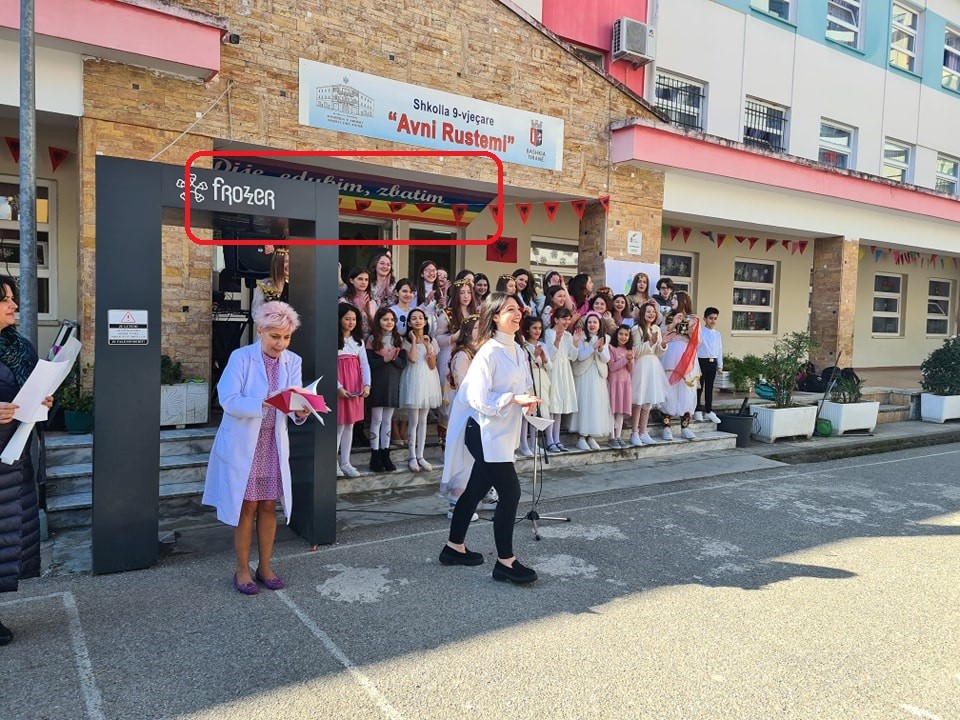 Table at the entrance of "Avni Rustemi" school"