JOEL ÇELA
The government promised Thumana residents that by the end of December 2020 they would be entering their new homes. However, the process was prolonged and the pandemic caused the government to break their promise. Thumana residents welcome 2021 in tents or large containers, some of them fighting poverty isolated in a few square meters, after they were infected with COVID-19. The rent bonus has become their only source of income for food and medicine.
---
One of the promises that Prime Minister Rama made after the November 26th earthquake was housing all residents in their new homes within 2020.
In the following months, the head of the government ensured that rural areas would enter their new homes by late 2020. Despite his commitment that the COVID-19 pandemic, which broke out in March 2020, would not affect the reconstruction time frame, the government was obliged to postpone the process.
Faktoje travelled to Thumana in late December to check how people were coping with living in tents, although they were soon supposed to enter their new homes as promised by the Prime Minister initially.
At first, we visited the condemned home of the 61-year old N.K.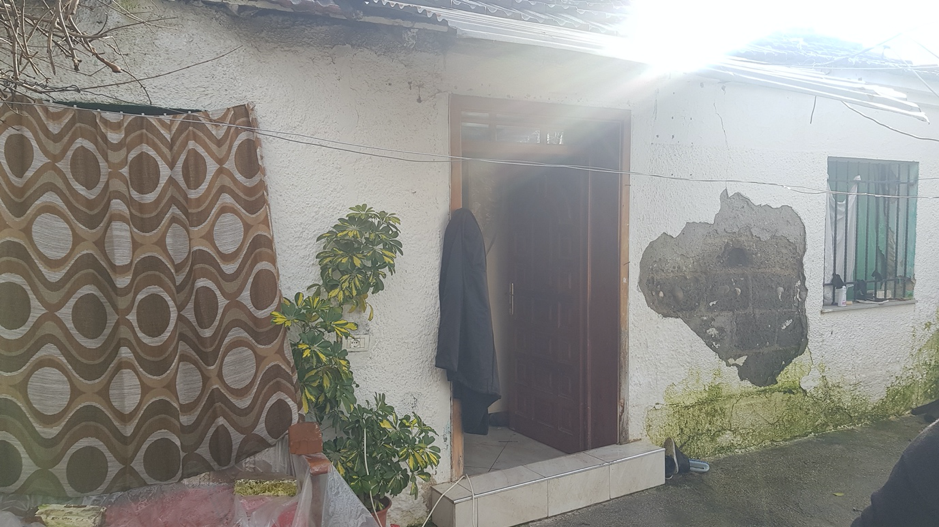 The damaged home of N.K.
"5 people have been living in this container since the earthquake. It's been 13 months now. We cannot go into our damaged home, because it'd be the same as living out in the open. Winter is very harsh in the container. However, we don't dare going back to our old home. I even cook outside.
They told us that they would reconstruct our new home before New Year, but they didn't." – she said.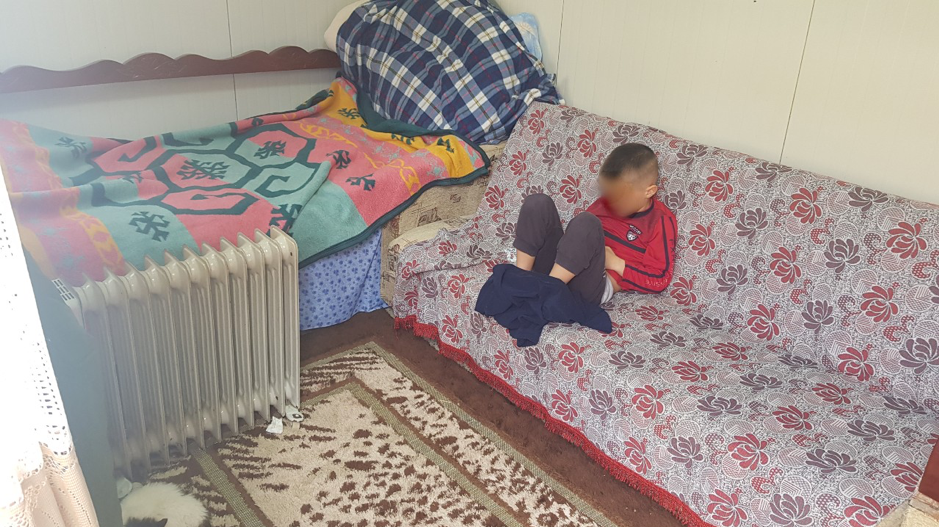 Inside of the container where N.K lives
Thumana residents who live in tents are faced with the pandemic challenges, starting from health issues to lack of survival means, which further aggravated the situation.
"We live only on the earthquake bonus, which is 15,000 ALL. They told me to rent a house, but how do I do that? How can I afford it?! Coronavirus forced us into lockdown! I am old, I am not allowed to go out. My son used to work, but now he can't because everything is closed." – N.K told Faktoje.
We also visited the home of the 73-year old lady, P.M., who lives alone following her husband's passing. For over 13 months, the elderly, whom Faktoje had talked to before, has been living in a summer tent and her request for a container has not been met.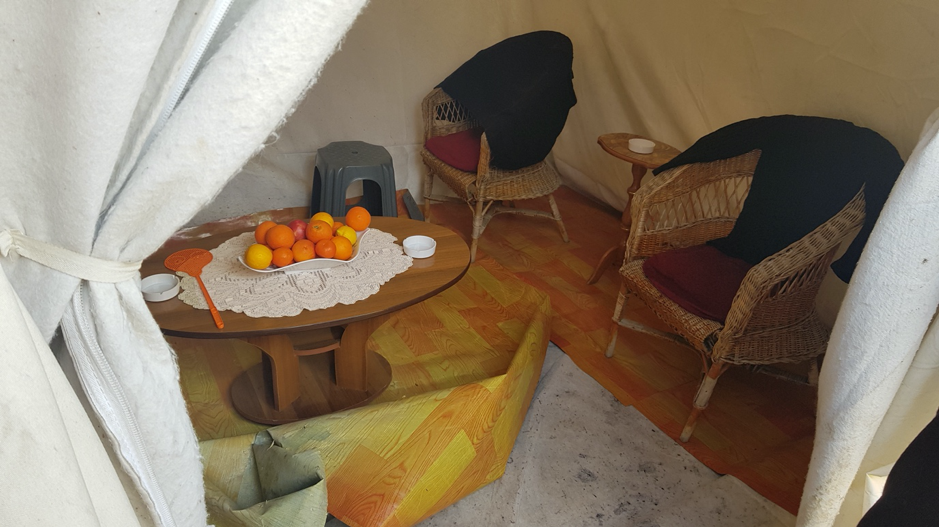 Inside of the tent where Ms. P.M has been living for 13 months
"I have been living in this tent for over a year. I have caught countless colds and I feel miserable here! It's the same as living outdoors. I don't know what to do. I have requested a container, but they refused to provide me one. I will be dead by the time they do. I am cold and wretched in this tent. Who knows how long it will take for my home to be reconstructed.
They told me not to enter my damaged home. I don't know what to do! I cook in my old home and stay for some time to get warm." – she told Faktoje.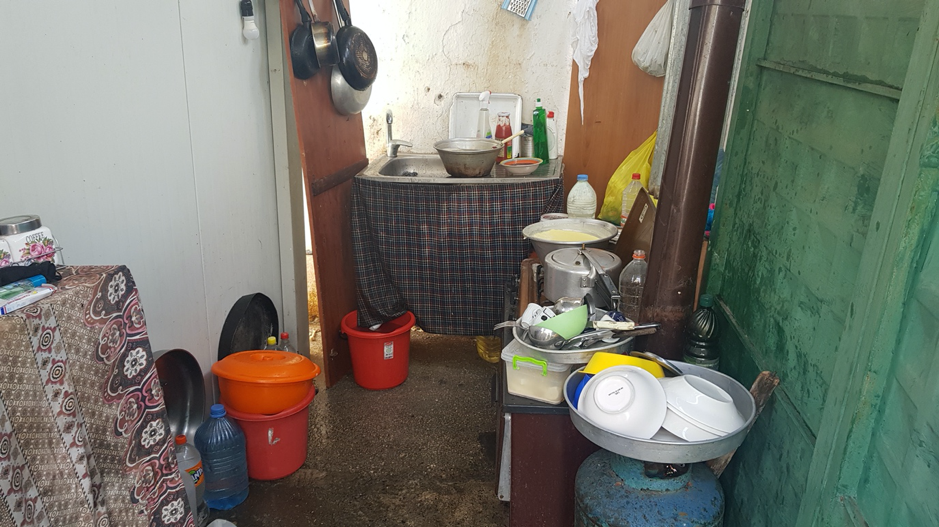 The premises where Ms. P.M cooks
Faktoje continued their check in the family of Ms. D.K , who lives in a container in her homes courtyard with 3 other family members. She told us that the container was provided by the evangelical church and that their only source of income was the earthquake bonus.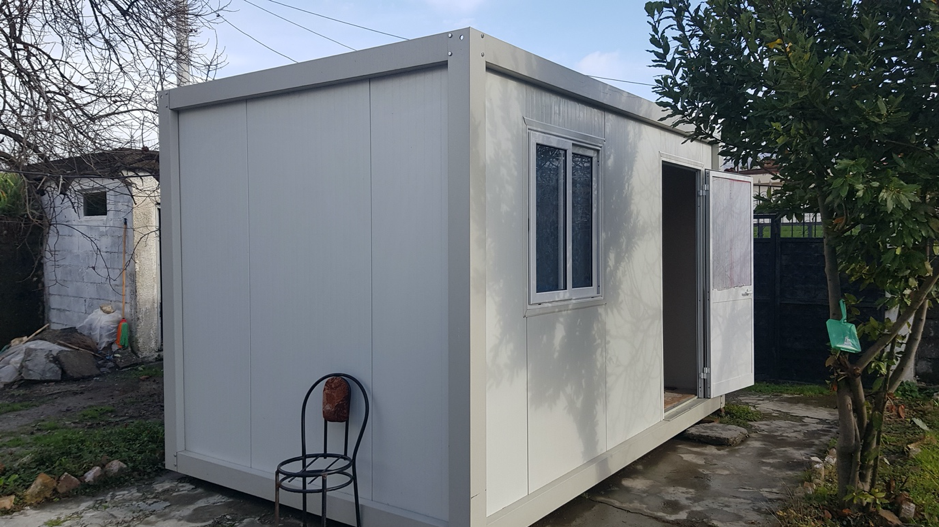 The container where Ms. D.K family lives
"We get a rent bonus, but we didn't rent a house because we have no income. This bonus is our only source of income. It's only 15,000 ALL." – she says.
The 62 – year old told us that living in a tent is hard indeed, but the container situation was not easy either.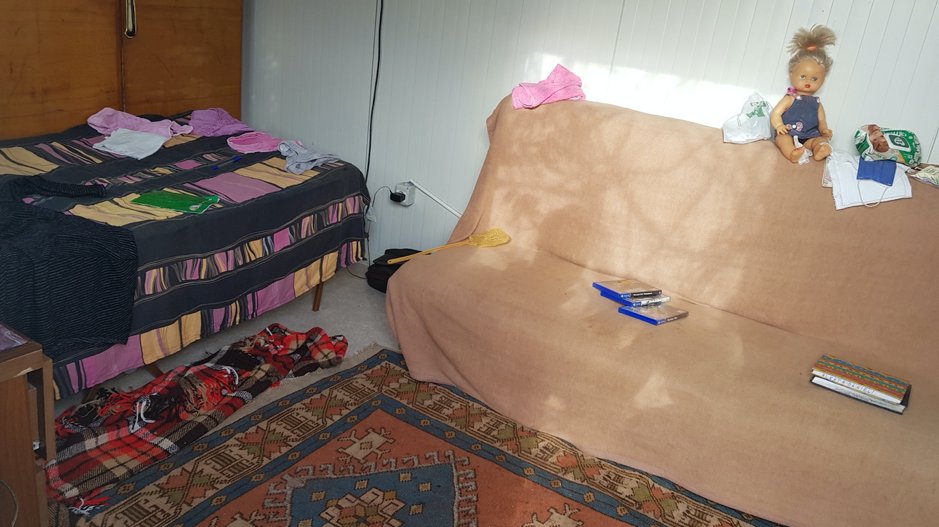 Inside the container
"I have lived in a tent, a summer camp tent actually, and I thought that wind would blow me away. Living in a tent was terrible. But even in the container, it's 4 of us living here and we're miserable. We are cold, there is mold and rainwater enters the container." – she complained.
The lady told us that this is how the overcame coronavirus as well.
"I was infected with COVID-19 for 3 weeks. I had to get injections. I had fever and high blood pressure for two weeks. I didn't eat, was weak, and couldn't even stand up. My daughter-in-law went to stay at her parents' and I stayed here alone. I was isolated in the container for 3 weeks and only walked for a few minutes in the courtyard.
I was diagnosed by the healthcare center, as my lungs were affected. They told me to take the test, but I refused because I heard it was painful. I paid for everything on my own. It was 17,000 ALL." – she stated.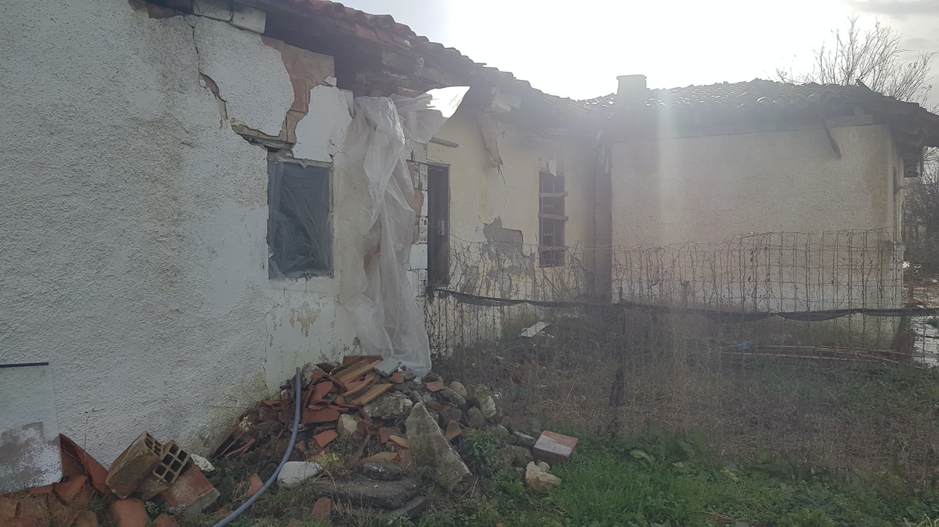 The damaged home of Ms. D.K
We continued our observation in the next alley where there were other tents next to their old condemned homes, damaged by the November 26th earthquake. Some of the families we attempted to talk to, chose not to respond or communicate, apart from an elderly lady who warned us:
"Don't come closer because this old lady is infected with coronavirus!"
Upon being informed that some of the family members living in tents had COVID-19, we turned to Thumana healthcare center. The doctor who was working there informed us that on December 26th and 29th, 12 people were infected with COVID-19.
"Rapid tests have already started and are carried out at the Fushë-Kruja healthcare center. When patients are not in serious condition, we manage them. Then they are referred to the district infectionist or pulmonologist. Their situation is aggravated if they catch pneumonia." – he stated, referring to the harsh living conditions in tents or containers.
However, the doctor said that citizens living in tents were not infected with COVID-19.
"Currently, there are no COVID-19 positive residents living in tents in the area that I cover. I cover Thumana and there are no deaths so far. We did have two patients in serious condition, but no deaths." – he concluded.
On December 28th, during an interview for "News 24" Minister Ahmetaj stated that by that time, 1,158 families were living in tents, but by the end of the month they would no longer be there.