Almost 2000 families in the city of Elbasan must receive wood for heating at a reduced price from the Municipality, according to the statement made two months ago by Mayor Llatja. From a verification by Faktoje, it appears that the distribution has not yet been made, although the temperatures have started to drop significantly. For families in need, the provision of heating at a reduced price is necessary, since a cubic meter of wood has doubled in the market, going up to 7-8 thousand ALL, or twice the price at which it was sold for years.
Bardha Nergjoni
In a video post on the Facebook social network, Mayor Gledian Llatja, followed by Elbasan district deputy coordinator Damian Gjiknuri, declared that up to 2,000 families will be helped with wood for heating at a reduced price. Emphasizing the fact that it will be a difficult winter and the municipality will take initiatives to protect the needy, Llatja said that those families who receive economic assistance and lonely pensioners in the city will receive timber up to 3 cubic meters in the city of Elbasan.
"These families will benefit from the price of 3,800 ALL per cubic meter, getting it at half the market price," said Llatja. He stated that this initiative will help reduce electricity consumption.
The post together with the video of the statements of the mayor of Elbasan is dated September 11, 2022. When almost two months have passed since this statement, the process of selling timber from the municipality for heating has not yet started. In the firewood collection centre located at the former water supply building in Elbasan, dozens of citizens show up every day to ask if the sale of wood at a reduced price has started. However, so far there is no answer as to when it will start. The guard of the building says that every day he receives citizens who ask for wood. He even says that they came with proof of payment in their hands, but they could not get anything.
"We don't know when distribution will start, but there is plenty of wood here. There are hundreds of cubic meters. Many old people and others come here. But so far no one has received anything. We don't know what the cause of the delay is, but they said we will start after the 15th".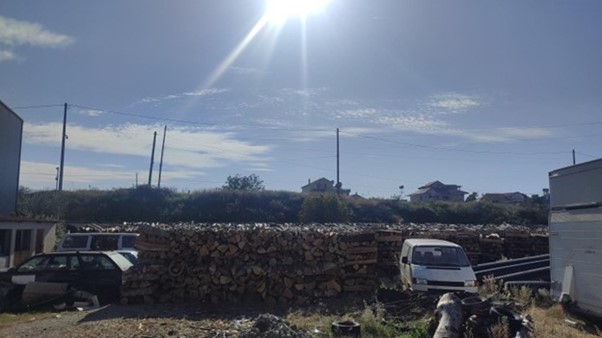 Wood collection center in Elbasan
An old man who lives alone with his wife has come here to ask for wood. Bedri has a one-story house in 'Dyli Haxhire' neighborhood.
"I came here several times and did not get any wood. Of course, 3 cubic meters is not enough for winter. I have already got hold of two more. You need at least 5, as you never know. I have no idea when I will get those 3 cubic meters they have promised. I live alone with my wife and I can't afford to buy wood for 7,500 or 8,000 leke per cubic meter, which is what it costs nowadays.  I have to wait for the municipality".
Besim Shahini has already bought some wood in the free market at a price almost double the price they will buy from the municipality.
"I use wood for heating my home. I buy it every year. This year, the price has exceeded all expectations. I bought 8 m3 at 7500 lek per cubic meter. These are not enough for my house as I also have small children at home and a sick wife who needs heating all day. We haven't received any help from the state for wood and we don't know how we can benefit".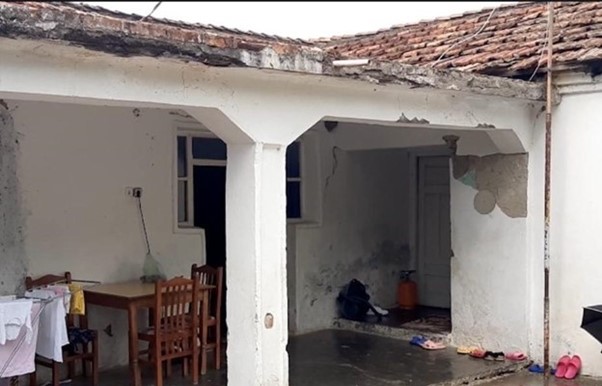 A family house in Elbasan
Iftimi Shaka says he has bought very little timber this year compared to last year.
"With the price increase, I didn't get five as I used to get before, but 2 cubic meters. The rest of the winter I will try to cope with gas because it seems to be cheaper than wood or electricity. We are six people in our family and prices are unaffordable. There are times when my children leave home without breakfast, so heating is the last thing to worry about". Shaka says he is not aware about the municipality providing wood at half price. "Nobody told me anything. I will go and check whether if I can also get some for cooking and heating. We cannot afford the electricity bills".
Alketa Dedja says her family only receives economic assistance and they are unemployed. "I will buy very little wood, only 1 cubic meter, and I will use it if it is very cold. We use gas for cooking, we heat up water in a water container to shower, not using electricity. With the financial aid I receive, I cannot even pay my bills and keep my son in school". Alketa is also unaware of the opportunity to buy wood for heating from the municipality at half the price. "I am not aware of that, no one told me. If this is true, I'll go and buy some, as I need it for heating and cooking this winter."
We checked with the Municipality when they will start selling wood at a reduced price. According to information from this institution, the concessionary contracts for the use of firewood  are signed and only two companies have been approved for the use of wood for heating in its territory.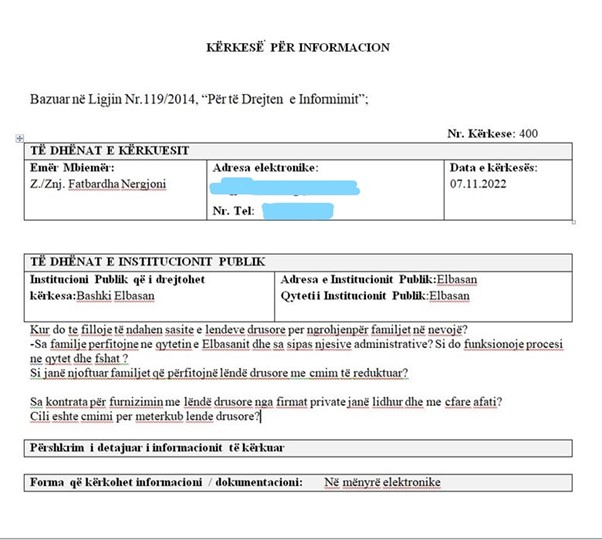 The mayor of the municipality Gledian Llatja, contacted by phone, stated that the distribution of wood at a set price per cubic meter will start these days, without specifying an exact date or the beneficiaries.
The only contract disclosed using the open data format is a contract for the use of wood for heating school buildings in the municipality of Elbasan, which was signed for a five-month period starting from November 2022.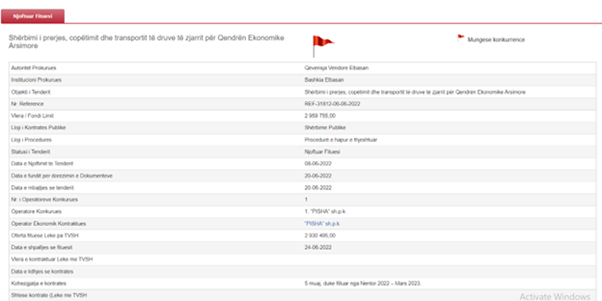 In the municipality of Elbasan, which has about 170 thousand inhabitants, 2500 families benefit from economic assistance and about 300 elderly people live alone. They will be part of the firewood distribution scheme at a reduced price, together with the families that are treated with economic assistance.