Ina Allkanjari
Almost a year after Kukës Airport inauguration, Prime Minister Rama stated that flights of a low-cost company with several destinations would start in May 2022. Faktoje verified that only Air Albania company operates in this airport, with two destinations twice a week, at reasonable prices, as confirmed by passengers. Amid the occasional lack of flights, especially in winter, businesses operating near the airport prove to be working intermittently and can hardly wait for the launching of the low-cost company expected to bring out more destinations and customers.
…………………………………….
"Kukës – A low-cost company shall land its planes at "ZAYED – North Wings" international airport starting an uninterrupted operation in May initially twice in week with the first 4 destinations to Austria, Germany and Switzerland". This was stated  by Prime Minister Rama hereby in February this year setting up May as a deadline for adding new destinations from Kukës airport.
This airport launched flights in July 2021 and was operational until October last year. Flights to Kukës airport were interrupted approximately 4 months after it became operational and they were supported by various statements promising their resumption months after months with several destinations.
On 9 May, Faktoje sent an official request to Kukës Airport and to the Ministry of Infrastructure and Energy regarding the situation of flights.
We asked to know, among others, when the flights from Kukës airport will start, which airlines operate in this airport and why such airport has not operated any flights during the winter period.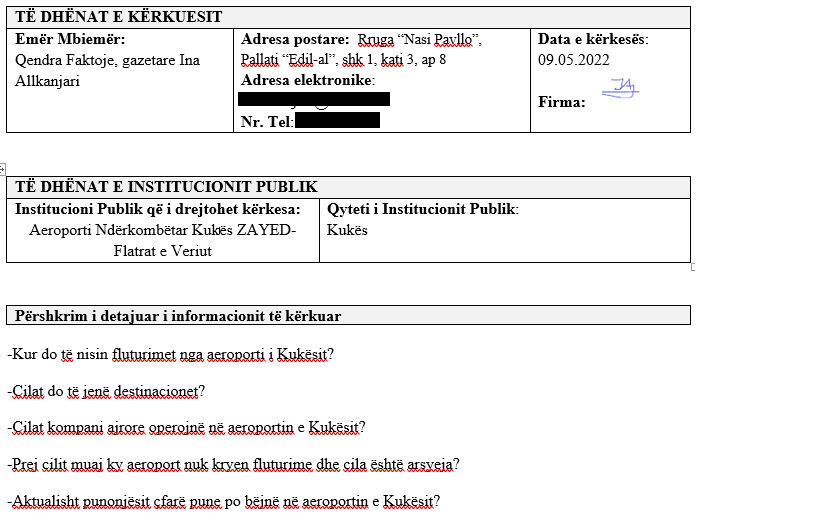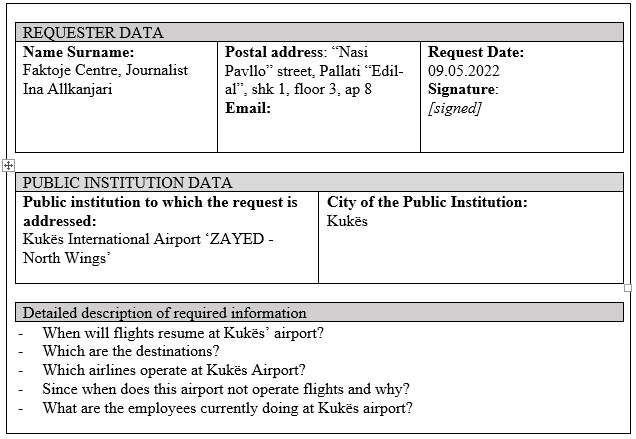 Screenshot, request for information sent to Kukës airport dated 09.05.2022
We haven't received a response from the above institutions until publication of article herein.
On 10 May, we went to Kukës airport to see the situation up close.
Airport employees tell Faktoje that flights have been resumed for about 1 month toward 2 destinations and only twice a week. They point out the fact of not operating currently with the low-cost company as stated by the Prime Minister and mention the promise of adding new destination which is expected to be fulfilled in June.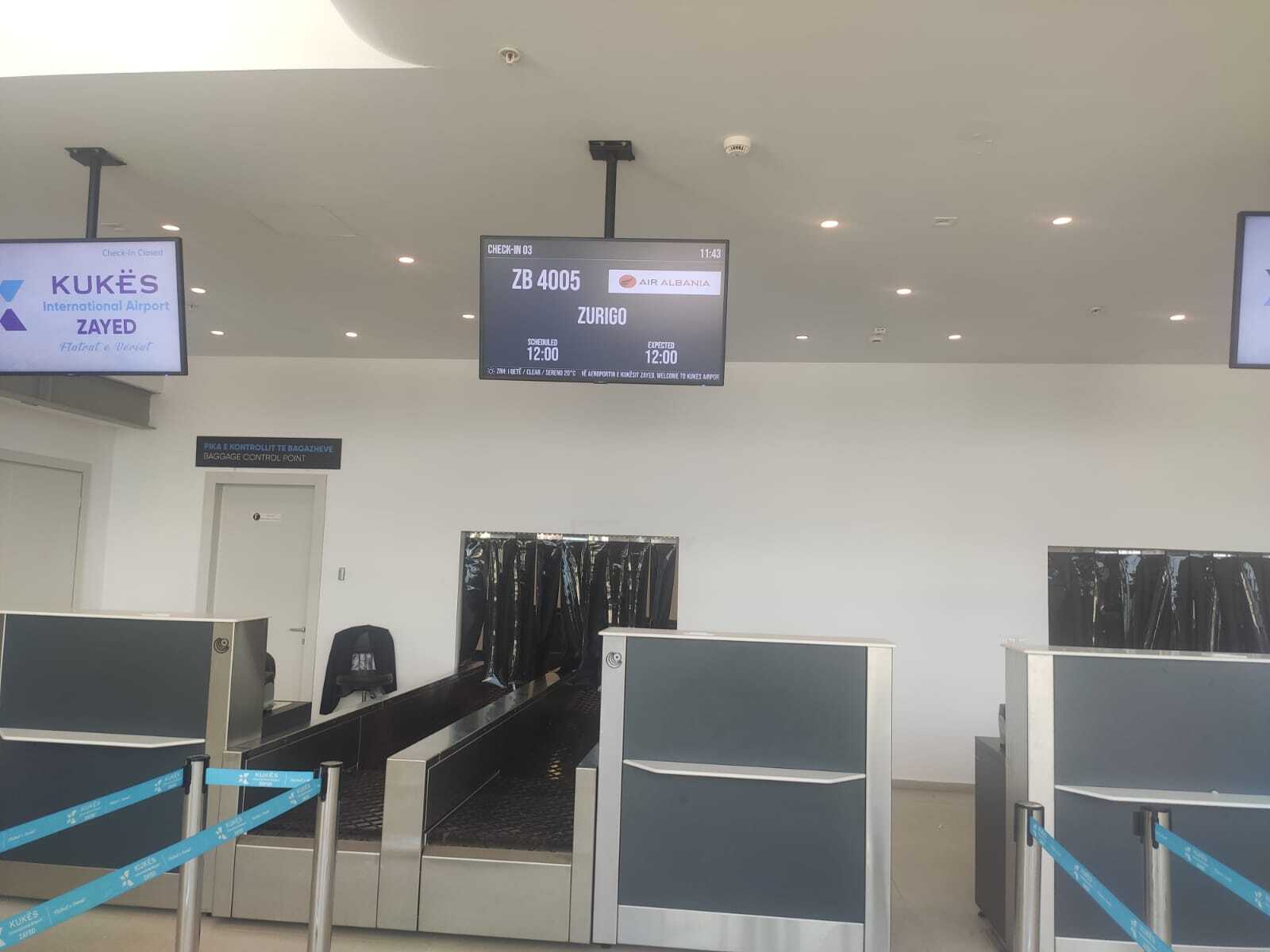 Views from the inside of Kukës Airport premises, dated 10 May 2022
"Flights from Kukës have started about 1 month ago. There are currently only two destinations, i.e., Zurich and Basel, while in June we shall start with German destinations.  We are currently operating only with one airline company; flights with another company are expected to start in June.  Flights to this airport currently operate twice a week, on Tuesdays and Saturdays. "When the other company will start to operate, number of flights will accordingly be increased, however we don't know how we will specifically operate as we have not yet received a fixed date or a schedule, but they will start in June." – employees of Kukës airport told to Faktoje.
As regards the suspension of flights during winter, they say: "The airport has been operational back then, however in winter we had no flights as it was the beginning. This time it will be functional, terrain's conditions will be adjusted and snow removal equipment shall be ready with everything else we will need".
Lack of flights at this airport has also penalized businesses operating therein. The employees were asked by Faktoje and indicate the fact of not being able to keep their businesses open due to lack of flights since October, however they have occasionally operated only to provide services to airport employees.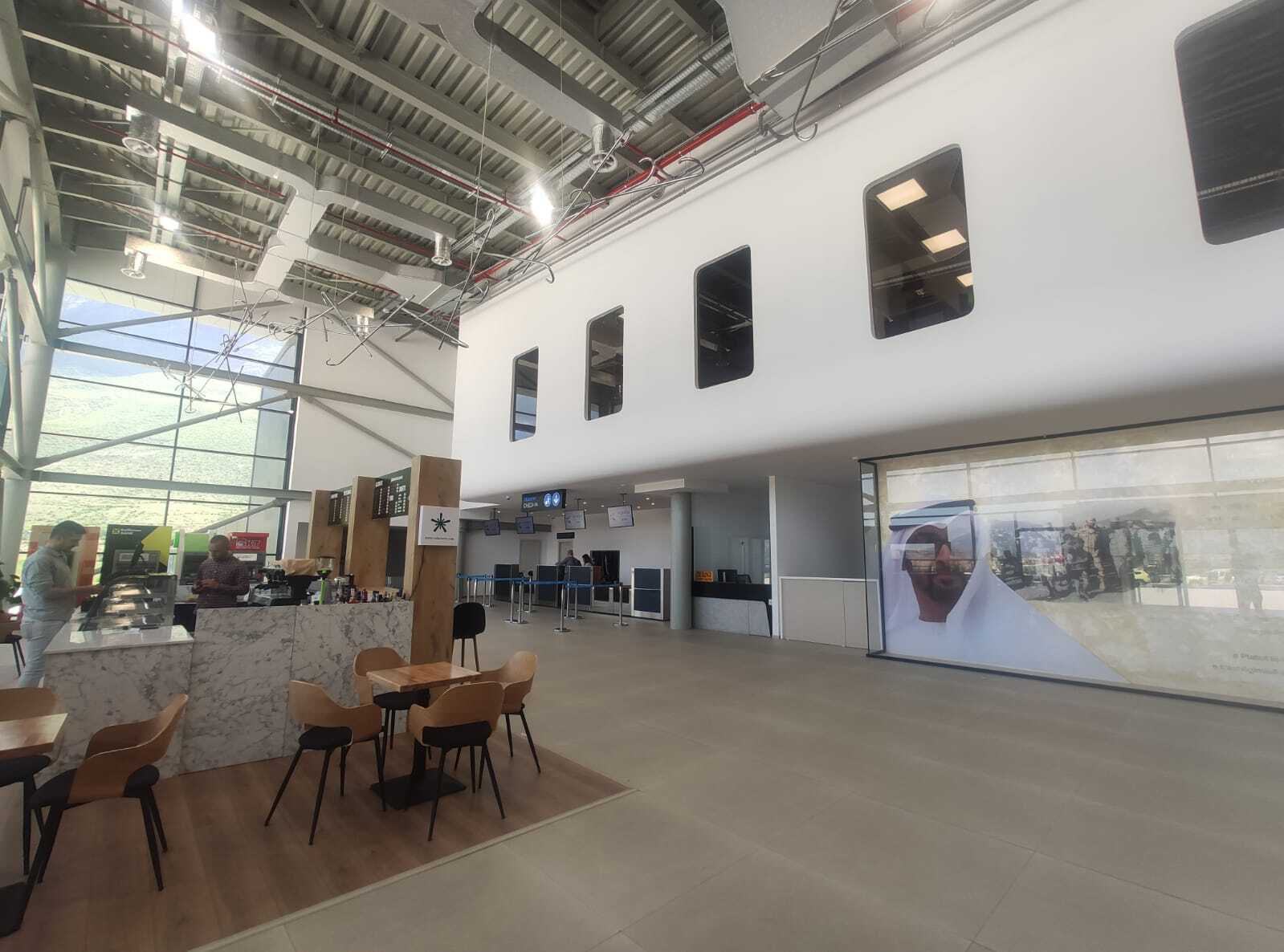 Views from the inside of Kukës Airport premises, dated 10 May 2022
"We kept the business open at the beginning when flights were operational, then when there were no more normal flights and no more people, we did not keep it open all the time, however we occasionally tried to open and to provide services to the airport staff. It's been about 1 month now since flights resumed and we can see some changes, however there are still very few clients and we try to keep it open with terms and not all the time. "We have been told that there will be changes in June and we hope a lot", says the employee of one of the businesses at the airport.
"We were not able to keep the business operational until a month ago, as there were no customers due to flight suspensions. "We currently work over the days of flights and such thing happens once or twice a week", says the employee of another business operating near Kukës airport.
Upon our arrival at Kukës airport, one of the planes took off to Zurich.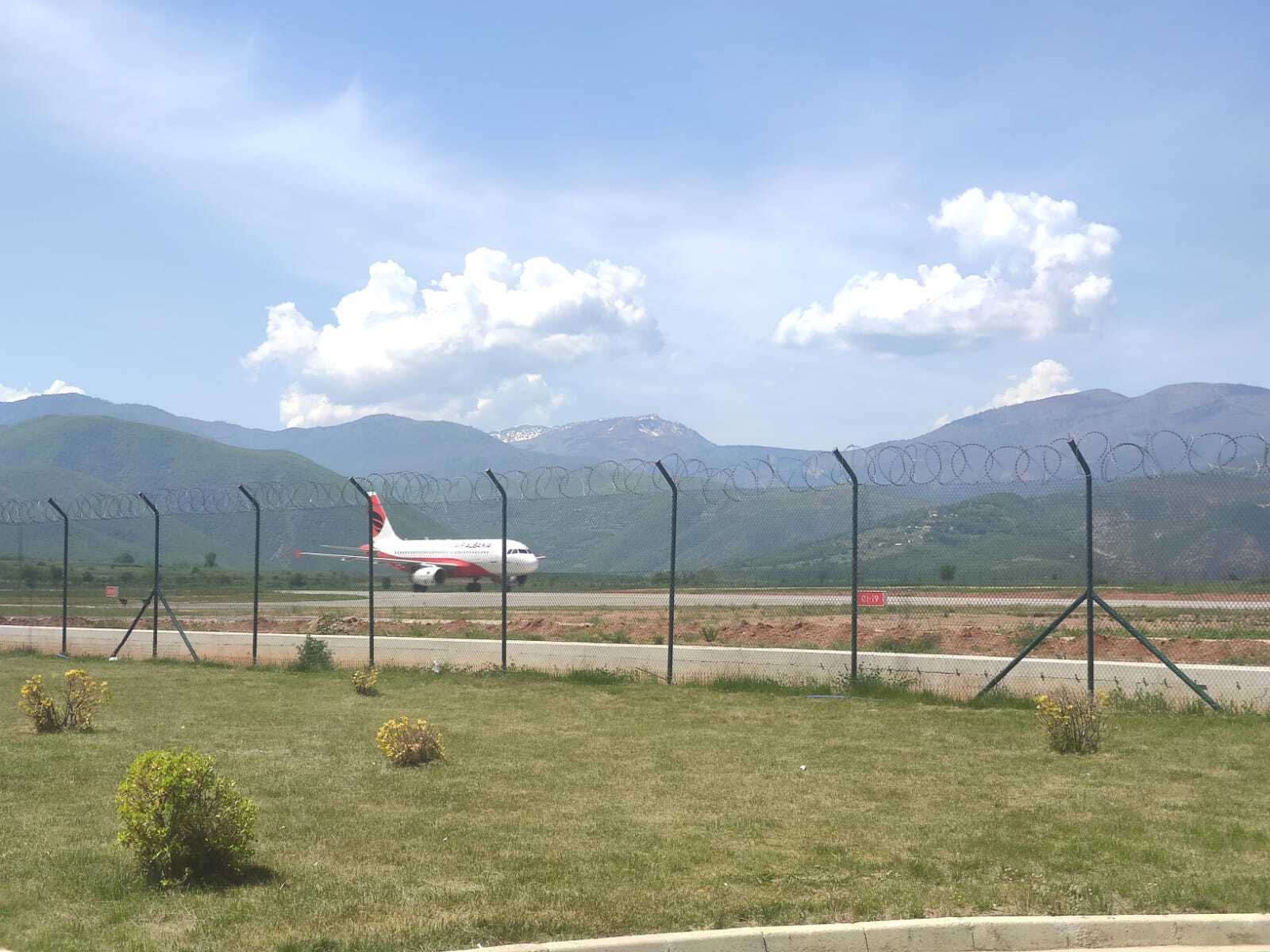 Kukës Airport, flight to Zurich, dated 10 May 2022
Relatives of the passengers said that flights and destinations are few, however ticked price was quite affordable.
A couple from Kosovo tells Faktoje of having booked a ticket for their daughter departing from Kukës due to affordable price, hoping for prices not to be increased with of the start of the season.
"Our daughter just left to Zurich; the ticket price was quite affordable. I come from Prizren, but I did not book the departure from Pristina due to more expensive prices. My daughter and two other relatives paid a total of only 150 per trip, i.e., 50 Euro per person. Meanwhile, the ticked from Pristina was about 450 Euro. We do not know what will happen to prices now that the tourist season is coming, but I hope they do not increase. I hope for other destinations to be introduced, such as Italy and Germany", say the parents of one of the passenger who travelled from Kukës to Zurich.
Aiming to find out more about current flights at Kukës Airport and about new destinations expected to be introduced in May, Faktoje requested information from several travel agencies.
"We currently have Basel/France destinations from Kukës. Destinations to Germany can be booked for June with Memmingen and Karlsruhe", told one of the travel agencies operating in Kukës.
Another agency confirms that flights promised by the Prime Minister of low-cost company have not started yet from Kukës airport.
"Kukës airport can currently operate flights only to Basel and Zurich. Memmingen and Karlsruhe will be added in June. The current demands for flights from Kukës has been low as there were no destinations and as it has been suspended for several months", told to us the employee of another travel agency.
An online check at Wizzair official website also shows that flights from Kukës Airport will depart in June to 4 destinations, one to Austria/Vienna, one to France/Basel and two to Germany/Karlsuhe and Memmingen.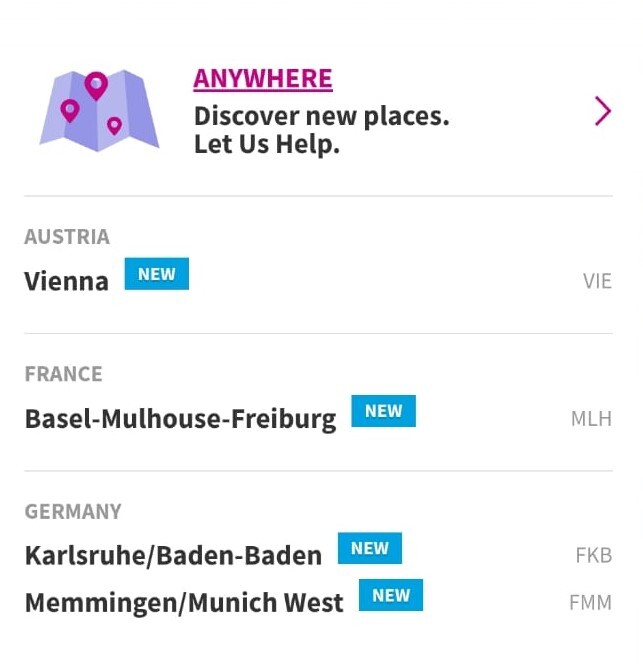 The official website of Kukës airport "ZAYED – North Wings" flights and destinations are scheduled for May. It is evidenced that such airport currently operates only one flight company with two destinations and there are only 2 trips per week. Meanwhile, the destinations announced by Prime Minister Rama that would be added in May to Austria, Germany and Switzerland with the low-cost company have not started operating yet.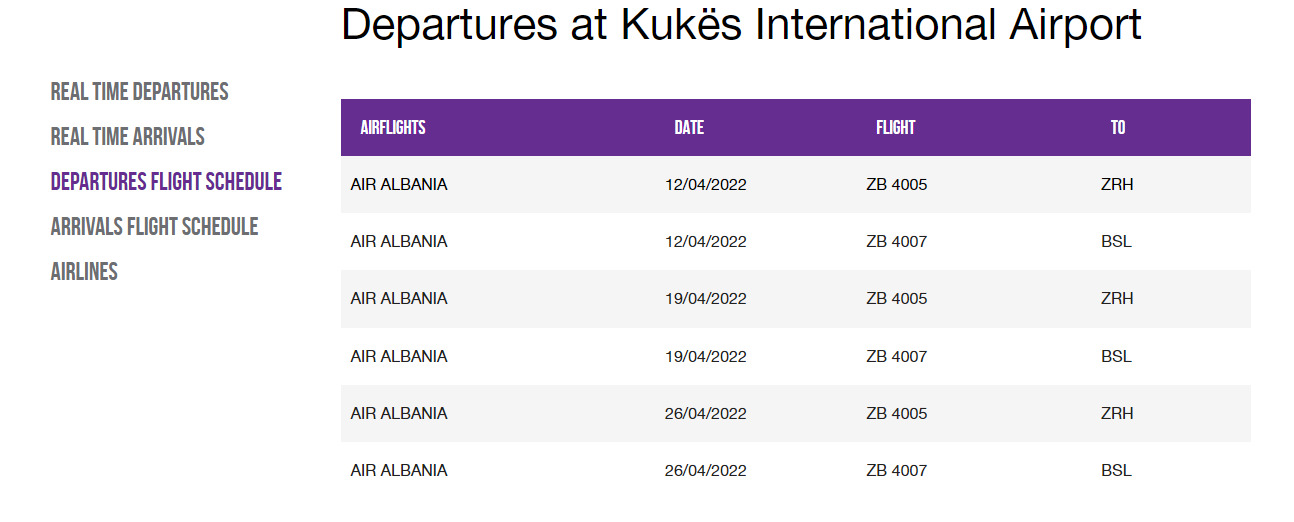 Screenshot, the official website of Kukës airport "ZAYED – North Wings" – destinations scheduled for May. Picture dated on 13.05.2022