By Esmeralda Topi – October 12, 2022
The rapid increase in prices this year has put Albanian families in difficulties. In September, the cost of living increased by 8.1%, almost the same as in the dark year of 1997. Faktoje made a situation analysis and site-verification, finding that families have reduced their purchases of essential food, while pensioners find it even harder to survive amid increasing prices. Experts of economy suggest urgent measures for vulnerable groups to avoid social conflict.
Esmeralda Topi
"We expect to have an average level of inflation at the level of 6.5% this year. We will certainly have to see how events unfold during the latter part of the year, largely influenced by the pan-European crisis." – declared the Minister of Finances and Economy, Delina Ibrahimaj, during a joint press conference with representatives of the IMF and the Bank of Albania.
The increase in the prices of basic foods and transport have pushed inflation in Albania to the highest level in the last 25 years. The Institute of Statistics reported that inflation in September reached 8.1%, and the last time inflation was so high was in December 1997, when the basic consumer price index was 8.7%.
According to INSTAT, the prices of food and drinks have increased by 14% compared to a year ago. Meanwhile, the increase regarding other products of the basket has been even more significant. Oil has increased by 30%, dairy and eggs by 24%, bread and cereals by 17.3%, meat by 12%, and vegetables by 8.5%.
The cost of living is officially higher than a year ago, but not everyone feels the same way. For some, bills have increased much more.
Ferhat Koçi, an 85-year-old pensioner from Tirana, says that without his daughter's financial help, he would not afford anything to eat.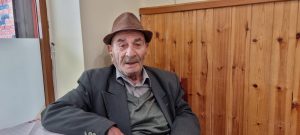 "I have been retired for 30 years and I get 16,000 ALL. I can't even afford medicine, food or anything, now that the prices have gone up a lot. 1200 ALL for a kg of meat?! I can't remember what meat tastes like! It is my grandchildren who buy me clothes, and my daughter who buys me food. Without them, I would not even afford my funeral"- he says sadly to Faktoje.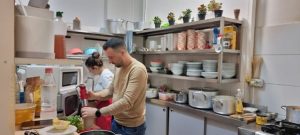 The Brahimaj couple in the canteen where they also offer free food, Tirana October 10, 2022
Ermir Brahimaj is the owner of a small canteen near "Frosina Plaku" street in Tirana.
"All prices have increased, from salt to other main products that we use here," he says to Faktoje, emphasizing that he was forced to charge some of the increased costs to their customers.
"Business is not good. I want us to leave the country, but my husband doesn't want to leave. I beg him so we can both go abroad to our relatives and friends while we are still at this age, when we can still work. Here we are barely making ends meet, we pay rent for the house, rent for the store… in short, we work a lot and in the end we barely pay off the increased bills," adds his wife.
Increased living costs are erroding household budgets, with prices rising faster than wages and pensions.
"The best-selling product is bones, they cost 150 ALL per kilogram. People come and that is all they buy, especially pensioners." – tells us a meat merchant at the New Market (Pazari i Ri).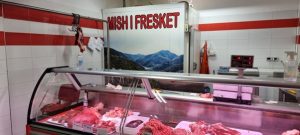 Shpëtim Karaj, is another meat merchant at Pazari i Ri in Tirana. "I sell lamb and goat meat, which is slightly more expensive than beef. And as you can see here, people drop by, ask for the price and run away, they don't buy," he adds for Faktoje.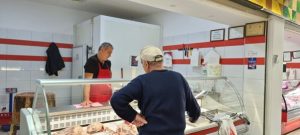 Even Pëllumb Dafku, a fruit and vegetable merchant in Tirana, says that each product is at least 20 to 30 Lek more expensive than last year.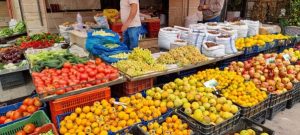 "What we notice is that people think a lot before they buy. They take two peppers, a bunch of salad and directly ask how much it costs. Earlier, consumers would first fill their bags and check prices only in the end. Now they make some calculations before they buy, they don't have the money," he tells Faktoje.
Even in two surveys conducted on our social networks on the purchases of families in crisis conditions, followers have admitted that they are reducing consumption due to high prices. 90% of our respondents claim that they are buying less, while 54% of them say that the product whose consumption they have mostly reduced in this time of crisis is meat.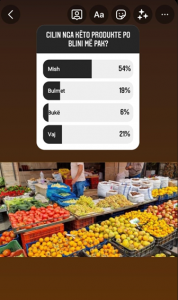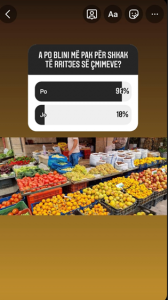 Survey results, October 12, 2022
For experts of the economy, this situation is understandable as long as food takes almost half of the expenses of regular families.
"This leads to an increased purchase of cheap goods for consumption. Supporting the poor is essential to maintain the level of consumption. The exit from the crisis must be accompanied by two mechanisms: strategic projects that promote overall productivity as well as stronger support for vulnerable groups to avoid social conflict." – says economy and finance expert Enton Duro for Faktoje.
At the end of their official visit to Tirana, the International Monetary Fund also recommended the Government give more support to the vulnerable groups. Asked by Faktoje about this matter, the representative of the International Monetary Fund in Albania, Yan Sun said:
"We have recommended that this support be more targeted so that those who really need it the most get it, not everyone. Considering that we have an increase in inflation, considering that we have a monetary policy that goes along with it, the fiscal policy should reflect this. It is very necessary that this help, this support be targeted and aimed at those who really need such support the most.