INVA HASANALIAJ
In early February, employees of an apparel industry (façon) in Bilisht protested against fictitious wages and denounced working more than paid. Earlier on, Prime Minister Rama warned that after January 20th, businesses not self-regulating wages will be investigated for evasion. Finance experts think of Prime Minister's call as announcing a kind of amnesty for businesses even though it falls under parliament's authority. Ministry of Finance admitted that only 33% of businesses have responded to the self-regulation of wages, however refused to respond to Faktoje's concerning the measures taken against infringing businesses.
Besides queries it raised regarding personal data security, the publication of wages of hundreds and thousands of employees on December last year also had a positive effect. These lists revealed those businesses declaring fictitious wages and such a fact was pointed out during a press release on 30/12/2022 by Prime Minister Edi Rama.
'All companies giving factious wages must regulate their declarations accordingly. To my knowledge, a letter has been or will be sent to taxpayers with disturbing statements resulting in flagrant inconsistencies against their capacities, asking them to self-declare by January 20th. And in case of non-regulation there will be in-depth investigation for evasion. Evasion is punishable by imprisonment' – stated Rama.
On 24/01/2022, four days following the deadline set by Prime Minister Rama, Faktoje sent a request for information to the Ministry of Finance and to the Prime Minister's Office aiming to find out the measures taken upon expiration of such deadline.
Until publication of such article, Prime Minister Office remained unresponsive to our request by forwarding it to the Ministry of Finances and Economy as a 'mistakenly sent request'
Please find attached a request for information addressed to me in capacity of the coordinator of the right to information at Prime Minister Office.
Please, delegate this complaint accordingly to the relevant structures in order for them to response pursuant to Law No. 119/2014 'On the right to information'.
At all events, please confirm the action taken by you.
Thank you for your cooperation! Best regards,
Merita Bundo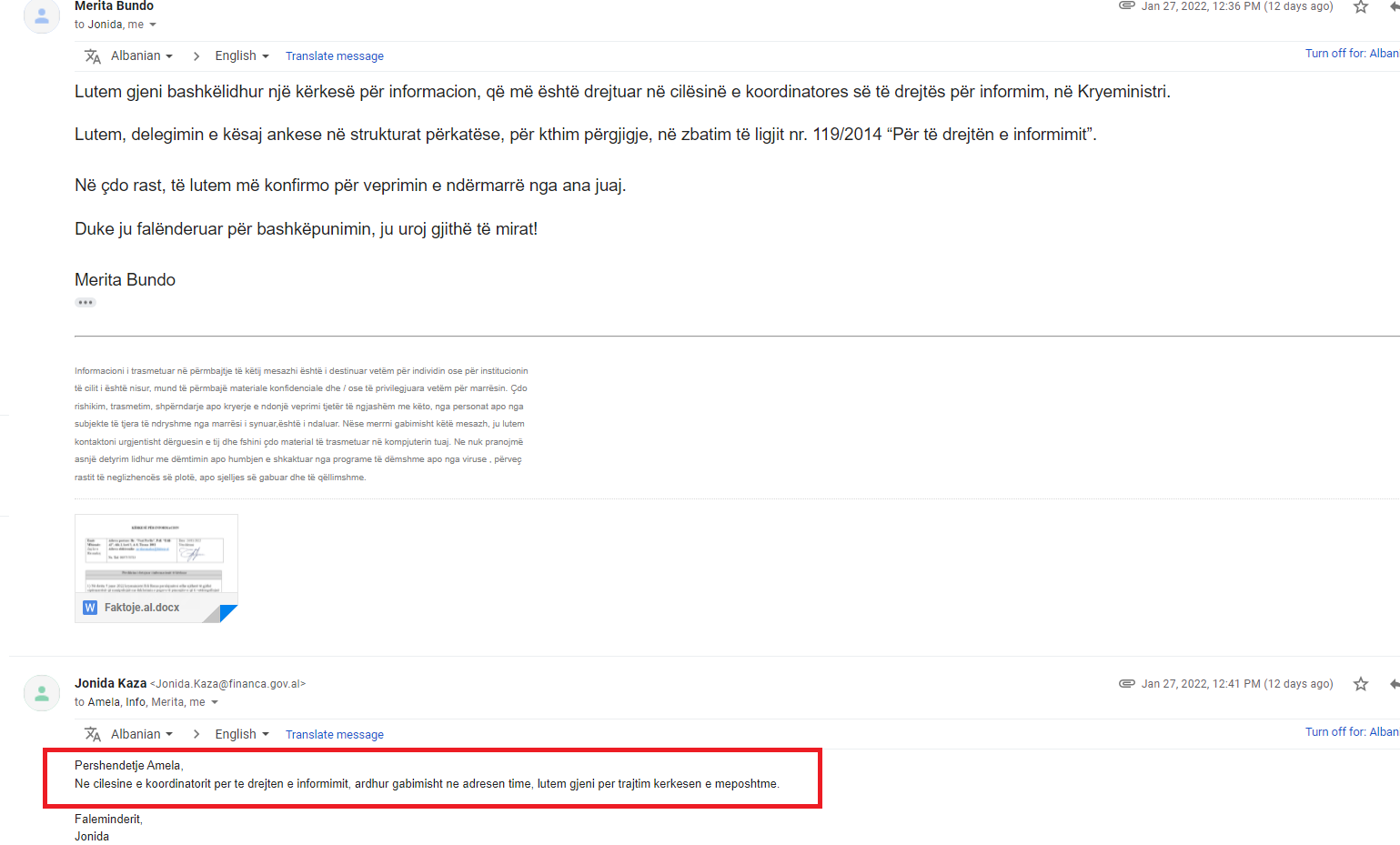 Delegation of the request from Prime Minister Office to the Ministry of Finances and Economy
The protest of over 100 employees of an apparel industry in Bilisht on February 2nd, 2022 brought to attention the wage declaration problem. Protesters complained of being paid less than the actual working hours made.  Regardless the employer making payments through the banking system, employees showed that the payment they receive is lower than the amount provided by law based on working days per month.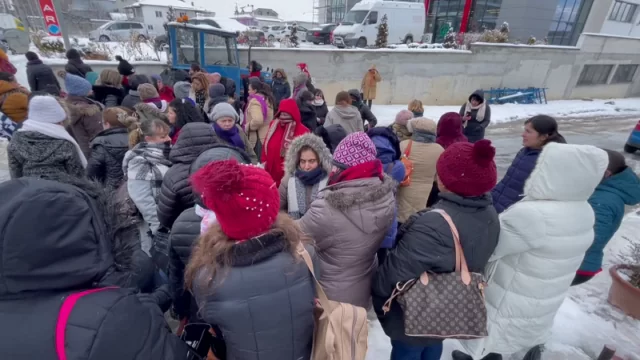 Employees of the apparel industry (façon) during the protest ©Koha Jonë
A day following the protest (03/02/2022) of employees of the apparel industry in Blisht, the Minister of Economy, Mrs. Delina Ibrahimaj, went there to observe the situation up close and announced a reform in all apparel industry (façon) companies in the country.
On  4/02/2022, the Deputy Minister of Finance and Economy, Mrs. Vasilika Vjero, informed that only 33 percent of businesses responded to the tax administration's letter on revision of wages, while the rest remained unresponsive.
Answering the request for information submitted by Faktoje on January 24th, The Ministry sent, only after February 4th, the link redirecting to the public statement of Deputy Minister Vjero. The Ministry didn't provide any detailed answers to the addressed questions regarding measures taken against businesses not self-regulating their wages.
Dear Mrs/Mrs,
In response to your request sent electronically to the address of the Coordinator for the Right to Information, in accordance with Article 11 of Law No. 119/2014, 'On the right to information", registered in the register of requests and responses with serial number 06, dated 25.01.2022, we explain to you as follows:
The completed information about your request can be found at the following link:
https://www.financa.gov.al/njesia-speciale-antiiinformalitet-reagim-pozitiv-i-tatimpaguesve-per-rritjen-e-pagave/
Thank you for understanding,
Have a nice day ahead,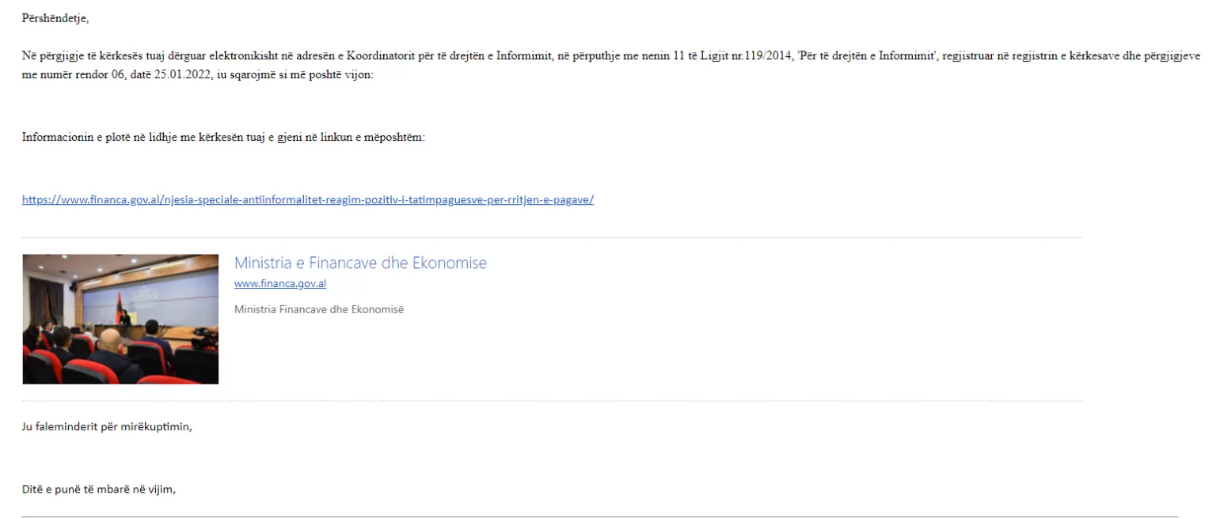 Answer of the Ministry of Finances and Economy to Faktoje.al
Expert
Following these developments, Faktoje asked for the opinion of a financial expert on what was supposed to happen after the order for self-regulation of wages and their respective declaration by businesses.
'What's happening now is a kind of amnesty granted by the Prime Minister to businesses. It is a form of warning 'declare factual wages or we will be forced to check'. However, Prime Minister is not entitled to grant such an amnesty, because it can only be done by the Assembly. 'Rama is responsible only for ensuring the implementation of the laws' explained the expert.