AURORA SHPATAJ
The Fier incinerator should have been operational on March 31 of this year, according to the renewed contract between the National Agency for Water Supply and Sewage and Waste Infrastructure and the "Integrated Technology Waste Treatment Fier sh.p.k" company. Following several exceeded completion deadlines, during the inspections on April 6, the project directors notified Prime Minister Rama that the incinerator would be ready by the end of the month.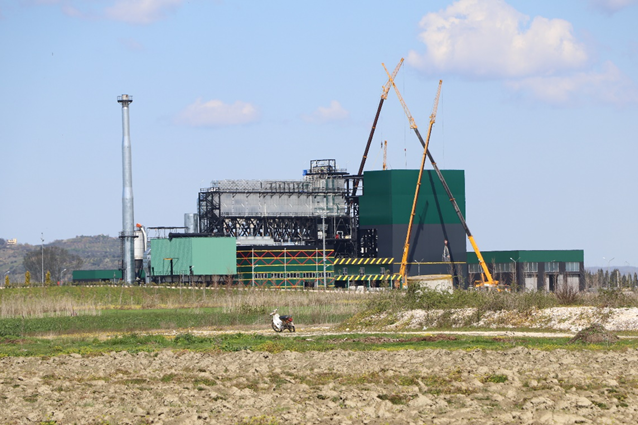 The Fier Incinerator remained uncompleted by March 31 of this year, the deadline determined in the contract renewed on October 11, 2020.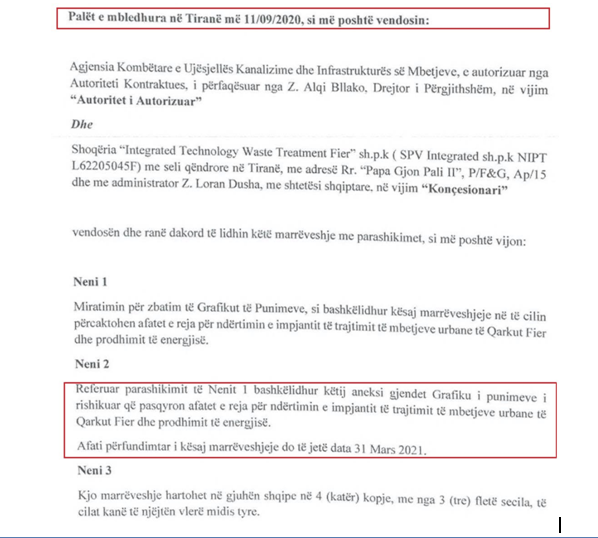 The contract providing for the Fier incinerator works deadline extension to March 31, 2021
This deadline was once again exceeded, as evidenced by the inspection conducted by Prime Minister Rama on April 6 in Fier.
During the visit at the Fier incinerator, Armando Subashi stated:
"Soon, the ultramodern Waste Processing plant will be ready, thus mitigating additional carcinogenic environmental problems in Fier region.", said the Prime Minister, accompanied by Fier Mayor Armando Subashi.
Engineer Enid Dine assured the Prime Minister that the plant would be completed by the end of the month.
"By the end of April, this plant will be 100% functional", he said.
Actually, on October 15 of last year, the same person stated.
"The landfill and the water treatment plant are 100% completed and ready to receive waste, which the Fier region municipalities have been contacted for. I suggest that no prejudices be made without first seeing the facility, thus those interested may visit and see it in person. The works will be completed in December and I invite you to inaugurate it together."
On October 18, Minister of Environment Blendi Klosi had also announced that the plant would be operational by December 2020, however, as "Faktoje" discovered, this announcement was made several days after the formalization of the contract extension, setting out that the works would be completed by the end of March.
On April 8, "Faktoje" conducted a field visit to see the waste processing plant, but were not allowed to enter the premises under claims that an official approval by the directorate was required.
In the discussion with one of the plant administrators, he stated:
"We are undergoing commissioning that will soon be finished and we will start working." Moreover, several employees that wished to remain anonymous said: "The works are underway, but we are not permitted to allow you inside. These are the orders!"
Our observation found that the machineries were still present at the Waste Processing plant.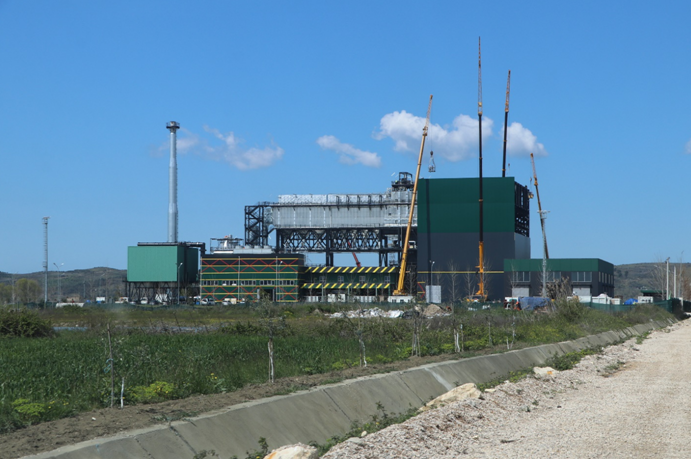 According to the initial estimations in the contract entered into with the company "Integrated Technology Waste Treatment Fier sh.p.k", the Fier incinerator should have been ready since September 2019. However, despite deadline expirations and contract extensions, the plant remains uncompleted.